Unicorns have captured the imagination of children and adults alike for centuries, and for good reason—they're magical, beautiful, and otherworldly. Let's get to know these magical creatures in these cute and easy unicorn drawings.
From step-by-step guides to general tips and tricks, there's no shortage of inspiration in this list when it comes to unicorn drawings.
Welcome the new season with these exciting spring crafts for kids.
Great Finds for Your Little Artist
9 Easy Unicorn Drawings
1. Adorable Unicorn Drawing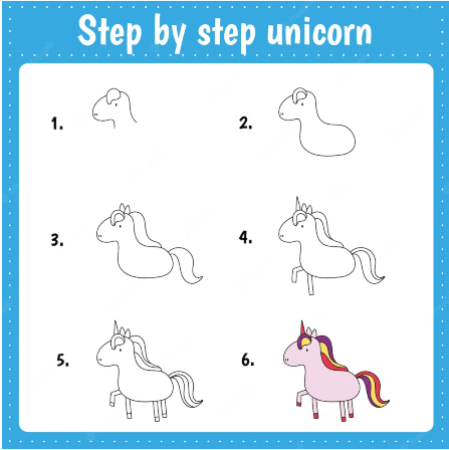 Wouldn't it be awesome to start off the list with this super adorable unicorn-inspired drawing from Freepik?
It's a great piece to kick off the list because it will only take the kids a few minutes to perfect it.
2. Unicorn Mallow Drawing
Don't worry if the kids are struggling with drawing the body of a unicorn because they can start with this tutorial from Draw So Cute first.
This is an uncomplicated guide because the kids will only have to focus on the unicorn's face and learn how to draw the whole thing as they progress.
3. Shy Unicorn Drawing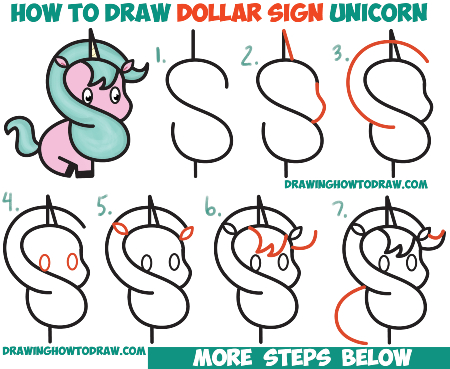 It's not every day that you get to see a shy unicorn so grab the opportunity and follow the simple instructions of Drawing How to Draw how to capture this unique creature.
Surprise! Here are more letter s crafts that the kids will love.
4. Jumping Unicorn Drawing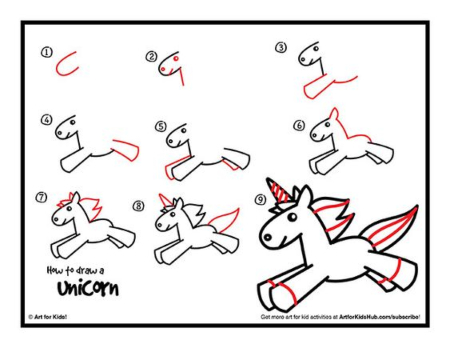 I'm sure the kids will be as excited as this unicorn from Art for Kids Hub to draw these magical creatures.
The legs of the sketch make it look like the unicorn is hopping with glee from one place to another.
See the beauty of nature through these 3D paper flowers.
5. Cute Baby Unicorn Drawing
Highlight the cuteness and fluffiness of unicorns with the help of this video tutorial from Draw So Cute.
Watch and learn how to draw this unicorn so the kids can add this to their unicorn drawing collection.
6. Gorgeous Unicorn Drawing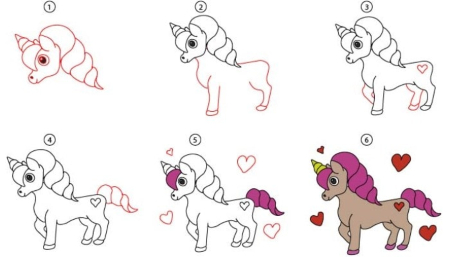 Hearts will be all over the place once you show this pretty unicorn drawing from Cool Drawing Idea to the kids.
Its gorgeous locks together with its heart-shaped mark will be adored by the children.
Squeeze in a small craft before a hectic week and start with these mini perler bead patterns.
7. Walking Unicorn Drawing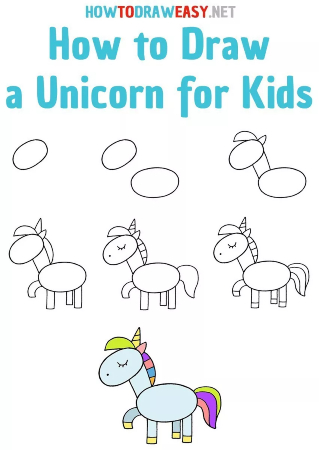 Take the first step in drawing this unicorn from How to Draw Easy by sketching an oblong.
The kids will find it cool to see how their drawings will progress from a single shape into a beautiful unicorn with the help of the tutorial.
8. Girl Riding a Unicorn Drawing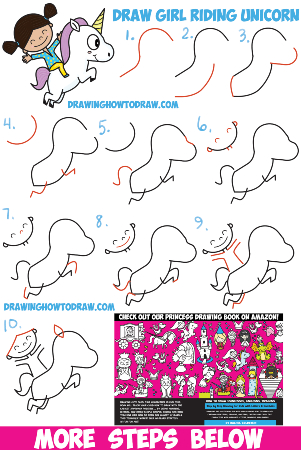 Every kid's dream is to ride a unicorn across a rainbow.
Make this dream come true by drawing a kid and a unicorn just like this one from Drawing How to Draw.
9. Happy Unicorn Drawing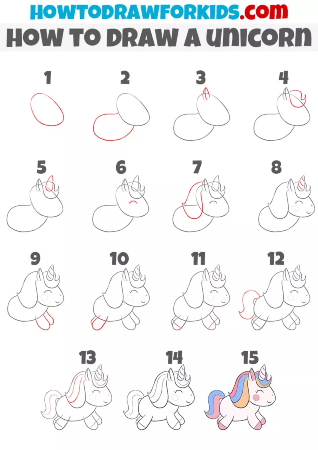 The kids will be delighted to do our next project courtesy of How to Draw for Kids.
Not only does this feature a super adorable unicorn but they also won't have a difficult time in doing the step-by-step instructions.
5 Unicorn Head Drawings
10. Pretty Unicorn Drawing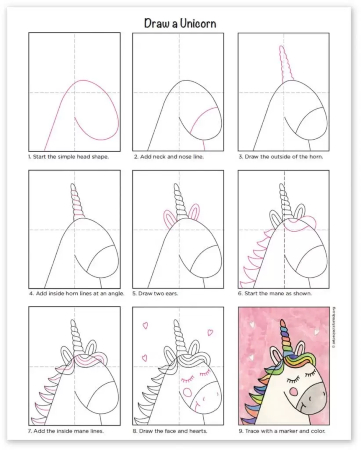 This drawing from Art Projects for Kids perfectly captures a unicorn's glory and magic.
The unicorn together with the heart sparkles makes this craft a must-try for kids.
Create a timeless piece by doing these Beauty and the Beast drawings.
11. Winking Unicorn Drawing
Prettytoon just made the impossible possible by making unicorns look a lot cuter.
Watch the video tutorial to learn how to replicate this winking unicorn in the kids' sketchbook.
12. Cool Unicorn Head Drawing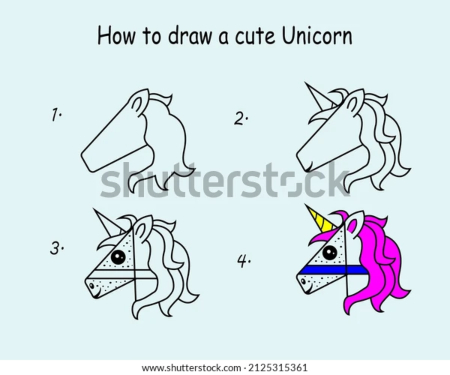 We're used to seeing unicorn drawings with soft edges so this one from Shutter Stock will be a nice variation to do.
It will be nice for the kids to try out different styles and techniques for their drawings to foster their creativity.
13. Unicorn Face with Bow Drawing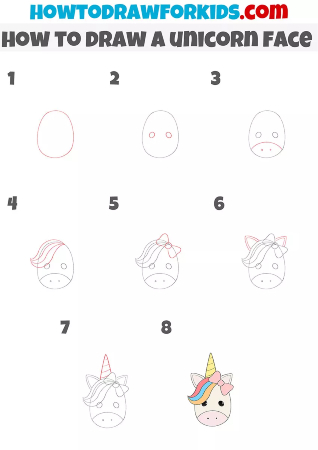 You won't be able to resist the adorableness of our next project from How to Draw for Kids because of its rainbow hair and pink bow.
Here are Hello Kitty perler beads if you're looking for more cute crafts that feature a character with a bow.
14. Majestic Unicorn Head Drawing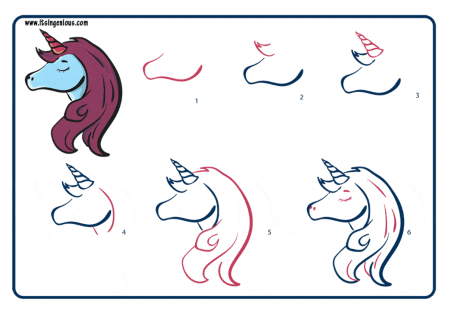 Get techniques on how to capture the elegance of unicorns on paper from this tutorial by It's Ingenious.
Plus, it only takes six easy steps to complete this cool unicorn drawing.
8 Unicorn Cartoon Drawings
15. Kid with a Unicorn Balloon Drawing
Hit two birds with one stone by learning how to draw a unicorn and a child with this drawing guide.
Head on to Drawing How to Draw to get the full tutorial.
16. Smiling Unicorn Drawing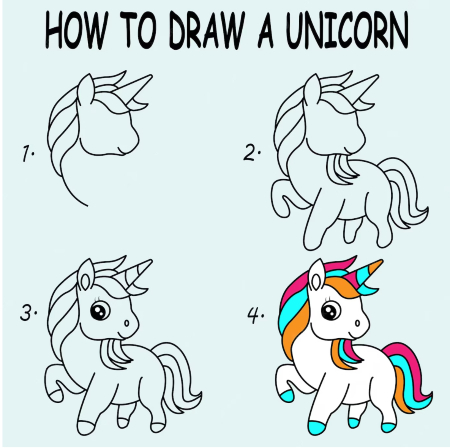 This adorable unicorn drawing from Freepik is all smiles.
The kids will be smiling from ear to ear, too once they mastered drawing this unicorn.
Occupy the kids with productive activities such as these bee perler beads patterns.
17. Tongue Out Unicorn Drawing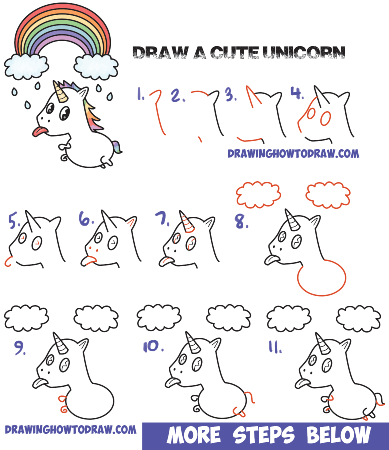 Here's a playful unicorn and a rainbow from Drawing How to Draw that will brighten up your child's sketchbook.
One can't have too many rainbow crafts for kids so check out this list as well.
18. Baby Unicorn with Boba Drink Drawing
This will be a treat for those who love drinking boba and drawing unicorns.
Check out this video tutorial from Draw So Cute to get tips on how to draw the most adorable boba-drinking unicorn ever.
19. Unicorn with Wings Drawing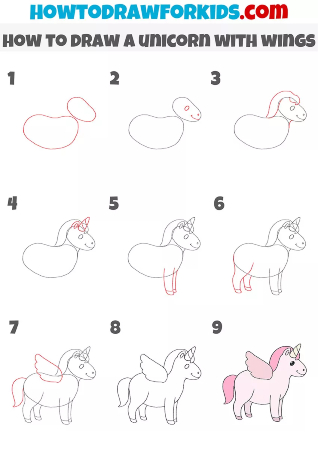 One of the best things about unicorns is their ability to fly.
How to Draw for Kids highlights this with their incredible step-by-step drawing tutorial.
20. Unicorn on a Cloud Drawing
Wouldn't it be cool to see a sleeping unicorn when we look up in the sky?
Draw So Cute had the same thought and made this drawing tutorial so your kids, too can create this magical sight.
21. Realistic Unicorn Drawing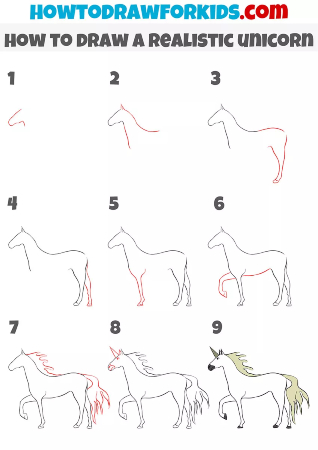 How to Draw for Kids provided us with a realistic-looking unicorn drawing tutorial.
This will be a nice challenge for the kids to see how much they've learned from drawing all the unicorns from the list.
22. Dabbing Unicorn Drawing
Have you ever seen a unicorn dabbing? Now you have thanks to Mister Brush's video tutorial.
You'll be able to draw one as well by following the detailed guide provided in the video so make sure to watch it.
Cute and Easy Unicorn Drawings
The most important thing to remember is to have fun and let the kids' imaginations run wild while doing these cute and easy unicorn drawings.
Plus, there's no wrong way to draw a magical creature such as a unicorn so let them experiment and draw their hearts out.
We've got more projects lined up for the children so make sure to check them out.