Looking for Mickey Mouse Perler beads to make? You've come to the right place!
Mickey Mouse is over 90 years old, so he's gone through plenty of iterations and design changes. He's also gained plenty of friends through the years as children who are fans of the Mickey Mouse Clubhouse can attest to.
I've compiled a list of Perler bead patterns of Mickey Mouse and his friends, most of which are suitable for toddlers, so get your Mouseketools ready and let's get started.
3 Essential Materials to Make Mickey Mouse Fuse Beads
These are some essential items that you might need to make those Perler beads Mickey Mouse designs.
If you and your children are just starting on your Perler bead journey, then be sure to check out these easy Perler bead patterns.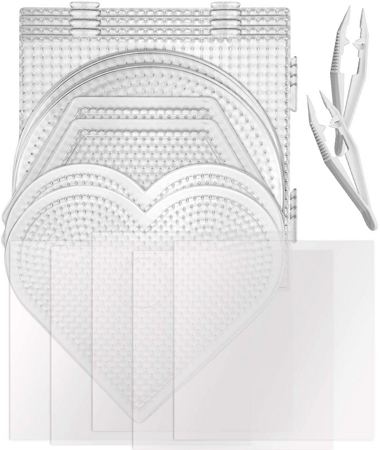 Here are some assorted pegboards to help you with your Perler bead activities. While they're optional, the tweezers are quite helpful for placing the beads on the pegboard.
Though their little fingers almost act as tweezers themselves, encourage your little ones to experiment putting the beads on the board with and without using the tool to see which method they prefer.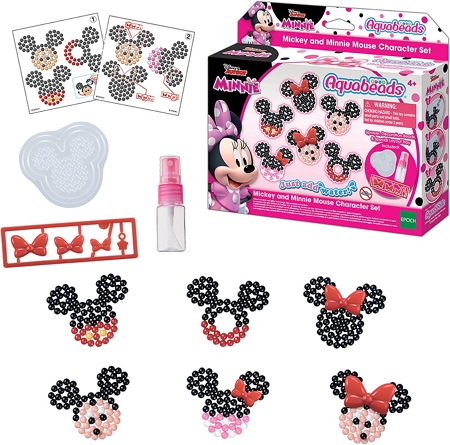 Here is a Mickey Mouse "fuse" beads kit designed for toddlers. The benefit of this beads kit over traditional Perler beads is that you don't need to iron the beads to make them stick together. The beads will magically stick together with water.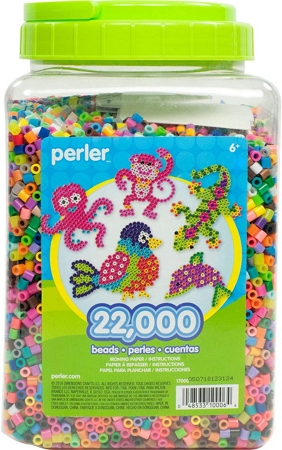 Here are some assorted Perler beads in case you're running low on the supplies and trust me, these beads run out so quickly you won't even realize it!
5 Mickey Mouse Perler Bead Patterns for Toddlers
Toddlers will have fun with these five patterns because they're so easy to make and they're a great activity to do in just under ten minutes.
4. Colorful Mickey Mouse Logo

Roseart gives toddlers a chance to improve their color recognition with this colorful Mickey Mouse pattern. I'm sure they won't stop at making just one and complete all the colors in the pattern.
Also, try experimenting with different colors and inverting the color of the mouse logo and the backgrounds.
This pattern is as colorful as these rainbow crafts!
5. Mickey & Minnie Mouse Patterns for Toddlers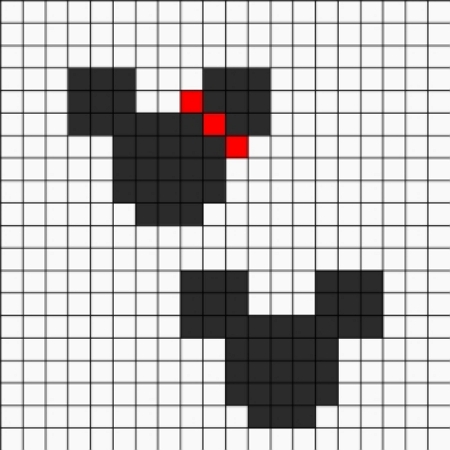 XxxHaleyHeartsxxX shows us how easy it is to transform Mickey into Minnie by adding a few red beads to form her iconic ribbon.
This pattern is a nice opportunity for little ones to learn about shapes, specifically squares.
6. Easy Mickey Mouse Perler Pattern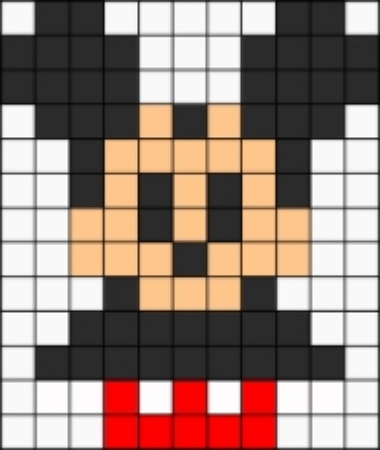 Moving on, here's a more detailed Mickey Mouse pattern by iKandiAddict that's nonetheless simple for toddlers.
Perler beads are quite educational for youngsters as they learn counting skills through the arrangement of the beads.
7. Simple Mickey Perler Pattern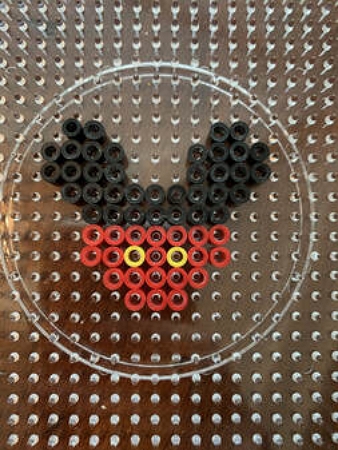 Here's another Mickey Mouse Perler beads pattern from Smart Kids Learning At Disney. To make it more distinct, they add the traditional red and yellow colors that Mickey Mouse wears.
8. Mickey & Friends Fuse Bead Pattern for Toddlers

Let your children make these minimalistic versions of Mickey and his friends brought to you by Avajks. While it may look simple, the patterns are perfect for building on those visual association skills toddlers learn while watching Mickey Mouse Clubhouse on tv.
8 Mickey & Minnie Perler Bead Patterns
Where would Mickey Mouse be without his companion, Minnie? That's right, Minnie is often there to clean up the mess he makes and handle situations that Mickey can't!
If you're enjoying these Mickey Mouse Perler bead patterns and love everything Disney, then make sure to check out our guide on DIY Mickey ears!
9. Minnie And Mickey Mouse Perler Beads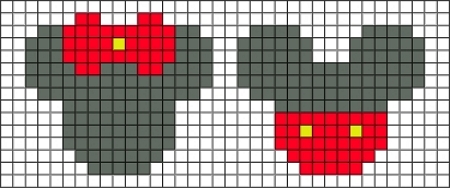 Here's a cute pattern of Minnie and Mickey silhouettes from Narnoys. The pattern they made is simple yet captivating, and there's no doubt that your children would be proud of the final product.
10. Small Mickey & Minnie Perler Bead Companions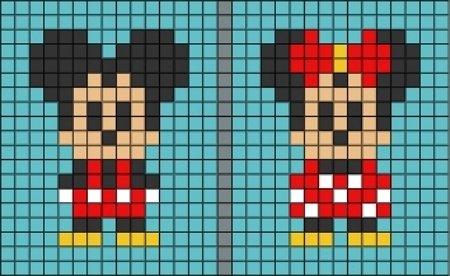 Minnie often accompanies Mickey on his adventures, even if she knows that it might be dangerous for both of them. So here's a pattern of both Mickey and Minnie provided by inmichuu who makes it simple enough for little boys and girls who can't wait to start their exciting journeys.
11. Vintage Mickey and Minnie Patterns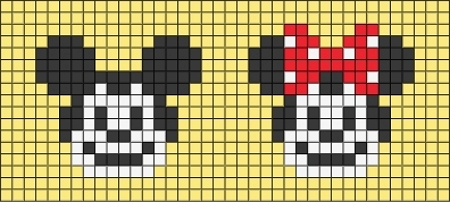 Like I said earlier, Mickey has had multiple iterations since his Steamboat Willie debut in 1928. Aailac shows us what Mickey looked like when he was drawn in black and white, way before he looked like the Disney mascot that we all know today.
12. Another Mickey & Minnie Perler Bead Pattern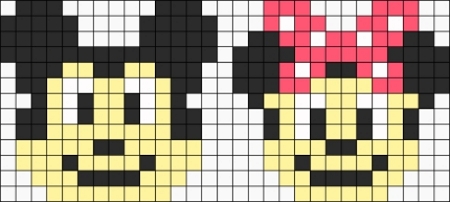 CreativeGenius provides us with a similar vintage pattern. Minnie exchanges her usual red ribbon for a pink one, which is almost like saying to kids that it's okay to have a few variations here and there, as long as they're having fun!
13. Tsum Tsum Mickey & Minnie Perler Bead Patterns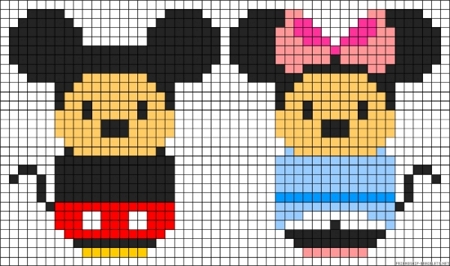 Tsum Tsum (pronounced soom soom) are these cute little figurines of Disney characters and were all the craze a few years ago.
Fredgirl1804 copies the shape of Tsum Tsums and makes a Mickey and Minnie Perler bead pattern out of it.
14. Simple Minnie Face Pattern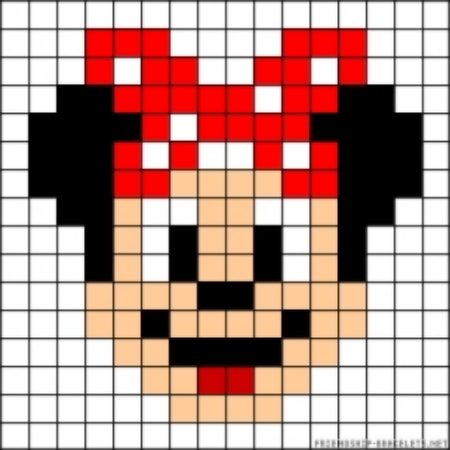 If your children just want to make the face of their idol Minnie, they now can with this pattern provided by fredgirl1804.
15. Tsum Tsum Minnie Face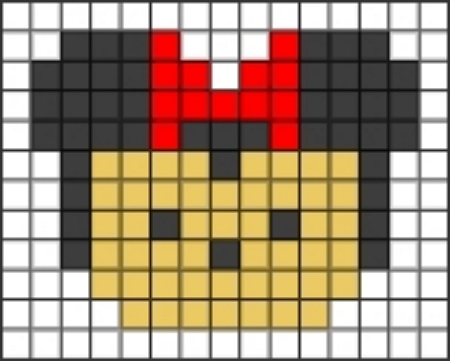 Here's another Minnie Tsum Tsum face pattern created by sd1032. Looking at this adorable Minnie pattern, it's no wonder why Tsum Tsums are so appealing to children.
16. Cute Mickey Mouse Pattern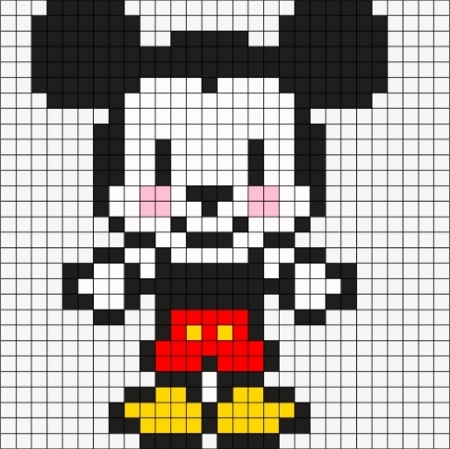 Here's PNGKey's version of Mickey Mouse that looks simple enough. The pattern consists of just a few simple colors, which most kids shouldn't have a difficult time assembling.
11 Mickey Mouse Clubhouse Perler Bead Patterns
Kids love following the adventures of Mickey and his friends in the show Mickey Mouse Clubhouse, so here are some patterns that will make your kids feel like they're part of the show.
17. Toodles Perler Beads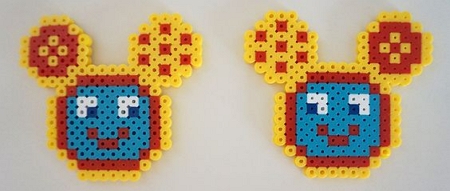 Toodles is part of the Mickey Mouse Clubhouse family, so I can't exclude Shannon Landon's pattern of this helpful companion. For any situation your little ones might find themselves in, Toodles will be there to provide them with the necessary tools to fix it.
Love DIY stuff? I recommend these homemade instruments to hone your kids' music skills.
18. Donald & Daisy Duck Patterns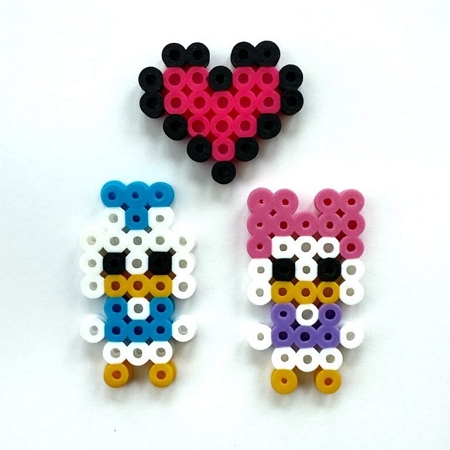 Color Made Happy makes a Donald and Daisy pattern for toddlers and a bonus heart pattern to show their love for each other.
Spread the love with these Valentine's craft for toddlers, too!
19. Easy Donald Duck Perler Bead Pattern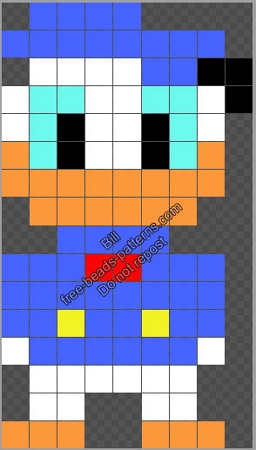 Everyone has a laugh or two when Donald Duck comes on screen, and that's because his tantrums are priceless when he finds himself in unlucky situations.
Kids are now able to bring him to life with this Perler bead pattern created by Free Beads Patterns.
20. Donald Duck Face Perler Bead Pattern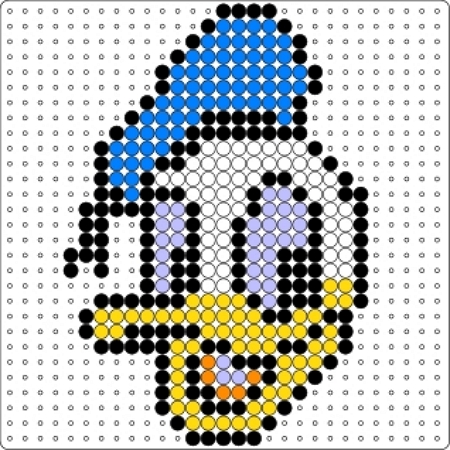 Here's another Donald Duck face pattern brought to you by Perler Bead Patterns. It's great for practicing your little ones' dexterity and hand-eye coordination.
If you like to practice those skills with similar animals, check out these duck crafts while you're at it.
21. Advanced Donald Duck Pattern for Older Kids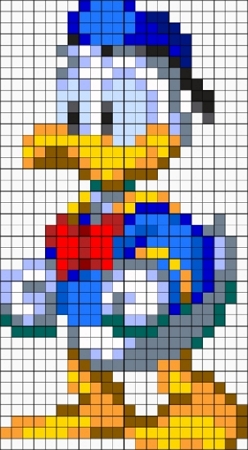 Arcanjulio shares a more complicated Donald Duck pattern for older kids who want a bit of challenge. It's full of subtle visual details, like the color shading and shadow.
It's a great pattern that's suitable for experienced Perler bead assemblers and will undoubtedly provide a sense of accomplishment on its completion.
22. Daisy Duck Face Perler Bead Pattern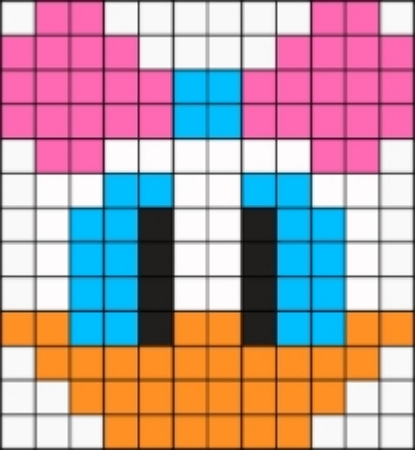 Make Donald Duck's his lovely companion with this Daisy duck face Perler pattern provided by tashar_h. Just like her best friend, Minnie, Daisy also wears a cute ribbon that little girls will relate to.
If your kids would love more companions to play pretend with, try checking out these paper bag puppets!
23. Tsum Tsum Daisy Perler Bead Pattern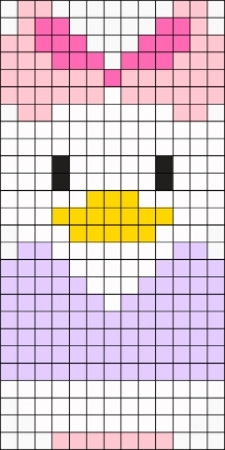 Tashar_h  shares another Daisy Duck pattern, but this one is the adorable Tsum Tsum version. Create this now to complete your kids' Mickey Mouse Clubhouse Tsum Tsum collection!
These Tsum Tsum patterns almost look like they could belong in these kawaii Perler bead patterns compilation, which I highly recommend you check out.
24. Goofy Perler Bead Pattern for Toddlers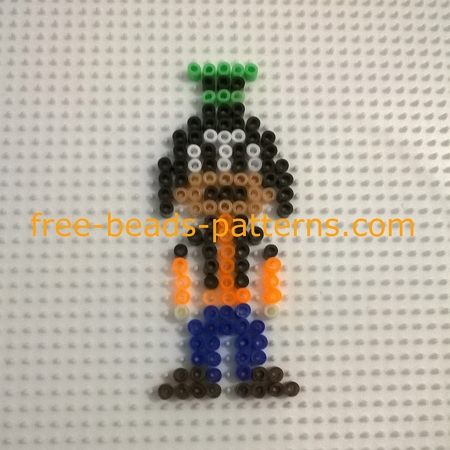 Now to complete the trio of friends is Goofy the anthropomorphic dog! If the name doesn't make it obvious, Goofy is such a silly character because he seems so childish. Maybe that's what makes him so popular and relatable to kids.
Here's an easy Goofy pattern shared by Free Beads Patterns.
25. Tsum Tsum Goofy Perler Bead Pattern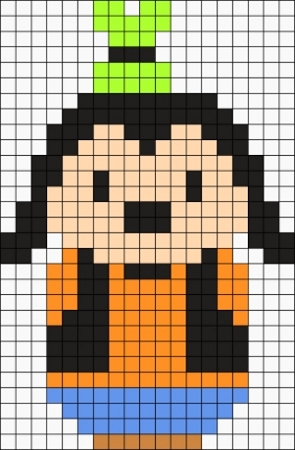 Tashar_h allows children to recreate Goofy's Tsum Tsum version with their easy-to-follow pattern. I find the small hat (compared to the rest of Goofy's body) extremely adorable.
26. Cute Pluto Perler Bead Pattern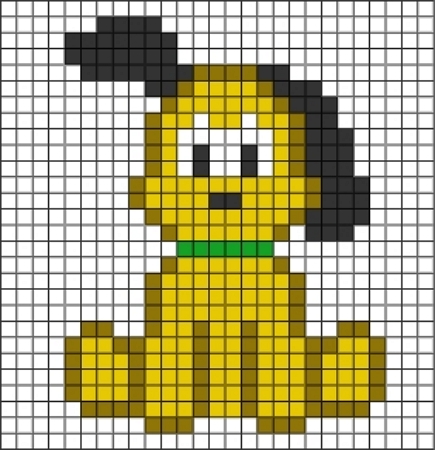 Dogs aren't just man's best friend because Pluto is also Mickey Mouse's best companion. Luvalex30 allows your kids to create their own companion with this cute Pluto pattern.
If you're a dog lover, then you can't miss these other dog Perler beads patterns!
27. Pluto's Face Perler Bead Pattern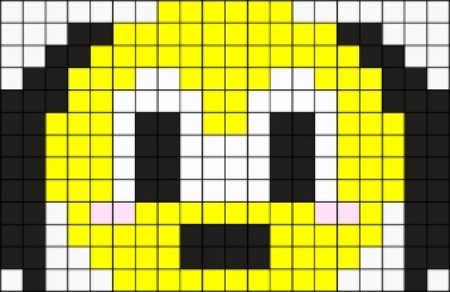 Here's a pattern of just Pluto's face provided by Raiichuu. There's no shame with starting with the basics like this one, especially with toddlers who are just starting their Perler bead journey.
Pluto is known for disliking cats, especially Minnie's cat. Check out these cat Perler beads if you'd rather create some cute kitties.
What a Hot Dog Day!
So long for now from Mickey Mouse and the Mickey Mouse Clubhouse, and from all of us at Cool Kids Crafts.
If your kids love crafting DIY things from shows, then you shouldn't miss out on these other neat craft compilations: