Take a trip to the distant past when prehistoric beasts roamed the lands of the Earth by making these awesome dinosaur Perler beads designs.
The term "dinosaur" comes from the Greek words deinos and sauros, which mean "fearfully great" and "reptile," but these dinosaur patterns will prove these ancient animals aren't scary.
The patterns below include small dinosaurs for toddlers, cute dinosaur designs, and popular dinosaurs seen on TV shows.
4 Dinosaur Perler Bead Kits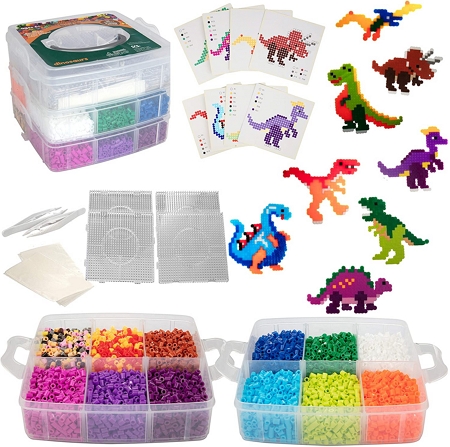 Replenish your ever-depleting fuse bead stock by getting this dinosaur kit, complete with a carrying case, pegboards, tweezers, and parchment paper.
The set also contains a pattern sheet full of dinosaur designs and enough Perler beads to complete them. Children who are fans of dinosaurs, and animals in general, won't get enough of making these.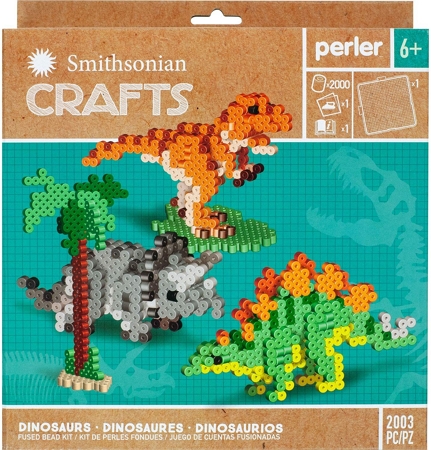 Recreate what's displayed in natural history museums by getting your kids this Smithsonian 3D dinosaur Perler bead set. The best part of this set is that children can make 3D dinosaurs, which definitely sounds more exciting than simple 2D figures.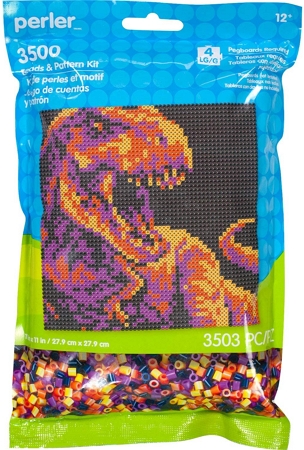 Older kids who are passionate about dinosaurs will appreciate this Tyrannosaurus Rex Perler beads set that allows them to create a super cool design that can be displayed in their room.
For other cool stuff to display, try making these Marvel Perler beads designs.
11 Dino Perler Bead Patterns for Early Learners
Toddlers will have an exciting and easy time making these small dinosaur Perler bead patterns.
4. Easy T-Rex Pattern for Toddlers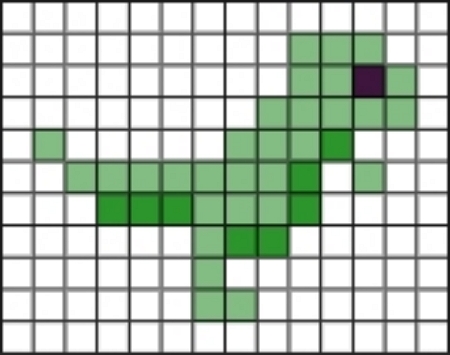 Allow toddlers to start their Perler adventure with this easy dinosaur pattern provided by ratmilky who creates a simple T-Rex with just a few beads.
5. Small Sauropod Perler Bead Pattern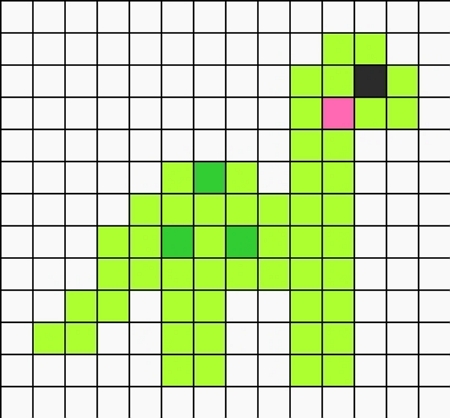 Here's a cute green dinosaur design shared by pippop. They added a single pink bead on its cheek to make it cuter and thus more relatable to young children.
6. Pink Dino Perler Pattern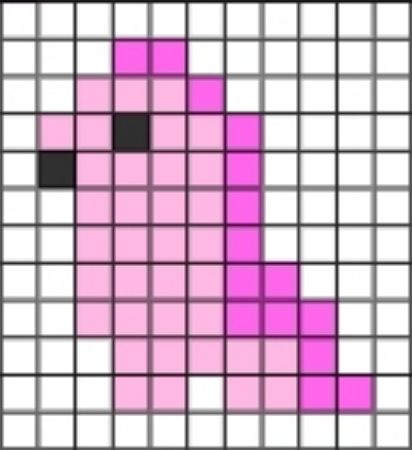 Weroniczka mixes things up with this simple pink dinosaur design.
Pink dinosaurs aren't too far-fetched, especially for imaginative children who can conjure different types of colorful dinosaurs in their creative minds.
7. T-Rex and Pterodactyl Perler Bead Patterns

Create some of the most popular dinosaur species out there with paigec2103's pattern of a t-rex and pterodactyl. Even though the design is simple, these patterns are detailed enough that children can recognize the shapes of these animals.
8. Simple Dinosaur Bead Outline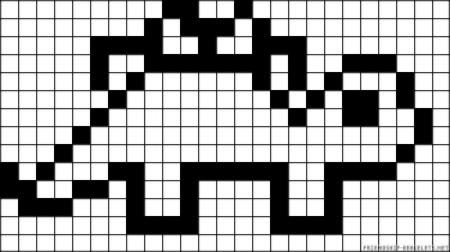 A toddler has to start somewhere, so why not introduce them to Perler beads with hanechan's black and white dinosaur outline? Starting with a design involving simple colors will ensure that your little ones won't get overwhelmed.
9. The Dinosaur Game Perler Bead Pattern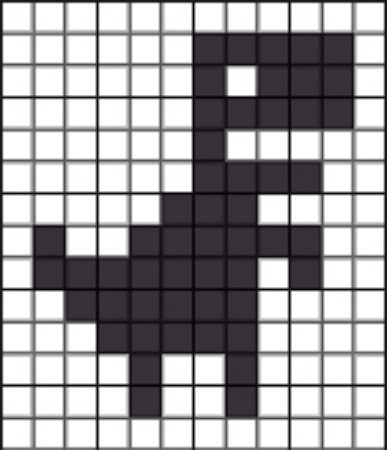 With internet connection everywhere, children might not know the pain of not being able to surf the web or the joy of meeting this T-Rex from The Dinosaur Game that pops up in Google's browser when there's a lack of internet connection.
Ron_Weezly shares a pattern of this friendly dinosaur who tries to evade the obstacles on his path.
10. Cute Perler Bead Triceratops
Follow Lacey's Crafts video tutorial to create another popular dinosaur, the triceratops. Encourage your little ones to make it with the color they prefer!
11. Cotton Candy-Themed Sauropod Pattern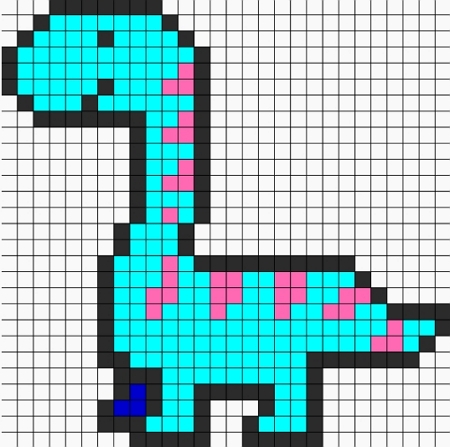 Any type of dinosaur can exist in children's minds, and as kokopow17's design shows us, even cotton candy dinosaurs can exist!
12. Another Sauropod Perler Bead Pattern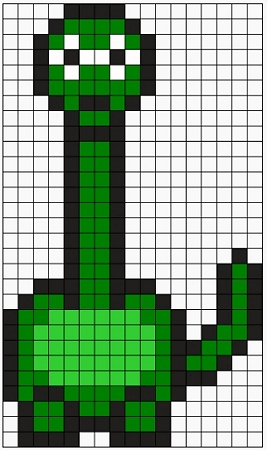 Discover more unique dinosaurs such as this iconic long-necked dinosaur created by tashar_h.
For more unique ideas be sure to check our owl rock painting compilation.
13. Pterodactyl Perler Bead Pattern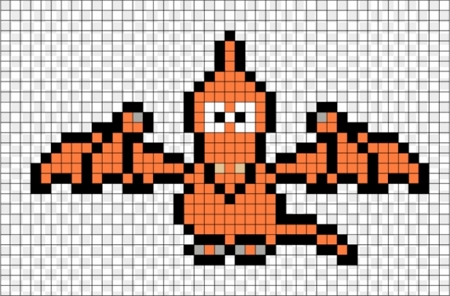 What's scarier than carnivorous dinosaurs? Meat-eating dinosaurs with wings (also known as the "terror-dactyl")! But PinPNG shows us that there's nothing to be afraid of with their friendly pterodactyl pattern.
Studies have shown that dinosaurs have much in common with birds, so see the similarities in these chicken crafts and duck crafts.
14. Dinosaur Playset Pattern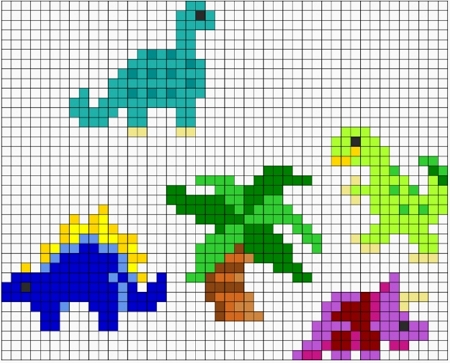 There must have been millions of these prehistoric creatures that lived on Earth a very long time ago.
Rayven allows your little ones to play with different species with their dinosaur playset patterns, which includes such dinosaurs as the triceratops, stegosaurus, and the t-rex.
4 Cute Dinosaur Fuse Bead Patterns
If your children aren't too keen on the idea of dinosaurs, simply show them these next four cute dinosaur patterns and they'll never be spooked by these creatures again!
Next they can try their hand (literally!) in copying these cute koala drawings.
15. Kawaii Dinosaur Pattern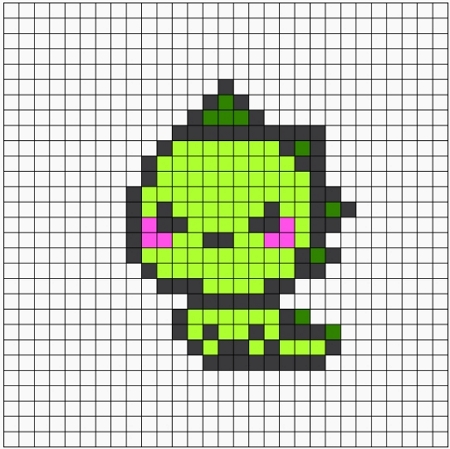 Krolcyta shares an easy kawaii dinosaur pattern. Kawaii translates to "cute" and usually refers to adorable depictions of animals or objects.
If you're still confused about what kawaii is, check out these kawaii Perler bead patterns to learn more!
16. Baby Triceratops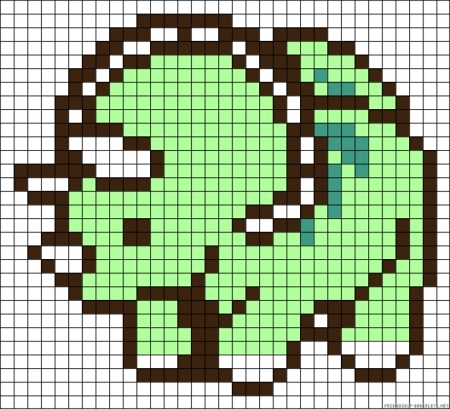 Here's another cute triceratops design, brought to you by Carrie, who creates a wonderful pattern that your little ones will undoubtedly find adorable.
17. Child in a Dinosaur Costume Pattern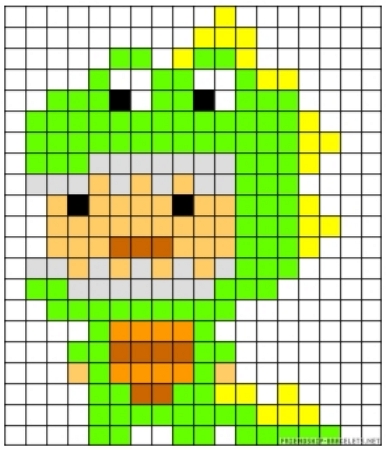 Be fearless like this pattern of a kid wearing a dinosaur costume. Made by SupahhNinja, this pattern encourages children to face their fears and shows that dinosaurs aren't that bad.
18. Cute Blue Dinosaur Perler Beads Design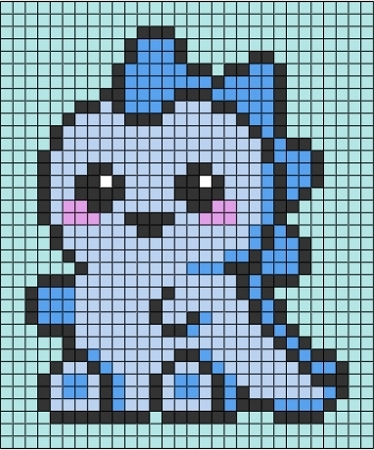 Awesome200 tests our abilities to resist cute things with their charming blue dinosaur pattern.
This dinosaur design is just as cute as these Baby Yoda crafts!
4 Next-Level Dinosaur Perler Bead Patterns
Imagine a species becoming extinct and being studied hundreds of millions of years later. That's the definition of next-level in my book. So here are some cool dinosaur Perler beads!
19. Parasaurolophus Perler Bead Pattern

Parasaurolophus is a bit of a mouthful to say if I'm being completely honest.
Aside from promoting dexterity, angiedi's dinosaur pattern also serves as an enunciation exercise.
20. T-Rex Perler Bead Pattern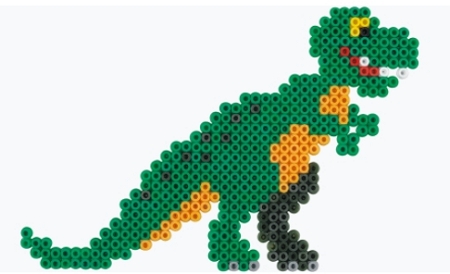 The tyrannosaurus rex is probably what comes to mind first when thinking about dinosaurs. Pin Clipart lets your little ones recreate a more complicated version of the renowned and fearsome dinosaur.
21. DIY 3D Stegosaurus Perler Bead
The stegosaurus is the dinosaur known to have large plates on its back that makes their species look cooler.
Here's Lightning Rocket Creates video tutorial on how to create a 3D stegosaurus. The video tutorial guides the viewer with each component of the dinosaur and where to correctly place them, making it easy for kids to follow.
3D stuff is cool, so don't miss out on making these 3D paper flowers.
22. Taco Dinosaur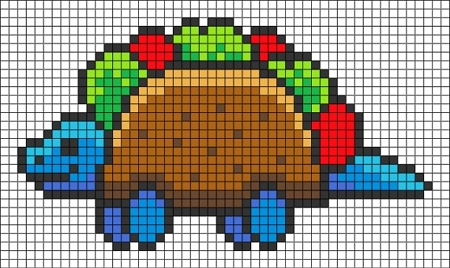 What's not to love about a taco dinosaur? This fuse bead version of the stegosaurus from halokiwi gives this dinosaur a taco shell body.
4 Perler Bead Patterns of Famous Dinosaurs
Some dinosaurs have been depicted in popular media as big, bad, and scary, while others have friendlier representations. In either case, here are some of the more popular figures.
23. Jurassic Park Logo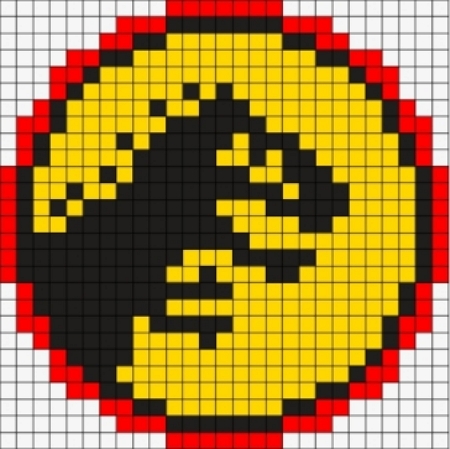 NicePNG commemorates one of the best dinosaur films in history, Jurassic Park, with a Perler bead pattern of the logo. If your kids haven't seen it, this might be a great opportunity to introduce them to this epic franchise.
For other exciting crafts inspired by popular media, head on to our list of Star Wars Perler beads and Star Wars crafts.
24. Yoshi Perler Bead Tutorial
Everyone seems to forget that Yoshi is a dinosaur, too. Maybe it's because he looks too adorable and friendly.
Here's Wii its Mii with a video tutorial on how to create one of the most adored dinosaurs out there.
25. Rex from Toy Story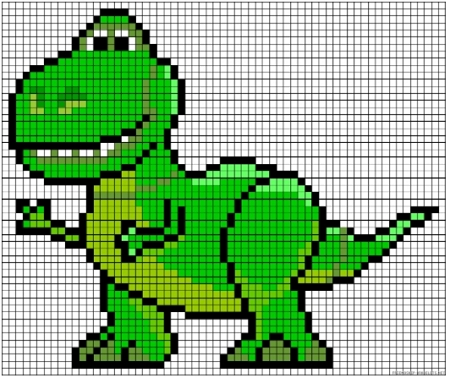 Any child who has watched Toy Story can immediately recognize this towering figure made by pache. Contrary to the popular depiction of the vicious t-rex, Rex is actually a gentle and kind creature.
Learn how to appreciate DIY toys with these other Toy Story crafts.
26. Barney the Purple Dinosaur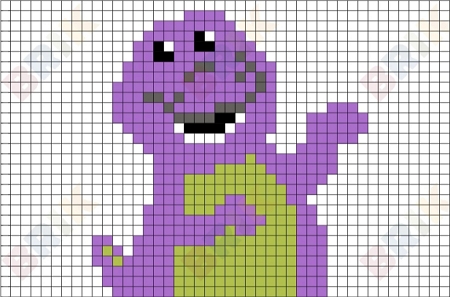 As a child, I always enjoyed watching Barney and friends. Allow this generation of children to get acquainted with this lovable purple dinosaur through Brik's awesome Perler bead pattern.
These Designs Are a Sight for "Saur" Eyes
I hope you and your little ones have enjoyed traveling back in time to meet these friendly, prehistoric creatures.
Check out these other posts to maker more animal Perler bead patterns: