PAW Patrol has been a successful hit among kids ever since it launched on Nickelodeon back in 2013 and with the recent release of the PAW Patrol movie, the pups popularity has never been higher.
Even PAW Patrol official YouTube channel has garnered 5 million subscribers to join the honorable and competent pups on their city adventures!
If you're looking for a fun way to keep your kids occupied, check out these 24 different PAW Patrol crafts, from drawing tutorials, to craft projects, to Perler bead patterns.
9 PAW Patrol Art & Drawings
The first 9 items feature how-to drawing tutorials for your children's favorite pup on the show!
1. PAW Patrol Chase the Police Pup
The first on the list is Chase who is a German Sheperd dog breed. His characteristic mark is his outfit made of navy blue color.
It's only fitting that he owns a police cruiser because, as a German Sheperd, the breed has a very keen sense of smell that's an incredibly useful asset for the police's K9 units.
Learn how to draw Chase from this video tutorial from How To Draw TF's channel.
2. PAW Patrol Marshall the Firefighter Pup
Dalmatians are the mascots of firefighters across the US, and so appropriately Marshall the Dalmatian is a highly qualified firefighter on the show.
His signature color and vehicle are red and the fire truck, which he always uses every time there's a fire or health emergency since Marshall is also a paramedic pup.
If your kids think Marshall is cool, have them draw this honorable pup from Colouring Academy's video tutorial.
If your kids are fascinated by the noble work of firefighters, try to inspire them with more firetruck crafts!
3. PAW Patrol Skye the Air Rescue Pup
Along with Everest the Siberian Husky and Liberty the Daschund, Skye is one of the few female dogs on the show, making her one of the most unique characters that many young girls idolize.
Since Skye provides the team's air support, she also has one of the coolest skills and vehicles on the show, capable of piloting a helicopter by herself.
For kids who love the pink color and would love the awesome ability to fly, then Skye is their pup.
4. PAW Patrol Rocky the Handyman Pup
Rocky is a mixed breed pup and one character whose responsibility I feel deserves more credit. This sweet pup's skills are recycling and being able to craft handy equipment at a moment's notice.
Rocky's signature color is lime green and he drives a mix between a forklift and a garbage truck. Rocky's green color and recycling emblem is an amazing reminder for us to take care of the environment.
Simply watch this video tutorial from Art From All's channel to learn how to draw Rocky.
Think twice before you throw away those toilet paper rolls, you might be able to upcycle those into these toilet paper roll crafts for your kids!
5. PAW Patrol Rubble The Construction Pup
I bet kids who love having the ability of raw strength are fans of the construction pup, Rubble. He is always able to move out heavy things during dire situations.
His signature color is yellow and he drives a bulldozer that also has a crane, jackhammer, and an excavator built into it.
Bulldog owners and lovers shouldn't miss this drawing from Rainbow Playhouse's channel.
6. PAW Patrol Zuma The Aquatic Rescue Pup
If the skies have air support like Skye, the waters also have plenty of assistance through Zuma, the labrador pup!
He's an aquatic rescue pup who's responsible for the aquatic rescue, and his signature color and vehicle are orange and an awesome hovercraft.
Did I mention that his hovercraft can turn into a submarine? That easily makes it one of my favorite vehicles on the show!
Learn how to draw Zuma through ResiMania ART's video tutorial.
Try to not lose yourself at sea with these ocean crafts!
7. PAW Patrol Ryder Drawing
Last but not the least, Ryder the 10-year old is the main character who ties every pup and the team together! Your kids can imagine themselves being Ryder, commanding all the pups and rescuing civilians in need of help.
Art For All provides us with this video tutorial on how to draw PAW Patrol's charismatic leader, Ryder.
8. Ryder's ATV Bike
As you can see, Ryder has this sweet ATV ride that allows him to quickly reach emergencies.
Learn how to draw his awesome signature vehicle through this video tutorial from Tim Tim TV's channel.
If you've enjoyed drawing these magical vehicles, get your kids this incredible PAW Patrol kit that contains 3 wooden vehicles and 3 pups for your kids to color and design as they want! Not only that, but the kit also includes 8 pots of coloring paint, 3 paintbrushes, and a set of stickers to add details to your vehicles.
9. PAW Patrol Art Badges
Each pup has their own recognizable emblem that represents what they do best.
This is a great activity to improve the memorization skills of your children, not to mention the practice of recognizing different colors.
This activity is almost similar to learning with flashcards, and I'm sure your toddlers and preschoolers will have a blast with these.
PAW Patrol Crafts For Preschoolers
Let's move on to other PAW Patrol crafts that don't necessarily involve a lot of drawing, instead they practice your children's fine motor skills through the small finger movements used in finishing these crafts.
10. Marshall Toilet Paper Roll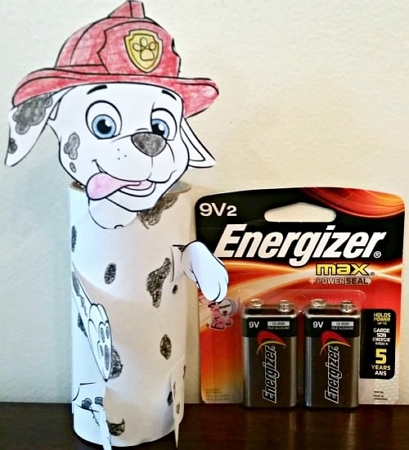 Check out this creative use of toilet paper roll that Frugal Ginger has transformed into a Marshall toy.
This is a fun and cute craft that you can make using something you'd normally throw away.
Try checking out this PAW Patrol Pom Pom Kit, which includes an educational book featuring a story in PAW Patrol, and some pom poms to craft their favorite pup from the show! It's a great value and kids always love little surprise presents!
11. PAW Patrol Footprint Art Activity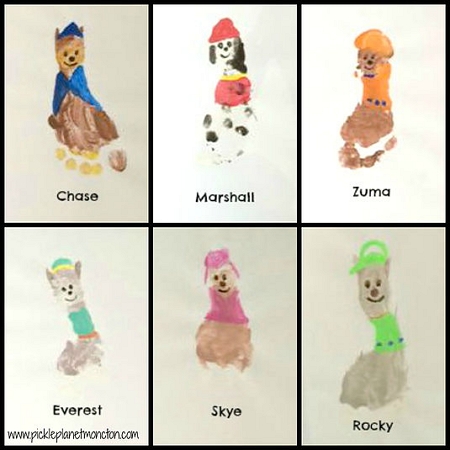 There's plenty of experiences that your kid can learn through such a tactile sensory activity as handprint or footprint art.
Pickle Planet resourcefully combines a very engaging activity, footprint art, and a TV show that many children love to watch, PAW Patrol!
So what are you waiting for? Dip those small little feet in some easily washable paint and recreate your favorite characters!
12. PAW Patrol Craft Badges
Produce a tangible symbol for your children's imaginary pup friends by creating these craft badges from the official Youtube channel of PAW Patrol, PAW Patrol Official & Friends.
They feature all the badges of the original team members, so let your children take their pick.
13. Various PAW Patrol Crafts
This interesting video tutorial from Everyday Crafts features 4 different crafts from PAW Patrol.
The first PAW Patrol craft is an easy Marshall paper cup craft. It makes use of googly eyes for a silly effect.
The second one is a beautiful yet functional Skye pencil holder to put on your children's desk.
The third craft is a Chase finger puppet that your imaginative children can play with.
The last craft is the emblem of Marshall that you can stick onto your children's bag!
14. PAW Patrol Communicator Craft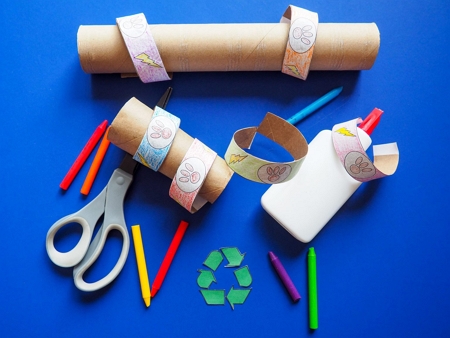 Like many things in life, communication is key. That's especially true in this show where the team needs to coordinate with each other to be effective.
Your children can now communicate to their subordinate pup crafts thanks to Pretty In Baby Food's ingenious communicator wristbands.
15. PAW Patrol Badge
If your kids enjoyed the movie so much that they wanted a PAW Patrol-themed party, then let their wish come true by decorating your party with these PAW Patrol logo badges.
Twinkle Twinkle Little Party rightly suggests using some paw print ribbons to set the right tone for your kid's party.
8 PAW Patrol Perler Beads For Kids
The last 8 items on this list are Perler bead patterns. If you aren't familiar with Perler beads, don't worry, we've got you covered with some easy Perler beads for kids to enjoy! You'll find an introductory guide to Perler beads in that post.
16. Chase Symbol Perler Bead Pattern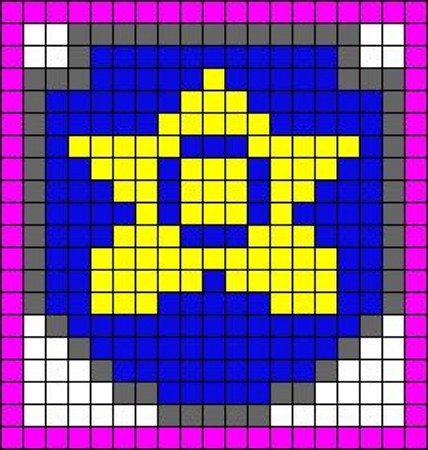 Accompany your Chase's drawing with this Perler bead pattern of a police badge. This will give your police pup plenty of authority, as well as make him a legitimate police officer!
Try recreating this Perler bead pattern from Pinterest.
17. Marshall Symbol Perler Bead Pattern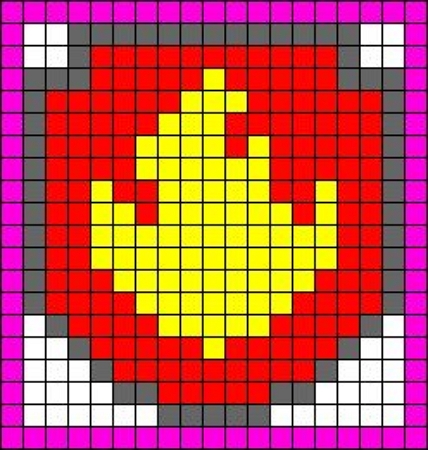 Have Marshall carry this emblem around to alert your surroundings that you're rushing into an emergency. That fire symbol will immediately notify people of the dire situation and will immediately allow Marshall's fire truck to pass through.
Not having this could mean the difference of saving a civilian in need of urgent help, so recreate this symbol from Pinterest.
18. Skye Symbol Perler Bead Pattern
One of the coolest badges for arguably the coolest character on PAW Patrol. Give your Skye the license to pilot a helicopter by making this badge Perler bead pattern from Pinterest.
19. Rocky Symbol Perler Bead Pattern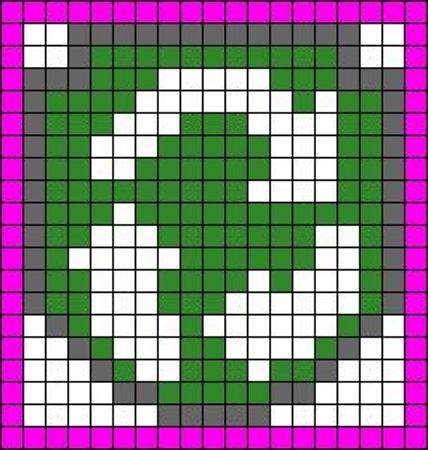 This badge belonging to Rocky is an awesome reminder for us to protect nature, and thus our planet.
Educate your kids on the importance of recycling and reducing waste so that future generations may live a greener and healthier lifestyle. Recreate this through Bracelet Book's pattern.
20. Rubble Symbol Perler Bead Pattern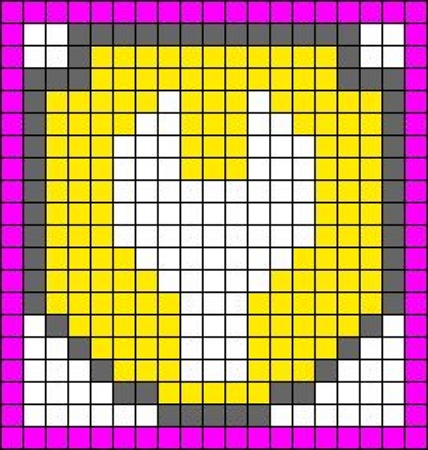 This wrench symbol belongs to our lovable and strong bulldog, Rubble. Indeed, his name indicates that he specializes in removing plenty of debris that may be hazardous to the surrounding area.
Free Bead Pattern provides fans of Rubble with this Perler bead pattern.
21. Zuma Perler Bead Pattern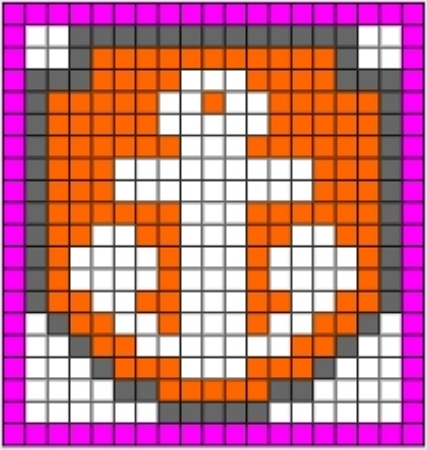 Last but not least is the pattern of our favorite aquatic support, Zuma! The anchor is such a captivating design, in my opinion, symbolizing resilience, which is what all of the pups in PAW Patrol have.
Bracelet Book provides us with this Zuma badge Perler bead pattern.
22. PAW Patrol Squad Perler Bead Patterns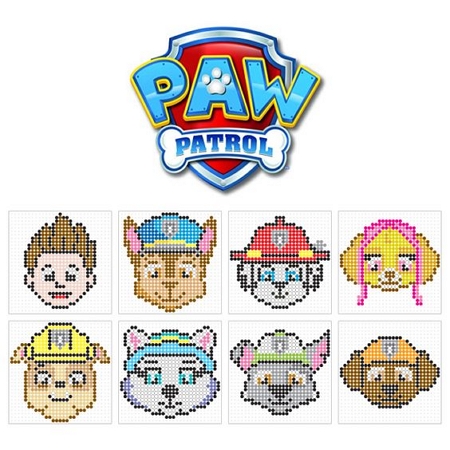 If your kids love making all of those badges, they shouldn't miss out on these Perler bead patterns of each pup from the original team, plus Everest the Husky.
Perler beads are such an intuitive craft that even preschoolers shouldn't face a hard time while making these. These patterns are provided by Pinterest.
23. PAW Patrol Logo Perler Bead Pattern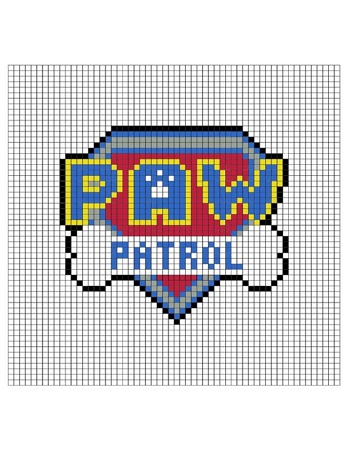 To wrap everything together is this PAW Patrol Logo, which becomes a perfect decoration to your kids' room to show their love for this show.
Since you're dealing with small beads and carefully placing them on the pegboard, Perler bead activities train the fine motor movements of your children's fingers.
Recreate this PAW Patrol logo from  Pinterest.
Incredible PAW Patrol Crafts To Save The Day!
While they may just be cartoon dogs to you and me, they are real life heroes to our kids.
These crafts will help you bond with your kids over their interests while getting messy and having fun.
Whether it's dogs or other pets, kids will always be curious about small creatures, so head to our cat crafts and ladybug crafts to create more!