Make one of these 21 pig Perler beads patterns with your kids to help them become familiar with this popular farm animal.
Perler beads activities have a lot of benefits, especially for toddlers and preschoolers, like enhancing color recognition, learning basic counting, and improving hand-eye coordination – skills that are important for any kid's development.
Our easy Perler bead patterns guide contain plenty of simple patterns that are perfect for kids, too.
10 Pig Perler Bead Patterns for Toddlers
1.  Simple Perler Pig Pattern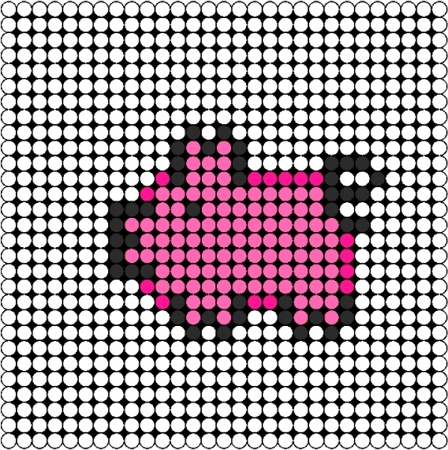 Matches_2001 takes a common way to draw a simple pig from the letters E, M, W, and lowercase E and applies it to Perler beads. Toddlers will not only get the benefits of a Perler bead activity, but they'll also learn several letters along the way.
This how to draw a pig guide will also teach kids how to draw a pig in many different ways!
2. Easy Muddy Pig Pattern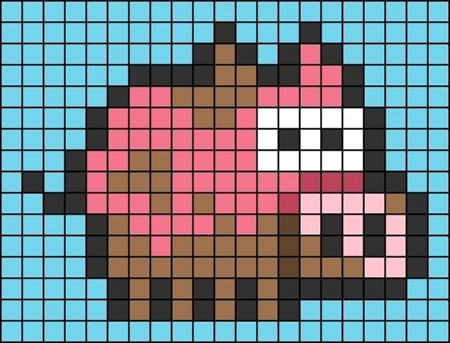 Pigs are usually depicted as dirty and stinky creatures, wallowing in the mud all day, like this pattern from KrazyKnotz, but they are actually quite hygienic animals and only wallow in mud to keep their body cool.
I love the detail on this pattern because the mud is splattered on parts of the pig's body.
3. Simple Pink & Blue Pig Perler Beads Pattern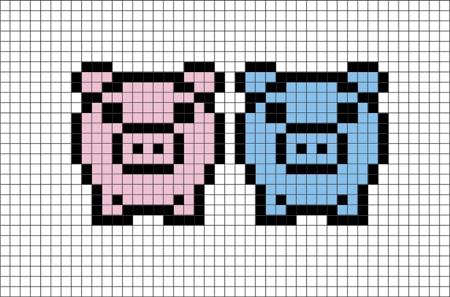 If you like a simple pattern, here's NicePNG's version of a pig pattern in pink and blue. Encourage kids to choose whatever color they prefer!
4. Pig from Starbound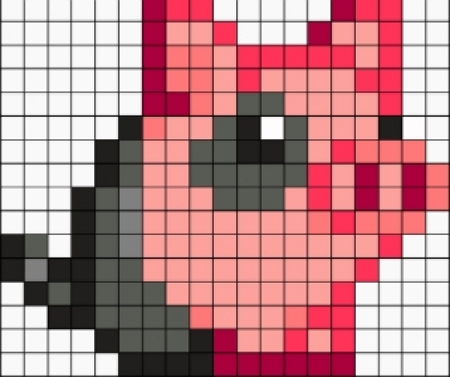 _Sandwich_ recreates the pig from a game called Starbound, in which you can tame pets, such as the pig above, and many more. This fuse bead pattern will challenge kids' visual skills since, while it's a simple pig pattern, it has different shades of the same color.
5. Dashing Pig Perler Beads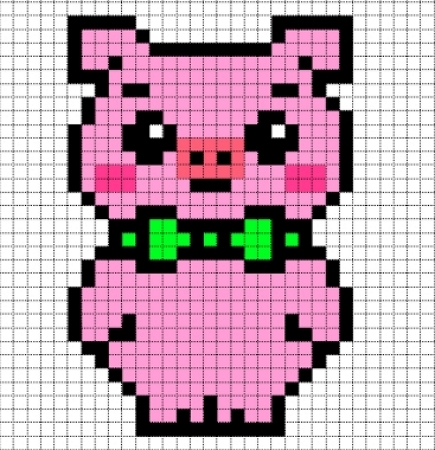 This dashing pig from For Kids looks like it's ready to ask someone to the big dance. Play around with the color of Mr. Pig's bowtie to make this fuse bead pattern more personalized.
6. Kawaii Pig Face Perler Beads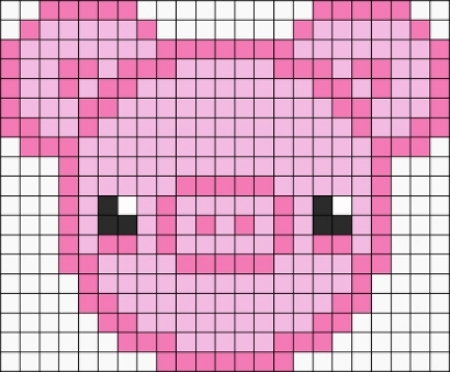 KiaKittenn shares a cute pig pattern for those who love adorable faces, which I think all kids do, so this pattern is a safe bet for everyone. It's also suitable for toddlers since it's easy enough to make.
If you're interested in more adorable patterns, here's a list of kawaii Perler bead patterns to try next!
7. Another Kawaii Pig Pattern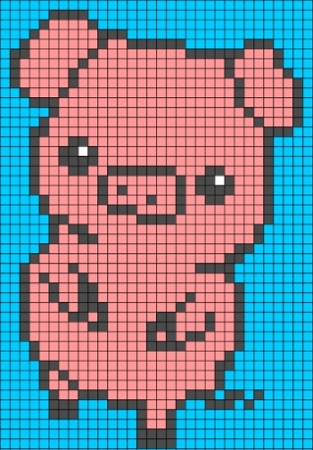 Kornkob95 presents a pig with a little bit more challenge than the previous kawaii pig, making a pattern of the entire body rather than just the face.
It's a great activity that will give kids a sense of accomplishment since the pattern requires some time and effort to recreate.
8. Simple Round Pig Pattern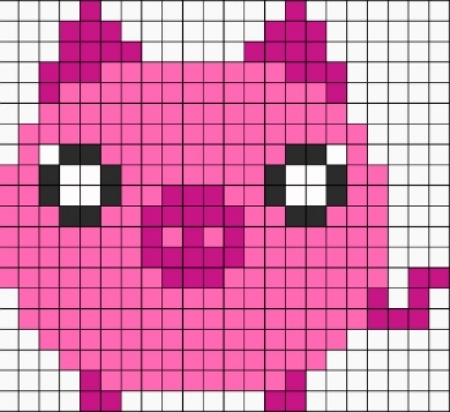 Not all pigs are completely round, but this pattern from crazychick509 is. Help kids learn to recognize shapes better with this pattern, from the round body, nose, and eyes to the triangular ears.
We've also made a circle Perler bead patterns guide for those who only have circle pegboards on hand!
9. Christmas Pig Perler Beads Pattern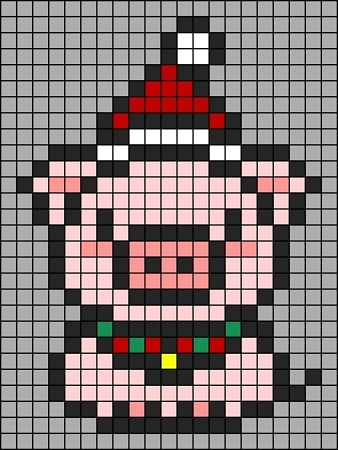 Celebrate the Christmas spirit and make this Christmas pig from Aracne with the kids when you're not too busy during the holidays.
With plenty of colors to work wit, kids will have no difficulty in improving their color recognition with this one.
Alternatively, you can make these snowman handprint ornaments during the winter season to hang on your Christmas tree!
10. When Pigs Fly Fuse Beads Pattern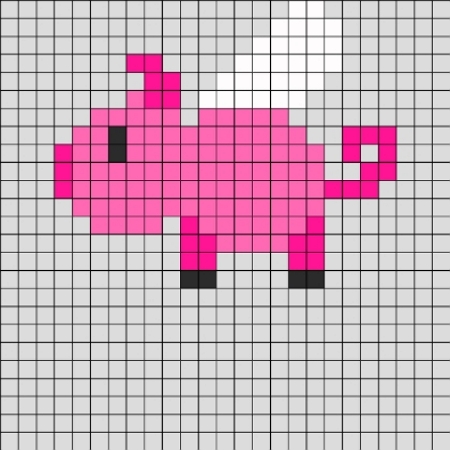 Spark839 makes the saying "When Pigs Fly" come true with their pig with wings pattern. Watch the kids enjoy their craft and "fly" around the house with their new companion.
This winged pig almost look like it could join the ranks of these unicorn crafts.
7 Iconic Pig Perler Beads
Here are 11 pig Perler bead patterns inspired by different popular TV shows, movies, and games.
11. Minecraft Pig Pattern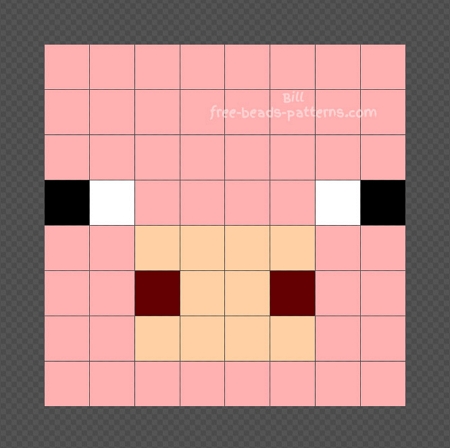 Minecraft players will immediately recognize this pig pattern from Free Bead Patterns. The shape of this pattern is straightforward yet very familiar, making it easy for preschoolers to recreate the Minecraft pig.
For more Minecraft patterns, here's a compilation of Minecraft Perler bead patterns made just for you!
12. Spoink from Pokemon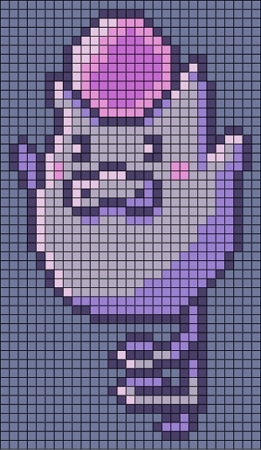 After creating these Pokemon Perler beads, add another Pokemon to the kids' collection by creating this Spoink by Skribble. It's possibly one of the cutest Pokemon out there (and there are A LOT of Pokemon).
13. Piglet from Winnie The Pooh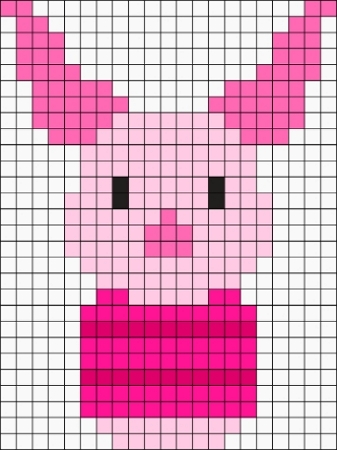 When talking about pigs and Disney, surely we can't miss Winnie the Pooh and his friend Piglet. Tashar_h shares a simple pattern for kids to recreate.
If you love Disney stuff, you're going to love these DIY Mickey ears and Mickey Mouse crafts even more!
14. Porky Pig Perler Beads Pattern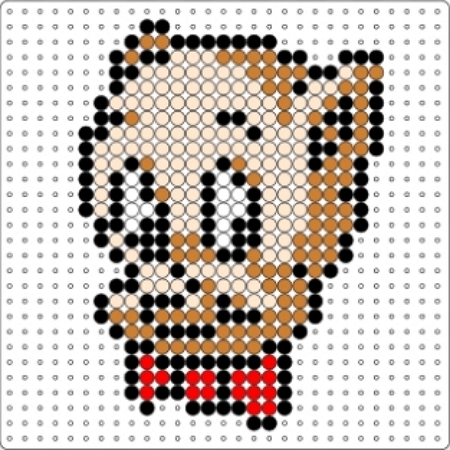 Porky Pig is another popular pig who has appeared in many television shows and films. His first appearance dates back to the 1930s, similar to other popular cartoon characters we know today like Donald Duck, Tom and Jerry, and many more.
PngAAA shares an almost identical replica of the character through their Perler bead pattern.
15. Pig King from Angry Birds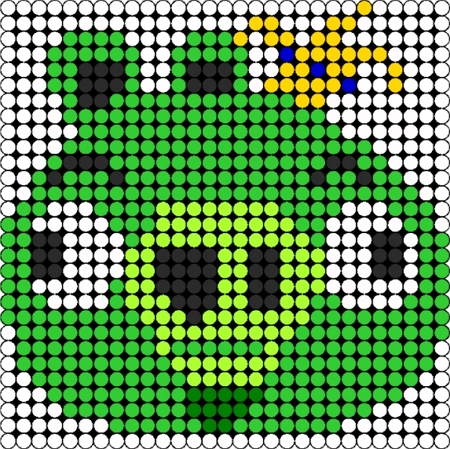 There's nothing more satisfying than destroying the evil green pigs in Angry Birds. Reborndolls shares a pattern of the King himself, which can be used as a coaster once it's done because of his shape and size!
16. Spider-Pig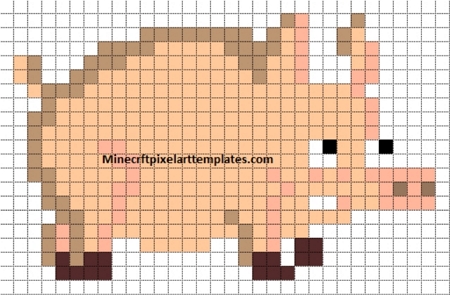 "How did the pig tracks get on the ceiling?!" – Marge in The Simpsons Movie.
Homer might be able to tell you how, and so will Minecraft Pixel Art Templates with their Spider-Pig Perler bead pattern. The good thing about this Perler bead craft is that it won't leave any tracks when the kids try to make it crawl on the walls.
We all know Spider-Pig was inspired by Spider-Man, so here are Spider-Man crafts for your little webheads.
17. Hello Kitty in Piggy Costume Pattern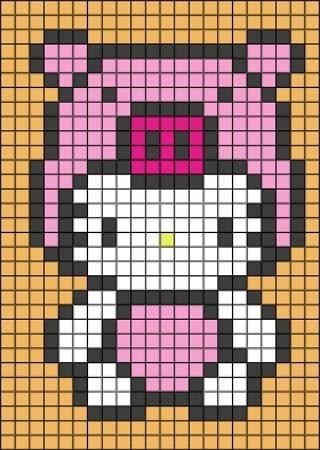 Is it cat or pig? All I know is that this Perler bead pattern by Miii is adorable. Fans can now make a Hello Kitty in a pig costume, and it's very easy!
If you're interested in more cat related activities, here are cat crafts for kids and some cat Perler beads.
4 Peppa Pig Perler Beads Patterns
No pig has taken the world by storm more than Peppa Pig has. Hailing from the UK, Peppa has even influenced many children to develop a British accent! Express your love for this adorable character with the following 4 fuse bead patterns.
18. Queen Peppa Pig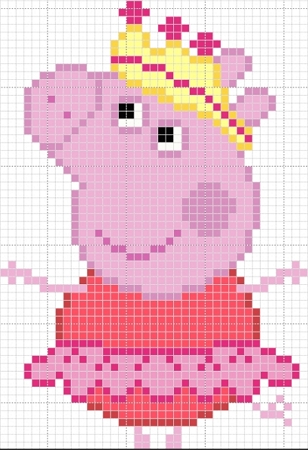 Doces Pontos shares a Perler bead pattern that will allow kids to recreate the very influential cartoon character who is designed as a ballerina with a crown – perfect for little ballerinas who are fans of Peppa!
19. George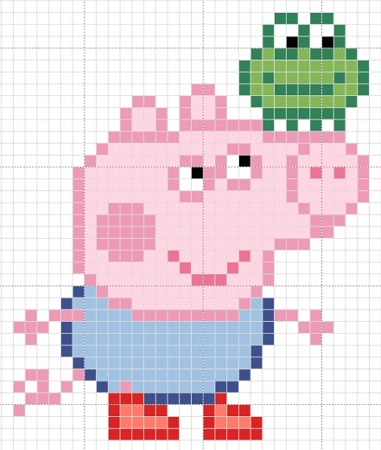 Peppa's beloved and sweet brother George is always present in all of her adventures. Taking care of your loved ones is of the values that the show imparts to kids.
Inspire girls to be role models for their little brother and make this Perler pattern of George with a friendly frog by Doces Pontos.
Speaking of frogs, here are some frog crafts for kids that they can do during a quiet weekend.
20. Mummy Pig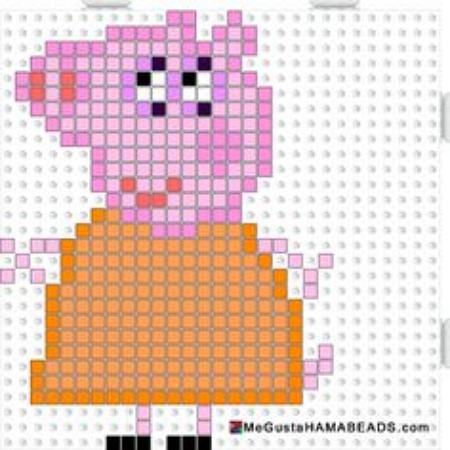 Here's a Perler bead pattern from Me Gusta Hama Beads of Mummy Pig, who is here to guide the kids and to remind them that they are loved and will always have her support.
21. Daddy Pig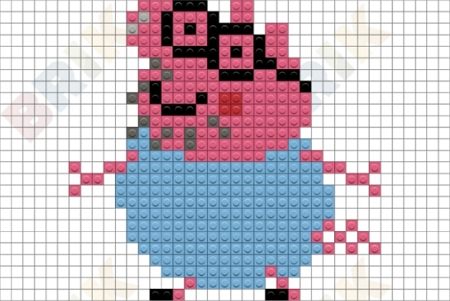 To complete the Peppa Pig Perler beads family, here's Brik's pattern of Daddy Pig, who is always helpful whenever Peppa and George run into trouble and need their toys fixed.
When you're done with Peppa's family, try making crafts of another cartoon family that's taken the world by storm with these Bluey crafts.
Pig Perler Beads for Every Skill Level
Pigs come in different shapes and sizes. Stimulate your children's creativity further by encouraging them to make their own pig just using the power of their imagination.
There are plenty more animal drawings and crafts to make with the kids, so make sure to not miss out on these: