I've compiled a list of 13 snowman handprint ornament crafts that you can make in advance of or during the holiday season.
These crafts will surely be a welcome addition to a grandparents Christmas tree, or make great ornaments to mark the passing years.
It's never too early to start planning your festive decorations, so let's get started!
5 Snowmen Handprint Ornaments
The first 5 ornaments are activities that involve a lot of handprints, so it will be quite an interactive project for you and your little ones.
Toddlers, I believe, will benefit the most from these because of the sensory experience the activities will provide.
1. Handprint Snowman Christmas Ornament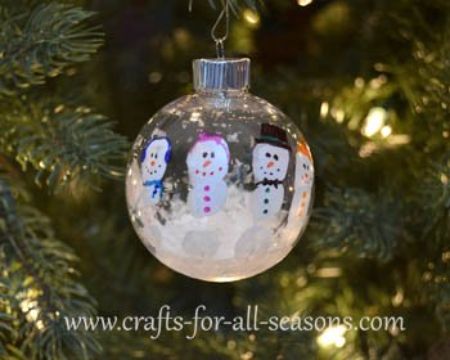 Toddlers and preschoolers are the best candidates for these snowman Christmas ornaments because older children might find that their hands are too big to make an impression on these clear plastic ball ornaments.
This craft requires white paint. If you hate getting those little hands messy, I suggest choosing easily washable tempera paint.
Crafts For All Seasons recommends putting glitters or fake snow inside the ornament to give it a snow globe aesthetic.
2. Snowman Handprint Holiday Card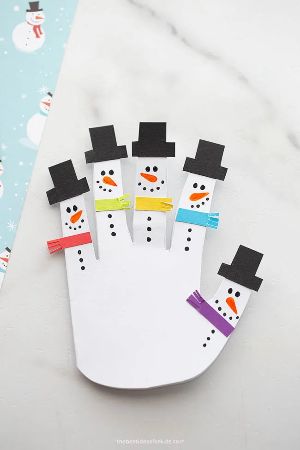 If you don't want to purchase clear ornament balls, but would still love a holiday activity for your children, then check out this snowman handprint craft from The Best Ideas For Kids.
This is not just a simple handprint craft – it's also a holiday card in which your children can write their Christmas wish list or New Year's resolutions!
3. Easy Handprint Snowmen Ornament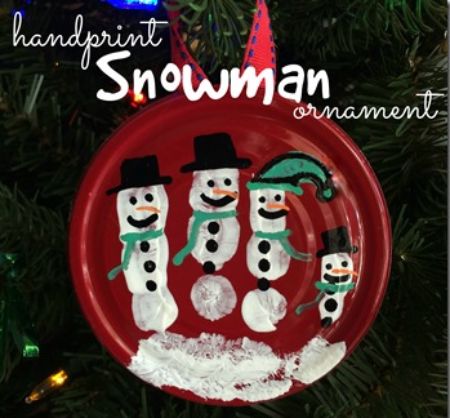 Do you get pleasure out of upcycling stuff that's just lying around your house? This handprint snowman ornament from Trish Sutton will allow you to do that with a medium-sized lid.
Coat the lid with acrylic spray paint and, when it's dry, simply instruct your children to dip their hand in white paint and firmly press on the lid.
When the paint is dry, let your children add details to the snowmen with markers!
Since we love upcycling materials here at Cool Kids Crafts, we've compiled a bunch of craft lists using reusable materials, like these toilet paper roll crafts.
4. Handprint Snowman With Circle Template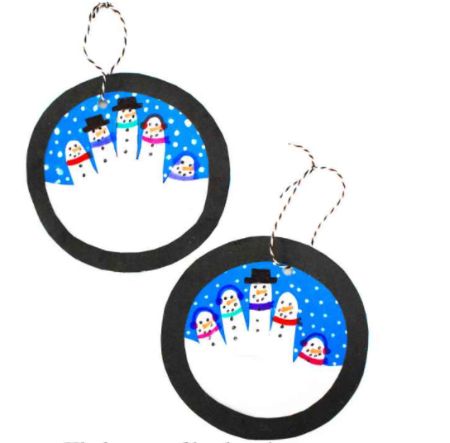 Here's a fun way to represent family and friends through snowmen. Allow your children to illustrate their loved ones through these handprint snowmen by The Keeper Of The Cheerios.
Follow their directions to learn how to create this fun and simple craft.
5. Christmas Handprint Art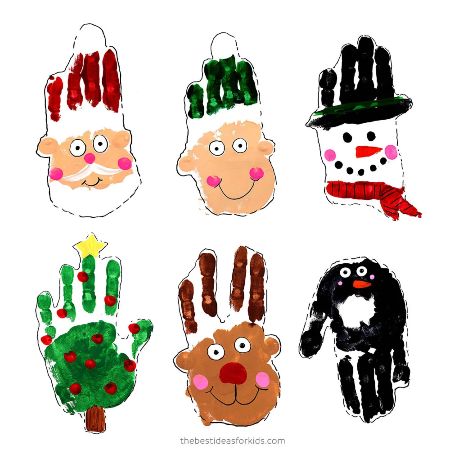 The variety of art you can make with a single handprint is incredibly wide. For example, we have a whole post dedicated to turkey handprint crafts that you can make with your children.
These handprint designs from The Best Ideas For Kids are not limited to a simple snowman, but also include other Christmas and winter related figures.
3 Fingerprint Snowman Ornament Ideas
I've listed several fingerprint snowmen ornaments for those who aren't too keen on the idea of dipping an entire hand in paint.
6. Colorful Fingerprint Snowman Ornaments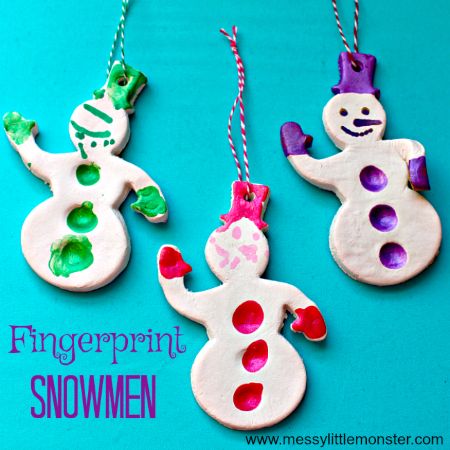 Sensory play is great for babies and toddlers because it enables them to experience tactile and visual skills, which are critical for early childhood development.
Messy Little Monster shares this fingerprint snowman activity that allows your children to get a feel of different materials, like white clay.
If you want your children to experiment with different types of sensory play, then I highly recommend checking out these winter sensory bins!
7. DIY Fingerprint Snowman Ornament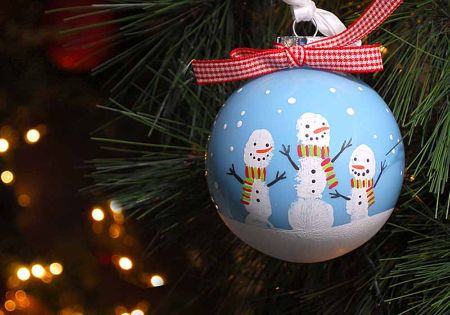 Using fingers instead of a hand to create prints has some benefits. For one, you don't make a mess of your entire hand.
Secondly, you can control the number of snowmen you want to put on your ornament!
This snowman ornament craft allows your children to target fine movements and adjustments with their fingers.
Follow the directions from Plaid to learn how to create this ornament and what materials are required for it.
8. DIY Fingerprint Snowmen Christmas Ornaments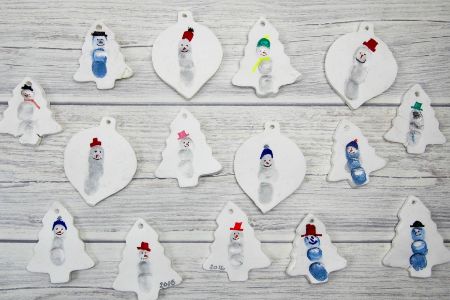 This is probably one of the easiest crafts you can make, and it doesn't require a lot of time to do.
The only downside for these lovely ornaments is that they require you to have Christmas-themed cookie cutters, which shouldn't be too hard to get ahold of.
Mum In The Madhouse instructs you to simply press your kids' fingers into white clay and to allow kids to draw clothing on their snowman with markers or paint.
5 Salt Dough Snowman Crafts
Salt dough is popular and a very accessible material. It has the consistency of a Play-Doh without the cost of buying it.
Here's our post on homemade playdough if you're interested in a fun DIY project!
9. Fingerprint Snowman Salt Dough Christmas Ornament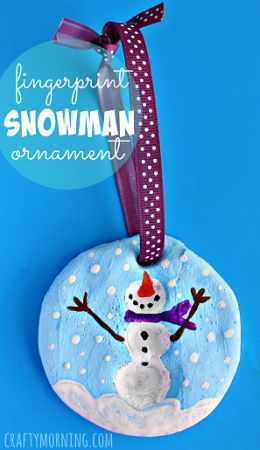 This craft from Crafty Morning is similar to the other fingerprint ornaments above, but this one makes use of salt dough.
This ornament involves baking the salt dough after the fingerprints are imprinted.
Check out Crafty Morning's instructions to learn how this simple fingerprint snowman ornament.
10. Salt Dough Snowman Handprint Keepsake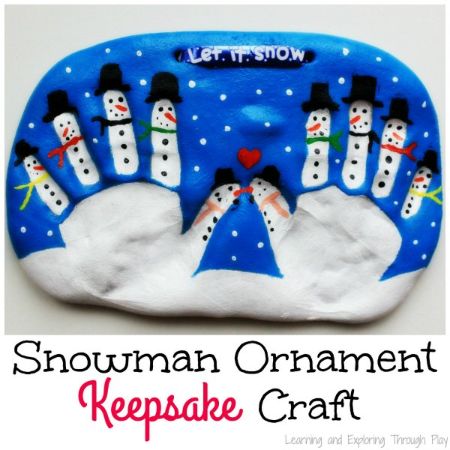 Make an ornament on a bigger scale with this snowman ornament keepsake craft from Learning And Exploring Through Play.
This is also a great coloring activity to enhance your children's fine motor skills and creativity because it involves painting the big mass of salt dough after it's hardened.
11. Olaf Salt Dough Footprint Ornament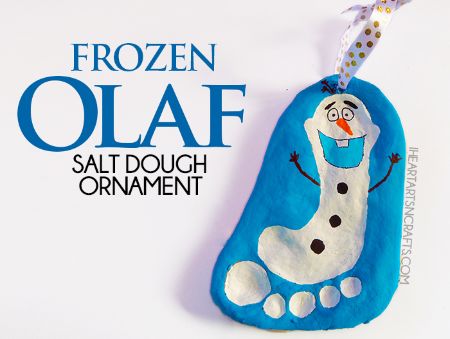 Fans of the Disney franchise Frozen will rejoice in knowing that they'll be able to make an ornament of their favorite cartoon snowman, Olaf.
What makes this stand out from other snowman ornaments is not because it has a popular figure within the design, but because it involves using a footprint to create it!
I Heart Arts 'N Crafts has plenty of directions on their website for this salt dough snowman.
For other activities that involve Disney characters, visit our posts on Baby Yoda crafts and Bluey crafts.
12. DIY Snowman Handprint Ornament for Kids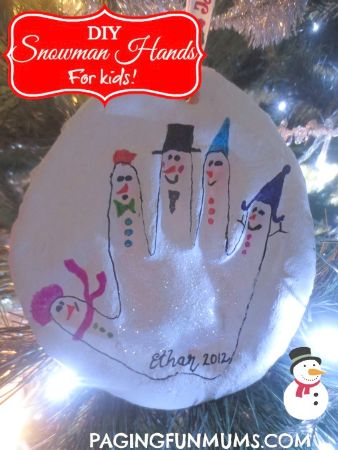 These handprints are like fossil records that get preserved through time.
Paging Fun Mums demonstrates that by writing the date they and their kids made their snowman handprint ornaments.
Create good memories by making these with your children.
13. Salt Dough Footprint Snowmen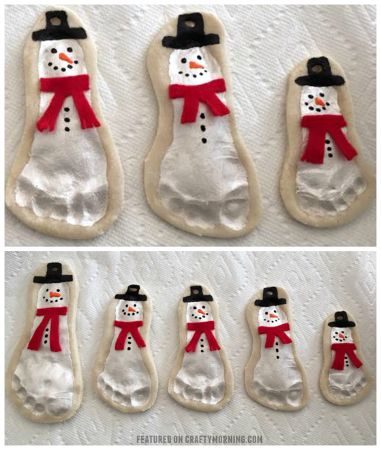 To give your ornaments more texture and detail, add red and black craft felt to create a scarf and hat, like what Crafty Morning does with this salt dough footprint craft.
Your kids can pretend that their creation is the baby snowman while the bigger footprints are the parents!
Snowmen Ornament Crafts to Warm Your Winter Days
I hope these snowman handprint ornaments have inspired you to make your own crafts at home.
For other seasonal activities, check out these other craft compilations: