Sheep are one of the best farm animals that kids, especially toddlers and preschoolers, can make crafts out of.
That's because sheep are very flexible when it comes to the materials needed. There are endless possibilities to make their wool look fluffy, ranging from simple materials like paper to more creative ingredients like marshmallows!
Another benefit for small children is that the texture of the materials will add an unfamiliar experience, which is invaluable for developing their sense of touch.
Below you'll find 23 different crafts grouped as sheep crafts for toddlers, sheep art, and other creative sheep crafts.
11 Sheep Crafts for Toddlers and Preschoolers
1. Paper Plate Sheep Craft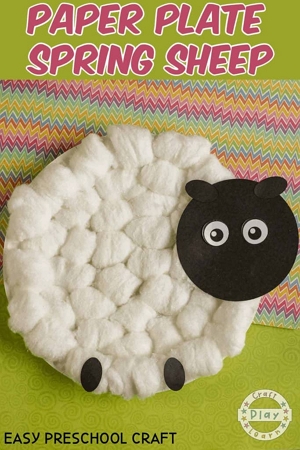 Everyone has paper plates and cotton at home, so there's no excuse to not make this simple sheep craft by Craft Play Learn. The craft involves simply gluing cotton balls on a paper plate. No-fuss at all!
Even this first craft on the list demonstrates the ease with which parents, teachers, and kids can make these fluffy sheep crafts.
2. Sheep Mask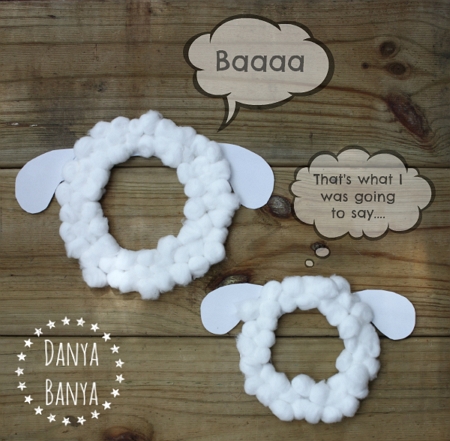 Here's a great craft to make before attending an animal-themed children's party. This is such an educational craft by Danya Banya since encourages children to improve their interpersonal skills through role-playing.
Make role-playing more exciting by making plenty of these paper bag puppets!
3. Clothespin and Yarn Sheep Craft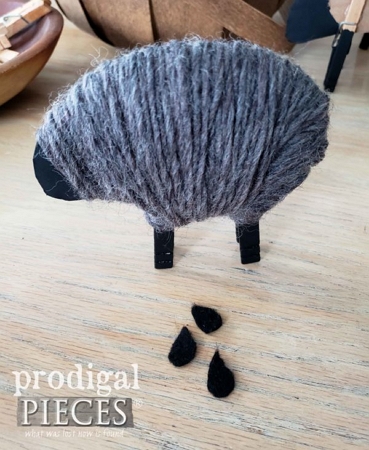 Prodigal Pieces shares a yarn sheep craft that could serve as an ornament to hang on the Christmas tree or your children's next favorite toy!
The activity requires attaching a couple of clothespins and wrapping yarn around a paper sheep, a template of which is kindly provided by Prodigal Pieces.
4. Popsicle Stick Sheep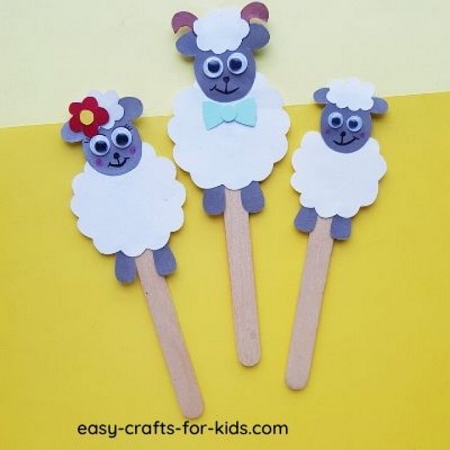 Kids love adorable creatures. They'll love this sheep craft from Easy Crafts for Kids even more since these popsicle stick sheep could also serve as a bookmark for their children's book.
The best thing about these crafts is that the kids won't go to the trouble of drawing because Easy Crafts for Kids conveniently shares a template of this lovely sheep family.
Try making other popsicle stick crafts!
5. Styrofoam Cup Sheep
This video tutorial from Super Simple Arts and Crafts finds a way to work with cups and transform them into an adorable sheep craft. While it says styrofoam cup, using a different material won't change the quality of the sheep craft, so use any cup at your disposal.
Looking at the final product, I would've never guessed that this craft involved a cup since it's concealed by the thick layer of fluffy wool (cotton).
6. Pom Pom Sheep
Here's a chance to learn how to make DIY pom poms out of yarn. One Little Project shows how easy it is to make and at the end of the tutorial you'll also learn how to make their awesome sheep craft.
There are plenty of other crafts that don't involve making pom poms out of yarn. These might interest you if you'd rather stick to pom pom crafts made with store-bought pom poms.
7. Toilet Paper Roll Shaun the Sheep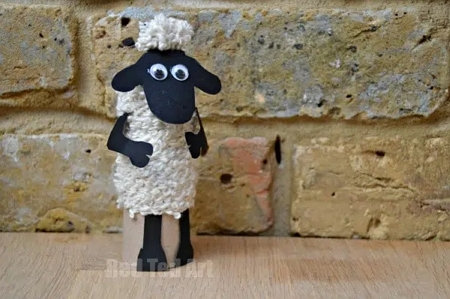 Here's a Shaun the Sheep craft, a popular and silly television character that many kids adore. Brought to you Red Ted Art, the craft involves using an empty toilet paper roll, which everyone has, and gluing yarn onto it. More instructions are available on their website.
Hope you've been saving those rolls since I've procured plenty of toilet paper roll crafts for kids to make!
8. Paper Sheep Craft
This video tutorial from KROKOTAK's channel demonstrates how you can make a sheep's wool out of anything. Here they use plenty of paper to create a 3D effect on the sheep.
Although not as soft or fluffy as cotton or pom poms, it's still a great craft that will expand children's minds and allow them to think outside the box.
9. Shredded Paper Sheep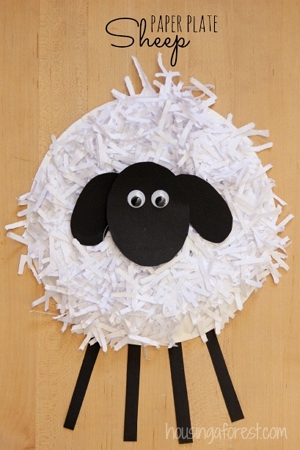 Housing A Forest takes a similar approach as the previous craft but makes the sheep with shredded paper and googly eyes. Practice those fine finger movements by tearing apart pieces of paper.
Any kind of paper is usable, but I'd suggest using thinner paper since it will make the wool fluffier. Try making it with tissue paper and see how it affects the texture of the sheep.
10. Paper Handprint Sheep Craft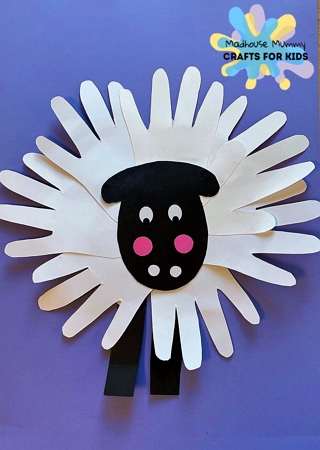 Kids learn a lot through engaging activities. The Madhouse Mummy knows exactly how to make it as engaging as possible, and that's by involving the kids' hands in their crafts.
Instruct your little ones to simply trace their little hands on a piece of white paper 5-6 times. These will serve as the sheep's wool. Other tips and tricks on how to draw the sheep's head are included on their website.
11. Yarn-Wrapped Sheep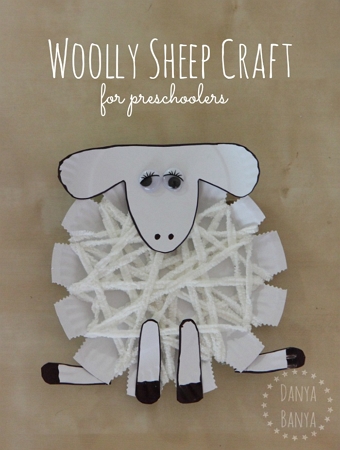 The Imagination Tree shares a craft that combines both paper plates and yarn in one activity.
This is perfect for preschoolers since there are plenty of simple steps to follow, which will improve their cognitive skills, and also steps involving their hands, which enhances their hand dexterity.
5 Cute Sheep Art for Kids
12. Loofah Sheep Art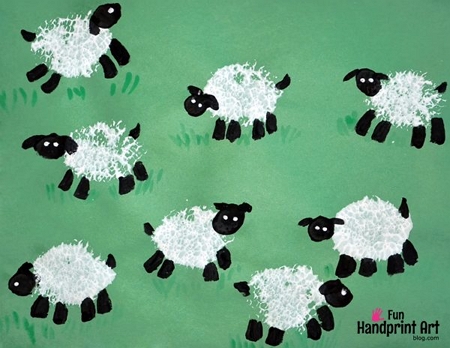 Fun Handprint Art explores the limit of resourcefulness and creativity by sharing this sheep art created with a loofah.
Loofah is a great accessory to use for sheep art because its texture gives the sheep's wool incredible detail that wouldn't be possible with other materials.
13. Fingerprint Sheep Art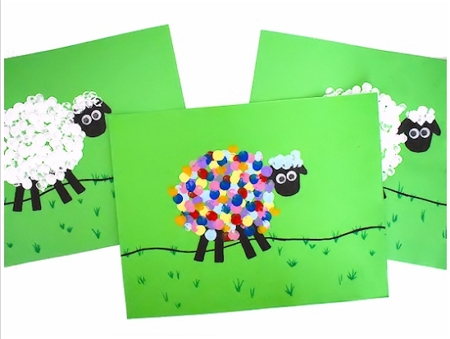 Using fingers is a great way to create a dazzling texture on sheep, as Our Kid Things shows in their sheep art.
Simply dip those little fingers into the paint, preferably easily washable ones, and instruct them to start pressing on the cardstock as if they're trying to poke the sheep's soft wool.
14. Handprint Sheep for Kids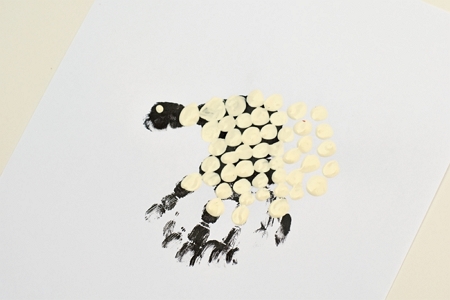 Handprint art involving animals is a popular activity among children, and It Happens In A Blink knows that.
While these projects can become a little messy, it's very worth it for the entertainment and valuable experiences that the children extract from them.
15. Handprint Lamb Craft
Here's another sheep handprint art by KidsCraftsActivities. Handprints are perfect for animal art since all five fingers form the four legs and the head of any animal.
They include the addition of cotton balls for that delicate and appealing wool texture.
Speaking of animals and handprints, try your hand (see what I did there?) at these easy animals to draw for kids and turkey handprint crafts!
16. Sponge Sheep Art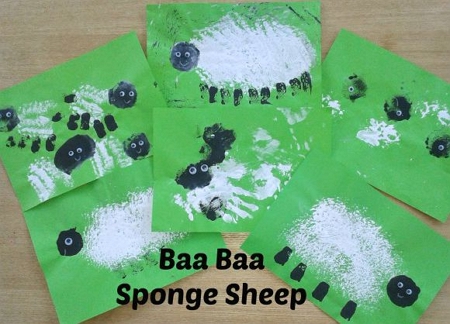 The sky is the limit when it comes to the variety of materials to make sheep crafts with. Crafty Kids at Home makes use of old sponges that need replacing to make an incredible sponge sheep art.
Similar to the loofah sheep craft, this method gives the wool that fuzzy texture that makes the sheep look more natural and one that impresses the kids.
7 Creative Sheep Crafts
17. Paper Doily Sheep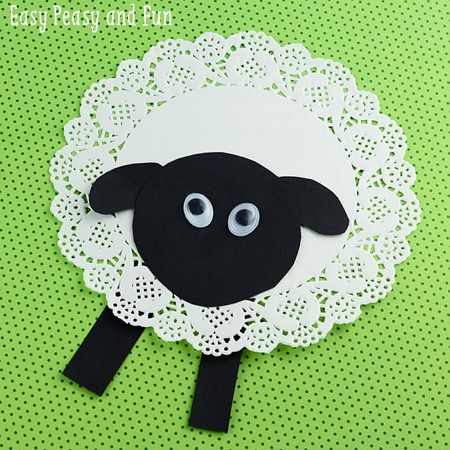 Only a sheep could make use of such a humble material like the paper doily among farm animals. And only the most resourceful, like Easy, Peasy, and Fun, could think of using such material.
The texture and appearance of the paper doily are perfect for the sheep.
18. Q-Tip Sheep Craft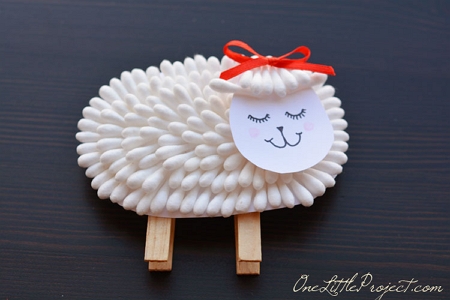 Using cotton is a common way to make the sheep's wool prettier and softer. One Little Project takes that idea and makes an original sheep craft made with q-tips.
19. Popcorn Sheep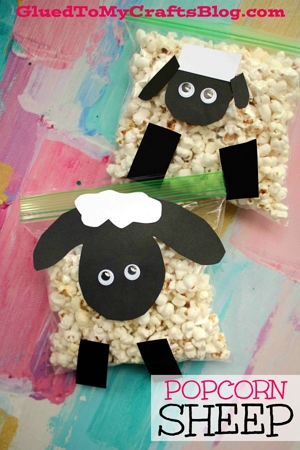 Glued To My Crafts Blog found a way to make children's movie nights more exciting by creating these sheep popcorn containers.
Emptying the bag is similar to shearing the sheep's wool, so instruct your kids to "feed" the sheep with popcorn to grow back its wool!
20. Marshmallow Sheep Ornament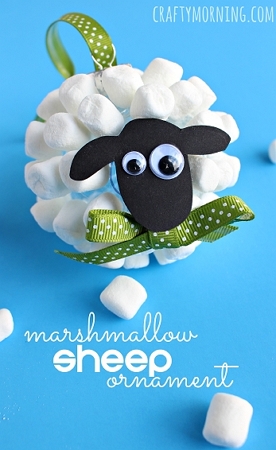 Here's a craft from Crafty Morning during those rainy days that call for a hot cup of cocoa with some marshmallow toppings.
Marshmallows are such a versatile ingredient, as our marshmallow crafts indicate. Crafty Morning uses tiny marshmallows to create this sheep ornament that kids can hang during this Christmas season.
21. Cheerios Sheep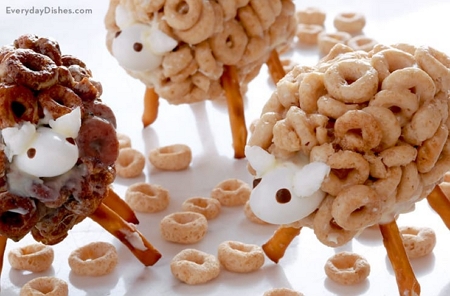 We're now diving into more ingenious sheep crafts with this Cheerios sheep from Everyday Dishes. This is a delicious afternoon treat that is a reward in and of itself.
Who would've thought that sheep can be made out of breakfast cereal?!
22. Donut & Marshmallow Sheep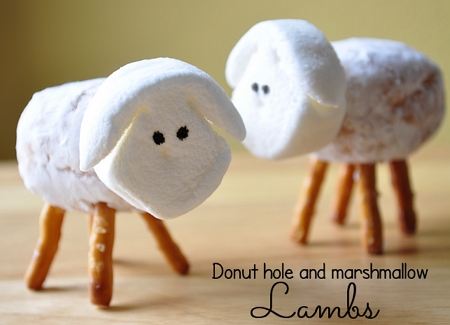 Doodlekins & Friends has another craft-slash-treat that will relieve those kids of their sweet tooth. This one involves sticking pretzel sticks into bite-sized donuts and doing the same for the marshmallow head.
The Big Bad Wolf (a.k.a. the kids who will eat this) will have a sugar rush after devouring this sweet and salty snack.
23. Piñata Sheep
Here's a video tutorial for a great Halloween craft and an enjoyable activity during parties, brought to you by Smart Kids Crafts' channel.
Trick-or-treating kids will have to smash into this sheep craft to get their treats. Or, kids will have to smash it to get their party favors. Either way, the process of making this and wrecking the sheep will undoubtedly be enjoyable.
Let's Get Crafty!
As these crafts prove, there are plenty of materials kids can enjoy making the sheep with, from fluffy ones like cotton to more surprising ones like breakfast cereal!
Try these other animals and seasonal crafts below: