Are you looking for ways to teach kids how to draw a chicken?
Look no further because these 23 guides will test their artistic skills and creativity, pushing their dexterity to the limits whether they're drawing simple chickens or more challenging roosters and hens.
Toddlers and preschoolers will benefit the most from these how-to-draw chicken guides, but I've included more challenging chicken drawings for experienced kids who would love to explore and expand their artistic boundaries.
9 Chicken Drawing for Young Kids
These first nine chicken drawings are perfect for toddlers and preschoolers who are just starting their journey to become novice artists.
Check out these other easy animals to draw for kids!
1. How to Draw a Chicken in 6 Steps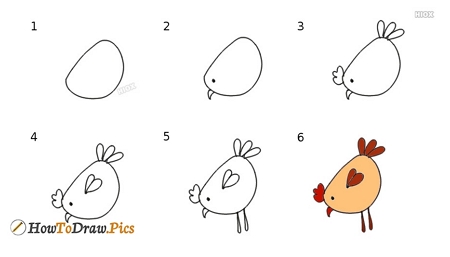 Let's start with a basic chicken drawing from How To Draw.Pics which shares a step-by-step guide on how to draw a chicken with a round body.
Toddlers will finally learn how to draw their first chicken in six simple steps (five if you don't count coloring).
2. Chicken Drawing for Kids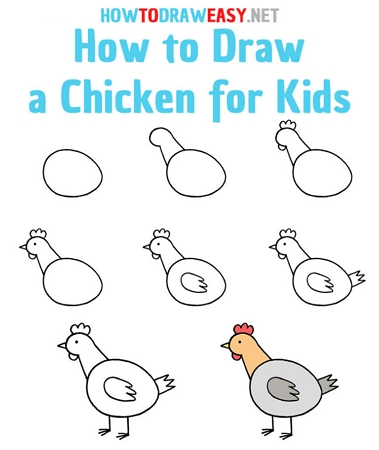 Teach children how to draw simple shapes with this drawing guide from How To Draw Easy. The step-by-step drawing shouldn't be too confusing, even for younger children.
Encourage your kids to be more adventurous in coloring their hen to promote their creativity, too!
3. How to Draw a Hen
Here's a chicken drawing tutorial for those who love following video tutorials. Sherry Drawings made the pace of the tutorial perfect for little ones to easily follow.
4. Basic Chicken Drawing from the Letter D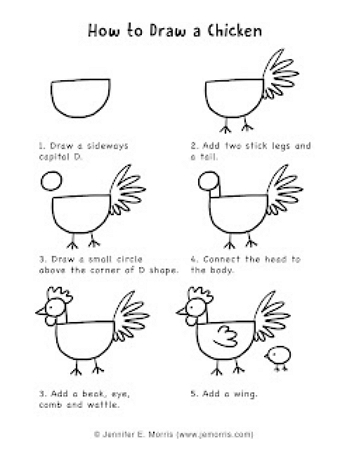 Teach children how to draw a chicken from the letter "D." This chicken drawing from Jemorris Blogspot doesn't involve complicated lines or curves, making it perfect for young artists.
We have even more letter D crafts for you and your kids to try!
5. Hen Laying on a Nest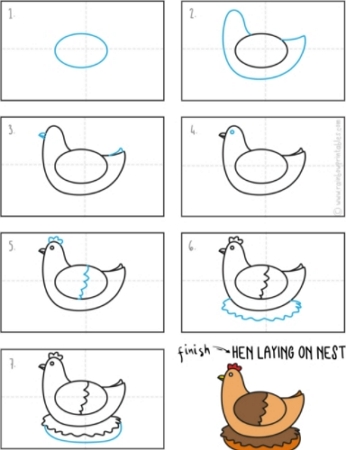 Rainbow Printables uses a lines as guides to make it easier for kids to draw this hen laying on a nest.
6. Simple Chicken Drawing
Here's another simple video tutorial made by DrawinGeek who makes use of a permanent marker to draw this hen. Beginners should draw with a pencil so they can easily erase any mistakes in their design, though!
7. How to Draw a Chicken from the Number 10
Using a number as a starting point for drawings helps enhance cognitive and memory skills, not to mention increasing creativity.
Here's an easy video tutorial from Think Drawing's channel, who creates a simple chicken from the number 10.
8. Chicken Drawing in 5 Simple Steps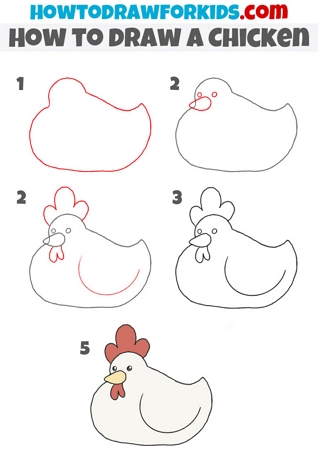 Looking for a way to draw an impressive chicken in five simple steps? How To Draw For Kids shares this simple guide for a hen. It might not be a sophisticated drawing, but it's impressive to draw it in 5 steps!
9. Chicken Face Drawing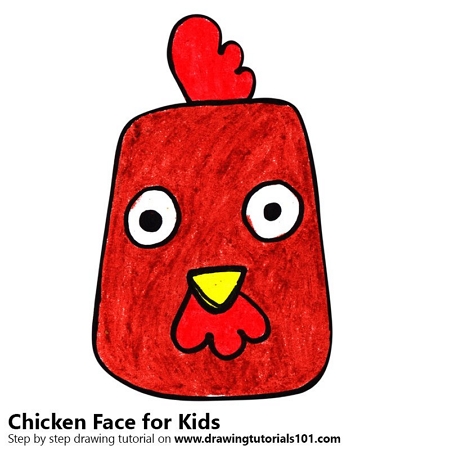 Drawing Tutorials 101 returns to the basics by drawing the head of a chicken, great for toddlers and preschoolers who are just learning how to draw.
9 Easy Chicken Drawings
These next chicken drawing tutorials are still easy to follow, but are more challenging for those who are looking to test their artistic skills.
10. How to Draw a Simple Chicken
Art for Kids Hub shares another wonderful video tutorial of a chicken drawing. This is very easy to follow because every detail of the chicken is explained and kids will enjoy drawing alongside another apprentice artist.
If you're ready to upgrade from drawing to hands-on actives, try some of these chicken crafts your kids will have a lot of fun with.
11. Simple Chicken Drawing
Here's a drawing they'll be proud of after they're done. Easy Drawings provides a step-by-step guide on how to draw this chicken.
After they're done with the drawing, simply take out their favorite colors  and let them unleash their creativity.
12. Another Easy Drawing of a Chicken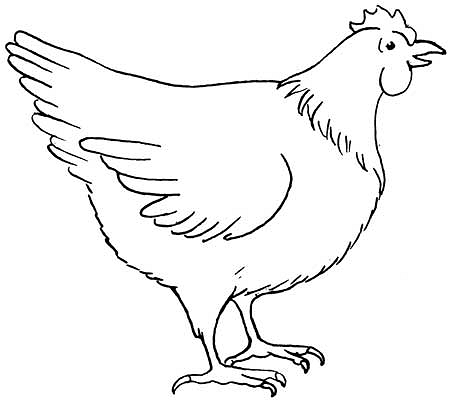 How To Draw It shares an amazing, almost realistic, drawing of a chicken. I love each detail, from the claws to the feathers on its neck!
While it might look complicated, the drawing process is quite simple because they provide an easy-to-follow point of reference through shapes and other guidelines.
13. Cute Cartoon Chicken Drawing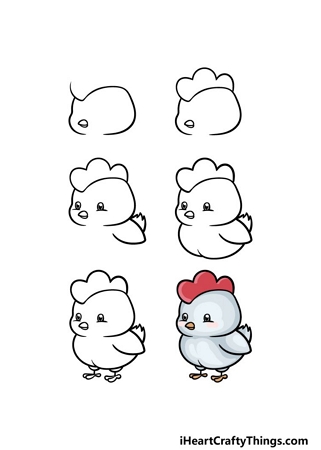 Kids are attracted to adorable creatures, so I Heart Crafty Things drew this cute cartoon chicken. In only six steps, kids will create a drawing that they'll be proud to show off.
Tired of chickens yet? Try these ducks crafts next!
14. Silly Chicken Drawing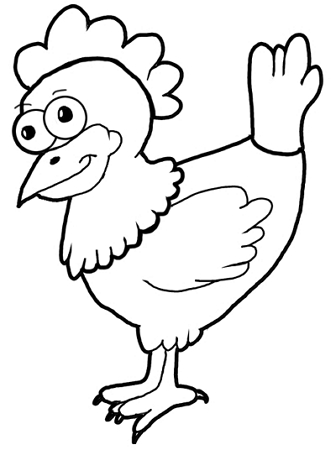 Make the kids' drawing experience funnier with this silly chicken drawing from Drawing How To Draw.
Though it might look silly, the effort behind this chicken drawing is nothing to laugh about, especially because they go the extra mile to explain each step of the drawing process.
15. 9 Steps to Draw a Rooster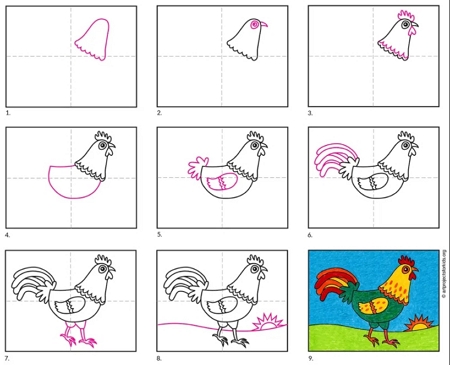 None of the drawings so far contained any background setting for the chicken, so here is Art Projects for Kids sharing a design with the sun rising, fitting for your own little rooster who "crows" (aka, wakes up way too early) in the morning.
16. No-Fuss Chicken Sketch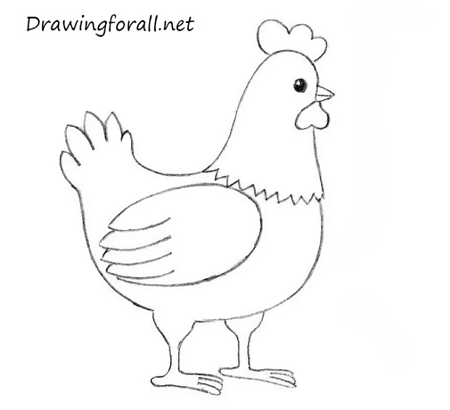 Check out this informative chicken drawing guide by Drawing For All. The chicken drawing involves only five simple steps, which are all elaborated upon so children won't have a hard time.
17. How to Draw a Hen from the Number 5
Here's another chicken drawing that starts from the number is 5. This one is more challenging than the last one since it contains more detail and requires more precision.
Easy Drawing with Rakesh's video tutorial is perfect for kids looking to fine-tune their drawing skills.
18. Chicken Drawing for Beginners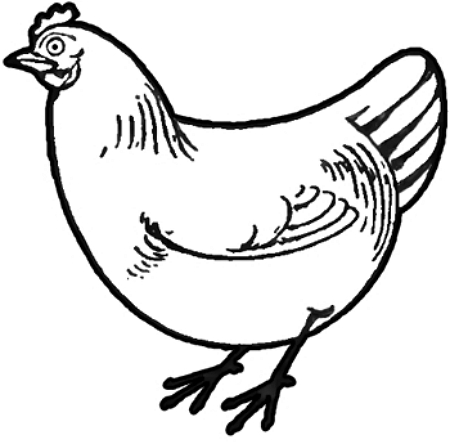 Here comes the ultimate test for novice artists that want to take it to the next level. Don't worry, though, because Drawing How To Draw will guide them every step of the way of this challenging chicken illustration.
5 "How To Draw a Chicken" Step-By-Step Tutorials
You thought the previous chicken drawings were a challenge? Wait until you see the next few – they'll truly test the skills of young aspiring artists.
And for more farm animal drawing fun, try these guides on how to draw a pig.
19. Hay Day Chicken Guide
Fans of the game Hay Day can't miss out on this chicken drawing. Cartooning Club shares a fantastic video tutorial detailing each aspect of this iconic chicken from the game.
Coloring this is also very simple because the chicken only require red and yellow.
20. Minecraft Chicken
While Minecraft art is pixelated and might seem easy to replicate, drawing this chicken drawing requires a steady hand and a good knowledge of proportions.
Drawing Now shows us a great starting point. A ruler will really come in handy with this type of drawing!
21. Detailed Chicken Drawing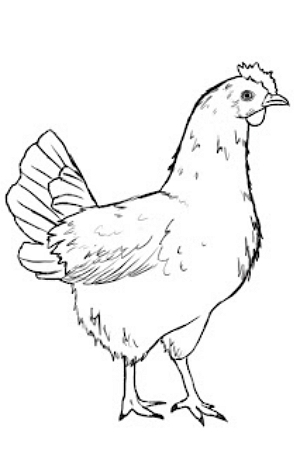 Draw Central teaches us how to draw an impressive detailed chicken. They provide detailed instructions, as well as the suggested pencil type for this drawing.
22. Sophisticated Hen Drawing
How2DrawAnimals is a great resource for animal drawings, and this video tutorial is a demonstration of that. They make realistic drawings look simple if you follow their video tutorial.
They also have a written tutorial should you need it.
23. Advanced Rooster, Hen, and Chick Drawings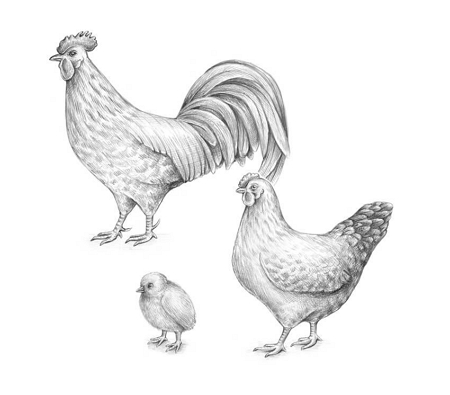 For a whole family of chickens, Envato Tuts+ has this amazing guide. There's an enormous sense of accomplishment after completing even just one of these impressive chicken drawings.
Tips for each chicken, as well as some interesting facts about them, are included in their guide, like what type of pencil to use and how to shade them properly to create a realistic effect.
Cock-A-Doodle-Doo!
Chickens are one of the most recognizable farm animals, so it's not surprising that kids want to draw them. Hopefully, these 23 ways to draw a chicken have been useful in your children's artistic endeavors!
For more animal drawings, check out these other posts: