Circle Perler bead patterns are a refreshing sight amongst standard Perler bead crafts (also known as fuse beads or melty beads).
By circle, I refer to the shape of the pegboard on which you put the little melty beads. Typically, most Perler bead crafts are made with a square-shaped pegboard, which is inherently easy to create patterns that involve straight lines.
Creating Perler beads crafts is such an intuitive activity that even children around the preschooler age are capable of doing it independently. However, circle Perler beads crafts challenge that idea because the pegboard is not as straightforward.
Don't be anxious, though, because working with circle pegboards is not as challenging as it might seem, as these 30 circle Perler bead patterns will demonstrate.
If you're just starting out and have no idea what Perler beads are, check out our post on easy Perler bead patterns, where you'll find a beginner's guide and beginner-friendly patterns.
Materials and Tools Needed
Clothing iron
Parchment paper
Tweezers (optional)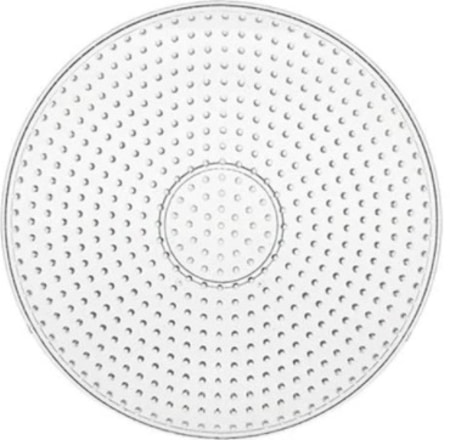 As you can see in the image above, the circle pegboard seems harder to work with than the standard square one you might be used to.
With this pegboard, it's easier to create shapes that require curvy lines. Of course you can make curved shapes in square pegboards, but it will take more beads to create a circle.
Some might find this harder, especially those unseasoned in Perler beads. To make it easier, you can look at the peg in the middle and imagine concentric circles forming around it.
If you're looking for a bit of a challenge, circle pegboards are the way to go.
7 Animal Circle Perler Bead Crafts
The first 7 circle Perler bead crafts include animal designs and patterns that kids will surely enjoy. These range from farm animals, like horses, to more exotic and less known animals, like the flamingo.
1. Small Horse Perler Bead Pattern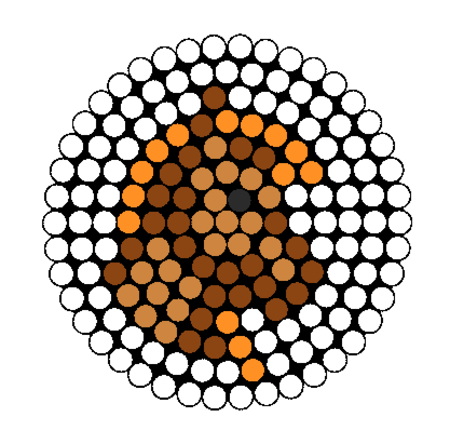 Make an easy Perler bead pattern with this horse profile design from Kandi Patterns. You don't need lots of beads for this craft, and you can change the color of the horse.
Just pay attention to the color of the mane, making it lighter or darker so it stands out.
For other barn animal crafts and home activities that you can enjoy, check out our farm animals crafts for kids.
2. Hama Bead Flamingo Design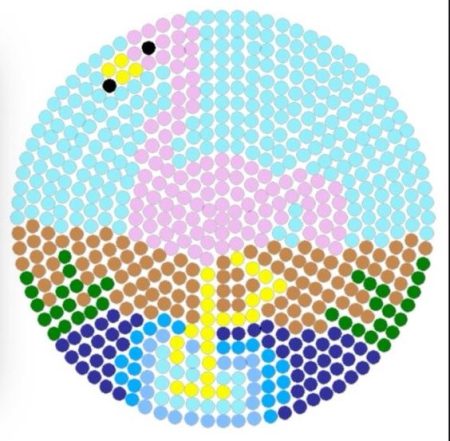 Flamingos are one of the most eye-catching birds out there. Perhaps it's just me, but their pink feathers are absolutely stunning.
Those bright feathers and the fact that they can sleep standing on one leg have instantly made me a fan.
Try this flamingo circle Perler bead pattern from Pinterest.
3. Small Hatching Chick Melty Bead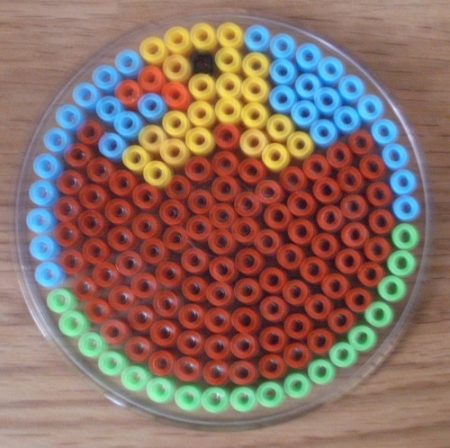 This is a cute activity from Hama Bead Patterns to engage your children in. Pretend to first make the egg hatch by assembling the egg first, then the chick second.
Try hatching other chicks with these chicken crafts for kids of all ages!
4. Dolphin Circle Perler Bead Pattern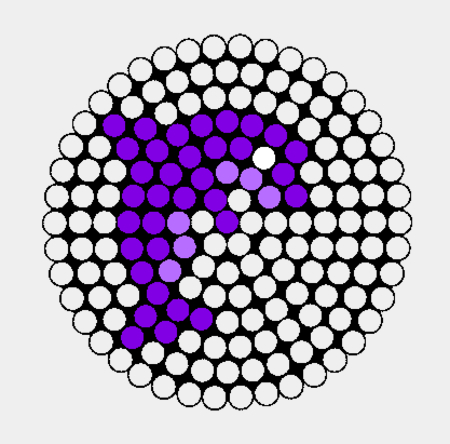 Are your children interested in marine animals? If yes, then they'll love this dolphin pattern from Kandi Patterns. This is a good opportunity to introduce melty beads and dolphins to your kids.
If you're looking to introduce more marine animals and ocean-related crafts to your children, here are some jellyfish crafts and ocean crafts to try.
5. Penguin Perler Bead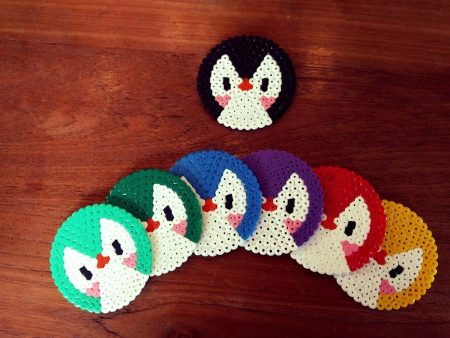 Name a kid who's not a fan of penguins. You can't, because these creatures capture every child's heart with their loveliness and clumsiness.
Follow this penguin Perler bead template from Instructables to make a penguin with your favorite color!
Except in zoos and in the Poles, penguins are rarely ever seen in person. They're almost as mythical as these mermaid crafts.
6. Bird Circle Bead Pattern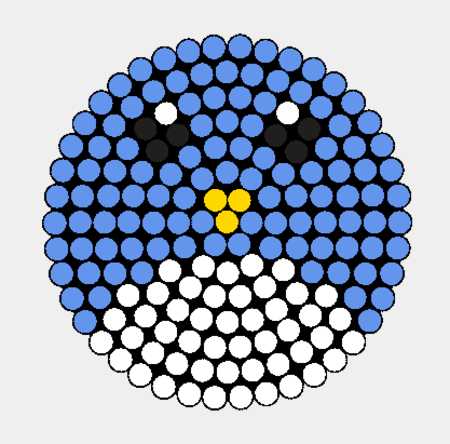 If you're a parent who's just looking to improve their children's hand dexterity without worrying too much about the details, then you'll find this Perler bead pattern from Kandi Patterns does the job.
7. Turtle Perler Bead Design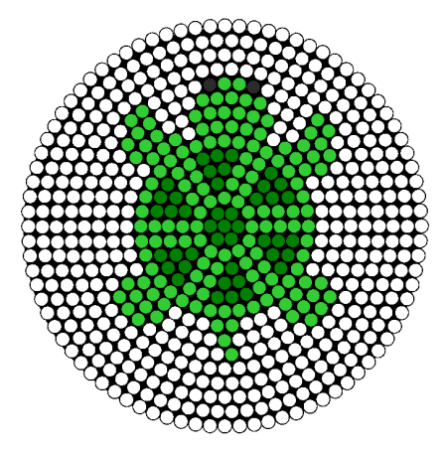 It's known that turtles have longer lifespans than most animals, with some species living up to 100 years old.
Make a lasting craft with your kids by making this turtle pattern provided by Kandi Patterns.
6 Scenic Circle Perler Bead Ideas
If you're like me and love looking at natural wonders, then I'm sure you won't want to miss these next 6 circle Perler bead ideas that are inspired by nature.
8. Beautiful Perler Bead Sunset Idea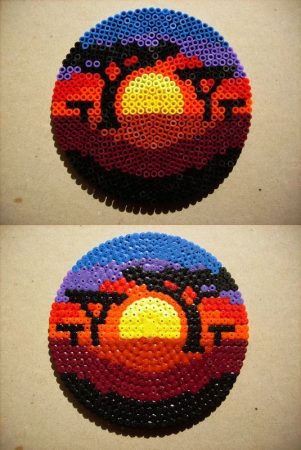 Being an early bird, I've always enjoyed looking at sunrises more than sunsets. There's something calming about looking at the sun before its blinding light appears.
I won't judge you if you like sunsets more. In fact, I've listed this pattern from Pinterest for all you sunset lovers!
Can't get enough of the sun? Check out these other sun crafts to help teach your little ones about the biggest star in the sky.
9. Globe Perler Bead Design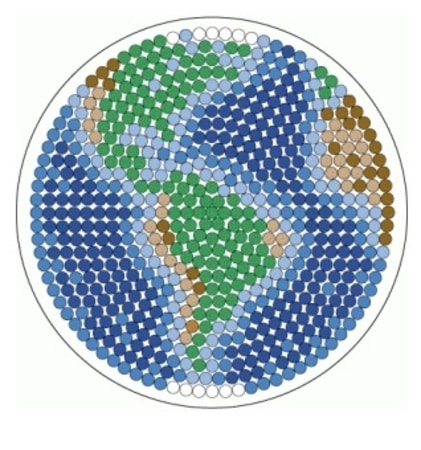 If your kids are geography nerds, then try to recreate this globe together. It looks like you're observing the Earth from a space station, which is nice if child aspires to be an astronaut someday.
This design from Carrots Are Orange only features the American continents, but you can challenge yourself to make the other ones by taking inspiration from atlases and maps.
10. Sun And Moon Fuse Beads Idea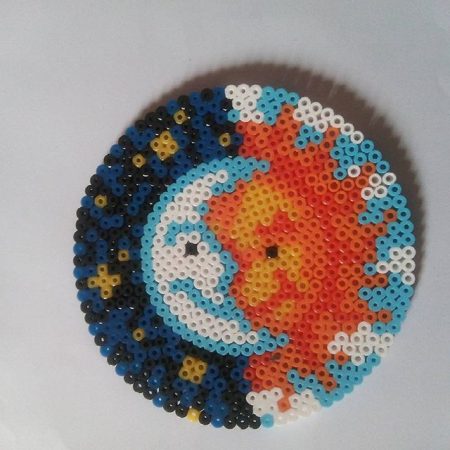 Combine the bright day and the dark night by making this Perler bead pattern from The Beads Experience.
I love their idea of contrasting and fusing (pun intended) these two phenomena into one single Perler bead piece.
11. Rainbow Circle Perler Bead Pattern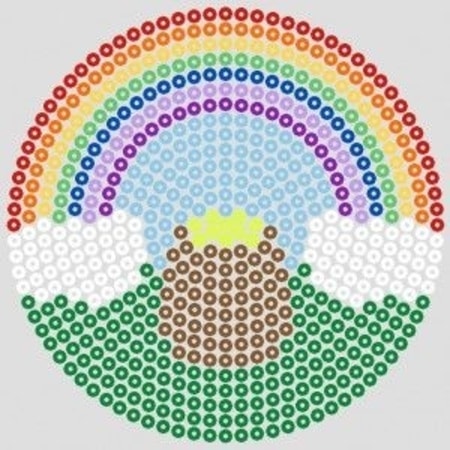 Light up days with this colorful rainbow circle Perler bead pattern Pinterest. What I love about this pattern is that it uses the entire pegboard to make beautiful scenery.
Looking for other rainbow-inspired activities? We've got you covered with a list of fun rainbow crafts for kids.
12. DIY Rainbow Perler Beads Key Holder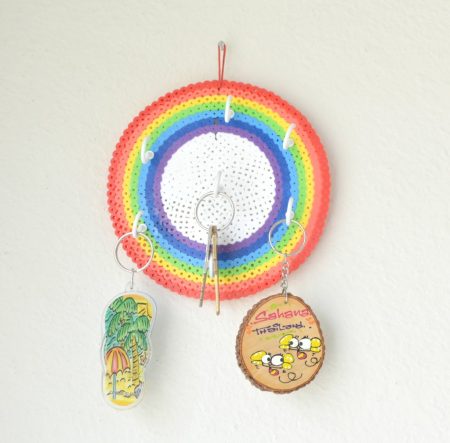 Do you enjoy multipurpose crafts that are not only aesthetic but also functional? Then you're going to love this circle Perler bead pattern from Instructables.
While this pattern makes use of a rainbow design, you can try making this key holder with a design of your choice. Follow their guide to learn how to make this useful craft.
Here at Cool Kids Crafts, we enjoy upcycling. If you love it as much as we do, then check out these toilet paper roll crafts that you can repurpose into your kid's next favorite toy.
13. Planets and Sun Perler Bead Patterns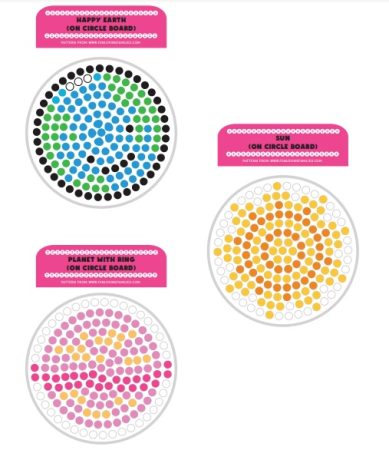 Explore the different planets in our galaxy by following this Perler bead pattern guide from Fun Loving Families. Create a happy earth that looks like it's not suffering from climate change, or a beautiful sun, or even Jupiter.
6 Circle Perler Bead Patterns of Iconic Characters
14. Superhero Emblems Perler Bead Designs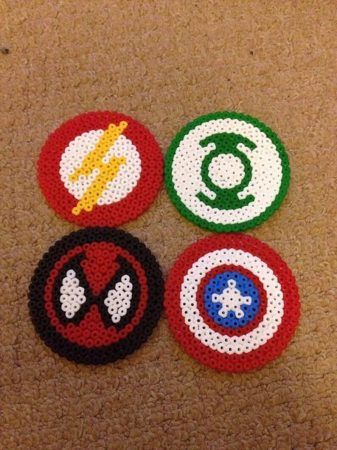 If your children love comic books, whether the original print or movie adaptations, then they'll geek out when making these superhero symbols.
These designs include the Flash and Green Lantern from DC Comics, and Deadpool and Captain America from Marvel Comics.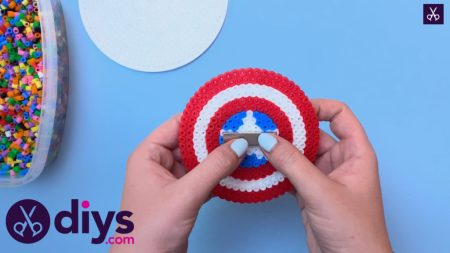 You can also attach a magnet behind these melty bead crafts to create your very own fridge magnets!
15. Minions Perler Beads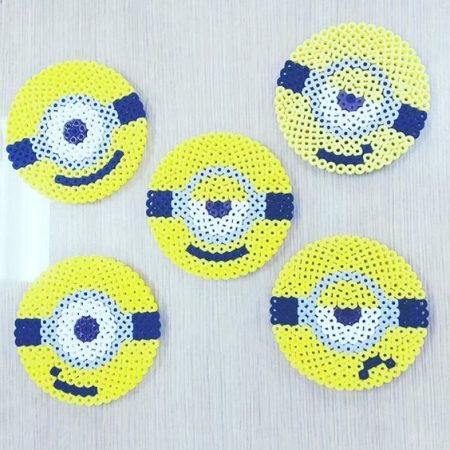 The Minions from the Despicable Me franchise are one of the silliest things you'll see onscreen. This circle Perler bead pattern found on Pinterest will let you bring them home.
Each Minion has their own personality, so in that manner try to imbue each melty bead pattern with its own personality.
16. X-Men Sign Circle Perler Bead Pattern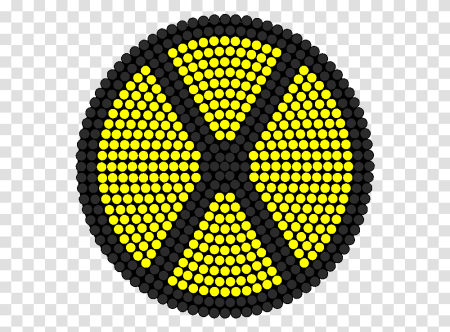 The X-Men are some of the coolest superhero characters out there.
Tell your children that if they make this pattern shared by PNGSet they can pretend to have abilities like mutants do, like fire manipulation, telekinesis, ice-bending powers, and more!
17. Monster's Inc. Perler Bead Design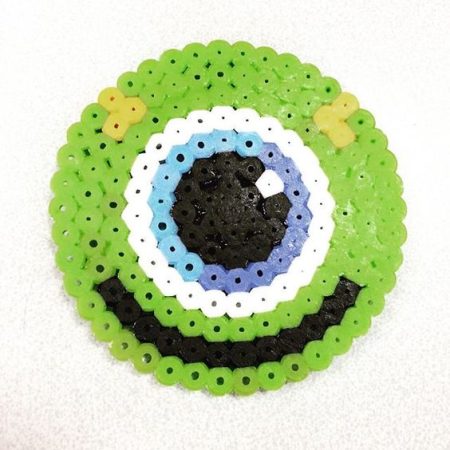 Here's the easily frightened Mike Wazowski from Pixar's Monsters Inc. franchise.
Found on Pinterest, this pattern is easy to make on the circle pegboard because Mike is basically a giant eyeball with feet.
18. Simple Cinderella Perler Bead Pattern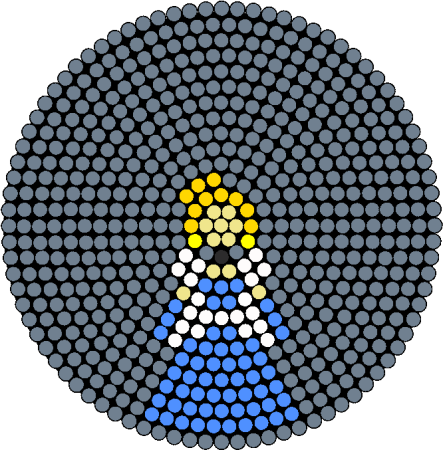 Here's a minimalistic circle Perler bead pattern of Cinderella. This is a great activity for small children who are still developing their fine finger movements and, most importantly, for those who love princesses!
Follow the pattern on SeekPNG.
19. Pacman Perler Bead Pattern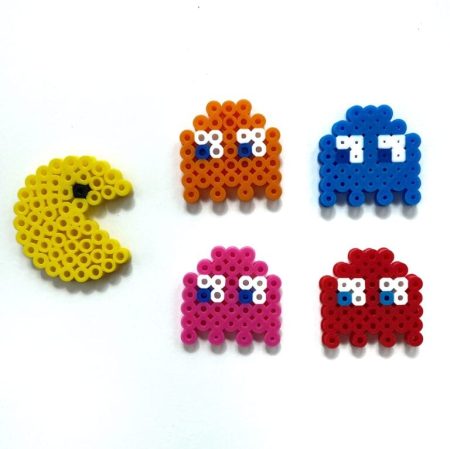 Here's an iconic character kids from the 80s might recognize. This Pacman pattern is very simple and shouldn't take more than 20 minutes.
After you're done creating this Perler bead pattern by Color Made Happy, your kids can pretend that they're playing the arcade game, collecting points, and eating ghosts.
20. Baby Yoda Circle Perler Bead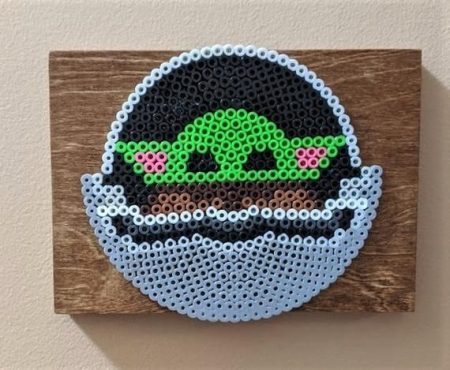 Fans of Star Wars, and anyone who hasn't been living under a rock, will no doubt know who this cute little green alien is.
Baby Yoda has been featured in the TV series The Mandalorian and has been everyone's favorite character ever since.
If you and your children just can't get enough of Grogu, then we suggest you check out these other Baby Yoda crafts.
7 Circle Perler Bead Craft Ideas
21. Citrus Perler Bead Coasters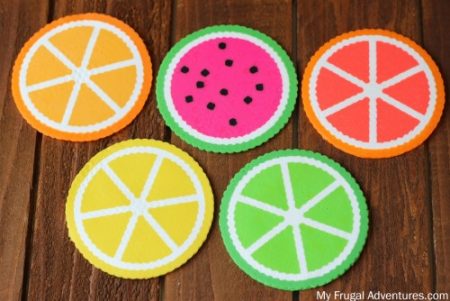 My Frugal Adventures shares a guide to make coasters to protect your furniture during hot summer days.
These fruit Perler bead coasters look refreshing to the eye. You can almost taste the citrusy flavors! Don't forget to wash them, after every use!
22. Pokeballs Circle Perler Bead Pattern
Get ready to catch them all with these Pokéballs at your disposal! With the variety of Pokéballs that exist, there's bound to be one for each type of Pokémon.
23. Sports Balls Perler Bead Idea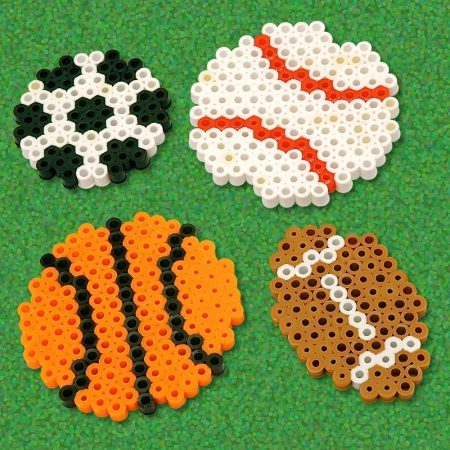 If your children are less into video games and more interested in physical sports, then try making these ball Perler bead patterns.
Whether they're into basketball or football, Oo-99 has a pattern for each little athlete.
24. Snowflake Perler Bead Patterns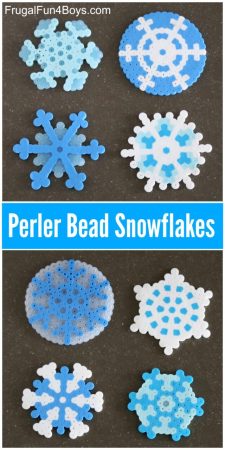 Is it winter already? Then this is the perfect time to make these snowflake circle Perler bead patterns. Frugal Fun For Boys And Girls has a bunch of different designs to pick from.
And if it isn't winter yet, but you're somehow longing for the cold, try making some winter sensory bins, too.
25. Fruit Perler Bead Designs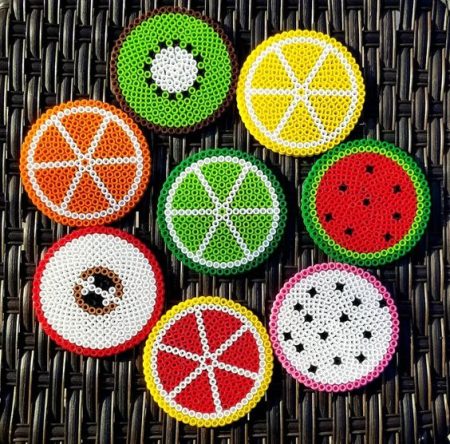 This circle Perler bead pattern from Pinterest also features some less known fruits, like kiwi and dragonfruit.
26. Dream Catcher Circle Perler Bead Pattern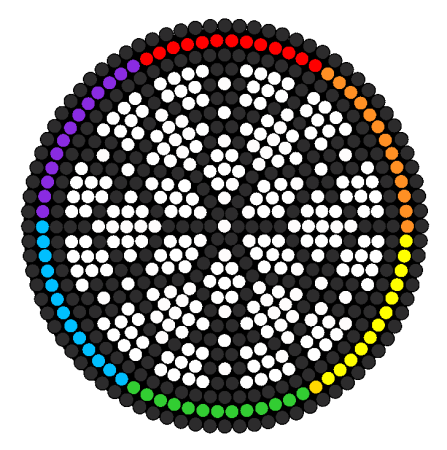 Prevent nightmares from infiltrating your dreams by making this dream catcher Perler bead pattern. I'm really digging the symmetry from this pattern found on Kandi Patterns.
Learn more about dream catchers by trying some of these other dream catcher crafts for kids!
27. Perler Bead Change Holder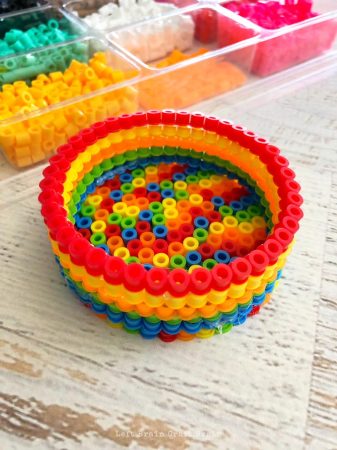 This is another one of those crafts with a dual purpose. Let your kids do a great activity as well as a coin or key holder with this step-by-step circle Perler bead pattern shared by Left Brain Craft Brain.
Add your personal flair to this craft by adding your favorite color palette!
3 Bonus Circle Perler Bead Ideas
These last 3 circle Perler bead ideas are awe-inspiring patterns that will challenge your children's creativity.
28. Colorful Flower Wheel Perler Bead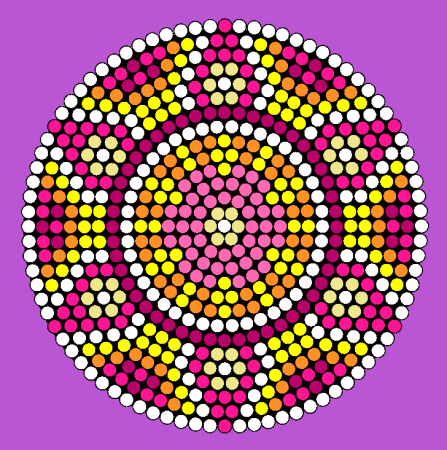 This colorful flower wheel from Kandi Patterns has a lot of potential for personal customization. You can change the color palette according to what pleases you.
Not only that, you can also make some minor changes to the pattern! It's all up to your children's imagination.
29. Yin Yang Coaster Perler Bead Craft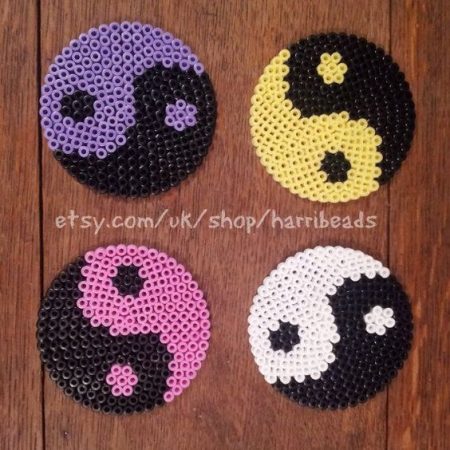 Striking a balance in life can be difficult sometimes. Making this Yin Yang Perler bead from Pinterest is not.
Channel your inner feng shui and try to harmonize with your environment by making this circle Perler bead pattern with your kids.
30. Mandala Perler Bead Art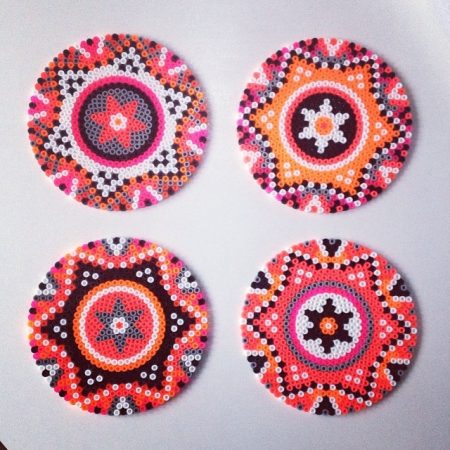 This circle Perler bead design from First Moms Club is my favorite on this list. Mandala art is mesmerizing, so your and your kids will have a great time creating your own Mandala pattern.
Going Around In Circles Aren't Always A Bad Thing
You've got plenty of circle Perler bead patterns to choose from, ranging from pink flamingoes to the adorable Baby Yoda.
Which of these caught your children's eye? I'd love to hear your thoughts in the comments section below.
For more Perler bead creations, check out this compilation of Minecraft Perler bead patterns, too!