Bluey has captured the hearts of millions of children and parents around the world ever since it became available on the streaming service Disney+, and merchandise of this adorable heeler family has become widely available for kids to enjoy.
However, instead of purchasing expensive toys, some parents prefer to make DIY Disney crafts for kids because crafts help children develop fine motor skills and it's a great bonding activity for families.
Just like Bluey and Bingo's parents, grant your children's wishes and bring their enthusiastic imaginations to life by collaborating with them on these 19 easy DIY Bluey crafts.
4 Bluey DIY Drawings and Paintings
Stimulate your kids' creativity by helping them color these drawings and models of Bluey. Basic drawing and coloring materials for these crafts include markers, paint, glue, and safety scissors.
1. Easy Bluey Drawing
Difficulty Level: Toddlers & Preschoolers
Let's start with the basics by drawing this simple Bluey design that will encourage your kids' imaginations and develop some of their fine motor skills, such as holding a marker, drawing Bluey's outline, and coloring within the lines.
Art For Kids Hub teaches us where to begin and how to proceed with this fun kids drawing.
If you're interested in more animals that your children can draw, head on over to our compilation of 23 fun and easy animals to draw for kids.
2. Toilet Paper Roll Bluey Craft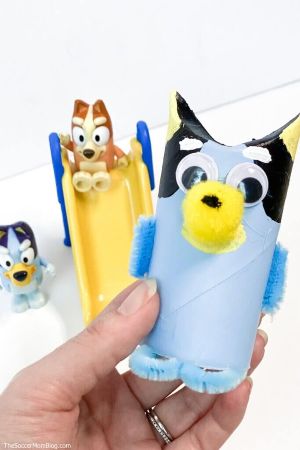 Difficulty Level: Toddlers & Preschoolers
Around here, we enjoy repurposing toilet paper rolls into kids' crafts because they're a material that's common and easy to work with. The Soccer Mom Blog introduces us to this craft that transforms a toilet paper roll into a Bluey figure.
Kids can help the adults make this craft with an empty toilet paper roll, acrylic paint (or tempera paint), a yellow pom-pom, and some blue pipe cleaners. Googly eyes are optional but highly recommended to really bring Bluey to life.
You'll want a glue gun to increase the DIY Bluey toy's durability, but just make sure a grown up handles this tool.
If you're looking for more ways to reuse empty toilet paper rolls, you'll find other similar crafts in our toilet paper roll crafts post. I told you we love crafting with toilet paper rolls!
3. Easy DIY Bluey Painting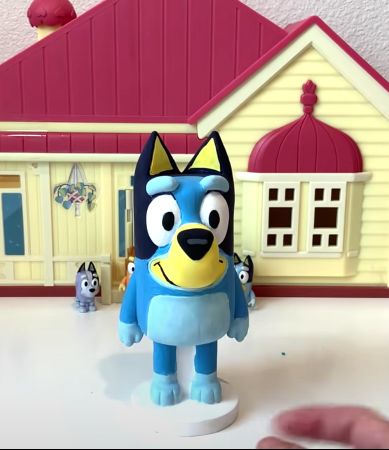 Difficulty Level: Preschoolers
Keep your children busy with an easy to paint plaster figure of Bluey! Paint and Create shows a video tutorial on how your kids can help paint each element of this plaster craft.
This project requires you to purchase the Bluey bundle, which includes the plaster and the paint.
We also have a couple articles on rock painting for kids and other painting ideas for toddlers if your little ones just can't get enough of paint.
4. DIY Bluey Playdough Craft
Difficulty Level: Grade Schoolers
I don't know of any child who isn't a fan of Play Doh, but somewhere along the way from preschool to 5th grade kids forget to have fun with it. So here's a more challenging Bluey craft that older kids can enjoy making, too (because let's be honest – your 10 year old loves the show, too).
Tema Color Toys has a lengthy but detailed video tutorial that showcases this playdough craft that will keep your kids busy for a bit.
If you don't have any playdough handy for this craft, try making your very own homemade playdough!
6 Awesome Bluey Crafts with Bluey Templates
The following Bluey crafts are super convenient because of the templates included! These templates will ease your mind from the burden of having to create designs from scratch.
5. Bluey And Bingo Paper Masks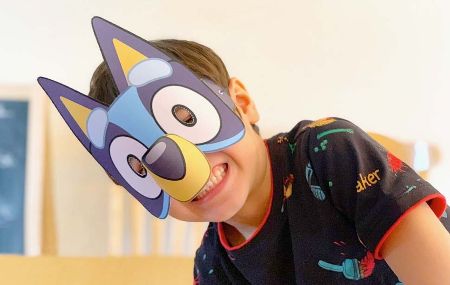 Difficulty Level: Toddlers
Make the next birthday party Bluey themed! If your kid is a huge Bluey fan (and you wouldn't be here if they weren't), then this paper mask Bluey craft is perfect to celebrate their special day.
Bluey TV gives your little ones the choice to pick a template between a Bluey or a Bingo mask. Either choice is simple to put together and shouldn't take more than 30 minutes.
6. Paper Bag Bluey Puppet Craft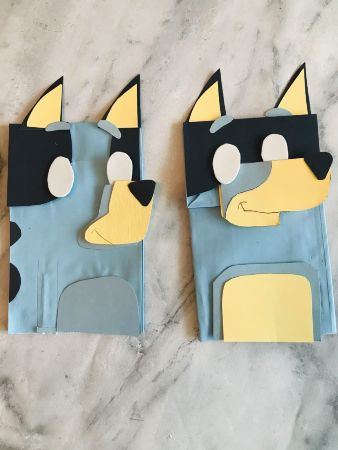 Difficulty Level: Toddlers & Preschoolers
Kids love impersonating characters from TV shows, and fans of Bluey are no exception. Here's a chance to create their favorite character and play pretend!
Obviously, you'll need a paper bag for this craft. Savvy Mama Lifestyle suggests working with a blue paper gift bag, dark blue and yellow cardstock, and a black marker.
If you've got a regular paper bag you're looking to reuse, then just apply some light blue paint on it to get Bluey's iconic color.
This is a perfect bonding experience for dad's and their children because the templates of both Bluey and Bandit (her dad) are available to download 100% free.
If you're looking for similar ideas for paper bag crafts, check out this compilation of paper bag puppets that kids can easily make with little help.
7. Bluey and Bingo Party Hats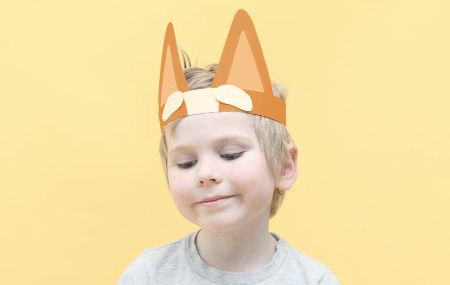 Difficulty Level: Toddlers
Hats are widely popular at children's parties because they're simple to make and don't require a lot of materials or supplies.
Bluey TV provides step-by-step instructions on how you and your kids can make this children's Bluey hat. The use of velcro to attach the two points together, making it easy for your children to put on and remove the hat.
With this template and guide, your children can choose from a pool of their favorite characters, such as Bluey, Bingo, MacKenzie, Lucky, Coco, or Chloe.
8. Paper Roll Bluey and Bingo Toys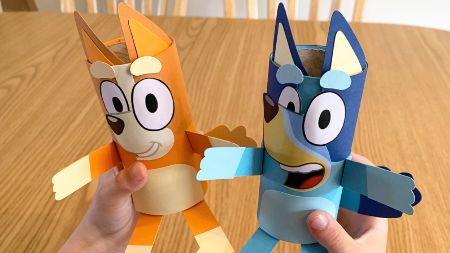 Difficulty Level: Toddlers
Did I mention we love toilet paper crafts?
Here's another toilet paper roll craft that your kids will enjoy making and will help them improve their fine motor skills through cutting and pasting. Of course, adult supervision is required for anything involving cutting.
Print out this simple template and guide provided by ABC Kids and get some construction paper of different shades of blue for Bluey and orange and beige for Bingo.
9. Bluey And Bingo Balloons Craft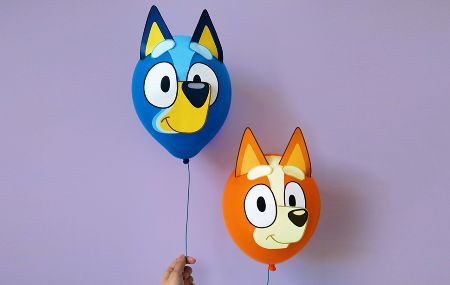 Difficulty Level: Toddlers
Here's yet another craft that you may find at a children's party (but who's to say you can't have these in your home for fun?).
Follow Bluey TV's Bluey and Bingo balloon crafts tutorial to create these simple companions for your toddlers. Watch out for any pointy things that could pop the balloon as the loud sound could surprise and upset little sensitive ears!
And for even more ideas on what to do with balloons, check out these super simple balloon crafts that will even get the adults involved in the action.
10. Easy Bluey & Bingo No-Bake Cake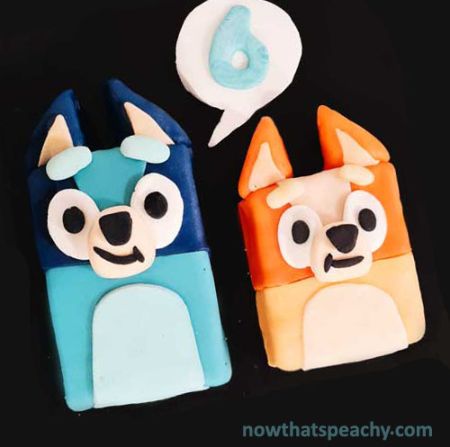 Difficulty Level: Grade Schoolers
Now here's a delightful creation that your children won't get enough of. It's a small no-bake cake of their favorite characters, Bluey and Bingo!
This is a cute mini-cake that requires some uncommon (but accessible) materials and ingredients to make. You'll need pound cakes, white marzipan or fondant, and food coloring (orange, sky blue, royal blue, and black), among others.
See Now That's Peachy's guide for more details on both the ingredients and other materials you need to make these delicious treats. To make things easier, they've also provided a free Bluey template as a decorating guide.
8 Other Creative Bluey Crafts
These following Bluey crafts will expand you and your children's imaginations and enhance creativity. You'll also need materials that you would have never thought of, so brace yourself for some fun activities!
11. No-Carve Bluey Pumpkin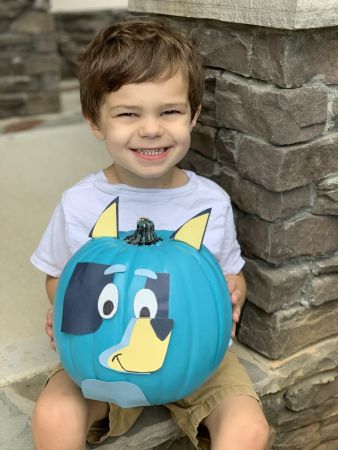 Difficulty Level: Toddlers
Compared to other pumpkin crafts, this carveless Bluey pumpkin activity requires little resources and it's very safe for young children to make. It's so safe even toddlers can participate during the entire process.
You'll need a whole pumpkin and light blue paint. Other materials include colored construction paper and a glue gun. If pumpkins aren't in season yet, squash or melons are fairly good substitutes. Visit Savvy Mama Lifestyle for instructions and a free template.
12. Bluey Biscuits
Difficulty Level: Toddlers
Time to satisfy that sweet tooth by making and eating these alluring Bluey biscuits. While sweets may cause cavities, it doesn't hurt to reward your children with a fun treat every once in a while.
There are many ways you could go about making these biscuits, but one of the most straightforward ways is by following Be A Fun Mom's guide that uses scotch finger biscuits, dark and white chocolate, edible eyes, and blue food coloring (among the ingredients) to make these cute Bluey biscuits.
13. Bluey and Bingo Pillows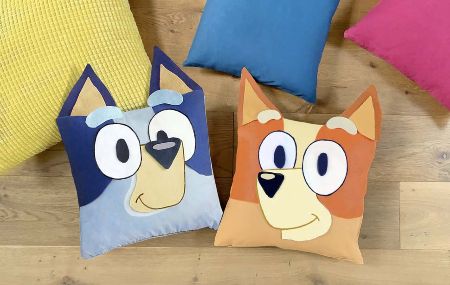 Difficulty Level: Toddlers
Have your kids ever dreamt of falling asleep with their arms wrapped around their favorite cartoon character? Well, now they can! Let your kids travel alongside Bluey and Bingo in their dreams with these adorable Bluey pillows.
As long as you have light blue and light brown cushions, you can easily make this in less than an hour. You'll need dark blue and light orange fabric to finish the design. You can choose to either glue or sew the design. Bluey TV has templates for both characters (Bluey template & Bingo template).
14. Bluey and Bingo Sailboats
Difficulty Level: Toddlers
Make bathtime more exciting for your kids with these Bluey and Bingo Sailboats! These become easy distractions for your children so you can easily scrub their bodies.
Fetch some sponges (blue and yellow), straws, rubber bands, a cut out of Bluey and Bingo, a glue gun, and some foam paper. Play & Create even has an excellent video tutorial that showcases how this Bluey craft floats on the beach!
15. Bluey Perler Beads Pattern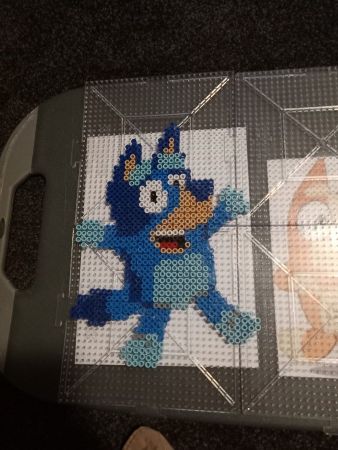 Difficulty Level: Preschoolers
Here's a Bluey Perler bead pattern idea shared by Shanice Connor on Pinterest. Introducing your children to Perler beads is a great way to increase their fine motor skills.
Since this activity requires small movements with hands and fingers, your kids' dexterity and hand-eye coordination will surely develop.
This is great if you're searching for opportunities to bond with your children because there's no template or full guide on this Bluey Perler bead pattern, so you'll get to figure it out together!
While you're at it, we suggest you also check my post on easy Perler beads patterns where I've included a comprehensive beginner's Perler beads guide.
16. DIY Pompom Bluey Craft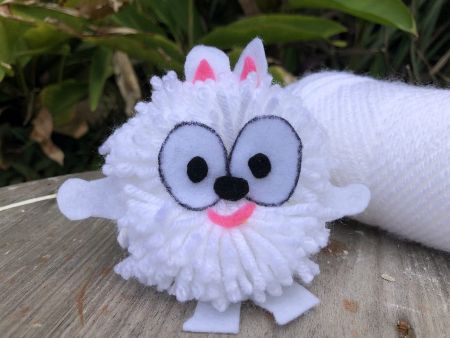 Difficulty Level: Preschoolers
While there are many kids who are fans of Bluey and her family, there are also some who love the supporting characters, such as Pom Pom. This secondary character is one of the cuddliest creatures that appears on the show!
Follow the 12-step guide (Steps 1-8 & Steps 9-12) on Bluey TV to make Pom Pom. This activity requires wool and felt (black, white, and pink).
If you like soft and cuddly things (and safe crafting materials for your toddlers), you might be interested in making cotton balls crafts, too.
17. Bluey Paper Toy Craft
Difficulty Level: Preschoolers
Your children can easily play pretend by making this moving Bluey paper toy craft that has the ability to move its eyes and limbs once it's all put together!
Now your children can play with this toy while they wait for their favorite TV show (which is Bluey, naturally) to come on.
18. Bluey Celebration Cake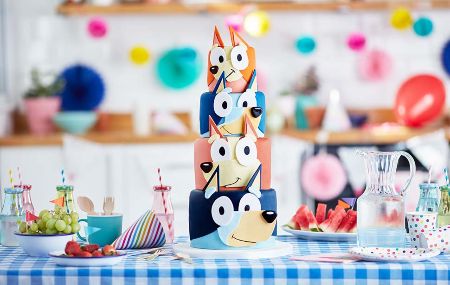 Difficulty Level: Preschoolers & Grade Schoolers
This layered cake comprises the entire Heeler family, a perfect celebration cake for your little one's birthday.
While this is a complicated cake to bake, if you choose to tackle this beauty, there are a few ways in which your kids can participate. For example, they can fill the measuring cup with flour and sugar, or they can pour in wet ingredients you've already measured. Or, they can stir the cake mixture to blend the dry ingredients with the wet ones!
The entire recipe can be found on Bluey TV. Not only that, but you can also find templates of the Heeler family as well as baking tips from the cake's creator, Steve Carter.
Bluey Crafts to Increase Bonding Time with Your Children
At its core, Bluey is a cartoon tv show that centers around family and teaches parents the importance of supporting their kids' imaginative childhood development.
Once you're done with these Bluey crafts, try making another famous Disney craft character, like these Baby Yoda crafts.
Which of these 18 Bluey crafts have you and your children made? Share your experience in the comments below!