Balloons are generally used as decoration for parties or festivals. They're a fun and colorful way to celebrate anything! But besides decor, these balloon crafts can help you get even more use out these decorations.
I've got you covered. Let your kids try their hand at any of these 23 balloon crafts. They'll make crafts with inflated and deflated balloons as well as use balloons to paint and paper mache.
A Quick (and Important) Note
Various types of balloons will be used for some of these crafts, but the most commonly used ones on this list are water, regular, and twisty balloons. And, to avoid injuries when trying to blow up a balloon, consider buying a balloon pump.
Also, since most of these crafts will require scissors, I recommend the use of safety scissors for the safety of younger kids.
8 Things to Make with Balloons (Inflated)
1. Glowing Balloons
Photo credit: Kids Activities Blog
Here's a really easy thing kids can do with an inflated balloon. Grab some balloons and a couple of glow sticks to make these glow in the dark balloons from Kids Activities Blog. Pretty easy right?
2. Balloon Powered Boat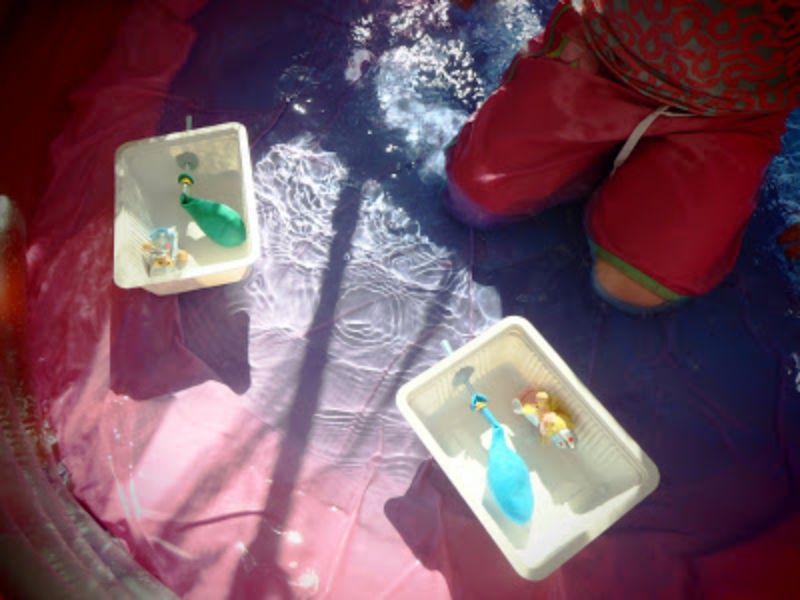 Photo credit: A Little Learning for Two
Here's a fun balloon craft for kids to use in the pool or bathtub. With balloons, plastic or cornstarch containers, a craft knife, a straw, rubber bands, sticky tape, scissors, and sticky tack, A Little Learning for Two shows kids how to make this balloon-powered boat.
3. Balloon Powered LEGO Car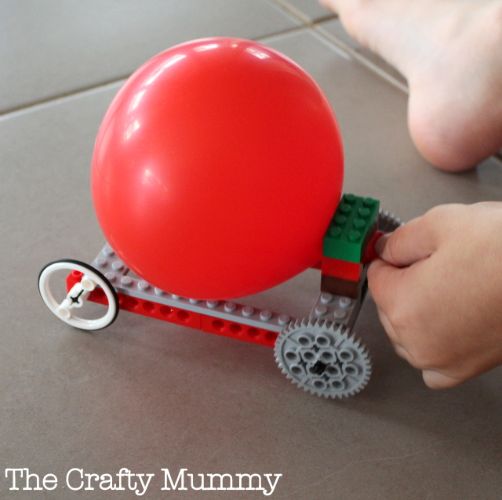 Photo credit: The Crafty Mummy
Do your kids have some extra LEGO bricks laying around? Then show them how to build a balloon powered car using LEGOs and a balloon with The Crafty Mummy's tutorial. One of the best things about this balloon craft is that kids can let their creativity flow and build their car however they want!
4. Balloon Hovercraft
Make, Film, Play shows kids how to make this balloon hovercraft with a CD, glue gun, a bottle cap, a pin (or something to poke small holes in the cap), and a balloon.
If you want kids to safely handle a glue gun themselves, consider buying a low temperature glue gun.
5. Hot Air Balloon Craft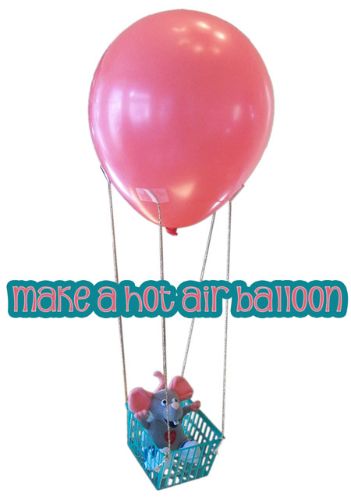 Photo credit: Woo! Jr.
It wouldn't be a balloon crafts list without a mini hot air balloon! For this craft, Woo! Jr. uses a balloon, ribbons, scissors, tape, and a basket to show kids how they can easily make a hot air balloon to take their toys around the world in 80 days.
6. Balloon Thanksgiving Turkey Craft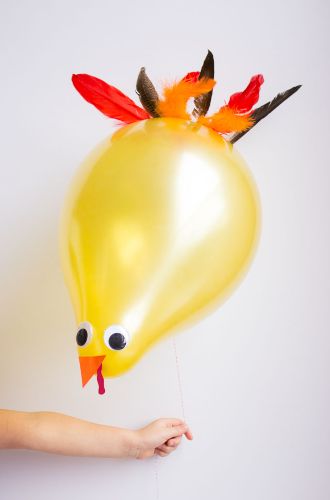 Photo credit: Design Improvised
Here's an easy balloon animal for ya, kids! Design Improvised shows kids that with a balloon, feathers, string, googly eyes, cardstock, scotch tape, and a low temperature glue gun, they'll be able to make this simple balloon turkey for Thanksgiving.
7. Dog Balloon Animal
Remember going to a friend's birthday or neighborhood block party and asking the clown to make your favorite animal with balloons?
You and your kids can make one too with this video tutorial from AboutMagic! Younger kids with smaller hands might need a grown-up's help twisting and shaping the balloons.
8. Balloon Octopus
While the previous balloon craft just uses one twisty balloon, this one uses multiple (and some regular balloons, too)! The aptly named Balloon Sage shows us how to create this awesome cephalopod out of balloons. And to really give your octopus an fun and authentic look, use these eyeball latex balloons.
This is definitely a project for mommy and daddy to do with the kids' help as it requires carefully twisting multiple balloons together, but the result is a cool balloon craft kids will love playing with.
7 Cool Things to Make with Balloons (Deflated)
Balloons don't always need to be inflated to make something cool. Sometimes fresh balloons from the pack are enough for kids to make awesome balloon crafts.
9. Balloon Elephants Craft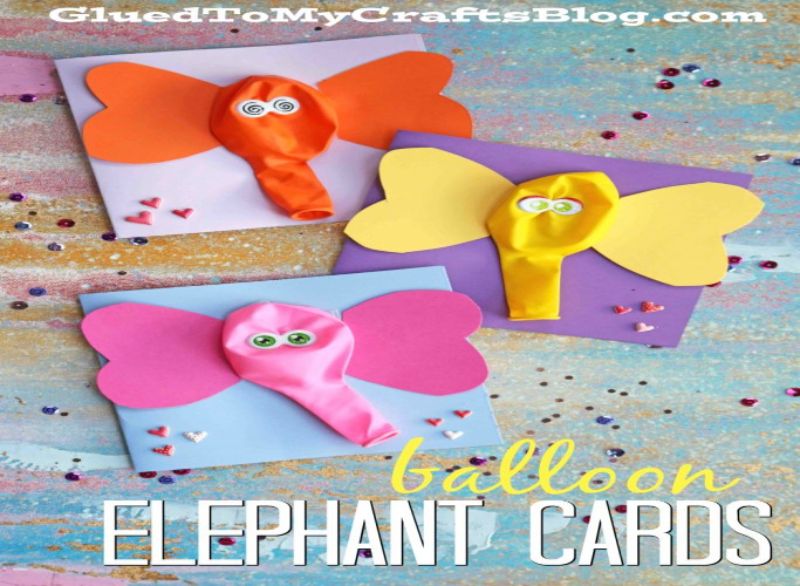 Photo credit: Glued to My Crafts
Glued to My Crafts shows kids how to make these cute and colorful balloon elephants from balloons, glue dots, glue, cardstock, scissors, and some optional glitter or rhinestones.
10. Pool Noodle Pom Pom Shooter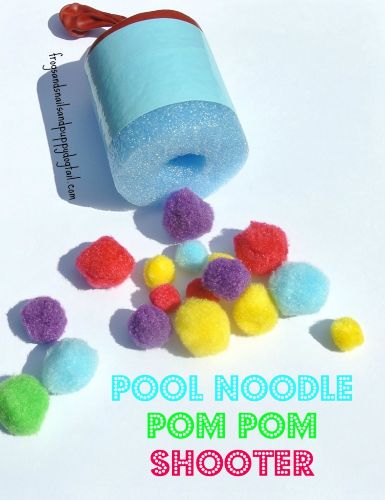 Photo credit: Frogs Snails and Puppy Dog Tails
Have pool noodles from a recent pool party lying around? Then let your kids make this pool noodle pom pom shooter using this tutorial from Frogs Snails and Puppy Dog Tails.
Aside from a pool noodle, your kids will also need a balloon, pom poms (of course), scissors, and duct tape.
Fair warning: be prepared to pick up pom poms everywhere!
11. Balloon Stress Balls
Let kids de-stress with these cute balloon stress balls from Red Ted Art. Kids will need flour, a plastic bottle, balloons, yarn, and a black marker.
12. Balloon Bongos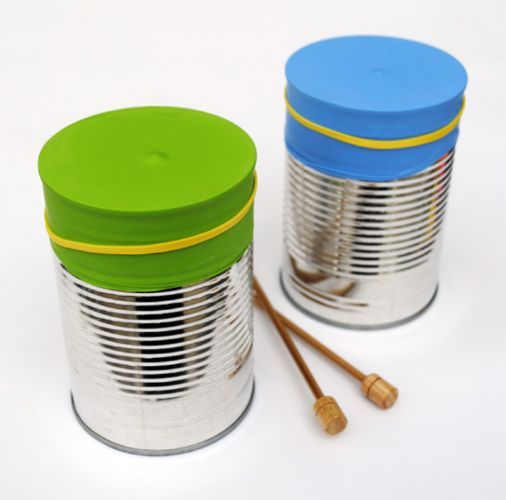 Photo credit: Mini Eco
Is your kid musically inclined? Then Mini Eco's balloon bongos are just for them! All they need are balloons, tin cans, rubber bands, chopsticks, and rice or lentils to be rockin' and rollin' in no time.
13. Balloon Hand Drum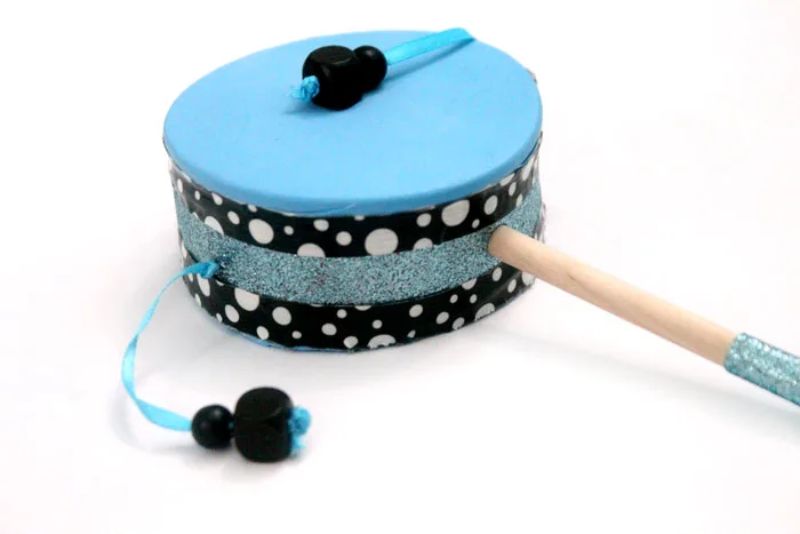 Photo credit: Moms and Crafters
This is a Japanese den-den daiko drum that, as some of the grown-ups reading this might already know, was made popular in The Karate Kid II. Help kids make this instrument with the help of Moms and Crafters by using:
– Balloons
– An empty Pringles can (or any round container)
– Craft knife
– Hole puncher
– Glue
– Scissors
– Washi tape and duct tape
– String
– Beads
A grown-up will need to help out with some of the steps for this balloon craft, especially if younger kids are involved, but kids will enjoy using this drum nonetheless!
Want to make even more musical instrument crafts? Then check out my article about homemade instruments!
14. Water Balloon Flip Flops
Photo credit: About a Mom
Walk down the beach in style this summer season! Kids can make these vibrant balloon flip flops with a pair of flip flops and about 120 water balloons.
The best part? Your kids can use any type of flip flop, from plain ones to pairs with designs they like. They can even choose to use just one balloon color. It's entirely up to you and your kids!
A grown-up might need to do most of the work here with toddlers and preschoolers, but this is definitely a craft that's fun for the whole family.
15. Balloon Lung Model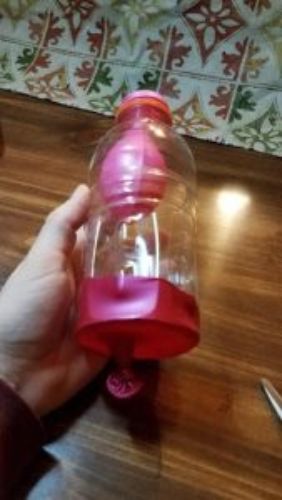 Photo credit: Connecticut Science Center
Here's a neat balloon craft that doubles as a science project! Want to show your kids how lungs work? Then the Connecticut Science Center has got you covered with this balloon lung model.
For a single lung, all kids need is a bottle, two balloons, scissors, and masking or duct tape. For a double lung model, kids will need an additional balloon and a Y-shape trachea made from straws (or this Y-shaped tube).
Let kids have fun with balloons while learning at the same time!
8 More Fun Things to do with Balloons
Lastly, here are 8 crafts that use balloons as tools to help create some really fun stuff.
16. Balloon Print Spider Art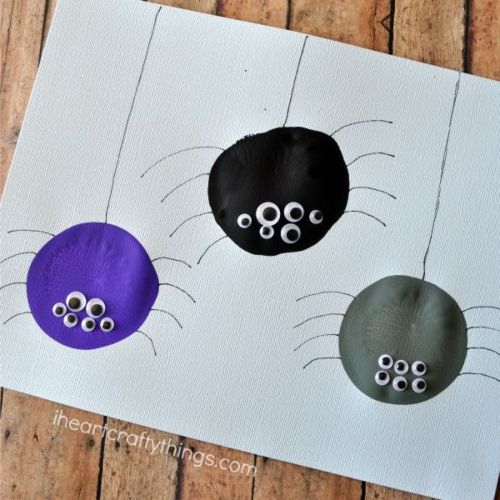 Photo credit: I Heart Crafty Things
Warning: this craft is NOT for arachnophobes. However, this cute activity from I Heart Crafty Things could be used to help kids overcome their fear of spiders.
All you need are balloons, washable paint, googly eyes, a black marker, glue, and paper plates. That's it!
17. Balloon Splatter Painting (3 Different Ways)
If your kids want to paint in a more fun and messier way, then let them try splatter painting with these balloon art ideas!
Poked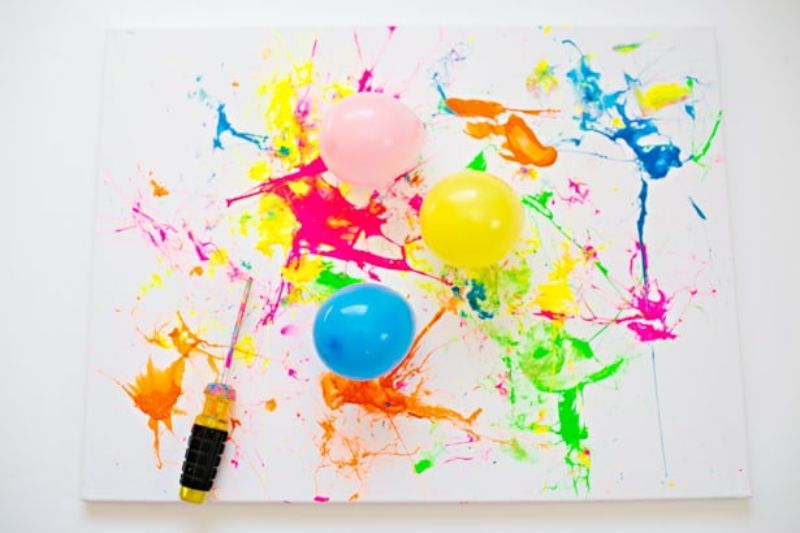 Photo credit: Hello, Wonderful
Ready to get messy, kids? Hello, Wonderful fills balloons with paint and shows kids how to make splatter art. Aside from balloons and paint, your kids will also need a large canvas, thumbtacks, goggles, and a screwdriver (to pop the balloons).
Squeezed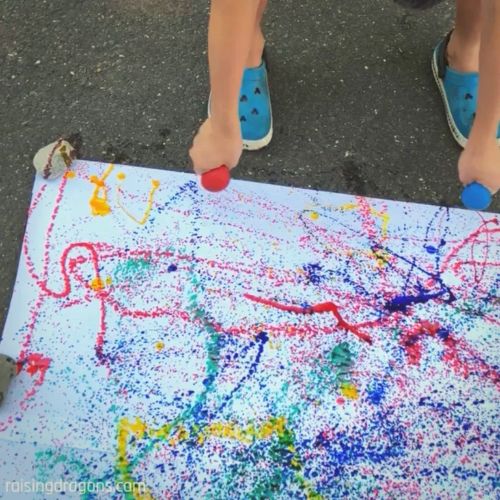 Photo credit: Raising Dragons
Raising Dragons shows kids another method to do splatter art by squeezing the paint out of balloons. Besides paint and balloons, a safety pin, scissors, and squeeze bottle are needed.
Thrown
The third way to do balloon splatter art is, of course, by just throwing paint filled balloons at a canvas. Mr. Otter Art Studio uses a canvas with pins to pop the balloons for this splatter art. Just like the kids in the video, make sure your kids are wearing protective goggles!
18. Frozen Dinosaur Eggs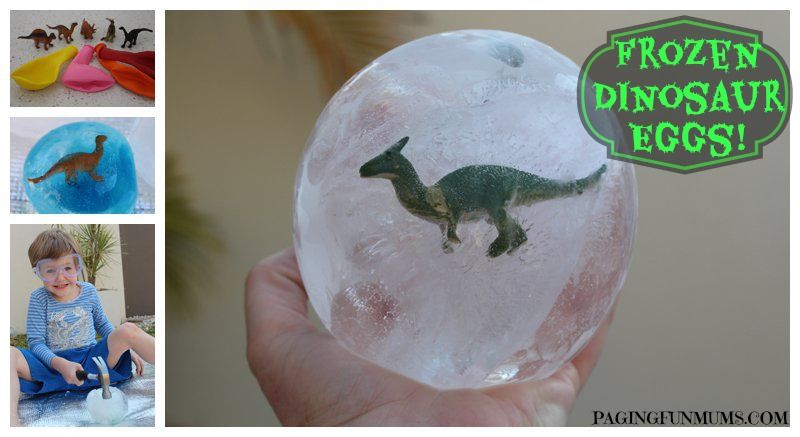 Photo credit: Paging Fun Mums
Are your kids fond of dinosaurs? Then they'll love this exciting balloon craft that lets kids use balloons to make neat dinosaur eggs. Paging Fun Mums shows kids how to make this paleontological discovery with balloons, mini dinosaurs, a hammer, safety goggles, food coloring (optional), and water.
19. String Eggs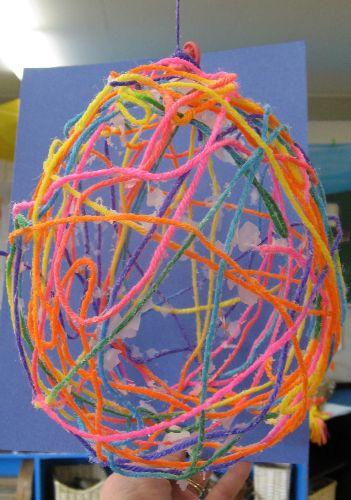 Photo credit: Strong Start
Here's another craft that uses a balloon to make something magnificent. Strong Start teaches kids how to make these egg shaped hammocks with string, a balloon, and glue. This fun balloon craft can also double as decorations for Easter!
20. Paper Mache Beehive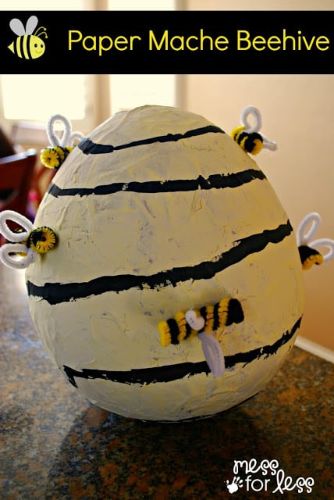 Photo credit: Mess for Less
Aside from string eggs, here's a beehive from Mess for Less your kids can make using a balloon as the base. They're going to need quite a lot of materials, such as:
– Balloon
– Glue and water mix
– Bowl
– Scissors
– Newspaper
– Paintbrush and a sponge brush (for the glue)
– Washable paint
– Pipe cleaners
– Glue gun
A grown-up will need to handle the glue gun unless you have a kid friendly low temperature one. Other than that, let kids have a go at this paper mache masterpiece themselves!
21. Paper Mache Mask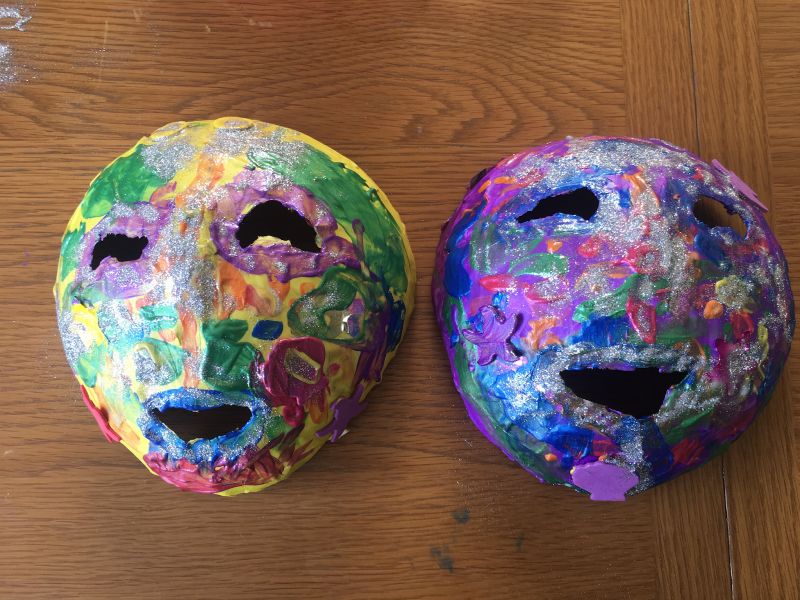 Photo credit: Twin Mummy and Daddy
And finally, do your kids need masks for halloween? Why not let them make their own? Twin Mummy and Daddy shows kids how to make their own masks with balloons, glue, water, scrap paper, a pen, washable paint, paintbrushes, and decorations (like glitter).
Balloon Crafts for Kids of All Ages!
Kids can let their creativity flow with these 23 balloon craft ideas.
Which of these balloon crafts did your kids like the most? Which of these could they do themselves with no help from a grown-up? Tell me in the comments below!
If your kids liked these crafts, they'll definitely love making things out of popsicle sticks!