Coasters are handy tools. They prevent damaging surfaces and add character to the home. Instead of buying mass-produced coasters in the shop, make them more fun and personalized by making these pretty perler bead coasters with your child.
You'll find all kinds of perler beads coasters below. We've got floral, superhero, and colored patterns just for you. I'm sure that you'll find the perfect pattern that will fit your personality and preferences.
Boo! Get spooked with these ghost perler beads patterns.
Materials for Perler Bead Crafts You'll Need:
Before diving into these patterns, make sure that you've got these art materials on hand.
20 Perler Bead Coasters
1. Floral Perler Bead Coasters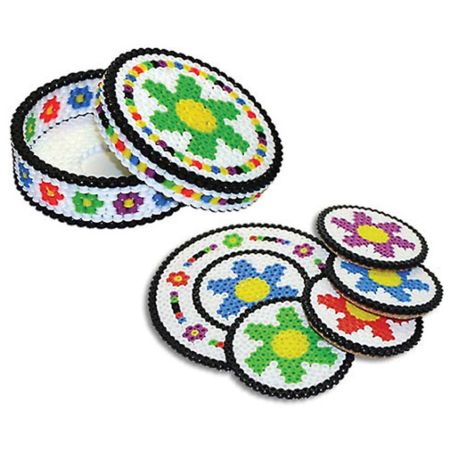 These floral perler coasters from Perler will add the beauty of nature to your home.
Brownie points for the case that it comes with.
These 3d paper flowers will be a cool project to do with the kids as well.
2. Dragon Ball Z Coaster Set
Dragon Ball is a phenomenal show that is well-loved by children from different generations.
Bond with the kids by making these super cool dragon ball perler coasters from SpeedBead.
Your kid will also enjoy making these dragon perler beads crafts.
3. Citrus Perler Bead Coasters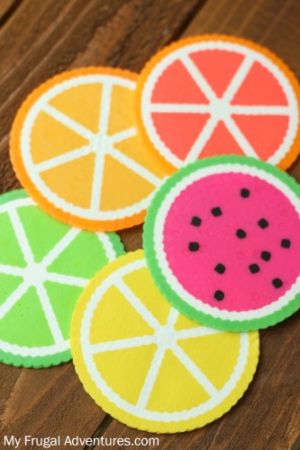 Does your kid like citrus drinks? These citrus perler coasters from My Frugal Adventures will be the perfect match for their beverages.
It comes in lemon, orange, and lime-inspired patterns which you can choose from.
Let's take a trip to Bikini Bottom and do these Spongebob perler beads.
4. Floppy Disk Perler Bead Coasters
We're going old school for our next craft courtesy of QDCrafts.
Floppy disks may no longer be available in the market but it doesn't mean that they won't look cool in the kitchen.
Follow this tutorial to get multicolored floppy disk-inspired perler coasters.
5. Star Wars Perler Bead Coasters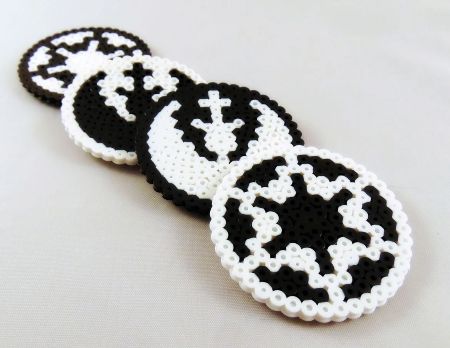 The force will be with you with these awesome Star Wars perler bead coasters from Krysanthe.
As long as you've got black and white perler beads and this guide, you'll be good to go.
Check out these Star Wars crafts, too.
6. Cake and Juice Box Perler Coasters
Kids will love the idea of having food coasters for their beverages.
Check out this video by toffany and learn how to make desserts and juice coasters easily.
We like anything and everything cute. Discover cute food drawings in this list.
7. Adventure Time Perler Bead Coaster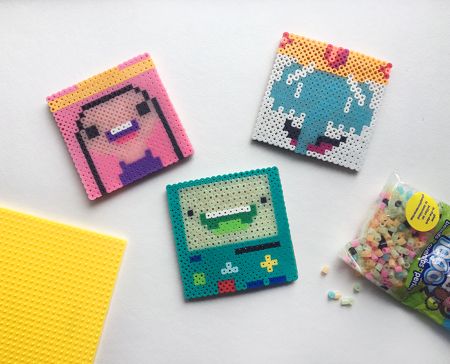 Is Princess Bubblegum, BMO, or Ice King your kid's favorite character from Adventure Time?
Collage  has got these cool perler coaster patterns and more!
Enter the world of wizards and witches through these Harry Potter perler bead patterns.
8. Halloween Perler Bead Coasters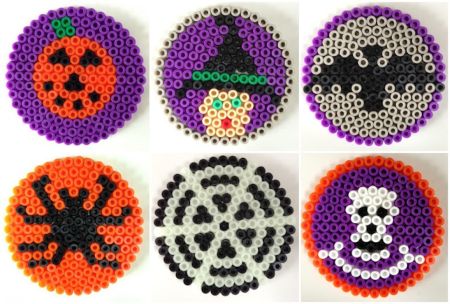 Preparing for the spookiest day of the year? Halloween will be more memorable when you make these perler coasters from Jennifer's Little World.
It's complete with pumpkin, witch, and spider patterns.
Go all out and make these Halloween painted rocks as well.
9. Snowflake Perler Bead Coaster
Their drinks will be chilled even during a hot summer day because of these cool snowflake perler coasters from Creative V.
Watch the video tutorial to get the full guide on how to make these unique coasters.
Enhance their drawing skills by doing these snowflake drawings.
10. Pokeball Perler Bead Coaster
It will be fun to create this pokeball perler coaster while waiting for the launch of the new series with the kids.
Let QDCrafts show you how to make your very own pokeball coaster at home.
11. Pac Man Perler Bead Coasters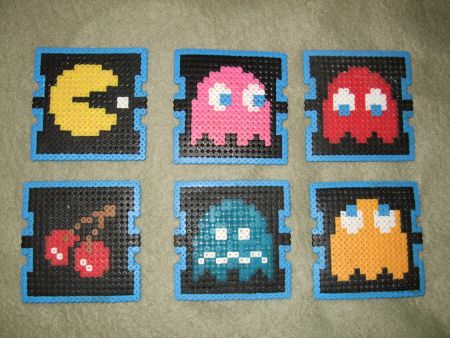 Bring Pac Man into your kitchen by doing these cool perler bead coasters from Instructables.
The kids will feel like they're in an arcade while using these because it's got the iconic ghosts, cherry, and of course, Pac Man.
More Pac Man perler beads patterns await you in this list.
12. Fast Food Perler Bead Coasters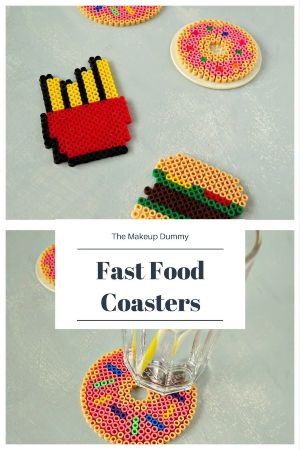 Another adorable set of perler coasters is coming our way thanks to The Makeup Dummy.
Learn how to make fast food perler patterns like french fries, burgers, and donuts through this tutorial.
Hungry for more? Include this perler bead food patterns on your to do list.
13. Cool Perler Bead Pattern Coaster
These colorful perler coasters from Angela's DIYs will look good on any type and design of glassware.
It's a cool piece to have because each pattern will have a different color and design.
14. Easter Egg Perler Bead Coaster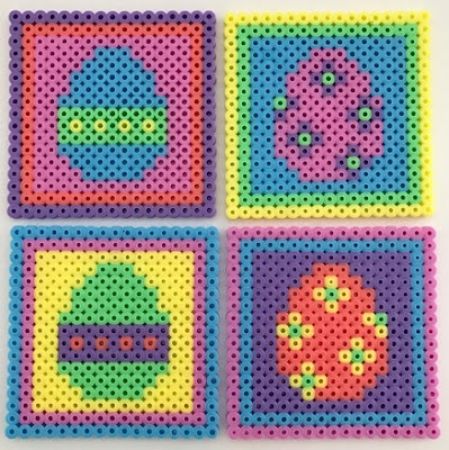 Preparing for Easter? Don't forget these adorable Easter patterns from Jennifer's Little World on your table setup.
Choose from the beautiful designs available in the guide such as orange, green, or pink eggs.
Welcome Easter with these Easter bunny crafts.
15. Picnic Blanket Perler Coasters
Feel like you're on a picnic everytime you use these picnic blanket perler coasters from Make It Yourself.
Pick which color you'd like to do because this guide provides a lot of options like pink, orange, and blue.
It won't be a picnic without these perler bead food.
16. Spider Man Coaster Perler Bead Pattern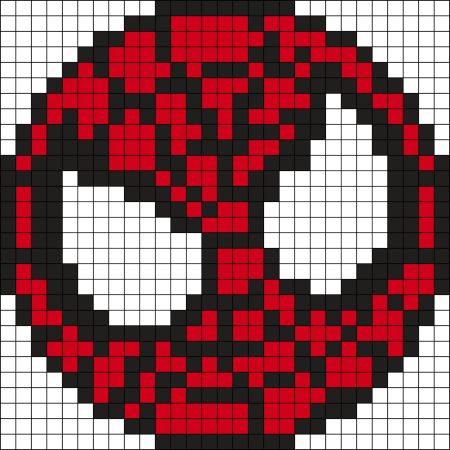 Our next project will feature none other than the friendly neighborhood superhero, Spider Man.
For kids who idolize superheroes like Captain America, Iron Man, and Spider Man, this pattern from TrbldWtr on Kandi Patterns will be an awesome craft for them.
More Spider Man perler beads can be found in this list.
17. Fox Perler Bead Coaster
Have an adventure into the wilderness when you make this cool fox perler coaster from TwinLakesMGRL.
Watch this video tutorial to learn how to create a project featuring this majestic wild land creature.
Try out these easy fox drawings as well.
18. Colorful Perler Bead Coasters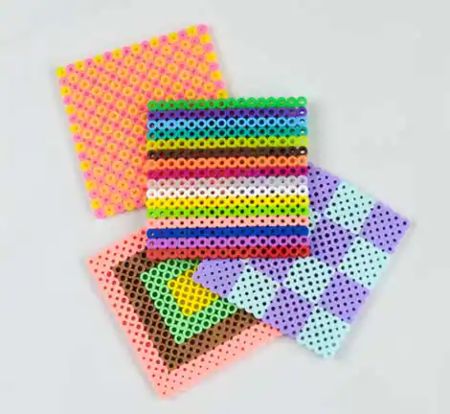 Want a colorful and fun perler bead coaster? These patterns from CBC will be a fantastic choice.
Choose from the different patterns available that will bring color and life into your kitchen.
They've got stripes, checkers, and circular patterns.
19. Penguin Perler Bead Coasters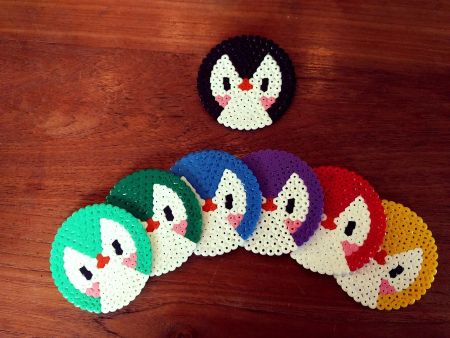 These perler penguins will waddle their way into your home.
Instructables provides a guide on how to make these colorful and super adorable penguin perler bead patterns.
Create more penguin perler beads starting with the ones included in this list.
20. Ugly Sweater Perler Bead Coasters
The holiday season is upon us and what better way to welcome it than by having these ugly sweater coasters from Sea Lemon ready in your home.
Get ideas on how to perfect the craft by watching the video tutorial.
Fill your hearts and tummies with these Christmas cupcake ideas.
Cool and Useful Perler Bead Coaster Patterns for Kids
There you have it folks, the coolest perler bead coaster patterns in town. These coasters won't just protect your furniture but will also add character to your home.
The best part is that your child will feel proud knowing that they're the one who made these pieces.
Looking for more art projects? You'll find great ones below: