Christmas is fast approaching and you know what that means—gifts under the Christmas tree, family gatherings, and A LOT of food. It's a joyous and wonderful celebration that brings people together. The holiday is made even more special by preparing these Christmas cupcake ideas with the kids for the whole family.
Holidays are all about food and tradition. You can make these Christmas cupcakes a part of a new family tradition! Making these will bring the whole family together (and they're yummy too which is a big plus).
Teach your child a new skill with the help of these kids crochet kits.
Before Anything Else…
Make sure you've got these handy materials ready. They'll make baking and decorating less stressful and more enjoyable.
8 Easy Christmas cupcakes
1. Christmas Tree Cupcakes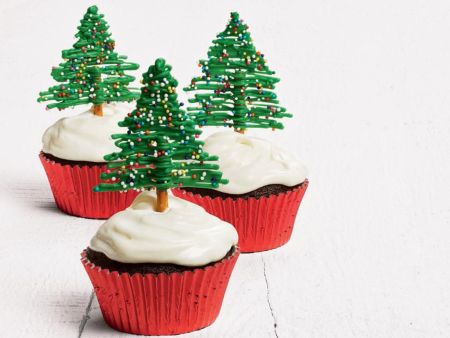 Your family deserves the best and nothing less, like these Christmas tree cupcakes from The Food Network.
A delicious chocolate cupcake topped with white frosting and candy-melt tree will get a double thumbs up from your kids.
2. Reindeer Cupcakes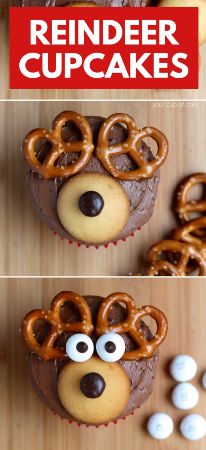 We can't forget about Santa's most trusted and loyal companion. Make some space on the table for these reindeer cupcake surprises from Your Cup of Cake. The pretzel antlers also add a clever touch to this relatively simple yet effective decorative treat.
3. Hot Cocoa Cupcakes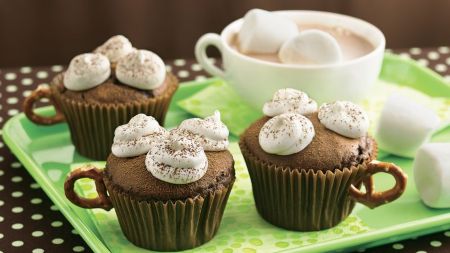 It's beginning to look and feel like Christmas, and that means it's time to bring out the hot chocolate! Keep your loved ones cozy this holiday season with this creative hot cocoa cupcakes recipe from Betty Crocker.
Can you believe those aren't really marshmallows on top?
4. Christmas Stocking Cupcake Design
Christmas wouldn't be complete without colorful decorations, and a Christmas stocking is a huge part of that. Creating the ribbon, glitter, and fur of this sock takes a lot of patience and precision, but I promise the end result will be breathtaking.
This video tutorial by Vilin Cake's will serve as a great reference point as you bake and decorate these cupcakes.
5. Easy Santa Cupcakes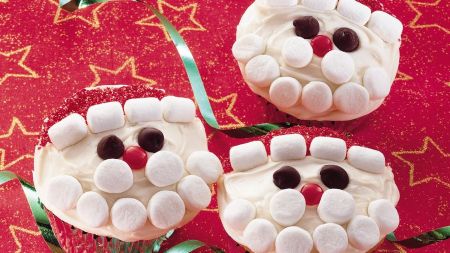 Ho, ho, ho Merry Christmas everybody! These Santa Claus cupcakes from Pillsbury are easy to replicate, and therefore a non-negotiable. After all, he's one of the most well-known figures of the holiday season.
Don't forget to add the marshmallow beard because it makes all the difference!
These winter sensory bin ideas are another fun and simple activity to put together.
6. Candy Curl Christmas Cupcakes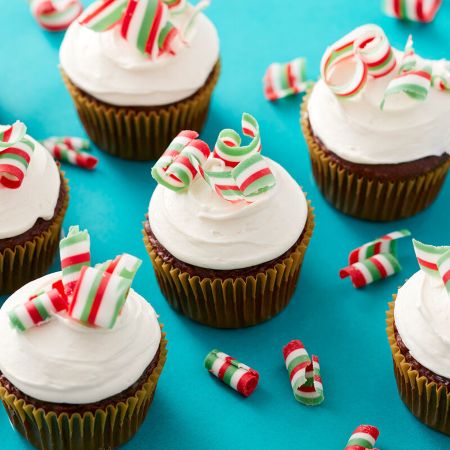 These fun candy curl cupcakes from Wilton will be perfect for kids who love crafts and have a sweet tooth. The chocolate cupcake together with buttercream frosting and candies will definitely satisfy both of those cravings.
7. Mini Santa Hat Cupcake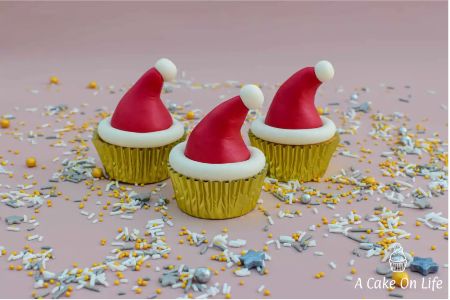 Make these mini Santa hats cupcakes with the little ones this Christmas season. Not only are they the perfect serving size for toddlers – they're super fun to make, too! In this tutorial Vicki from A Cake on Life walks you through how to make mini Santa hats and elf hats from fondant.
Check out these toddler painting ideas for more hands-on fun.
8. Christmas Light Cupcakes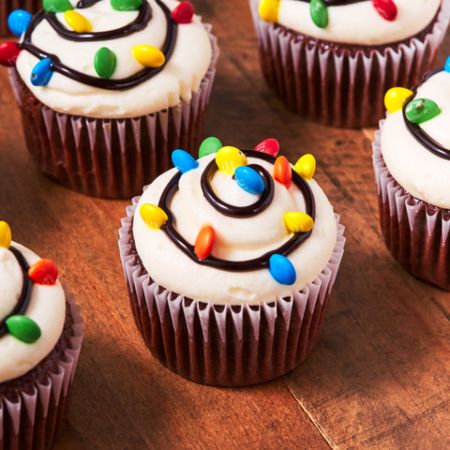 Christmas will be merrier and brighter if you have these cupcakes from Delish at home. Making these together with the kids will bring laughter and joy into your house.
The cupcakes are also easy to make. Top the cupcake with some frosting, swirl a dark decorating gel, sprinkle some M&Ms, and then you're done!
14 Christmas Cupcake Ideas
9. Christmas Cupcakes Galore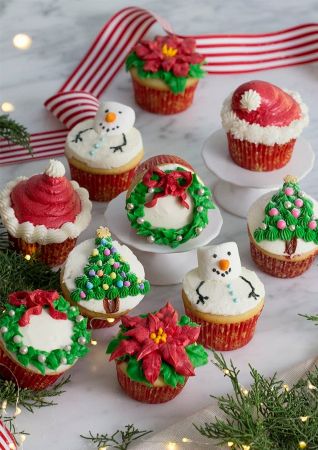 It will be a winter wonderland in your kitchen with this cupcake collection from Preppy Kitchen. You'll have Frosty, a Christmas tree, a Christmas wreath, and more holiday staples.
The best part is that the frosting can be used in multiple designs!
10. Christmas Cupcake Wreath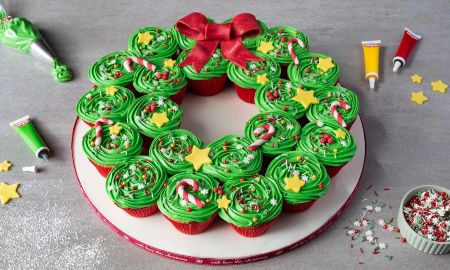 Here's a relatively easy Christmas cupcake idea that still makes a great impression.
Share the joy of Christmas with your family and friends by giving them a piece of this huge Christmas cupcake wreath from Oetker.
This is an excellent choice for parties because dividing the treat will be a piece of (cup)cake.
11. Gingerbread Cupcakes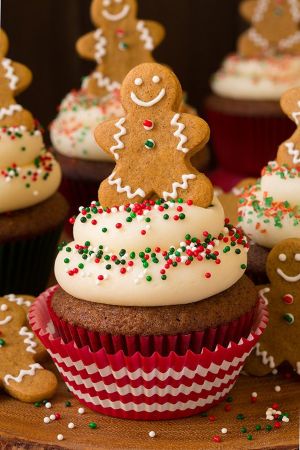 Making these cupcakes from Cooking Classy will be like doing two projects in one because you have to bake the gingerbread man first, and then the cupcakes –double the fun and excitement!
I like this idea because it involves simple ingredients that aren't hard to find.
These Snoopy perler beads patterns are as cute as the gingerbread man.
12. Cute Snowman Cupcakes
Say hi to these adorable snowmen! For the novice baker who likes a challenge or for the experienced one who wants something fun to bake, these cupcakes will be the perfect project to bond over.
Learn how to make these decorative winter cupcakes with this video tutorial from A Cake On Life.
13. North Pole Friends Cupcakes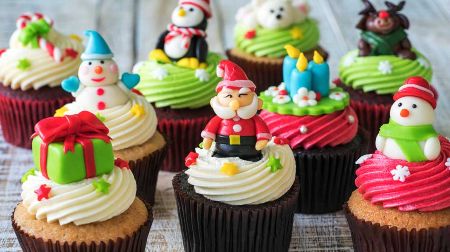 Santa Claus, the elves, and all the other magical creatures at the North Pole are all geared up for the most awaited celebration of the season.
Your kids will feel like they're part of the gang when you attempt these cupcakes from Homemade Recipes.
14. Christmas Pudding Cupcakes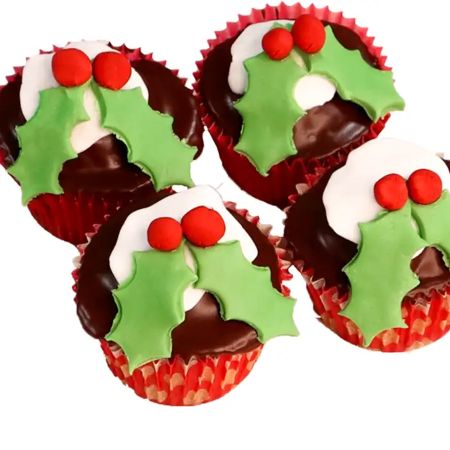 Did someone say chocolate pudding? Count me in! 
These holly leaves-inspired cupcakes from Love Food Feed are a sign that Christmas is just around the corner.
Plus, the combination of chocolate pudding, fondant, and frosting make these a mouthwatering treat.
15. Easy White Chocolate Snowflake Cupcakes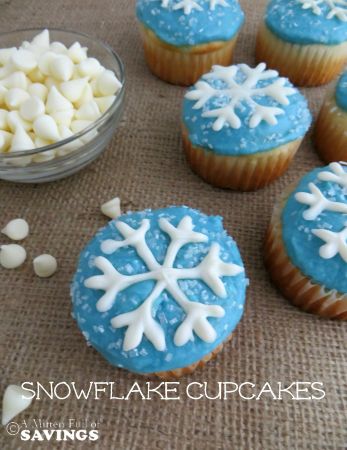 Did you know that no two snowflakes are alike? Unleash your kids' creative side by creating a different snowflake design on every cupcake, just like these cupcakes from A Worthey Read.
This tutorial walks you through how to create snowflakes using melted white chocolate. Simply create the snowflakes, pop them in the fridge, and viola! You have a beautiful creation.
16. Polar Bear Cupcakes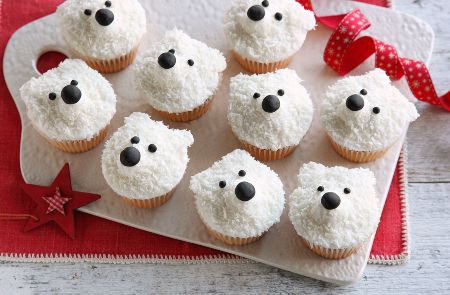 No one at your next holiday gathering will be able to resist these polar bear cupcakes from Real Food. The fondant icing and desiccated coconut make the perfect blend of sweetness and cuteness.
More cool polar bear crafts are heading your way in this post.
17. Christmas Present Cupcakes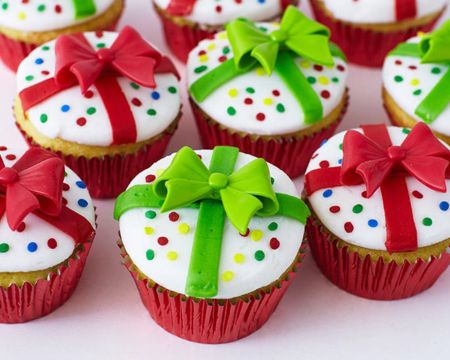 Surprise the kids with these thoughtful Christmas present cupcakes from The Cake Blog. They're special because they're made with love and yummy.
18. The Grinch Cupcakes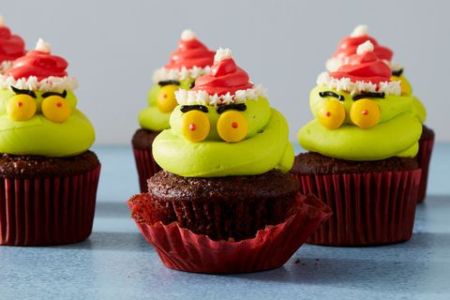 The Grinch is part of the holiday season, too. Make these Grinch cupcakes from Delish by using different colored frostings and yellow M&Ms.
Jack Skellington is another famous character during Christmas. Get to know him better by doing these Nightmare Before Christmas perler beads patterns.
19. Christmas Holly Cupcakes
Holly, poinsettia, and Christmas rose are tightly associated with Christmas so it would be logical to include them in the menu, too.
Achieve these designs with frosting, sprinkles, and sugar pearls. 
This video by Coco and Cakes will be handy in turning your Christmas cupcake vision into a reality.
20. Mickey Mouse Holiday Cupcakes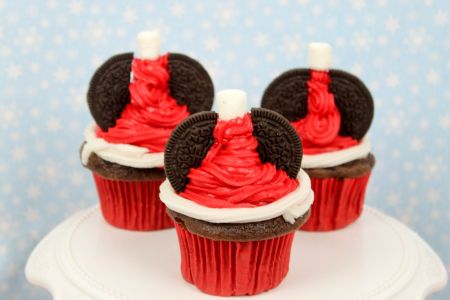 The kids and kids at heart will enjoy munching on these Mickey Mouse-themed cupcakes from Afropolitan Mom. 
Adding two Oreos halves on each side of the Santa hat made from frosting will easily mimic the famous Mickey ears look.
21. Melted Snowman Cupcakes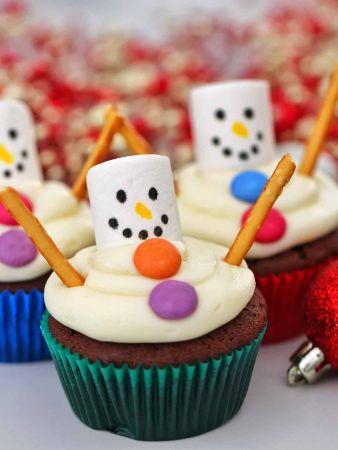 Raise your pretzel arms if you're ready to par-tey! 
Decorating these cupcakes will be a ton of fun— from drawing on the marshmallow using edible pens to placing some M&Ms for the buttons – making these Christmas cupcakes is a riot.
Mama Loves to Cook will show you how it's done.
22. Christmas Sweater Cupcakes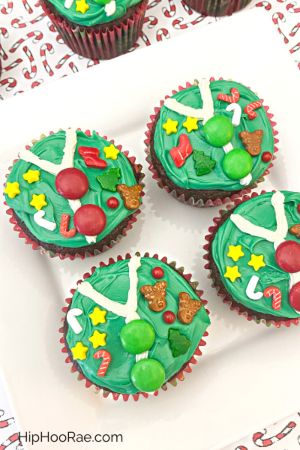 Your cupcakes won't just be delicious – they'll be fashionable, too. 
Channel your inner child by making these unique Christmas sweater cupcakes from Hip Hoo Rae.
This is a great activity for toddlers because it allows them the freedom to place the decorative elements of the "sweater" wherever they want!
The cold never bothered me anyway. Find Elsa and Anna in these fun Frozen perler beads patterns.
Spread Some Christmas Cupcake Cheer This Season
These Christmas cupcake ideas will help you spread some cheer and joy this holiday season.
Making these will also connect and bond you with the kids which is what Christmas is all about.
Spend more quality time with the kids by making these crafts: