Sharpen your wits and drawing skills by practicing these easy fox drawings that range from basic fox designs for children to detailed fox sketches for the ambitious artist.
Beginners who want to experiment with other animals should visit our easy animals to draw guide.
Tools for Sketching
When you fail to plan, you're planning to fail. I've included two two that you might need for your fox drawings.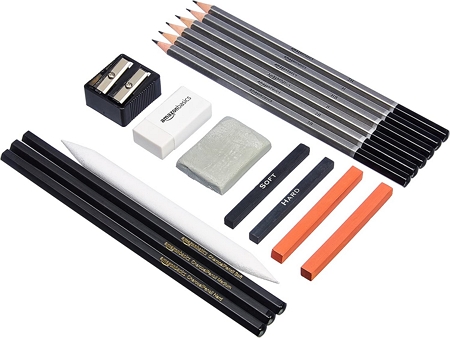 Having the proper type of pencil is essential when you've set out to draw a realistic fox sketch.
This kit includes six different pencil types, three charcoal pencils, and four compressed sketch sticks, perfect for the detail you're aiming for without spending too much.
A kit like this one ensures that minute shading details and subtle proportions of a small animal like the fox can be executed.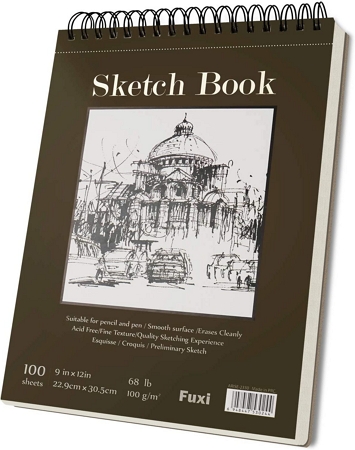 Feel like a true artist by getting a spiral sketch book like this one. With 100 pages to sketch on, this pad will keep you company during rainy weekends, or any of your free time.
The material is durable enough to withstand multiple erasures without damaging the paper—making it a comfortable pick for artists who love to refine their drafts.
8 Easy Fox Drawings
It's easier for children to draw animals when they're starting from basic shapes. Camy Kwok helps kids do that with their easy fox drawing.
There are plenty more drawings that start from shapes in our how to draw a pig list.
4. Plain Fox Cartoon Drawing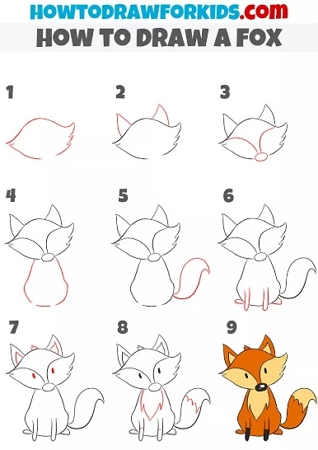 Make drawings more relatable to children by introducing them to figures resembling cartoons. How To Draw For Kids has got the perfect cartoon-y fox drawing that looks like it came out of a television series.
Don't forget to make these Animal Crossing Perler beads if you're a fan!
It's easy to forget that Tails is a fox, perhaps because of his anthropomorphized look or his flying powers. Learn how to draw Tails by watching this video tutorial created by Cartooning Club How To Draw's channel.
Try a different type of activity through these Sonic Perler beads.
6. How to Draw a Fox for Beginners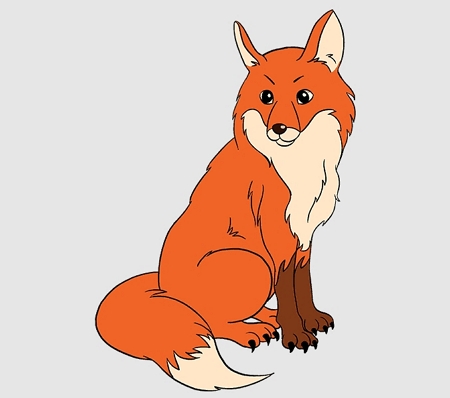 Foxes are known to have bushy tails. Easy Drawing Guides makes a pretty and furry fox in their drawing guide.
7. Mischievous Fox Drawing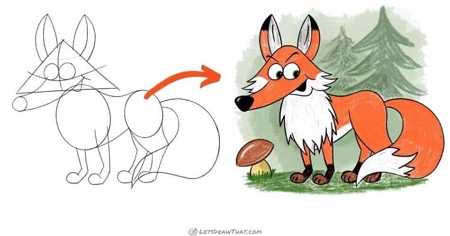 Although foxes have wild behavior, some have learned to live in urban areas alongside humans. Still, every so often some foxes tend to be naughty in your backyard. Just like Swiper, the fox who always tries to steal from Dora and Boots in Dora the Explorer.
Let's Draw That perfectly nails that mischievous attitude with their fox drawing.
Planning to take a nature walk? Pick some natural materials along the way so you can make these nature collage crafts!
Anyone having a hard time trying to follow a written tutorial should be grateful to UCIDraw's channel, which shares an easy-to-follow fox drawing video tutorial.
9. How to Draw a Detailed Fox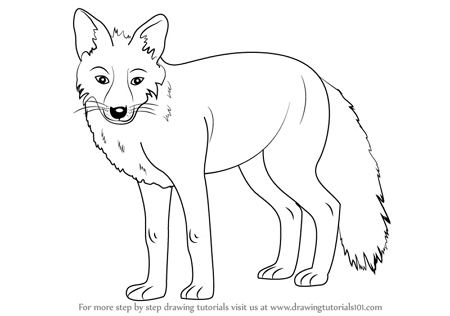 Here's another easy fox drawing with a little bit more detail, coming from Drawing Tutorials 101. They capture the bushy tail quite well in this drawing.
When we're talking about foxes in the Pokemon world, we can't miss the most charming fire-type fox Pokemon, Vulpix.
Aspiring to be a Pokemon master? Start your journey with these Pokemon Perler beads!
5 Cute Fox Drawings
As if foxes need to be any cuter. Here are five cute fox drawings that will convince you to adopt one. But don't, though, because they're still wild animals.
Those who already have a pet should make these cat Perler beads or dog Perler beads.
11. Cartoon Fox Drawing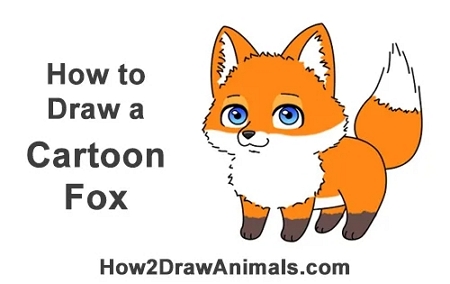 This cartoon fox drawing from How2DrawAnimals looks as if they're capable of understanding human speech. Its stubby legs will make your little ones fall in love with it.
Perhaps this fox could join the team of PAW Patrol Characters!
12. Nine Steps to Draw a Fox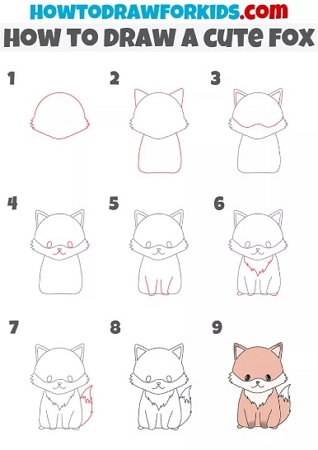 Easily coax children to do fox drawings by showing them the ease and cuteness of this fox from How To Draw For KidsHow To Draw For Kids.
Draw So Cute is a Youtube channel popular for drawing almost anything in a cute way. In their fox drawing, they add a small heart detail that just melts my heart.
If this fox drawing isn't enough to soften your icy heart, these kawaii Perler bead patterns surely will.
14. Adorable Baby Fox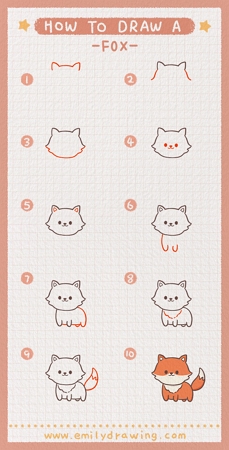 Emily Drawing's fox drawing guide is almost like a guide for a fast fox doodle in your bullet journal. In ten simple steps, any journal can become less lonely with the addition of this cat-like fox.
Explore ways to ornate your journal by following our list of flower doodles, which are easily done within ten minutes, tops!
15. How to Sketch a Sleeping Fox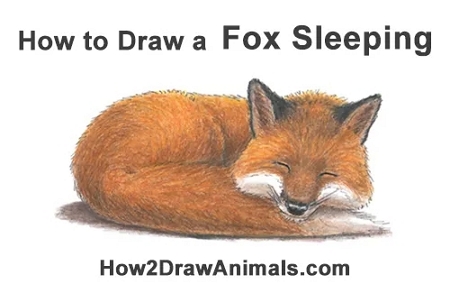 Even though belonging to a family closer to dogs, foxes have plenty of similarities to cats. For example, they gracefully stalk their prey, just like how you would approach this sleeping fox from How2DrawAnimals.
Koalas are also long sleepers, so draw them now by getting inspiration from these koala drawings.
5 Arctic Fox Drawings
Red foxes aren't the only type of fox to exist. While all fox species are cute, the arctic fox exudes a cool elegance with its all-white fur.
Acquaint yourself with other rare arctic animals with these polar bear crafts for kids.
16. Draw an Arctic Fox in Six Steps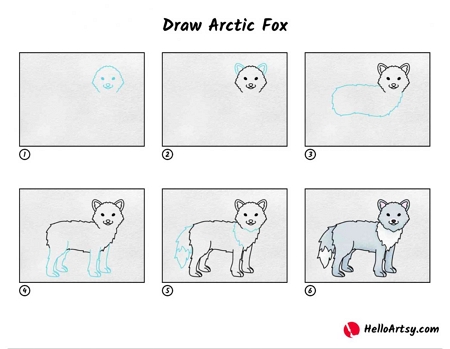 Let's start with a simple arctic fox drawing by Hello Artsy, which gives us a six-step tutorial.
If you aren't living in the arctic region, then your chances of seeing a sleeping arctic fox are low. But thanks to Kids Art Now's channel, your chances are low but never zero!
18. Serious Arctic Fox to Draw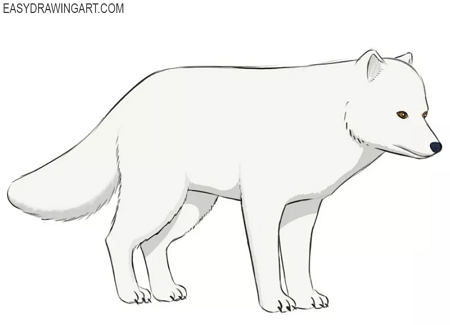 Easy Drawing Art shares an arctic fox drawing that almost looks like a wolf. Don't be fooled, though, because arctic foxes are considerably smaller and less aggressive than their vicious cousins.
Art for Kids Hub never fails to deliver a great drawing tutorial, and this time they show us how to make a cartoon arctic fox. Don't hesitate to pause or rewind the tutorial to go at your own pace.
20. How to Draw an Arctic Fox Video Tutorial
After making those less complicated drawings, it's time to level up with an arctic fox that comes this close to a real one.
Brought to us by How2DrawAnimals's channel, this arctic fox tutorial is filled with tips and tricks that come from a trained artist.
3 Realistic Fox Drawings
More experienced artists will appreciate making these convincing fox drawings.
Other drawings of animals that are true to life can be found in our list of how to draw a chicken.
21. Fox Head Step By Step Tutorial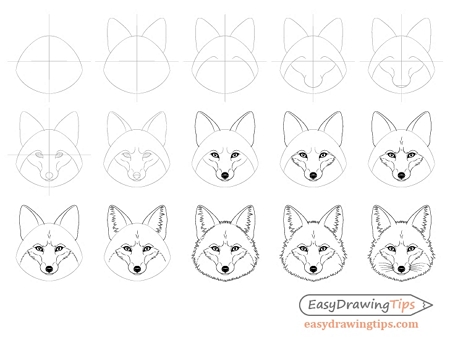 No shame in starting with a realistic sketch of a fox's head. Easy Drawing Tips helps you find your flow with their all-in-one fox drawing tutorial.
22. Furry Fox Sketch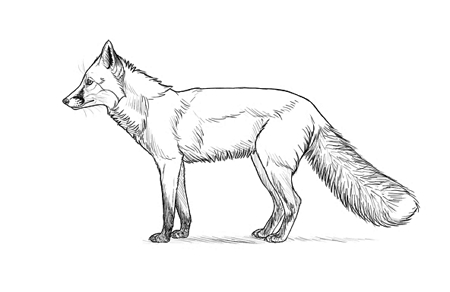 If you're eager to learn how to draw like a skilled artist, Envato Tuts+ guides you through the entire drawing process, from the basic sketch outline of the fox to the smallest detail, like its whiskers.
This tutorial from How2DrawAnimals nails the tiny details embedded in this authentic, sitting fox, almost as if the artist had captured a candid image of the animal with a camera.
Their video tutorial is filled with subsections to which the viewer can move freely, allowing them to jump from one component of the drawing to another.
What Does the Fox Say?
I hope you've enjoyed making these adorable fox drawings!
If you can't get enough of these drawings like I do, I suggest heading on to our other animal drawings, perfect for beginners and advanced artists alike: