It's that time of the year again. When vampires lurk at night, mummies go back to the living, and ghosts roam around towns. It's Halloween! Get your scary fix through these ghost perler beads just in time for the scariest day of the year.
Ghosts are fascinating creatures that countless movies, songs, and books feature.
Just in time for October 31st, I've compiled the scariest, cutest, and most awesome ghost Perler beads for your kids.
Let's get to the good part and start making these cool Perler projects.
Still new to Perler beads? Take it step by step and start with these easy Perler bead patterns.
Before We Start…
These are the materials that you'll need to create these phantoms:
1. Baby Ghost Perler Beads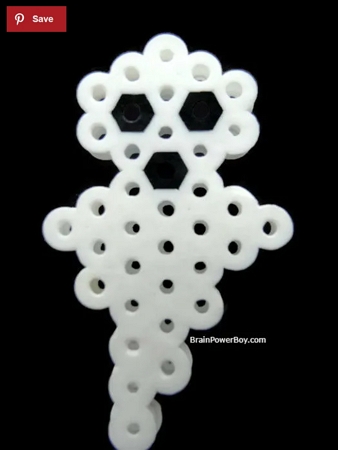 Being small doesn't mean it's not spooky—a wasp can terrify just as much as a grizzly bear.
Here's a simple ghost wisp by Brainpower Boy.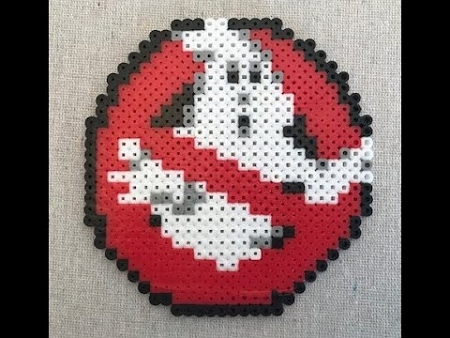 Who you gonna call? Ghostbusters! Who you gonna call for Ghostbusters Perler beads? RachaelLinShop!
The recent Ghostbuster film has revived the fanbase of the film franchise.
Now, even those who weren't born yet when the first film came out are bopping to the tune of the theme song. That just proves how ghosts will never be out of style.
3. Slimer Perler Bead Pattern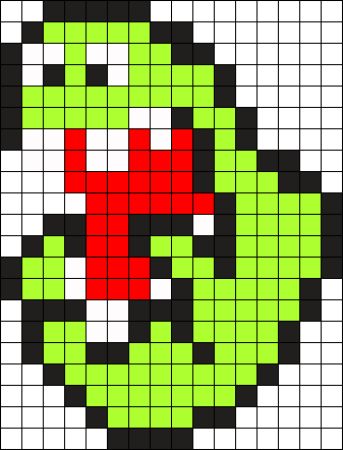 This green giant ghost is hungry for some… epic FUN.
Slimer is not your ordinary ghost that's white, flowy, and scary. It's green, chunky, cute, and makes an excellent mascot for Hi-C!
Do you think this ghost looks a little sus? Figure out who's pretending by doing this Among Us perler beads patterns.
Gotta catch 'em all! You can't miss this Pokemon ghost pattern by the 8-bit Cafe if you're collecting the coolest ghost patterns on the internet.
Excited to do the pattern? Watch and learn how to make it through this video tutorial.
5. Cool Ghost Perler Bead Pattern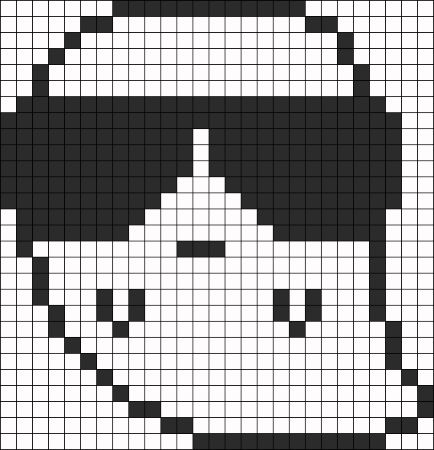 Some people say that you'll feel an eerie breeze once a ghost passes by.
I bet this cool ghost by Creatures_Rawr will do the same. Its big sunglasses prove that it's part of the hip crowd even though it's probably a thousand years old.
The Madrigals are a cool family, too. Check out these Encanto perler beads if you plan on creating beautiful patterns of the magical family.
6. The Figure in White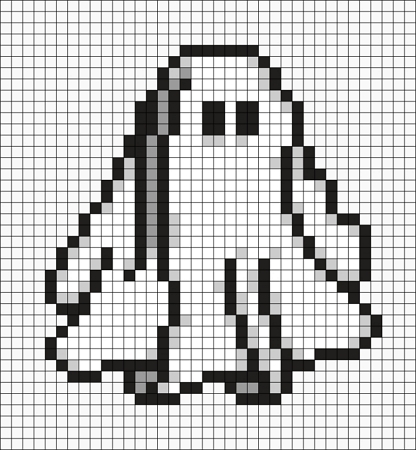 Sometimes it looks like hung sheets, waiting to dry. When you're not looking, it morphs into a white specter, watching your every move.
After this figure in white—made by whiteasacloud—you'll think of nothing else when you hang clean sheets fresh off the laundry.
7. Bear Ghost Perler Beads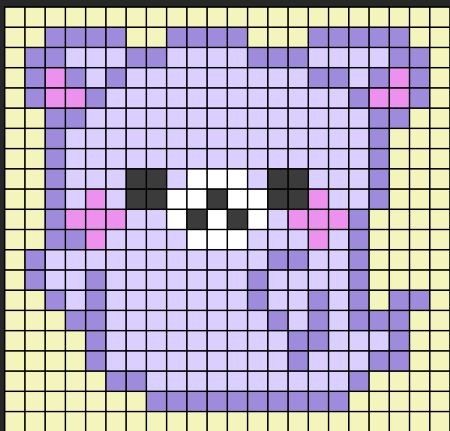 Little kids will appreciate this purple bear ghost created by Stitched. It has all the funkiness of a ghost without its horrifying side.
Plus, the pattern is too adorable to resist!
8. Sad Ghost Pattern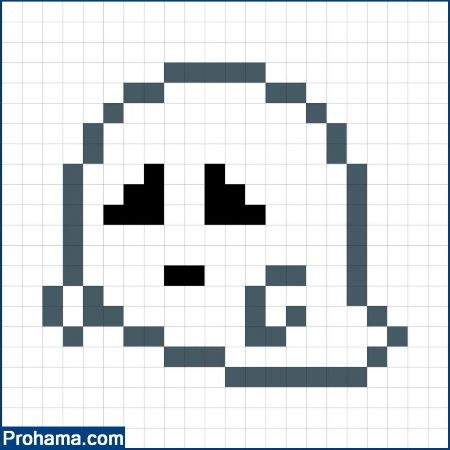 Feeling a little bit down? This sad ghost on ProHama can relate.
Making Perler beads projects will help you cheer up.
This ghost pattern will do the trick that will put a smile on your kid's face.
Graveyards seem so cold and eerie but for ghosts, they're the perfect place to call home.
Give your ghost its own space to hang out with its other monster friends through this pattern made by Jeremy Tyrrell.
Click the play button to know how you could achieve the Perler pattern.
10. Ghost Kitty Pattern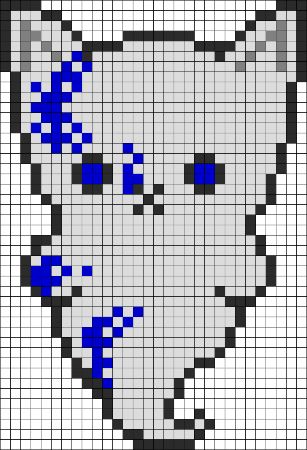 When we think of kitties, we think about their cute button nose, their twinkling eyes, and their perky ears. But this ghost kitty has an edge.
Brownie points for the blue beads that make the kitty's eyes and features pop out even more.
11. Pac-Man Ghosts Beads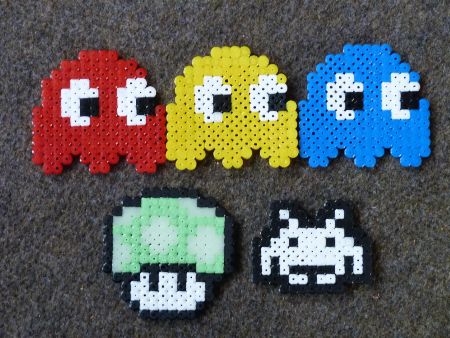 I remember playing Pac Man when I was a kid and how I avoided the ghosts who were trying to chase me at all costs. They made the game more exciting and challenging.
Relive your own childhood memories by making these nostalgic Pac Man perler beads patterns.
12. Perler Ghost Melt Face Perler Beads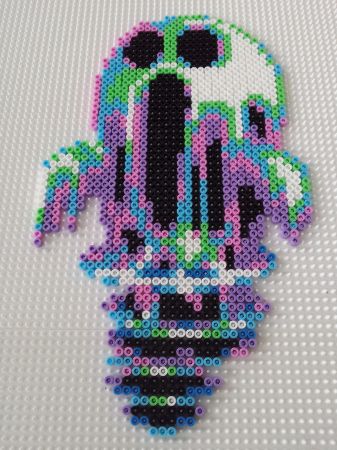 The color transition of this pattern is what makes it stand out. Plus, choosing different colors that will fit the pattern will tickle your kid's imagination.
Care for another out-of-this-world pattern? This alien Perler beads is for you!
Looking for a ghost perler bead pattern that's fit for a preschooler? This will check all the criteria.
Making this will be quick, easy, and fun. This tutorial by Laceys Crafts will teach you how to make it in just one minute.
14. Shy Ghost Pattern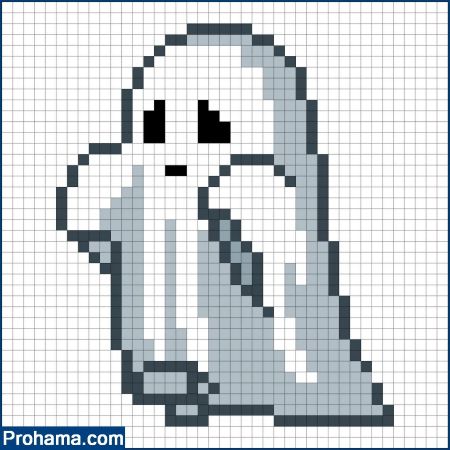 Is your kid feeling down lately?
This ghost pattern will turn their frown upside down. Making this will not just be fun and relaxing but will also be a great bonding activity for both of you.
More otherworldly creatures (from wizards to elves, and goblins) can be found in this Harry Potter perler bead patterns post.
15. Boo, Super Mario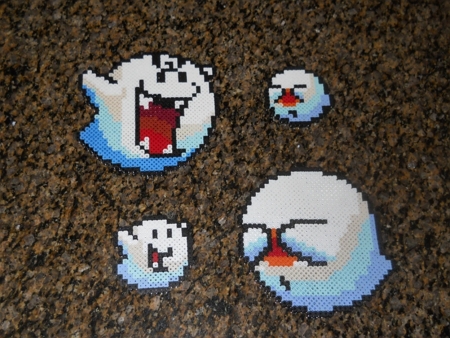 Peek a boo I see you!
Surprise your kids with this exciting Perler bead pattern. Plus points if they also love playing hide and seek.
Check out more Mario Perler Bead patterns!
16. Ghost Kirby Perler Bead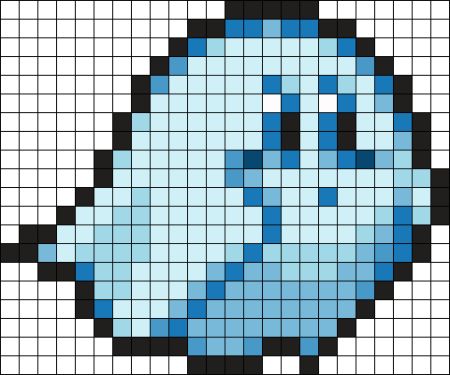 Kirby is undefeatable—even spooky ghosts don't faze him. He'd just suck them and take their ghostly abilities.
Hippocratessocrates shows exactly what happens when a ghost messes with Kirby.
Using glow-in-the-dark beads will level up your projects. Watch how Destination Creativity made an ordinary pattern extraordinary.
18. Trick-or-Treating Ghost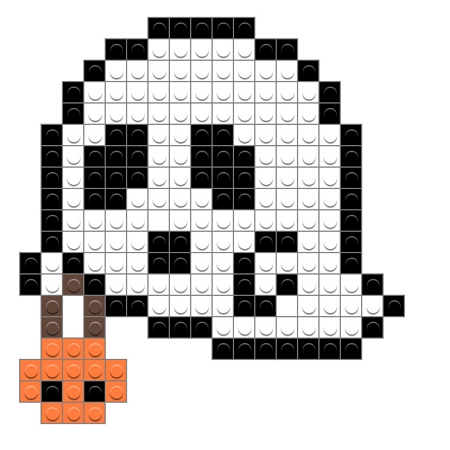 Trick or treat! Making this pattern will surely be a treat.
Before you go out trick or treating, try out these perler bead shark patterns as well.
19. Danny Phantom Perler Bead Pattern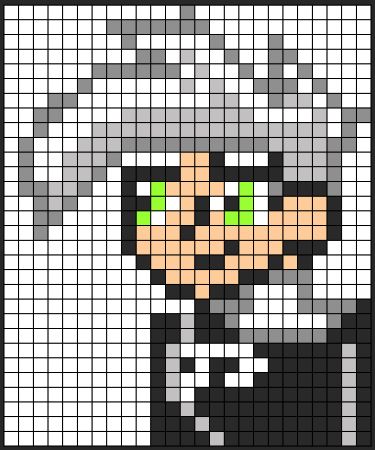 Goin' ghost with this Danny Phantom Perler beads by Jett.
Danny Phantom is not your average teenager. He is a human-ghost hybrid who's trying to evade his ghost hunter parents while saving the town. This teen sure has a lot on his plate!
20. Ghost with Heart Perler Bead Pattern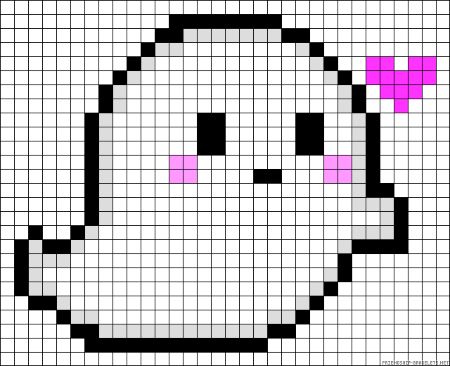 Here's a friendly ghost made by Bubbleblower giving you its heart and well wishes. Seeing this pattern will guarantee you a happy and smooth sailing day.
21. Rainbow Ghost Perler Bead Pattern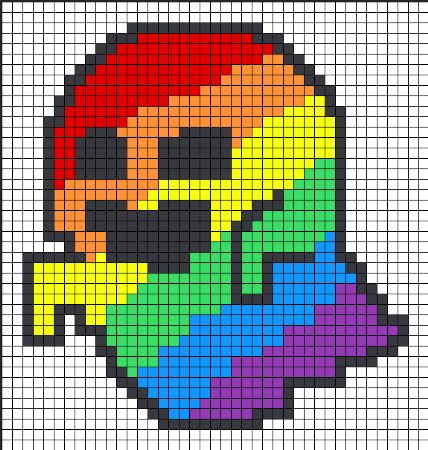 A rainbow ghost? That's more like it!
Include this colorful pattern by chachaman to your list for a modern and upbeat ghost look that will fit the preferences of your kids.
Make your day brighter with these rainbow crafts!
22. The Ghost Rider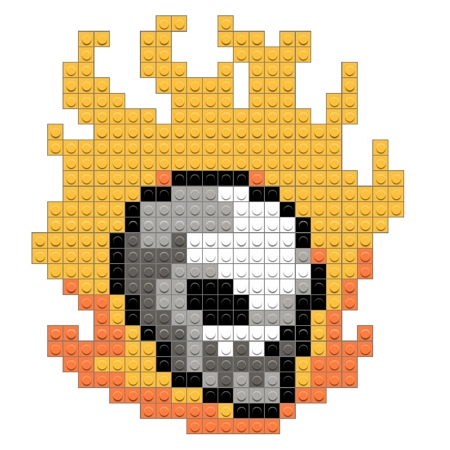 There are types of ghosts other than the wispy figures we're all familiar with. This Marvel anti-hero created by SusanGuinto delivers hellfire to sinners, all while looking blazing in a fiery motorcycle.
So behave, or else phantoms will be the least of your worries.
Don't miss out on the next Avenger mission with these Marvel Perler beads.
23. Ghostface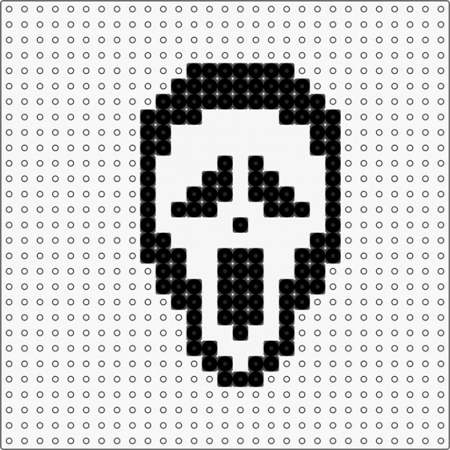 Ghostface is a mainstay of Scream and of pranksters who love to make Halloween more interesting.
He might not be a real ghost, but seeing the true Ghostface will make the spirit leave out your body as though seeing a real ghost.
Thankfully, you just have to make tish1229's Perler bead pattern of Ghostface.
Ghost Perler Beads Projects for a Spooky Night
Congratulations on making it this far on the list. It just proves how courageous and determined you are.
Ghosts are interesting creatures and this post shows it. They're not limited to white-flowing creatures but can also have character and emotions.
Dive into more posts about fun projects and crafts for kids below: