The dark and frigid winter has come, but you don't have to weather through it alone. Create these snowflake Perler beads coupled with some jolly snowmen Perler beads to pass the time.
No two snowflakes are identical – hat makes it possible for Perler bead hobbyists to experiment with a ton of different, unique patterns.
There's no need to hesitate if you're a beginner because I've included basic snowflake patterns which you could replicate with ease. As you scroll through, the patterns become more like guidelines than templates that you can play around with.
Materials Needed for Santa Perler Beads:
3 Snowflake Perler Bead Kits
I understand that trying to collect the right color of fuse beads for your crafts can become tedious sometimes. For that reason (and for your convenience) I've included these snowflake Perler bead kits.
All of these kits will provide you with the essentials to make the most basic or intricate snowflake design.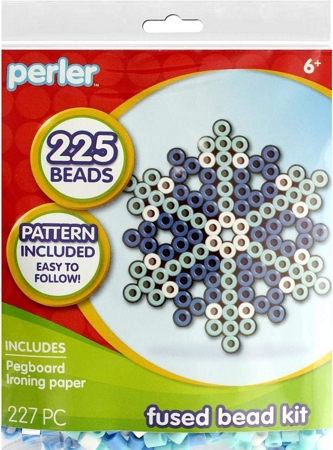 This small Perler bead kit equips anyone with the basic materials needed to make a simple snowflake.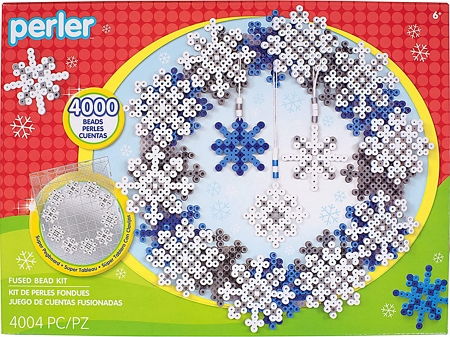 Wreaths are quite popular during the festive season. A snowflake wreath would certainly add an alluring aura to your winter motif.
The kit includes string which allows you to hang snowflakes on your door, Christmas tree, or windows.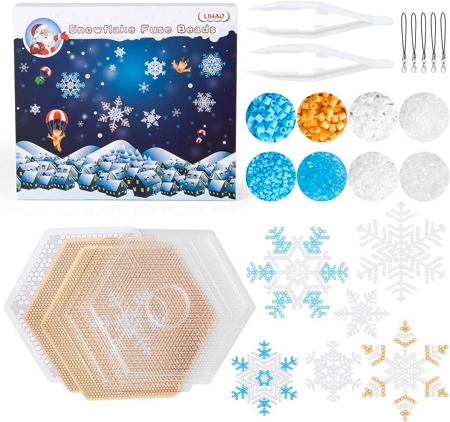 Are you confident to make a unique snowflake pattern? I highly recommend this fuse bead kit—which includes small and big beads (transparent, white, blue, gold), pegboards, a pair of tweezers, and an instruction sheet to check when in doubt.
11 Snowflake Perler Beads
Here are the awaited snowflake Perler bead patterns. As mentioned earlier, the first several items are templates for the uninitiated.
The items in the latter half are much like guidelines that serve to inspire you rather than strict templates you need to duplicate.
1. The Most Basic Snowflake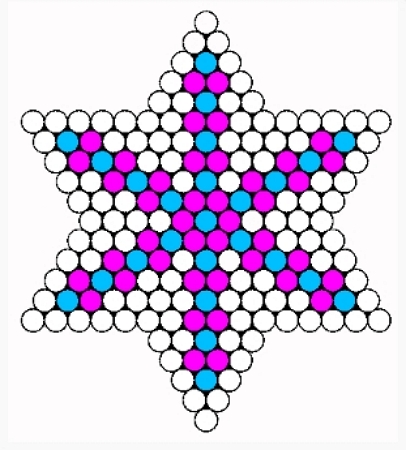 Most snowflakes are structured in a hexagonal lattice. That's what makes them so fascinating.
Look at knbloves1d, a user who makes a plain yet colored snowflake template using a hexagon pegboard.
As specks of snowflakes fall from the sky, other raindrops attach to them—forming intricate and symmetrical snowflakes that we're all hypnotized with.
Some may even look like stars, like the one shown in this tutorial by Creative V's channel.
3. Rare Snowflake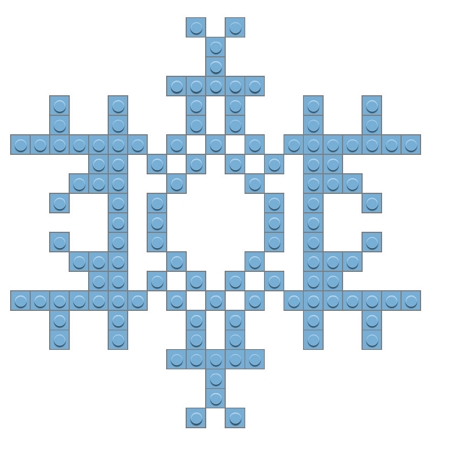 Snowflakes don't have to be perfectly symmetrical—at least not when we're creating a Perler bead project out of it.
Here's a perfect example of a mirrored snowflake by Brik that's not precisely symmetrical.
4. Round and Hexagonal Snowflakes Templates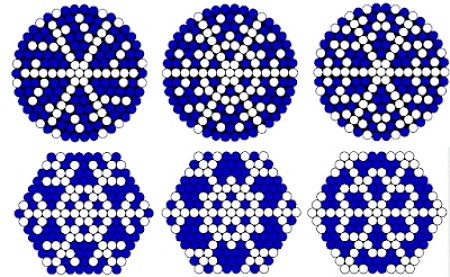 Now we're getting into the (snowy) territory of creating more unique snowflakes.
While these patterns from Jennifer's Little World can serve as templates, you're certainly free to take so-called creative liberties—adding flair to your snowflakes.
5. Diverse Snowflake Patterns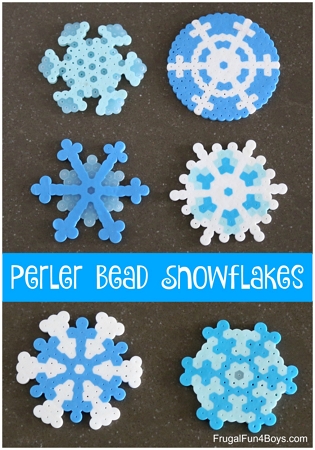 A closer look at these ice crystals will reveal that they're neither white nor transparent. They're actually translucent and it refracts light entering through them, making the light exit in another direction.
They're also not blue like these snowflakes made by Frugal Fun 4 Boys, but sometimes they come off as that color.
6. Snowflake Perler Bead Template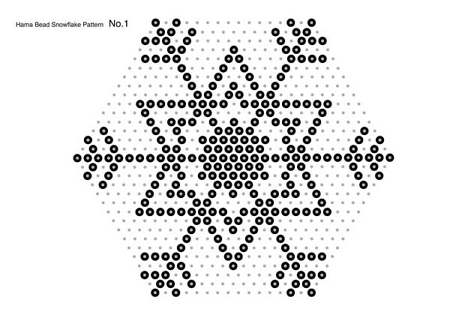 You can take this snowflake pattern by Envato Tuts+ as it is, or modify its branches according to your preference.
Remember, there's no wrong way of creating a snowflake.
7. Winter Snowflakes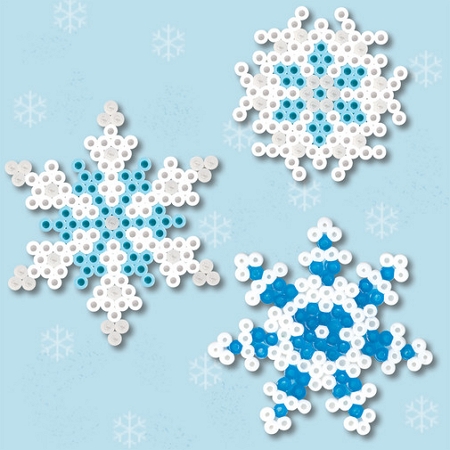 Here's another inspiring bunch of ice crystals provided by no other than Perler.
The fact that caught my attention the most with this one is that there's a color named "Toothpaste."
8. Inspiring Build-Your-Own Snowflake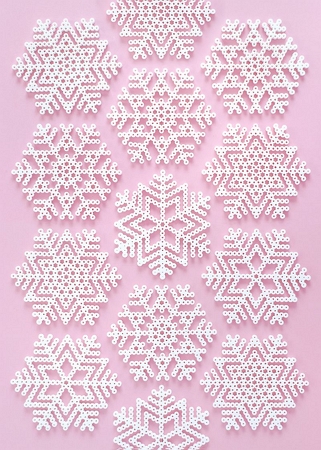 A Subtle Revelry showcases just a few of the thousands—I'd say even millions—of possibilities of making a snowflake in their tutorial.
9. Creative Snowflakes
Choose whatever pegboard you have available. For example, Mom Made Moments shows us how to create snowflakes using circle and hexagonal pegboards.
Make the most out of the circle pegboard by making these circle Perler beads.
10. Snowflake Ornaments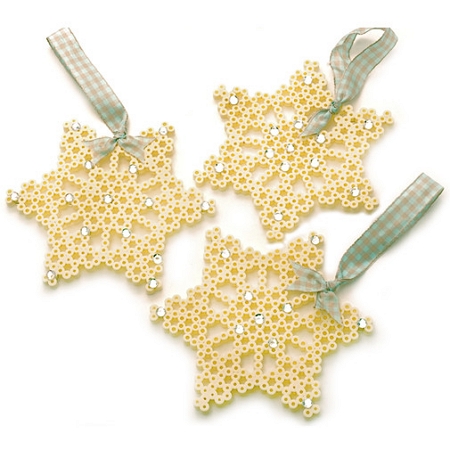 It's hard to look directly at snow without squinting. This project from Perler makes it possible so that you can admire its shininess without damaging your eyes.
Try something novel with these snowman handprint ornaments!
How great would it be if there exist colored snowflakes!
Hold that thought though, because SoCraftastic brings that imagination to life with their tutorial of colorful snowflakes.
8 Snowman Perler Beads
In many cold regions, the winter produces a sea of snow for people to enjoy. Among the activities that children love is of course making a snowman.
When the weather is too harsh, it's best to stay inside and make these snowman Perler beads. (Or these snowman crafts!)
We decorate our snowman with a bunch of different things. In line with the festive season, Perler Bead Planet dresses up their Perler bead snowman with a pair of green and red clothing, evoking Christmas themes.
13. Plain Cuddly Snowman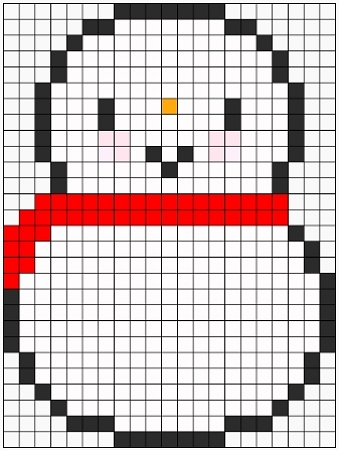 I say the bigger the snowman, the better, especially the cuddly ones like 123reesecup's pattern.
Hey, don't forget to check out our list of penguin Perler beads for some adorable patterns.
14. Snowman in a Snow Globe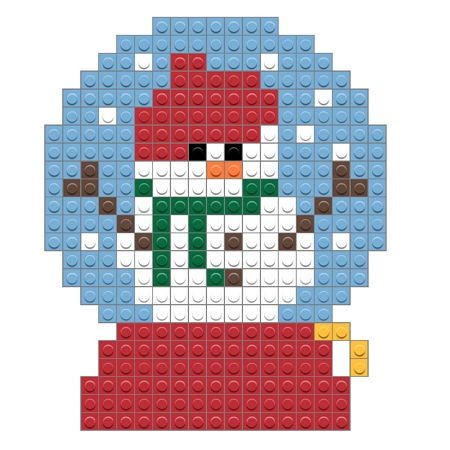 Here's an interesting craft by smugcheat5 dedicated to all the snow globe lovers out there.
15. Olaf Snowman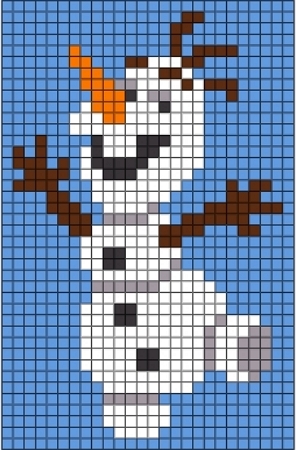 Perhaps the most popular and charming snowman today, Olaf not only provides a courageous companion to Anna and Elsa but also brings joy to many Frozen fans, children and adults alike.
Here's thildes providing us a pattern of the jolly snowman in the midst of singing his hit song "In Summer."
Don't miss out on these wonderful Frozen Perler beads.
16. Snowman with a Scarf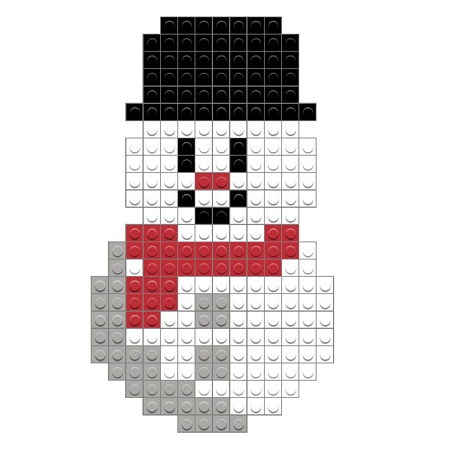 Here's another simple snowman craft, delivered to us by SusanGuinto. Encourage your little ones to experiment with the different accessories to put on their snowman design, such as glasses, eyepatches, and so on.
17. Among Us with Snowman Hat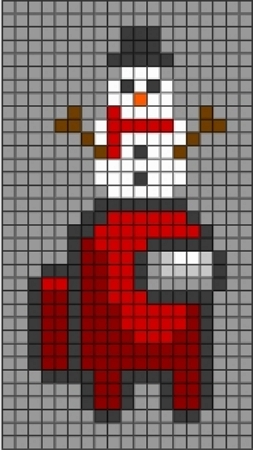 There's not a season where crew members didn't look suspicious. Here's a crew member wearing a snowman hat, shared by emily88.
Any Among Us player has trust issues at this point, especially when they're wearing cute accessories like this one.
Don't be afraid to make the most suspicious Among Us Perler beads.
18. Festive Snowmen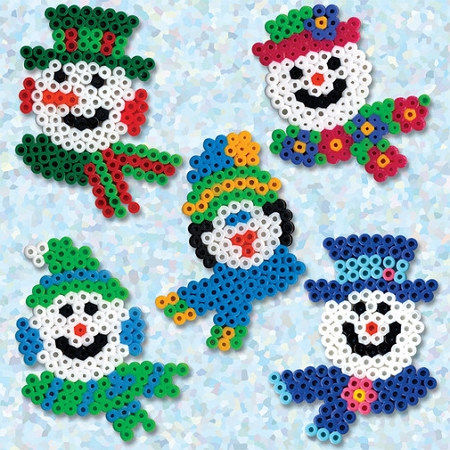 Perler shares different snowmen personalities—templates, if you will. It's up to you whether you want a beanie or top hat for your snowman, bright- or dark-colored clothing, surprised or casual look.
The point is personalization is king.
19. Rudolph Snowman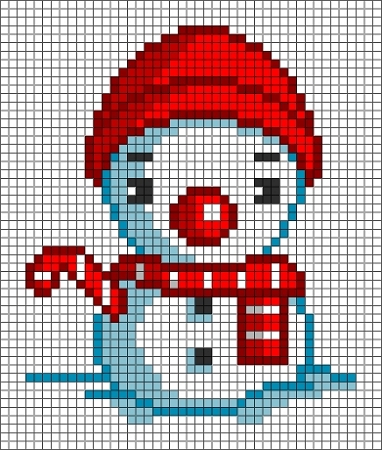 There are even snowmen who are dressed up as Rudolph! Check out this pattern by CWillard, for example.
Although Halloween-oriented people may see it differently, as it looks like Pennywise.
If you found this snowman cute, wait 'til you see these kawaii Perler bead patterns.
Stay Warm by Making These Perler Bead Activities!
Millions of combinations can exist when creating a snowflake Perler bead. Your little one's creativity will play an integral role in personalizing their craft.
Let's stimulate the imagination of young ones by referring to these other Perler bead lists: