Create some familiar faces with this Animal Crossing Perler bead collection. Since its original release, Animal Crossing has never failed to capture the hearts of its players.
It's been a commercial success since the game first came out on the Nintendo 64, and it continues to charm casual gamers with its open-world simulation. Kids especially love the Animal Crossing series because almost all its characters are animals you can interact with. They can finally do the same with these lovable Perler bead patterns.
If you love making some easy Perler bead designs, head on to our easy Perler bead patterns, where a beginner's guide waits.
3 Animal Crossing Perler Bead Kits
Before you head out to meet the fabulous Perler bead patterns of the villagers, I suggest checking out these wonderful Animal Crossing Perler bead kits.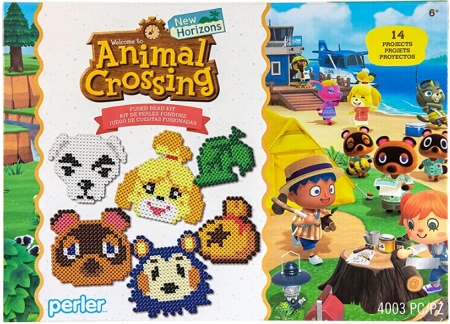 An entire Perler bead kit dedicated to Animal Crossing sounds intriguing. That's because it is! I present to you Animal Crossing: New Horizon Perler bead kit!
With over 4,000 fuse beads and 14 projects to work on, such as villagers and items, you can't go wrong with getting this package.
The kit contains everything needed for the craft, including a pegboard and ironing paper, which are reusable for future projects.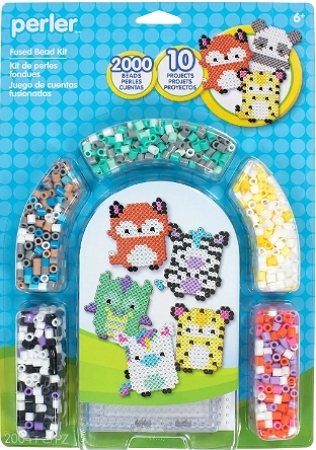 Since we're dealing with anthropomorphic animals, it's a great idea for children to create their own characters with this puffy animal Perler bead set.
Creating characters from their imagination may stimulate their creativity and interpersonal skills. They can pick between any of the 10 patterns included in the sheet.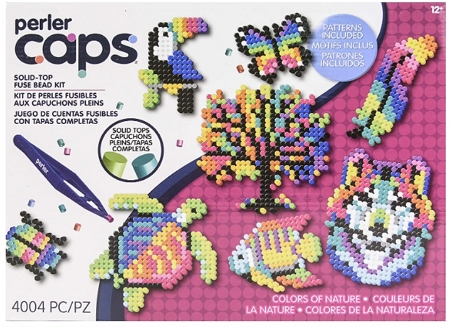 If you're already a Perler bead expert, then try out these Perler caps. The concept is similar to fuse beads, except these beads have a solid instead of a hollow top, giving the projects a cleaner finish.
The kit also contains a pattern sheet for inspiration, but an expert like you should be able to conjure up some pretty stunning Perler bead concepts.
12 Animal Crossing Villagers Perler Beads
There are over 400 villagers in the Animal Crossing series. Below are some of the more endearing NPCs that will bring back memories.
For more anthropomorphic animals who'll save the day, visit our list of PAW Patrol Perler beads and PAW Patrol drawings!
Isabelle is a female Shih Tzu and one of the most impactful characters, especially in Animal Crossing: New Leaf, where she debuts and assists the mayor in his or her municipal duties.
Frost's Entertainment's channel has only the best pattern of Isabelle around. Learn how to make it by watching their video tutorial.
5. K.K. Slider Perler Bead Pattern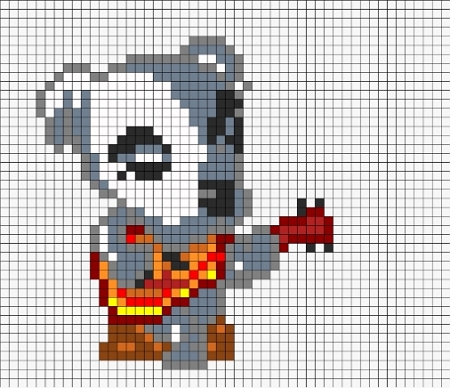 Not only do some of these animals conversate and create meaningful relationships with the player, but some are also talented in the arts, like K.K. Slider, who's a male Jack Russell Terrier who knows how to sing!
This phenomenal dog knows over 300 songs across the Animal Crossing games, and KindPNG shows him in the middle of playing one.
Discover more dog breeds in our dog Perler beads list.
6. Animal Crossing — Olivia Perler Bead Pattern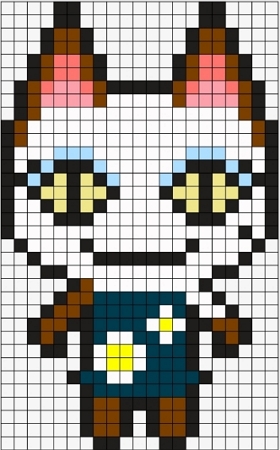 Staying true to the cranky personality of most cats, Olivia is a proud female cat who loves gossiping with other villagers.
At first glance, Olivia (whose name is inspired by her kalamata olives paws) might appear rude to the player but will warm up to them, just like this pattern by PNGKey.
Cat lovers will enjoy these fuzzy cat Perler beads.
7. Lucky Perler Bead Pattern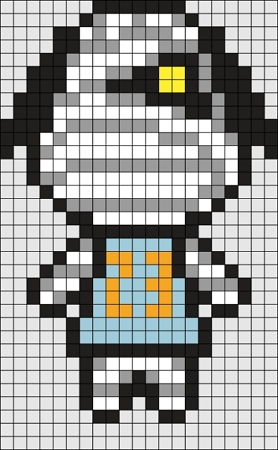 Lucky is possibly one of my favorite dogs in the entire series. He has made an appearance in every single game in the franchise, so he's considered one of the OGs.
Lucky's fate is one of the more unfortunate (or fortunate, depending on your perspective) in the series, considering his entire body is covered in a cast.
Snowyeve nails Lucky's design with their Perler bead pattern.
Tom Nook, a tanuki (the Japanese raccoon), plays perhaps the most important role in the Animal Crossing franchise, for in one way or another he acts as the initial catalyst for the player's journey.
The tanuki is a symbol of good luck and fortune, and it's only fitting that Tom Nook lends plenty of money to the player.
Simply follow Frost's Entertainment's Tom Nook Perler bead video tutorial for good fortune!
9. Colorful Pietro Perler Bead Project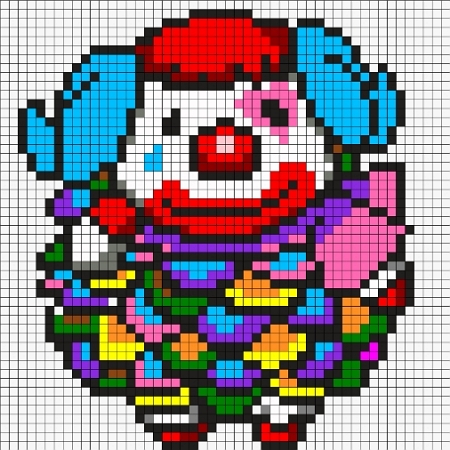 At first glance, Pietro seems like a regular human clown. But a closer look will give away his teal and baby blue horns, revealing he's a wonderful sheep.
KindPNG makes this Perler bead pattern as colorful as his personality.
For more colorful ideas, check out our rainbow crafts.
10. Cute Reese Perler Bead Pattern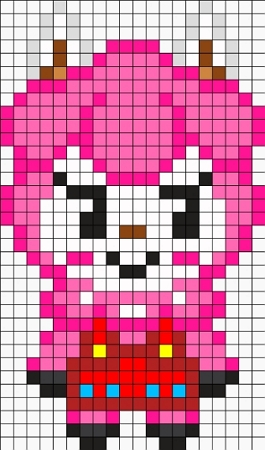 Little children, especially girls, will find Raiichuu's Reese pattern very alluring!
From the pink wool to the adorable red overalls, the design is too adorable to not make.
For other fluffy crafts, head on to our marshmallow crafts and pom pom crafts!
11. Stitches Perler Bead Pattern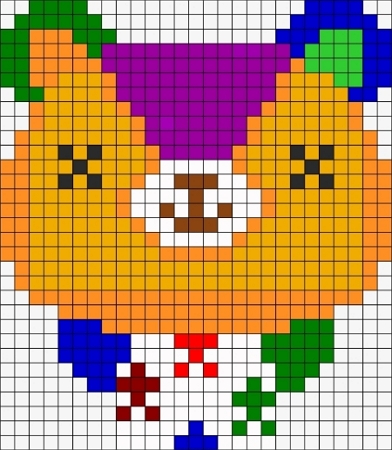 Not every villager in Animal Crossing is an animal. A great example is Stitches, a cub that looks like a stuffed teddy bear.
PNGKey reconstructs him and shares his Perler bead design.
For more cuddly creations, here are some cute bear crafts!
12. Celeste Pattern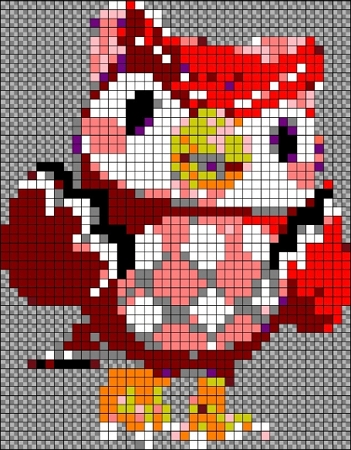 Owls are fantastically regal, and Celeste from Animal Crossing is no exception. Dzecoo1994 provides a fascinating pattern of Celeste.
Create more here, in our list of owl Perler beads!
13. Ketchup Head Beads Design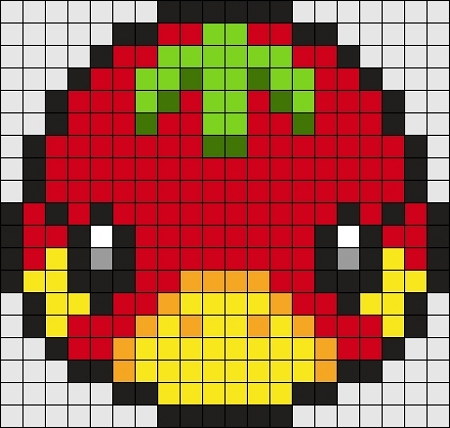 Ketchup is a duck with a unique appearance that's characteristic of a tomato. Here's kawaiikitty sharing an endearing pattern of the lovable Ketchup.
Get more pretty bird Perler bead patterns here!
14. Flick Perler Bead Pattern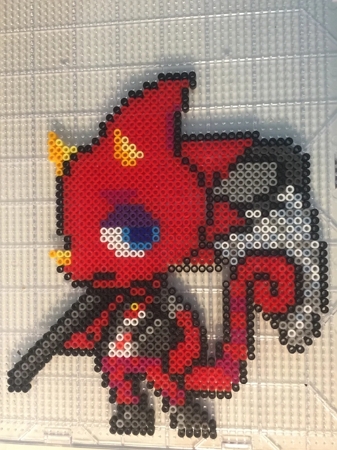 For all the curious boys out there, aspire to be like Flick, whose passion is bugs! Animal Crossing Fandom has this great pattern of Flick holding his black net.
Create some of the most fascinating dragon Perler Beads you've ever encountered!
15. Minimalist Animal Crossing Perler Bead Pattern

For a quick Perler bead activity regarding some of the more important characters, msolympus has got you covered with their minimalist-style Perler bead pattern.
7 Animal Crossing Items Perler Beads
The game allows the player to interact with many villagers, for sure, but that's not where the fun ends. There are plenty of things to do left in the world of Animal Crossing.
16. Animal Crossing Leaf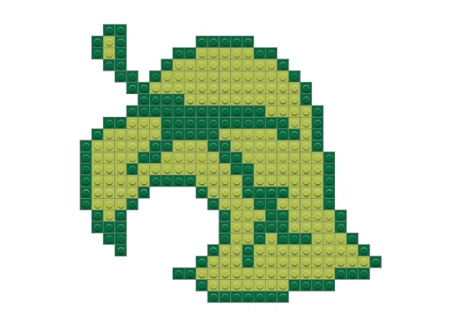 SusanGuinto delivers this amazing leaf pattern, inspired by the principal logo from Animal Crossing: New Leaf.
The fall season is coming fast, so don't forget these impressive fall Perler bead patterns.
17. Animal Crossing — Fossil Perler Beads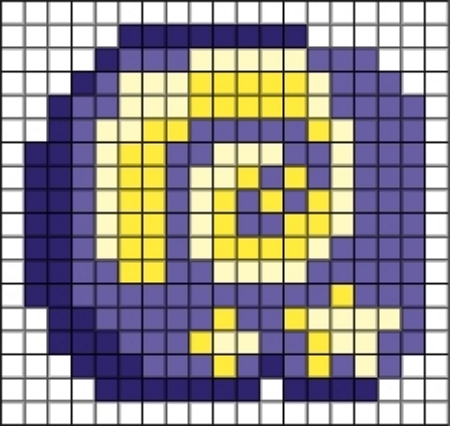 Sell them or display them as decoration in your home, fossils are one of the things players can obsess about in Animal Crossing. Here's violinwitc sharing a great fossil pattern.
After making a fossil, head on to our dinosaur Perler bead patterns, to travel back in time and see what the fossils looked like alive.
18. Bell Bag Perler Bead Pattern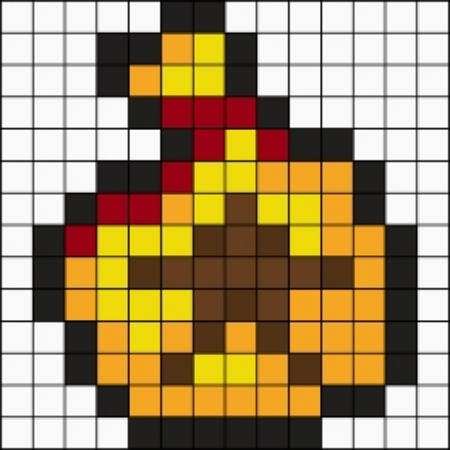 Bells are the primary currency in Animal Crossing. You're rich when you get a bag filled with bells like this one by M_Grace21.
19. Animal Crossing — Money Tree Perler Bead Pattern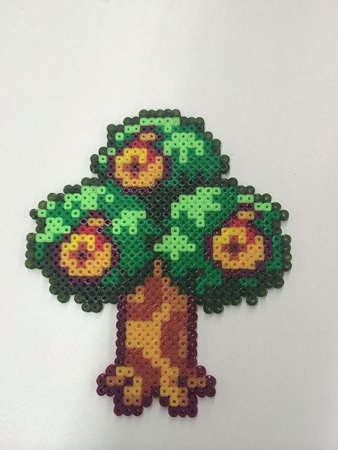 Money doesn't grow on trees. At least not in real life, for they do grow on trees in Animal Crossing. That's probably why many love this game.
Here's sunwook jung sharing their bell tree idea.
20. Animal Crossing — Floating Balloon Perler Bead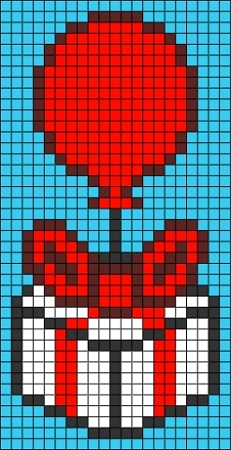 Floating balloon gifts may appear once in a while. Similar to seizing the opportunity to get gifts like this in-game, you should always take the chance to make Perler bead projects, like this one by Aplpie.
21. Animal Crossing — Gyroid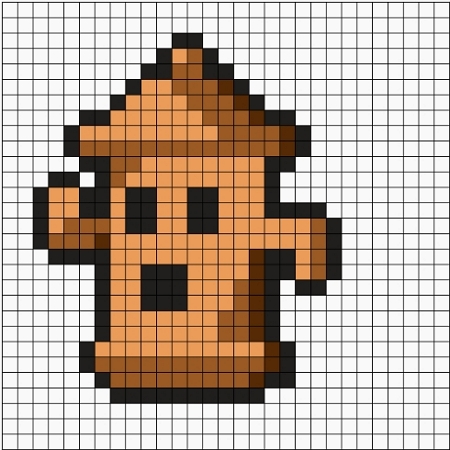 You can decorate your town once you become the mayor. One of the more common furniture is this gyroid, delivered to you by AffableKitsune
22. Fruits in Animal Crossing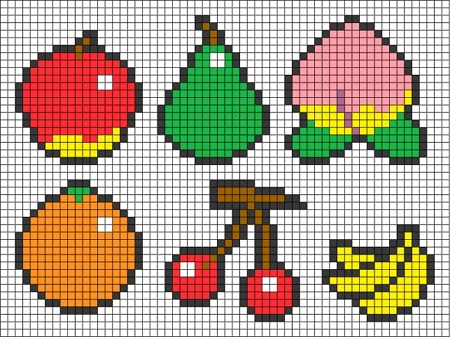 Of course, we can't miss the eye-catching fruits found in Animal Crossing. Here's halokiwi sharing their assortment of fruits.
Create other mouthwatering food Perler bead patterns!
2 Nintendo Switch Perler Bead Projects
Animal Crossing can only be played on Nintendo game consoles. As such, we've added some Nintendo Perler bead patterns for fun!
For other franchises playable on the Nintendo, I suggest checking out our Pokemon Perler beads!
23. Simple Nintendo Switch Perler Bead Activity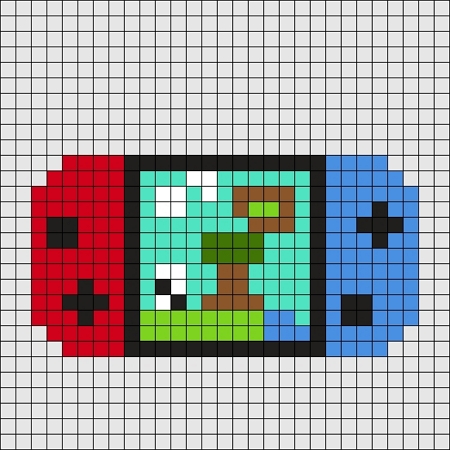 Why bother making a Nintendo Perler bead? Well, paying homage to such marvelous inventions can be rewarding for some!
If you're one of them, then tagbottag has got you covered with this amazing Nintendo Switch pattern.
Are you a hardcore gamer? Try out these Minecraft Perler bead patterns and Fortnite Perler beads!
Take your Animal Crossing display to the next level and follow this 3D Perler bead project shared by sdasdasd's channel.
The fun doesn't stop here, since we have 3D Perler bead patterns coming your way!
Oh, This Ain't Good-Bye. I Will See You Again.
As Kapp'n says in Animal Crossing: New Leaf, "Oh, this ain't good-bye". After making these Animal Crossing Perler bead patterns, you'll surely want more!
You can begin by looking at our other lists below: