Pom pom crafts and activities are perfect for growing toddlers and preschoolers. They come in different colors and sizes, which is beneficial to their creativity and ability to recognize colors.
Pom poms are also very fluffy, making it an invaluable sensory tactile experience for kids.
To make the crafting process easier for you, I've only included crafts and activities that don't require you to make pom poms from scratch using a pom pom maker.
9 Pom Pom Crafts for Toddlers
These first 10 pom pom crafts involve mostly gluing, so they're suitable for toddlers who are still developing. It includes plenty of animal crafts, which I'm sure children adore very much, and other keepsake crafts.
1. Gecko Pom Pom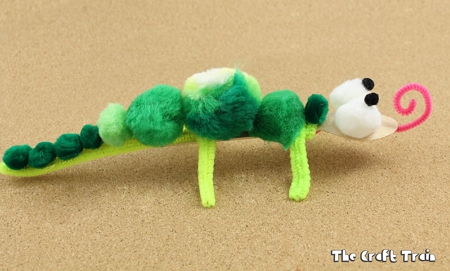 Make this friendly gecko that could serve as your toddler's trusted companion in their imaginative adventures.
The Craft Train stayed faithful to the natural color of the gecko, but you can explore other colors that your children prefer.
2. Furry Pom PomCreatures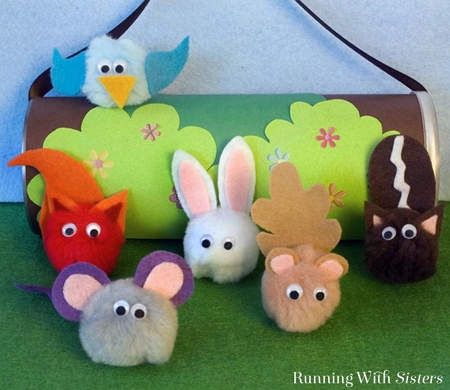 Running With Sisters presents us with an assortment of furry creatures, including a bird, squirrel, bunny, and mouse, among others.
These pom pom creatures are what you'd typically see in your backyard or your local park, making them relatable animals to your children.
3. Pom Pom Caterpillar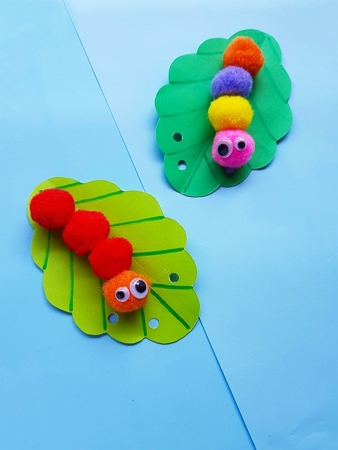 Unleash your toddler's creativity by giving them a leaf to place these cute caterpillars on. Try giving them different pom pom colors and see what wonderful caterpillars they can create.
I love how they punched little holes on the leaf to make the craft look more natural!
Mommy Made That kindly shares their leaf template, which is an additional activity that your kids can color and cut.
4. Pom Pom Hatching Chicks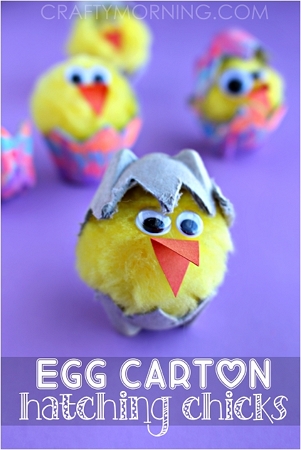 Have your kids ever wondered how chicks hatch out of eggs? Crafty Morning demonstrates just that with this simple egg carton and pom pom hatching chicks craft.
Try role-playing and experiment with your children, pretending to be a momma hen incubating the egg cartons!
I hope you've saved the rest of the egg carton you used in this craft because there are plenty more egg carton crafts to make!
5. Cute Pom Pom Pig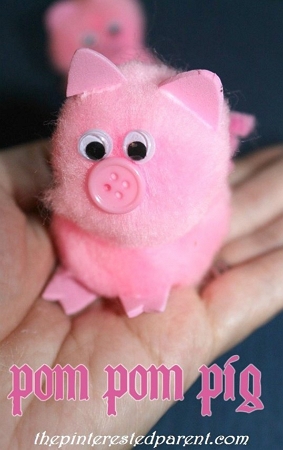 Test your resourcefulness like The Pinterested Parent who makes use of different pink materials for this pom pom pig craft.
Simply grab your pom poms, craft felt, button, googly eyes, and a pipe cleaner for the tail. It doesn't have to be pink because pigs of any color can exist in any child's imagination.
Learn how to draw a pig with those awesome pig designs!
6. Mike Wazowski from Monster's Inc.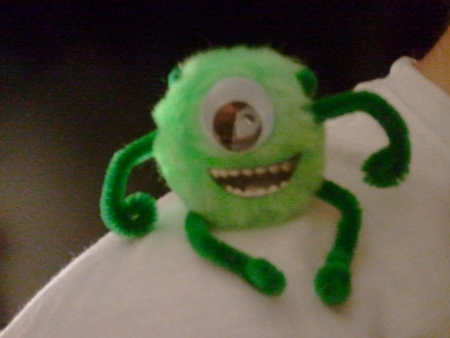 Kids today might be familiar with the famous characters Mike Wazowski, especially since Disney released Monsters at Work this year, and memes of this green monster have been circulating the web.
Be A Creative Kitten provides clear step-by-step instructions and lists the materials you need for this silly monster.
7. Pom Pom Flower Craft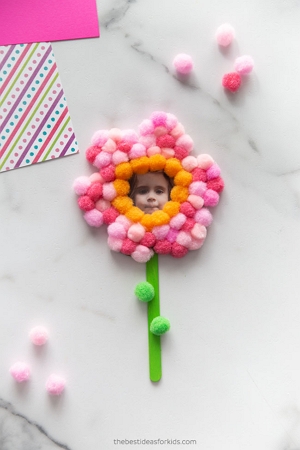 Take inspiration from and make a memorable keepsake with this craft from The Best Ideas For Kids.
They've created a lovely flower where you can place a picture in the middle, whether it's to keep a lovely memory or a silly picture of your kid.
8. Raincloud Pom Poms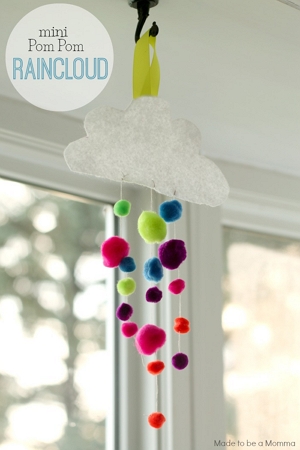 Sugar Bee Crafts has you covered with a fun activity during the rainy days when you'd rather stay indoors.
Your toddlers will feel that sense of accomplishment every time they see their craft hanging in their bedroom.
9. Hot Cocoa Pom Pom Craft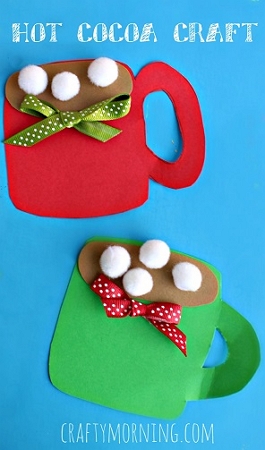 Here's another craft for those chilly nights brought to you by Crafty Morning.
Whip up two cups of hot chocolate while your kids glue white pom poms to their paper replica.
Crafty Morning even encourages free-drawing the mugs, leaving you plenty of time to perfect those hot cocoa for your kids.
10 Interesting Pom Pom Crafts and Activities
The next 10 ideas include interesting craft and activities. You'll be surprised what sorts of projects you'll end up with using these versatile pom poms.
10. Colorful Dream Catcher
If your kids are ever having a hard time falling asleep, simply set aside some time making this colorful dream catcher from Artsy Craftsy Mom that will bring them only good dreams!
Try your hand at making other DIY dream catcher crafts for kids.
11. Awesome Pom Pom Gum Ball Machine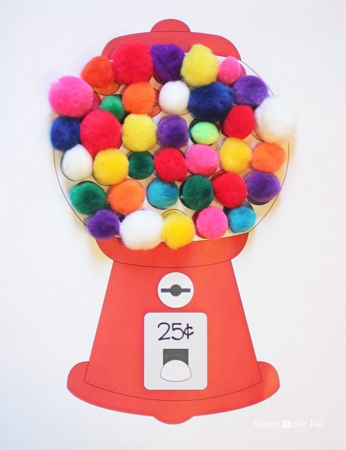 Repeat Crafter Me thought outside the box and found an interesting activity to make for kids who have a sweet tooth.
Instead of eating gumballs that might bring cavities, they attempt to redirect children's desire for sweets into this awesome craft, which enhances their color recognition.
They provide templates of the gumball machine where kids can match the pom pom with their appropriate colors.
12. Coasters Made from Pom poms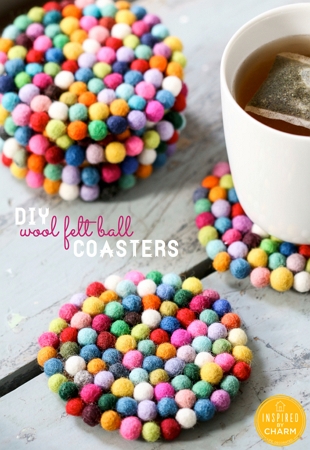 I don't know how effective they are, but these DIY pom pom coasters from Inspired By Charm look absolutely incredible!
They simply glued small pom poms on a cork coaster until it's no longer visible.
Play around the idea of making concentric circles, like making a rainbow pattern starting from the center.
Try more concentric circles with these circle Perler bead patterns!
13. Pom Pom Rug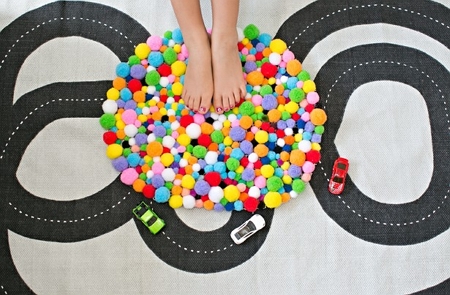 Make your kid's playroom more colorful by making this pom pom rug from Hello Wonderful.
This is a perfect activity if you've got lots of leftover assorted pom poms from other crafts.
Hello Wonderful lists the materials you need and the step-by-step instructions.
14. Monster Bookmarks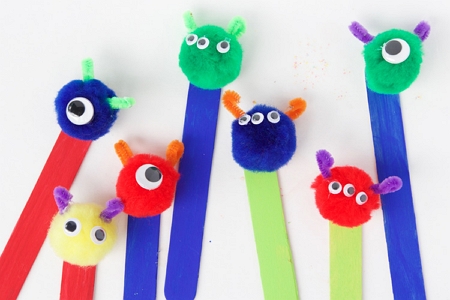 Kids who are looking to tackle more sophisticated reading materials will be encouraged to read more once they craft these bookmarks from One Little Project.
Make sure to allow your kid to add personality to their little bookmark monsters, selecting their favorite color and the number of eyes they'd want on their friendly monster.
15. Pom Pom Soap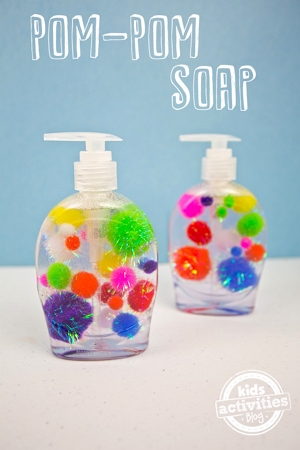 It's important to build the habit of washing hands thoroughly after using the bathroom or when you arrive home.
With this activity that Kids Activities Blog shares, your kids will never forget to wash their hands. The colorful pom poms act as a cue to reinforce that habit!
16. Painting with Pom Poms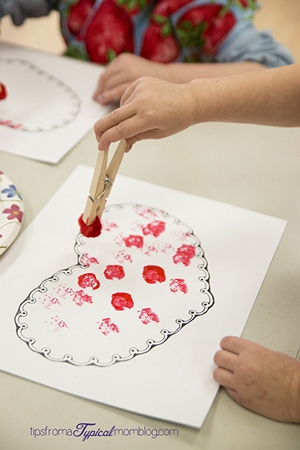 They say pom poms are used only as a material to build and decorate crafts. Tips From A Typical Mom Blog begs to differ.
Simply attach that pom pom to a clothespin and you've got yourself a DIY paintbrush! It's activities like these that stimulate children's creativity, resourcefulness, and ability to think outside the box.
See what other clothespin crafts you can make!
17. "Shoot That Pom Pom!" Activity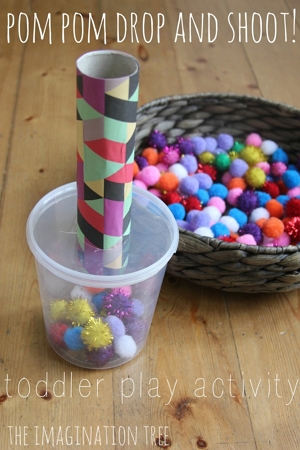 You'll never know if your kid is a basketball prodigy unless you try this activity from The Imagination Tree with your toddler.
The activity is simple: get a pom pom from your basket of assorted pom poms and drop it in your DIY hoop!
You'll both have hours of fun training your kids fine motor skills.
18. Rainbow Pom Pom Jewelry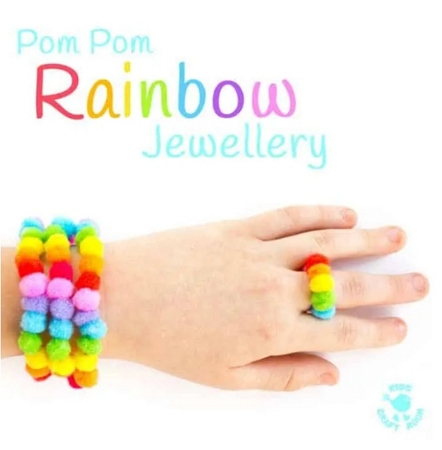 If your toddler is in the mood for making DIY jewelry, then Kids Craft Room has you covered with their guide.
Head to their website where they list the materials, instructions, and as well as tips to make DIY pom pom jewelry.
8 Seasonal Pom Pom Crafts
These last 8 pom pom crafts involve plenty of seasonal crafts, whether you're reading this on a hot summer day or a chilly winter evening!
19. Ice Cream for the Summer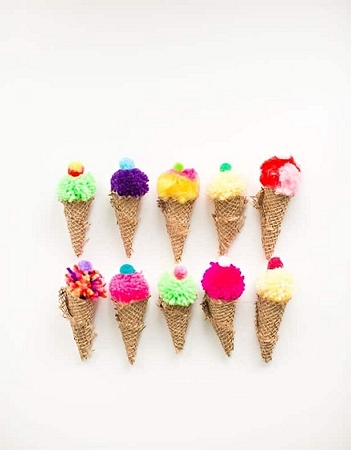 Here's a pom pom craft of something that's usually eaten in the summer. But if you're an ice cream lover, then you wouldn't mind indulging in some soft-served during the winter, too.
Hello Wonderful essentially gives us the template to make this homemade ice cream pom pom craft.
Get yourself your favorite "flavor" of ice cream with these ice cream crafts!
20. Stunning Fall Tree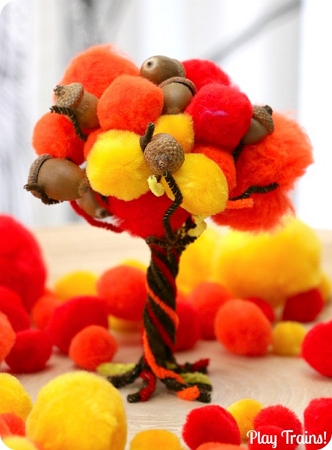 Fall foliage is truly an amazing sight and one you shouldn't miss seeing. Try making this fall pom pom tree from Play Trains, which recreates the fantastic view at home.
21. Pinecone and Pom Pom Apple Tree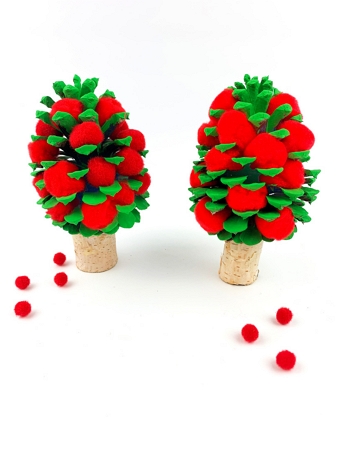 Mom Wife Busy Life has provided us with the perfect autumn experience and a reason to get in touch with nature with this apple harvest pine cone craft.
Simply pick up some of nature's treasure (i.e. pinecones) when you're going for a walk, and you're 50% done with the craft.
Try picking up extra pine cones on your way because there are a lot more pine cone crafts to make.
22. Pom Pom Spider for Halloween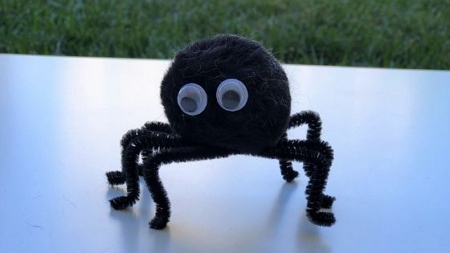 One way to get rid of your fears is by facing them and realizing that they're not that scary at all.
Face your fear of spiders by making this craft from Mom Brite. After making this, your children will realize that spiders are actually cute and friendly.
23. Impressive Pom Pom Christmas Tree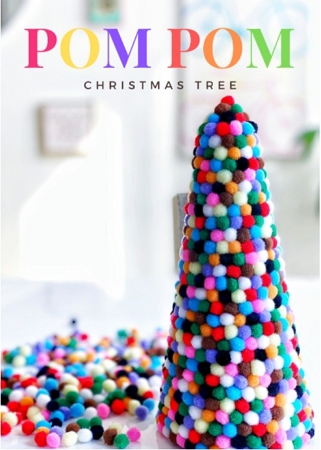 Let's move to the winter season and make this impressive Christmas tree from Mom Spark that's the perfect decor for your coffee table or work desk.
It takes a bit of work, especially for little kids, but it's a great activity that involves lots of pinching to help develop fine motor skills.
24. Small Christmas Tree Ornament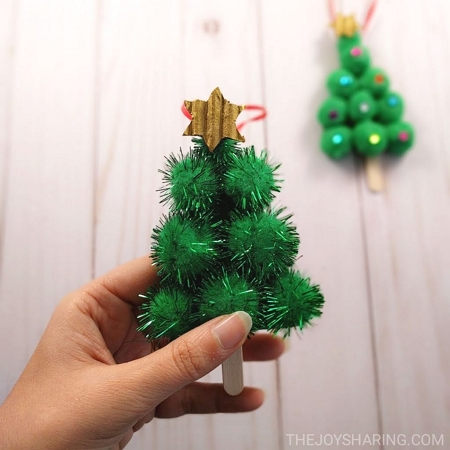 The Joy Sharing gives us a very cute Christmas tree ornament for your big Christmas tree display.
Your children can even pretend to wield a magic wand with this since it's made of a popsicle stick with a star on the end.
Interested in other popsicle stick crafts? You won't get enough of these.
25. Snowman for the Winter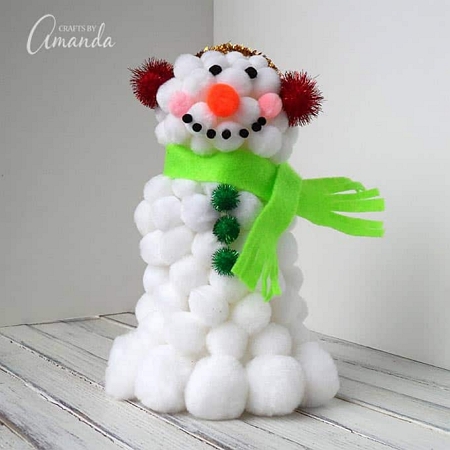 Admit it, sometimes it's too cold to make snowmen outside.
Crafts By Amanda's pom pom snowman guide allows us to stay within the warm comforts of home while still being able to enjoy the winter season.
26. Pom Pom Easter Eggs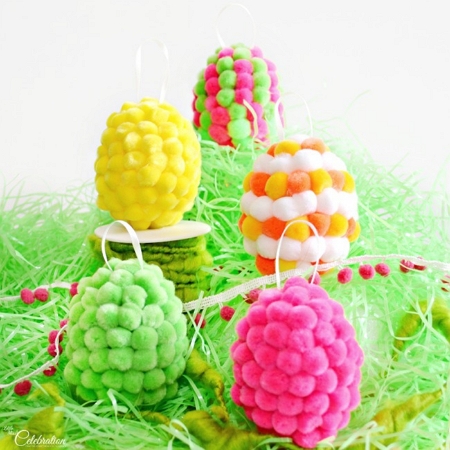 The spring season brings us plenty of lovely festivities, the most popular of which are Easter Egg hunts!
Though Little Miss Celebration's craft is not for egg hunting, it does make for a very good reward after the kids have collected the eggs hidden throughout your home.
You can fill it with chocolate eggs or bunnies, or simply use it as a decoration.
27. Cherry Blossom Tree for the Spring Season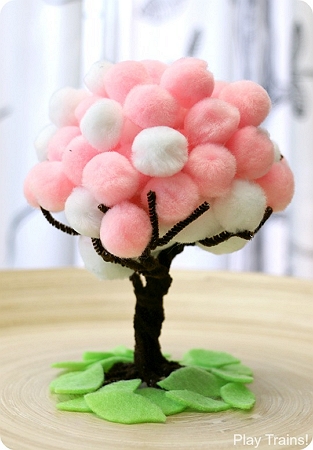 Last but not least on the list is this simple but aesthetically pleasing cherry blossom tree by Play Trains.
Maybe I'm biased towards the color pink, but it's hard not to include this among my favorites!
Try these other great spring crafts for kids while you're at it!
Pom Pom Crafts for Days
With an inexpensive assorted pom pom bundle, you'll be able to easily make these crafts (and more!) You don't even need to go through the process of making pom poms from scratch with yarn and a pom pom maker.
For other fluffy crafts, check out these cotton ball crafts and cat crafts for kids.