I know you just can't get enough after seeing Sonic the Hedgehog 2, so I've decided to make this list of Sonic Perler beads!
Whether you're nostalgic about the Sonic video games played on the SEGA console or you're feeling adventurous after having a blast with the recent sequel film, you'll no doubt enjoy making these Sonic Perler bead patterns.
These Sonic Perler bead projects, which are great for display and for kids' entertainment in general, include the titular character himself, as well as familiar secondary characters, such as Knuckles and Tails, and the main villain, Dr. Eggman.
3 Sonic Perler Bead Materials
I know you're excited to make Sonic Perler beads, but don't rush into the activity without having the right materials first.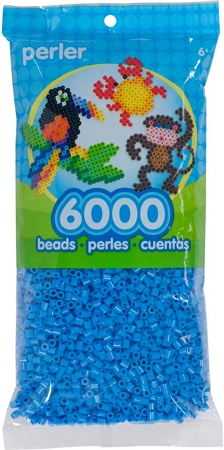 Sonic is made up of other colors, too, and there are other characters here that don't require many blue Perler beads. But trust me when I say you'll run out of blue Perler beads more because you'll be making many versions of Sonic below.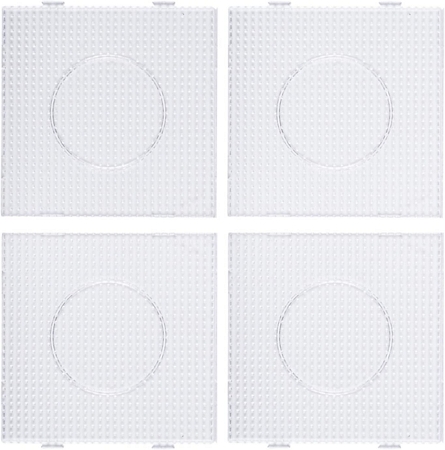 Why get small pegboards when the large ones are better? They do the same job and these have a larger surface area for more complicated patterns.
The great thing about these pegboards is that you can interlock them for even bigger designs.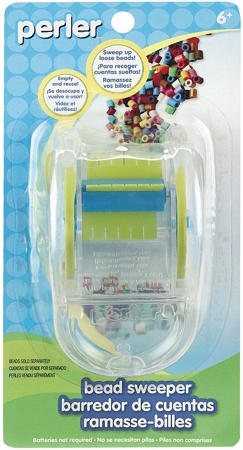 Pick up those beads that drop on the floor just as swiftly as how Sonic picks up rings with this Perler bead sweeper.
6 Classic Sonic Perler Beads
As with any old successful video game release, Sonic too has its own classic designs which fans are quite sentimental about. Here are six Perler bead patterns that make you remember the old days.
4. Sonic the Hedgehog Perler Bead Activity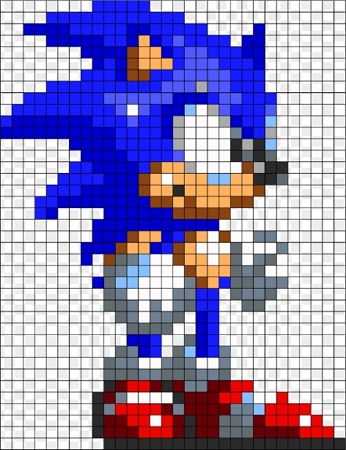 TopPNG nailed this Sonic pattern, which is not too complicated but detailed enough to give beginners a challenge.
Are you searching for easy designs to make? Look no further than these easy Perler bead patterns!
5. Sonic with a Ring Perler Bead Pattern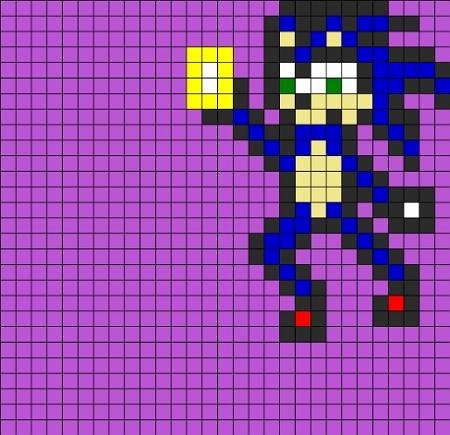 Fans of the old game, or those who'd like to introduce Sonic to their little ones, will bring to mind cherished memories of their childhood with lita's pattern of Sonic getting a ring.
For other video games turned into Perler beads, check out our Among Us Perler beads and Fortnite Perler beads!
6. Easy Sonic's Head Pattern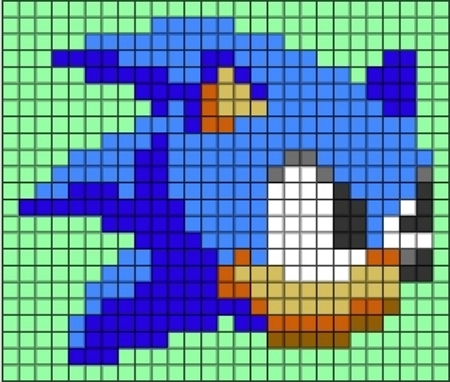 If you'd prefer an easy pattern, don't worry, lovey_4737 is here to fulfill your needs with their simple and quick Sonic head pattern.
For a similar (almost) circular pattern such as this one, visit our circle Perler beads list!
7. "Thumbs Up" Sonic Design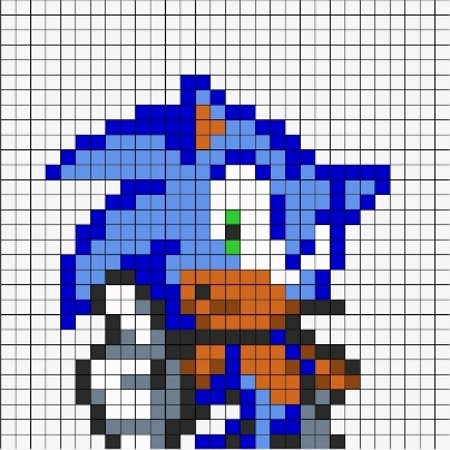 One of the more iconic images of Sonic is him giving a thumbs up after completing a mission, or finishing a Perler bead project. Here's NicePNG providing us with such a pattern.
Not quite sure how to assemble those Sonic beads together? Don't worry, Frost's Entertainment's channel has got you covered with this simple Sonic pattern.
9. Sonic with Retro Design Perler Bead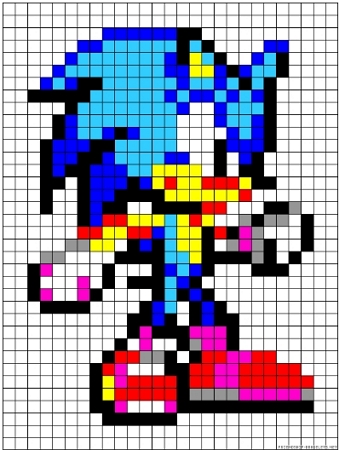 The sharp contrast and pink colors on this Sonic design evoke nostalgic memories of the arcade era. Thanks to DaaRicArdo, you can relive the good ol' days by making this amazing pattern.
Speaking of memories, try to preserve them by checking our guide to the best scrapbook kits for kids.
6 Unique Sonic Perler Bead Patterns
Sonic is younger than many other video games, yet he's had his fair share of transformation over the years. Here are six of his lesser-known variations.
Among the older games that preceded Sonic is Super Mario! If you're a fan, I'm sure you can't pass up this opportunity to make some Mario Perler bead patterns.
10. Sonic Exe Perler Bead Pattern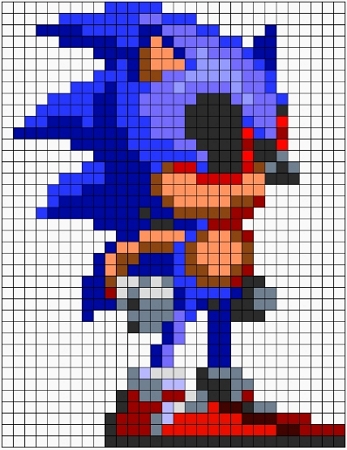 True Sonic fans know the creepypasta (horror stories around the Internet) story of Sonic.exe. If you aren't familiar with it and you'd rather just make an evil-looking Sonic, then this pattern by Musse87 is perfect.
However, if you're a new Sonic fan and enjoy horror stories, then give the creepypasta story a try.
For spooky decorations like this one, I suggest reading our Halloween rock painting and paper-Mache pumpkin guides.
11. Hyper Sonic Perler Bead Pattern – Cyan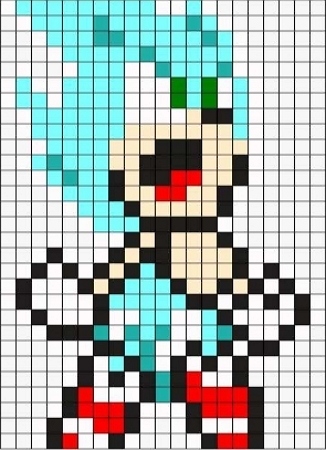 Hyper Sonic is achieved when regular Sonic gets his hands on Super Emeralds, the powerful objects that Sonic prevents Dr. Eggman from obtaining.
SeekPNG shares an amazing pattern of Sonic transforming into a cyan-colored Hyper Sonic.
While not as explosive as Sonic's transformation, the butterfly's metamorphosis is a sight to behold. Witness their transformation with these butterfly Perler bead patterns.
12. Super Sonic Perler Bead – Yellow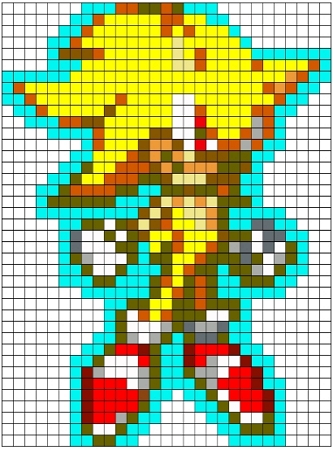 Don't confuse Hyper Sonic with Super Sonic. The former is a state that's usually much more powerful. However, Super Sonic arguably looks much more cooler than Hyper Sonic.
NicePNG provides a Super Sonic that's reminiscent of auras seen in anime.
Are you a fan of anime? Try making these Pokemon Perler beads!
13. Transforming Sonic Perler Bead Pattern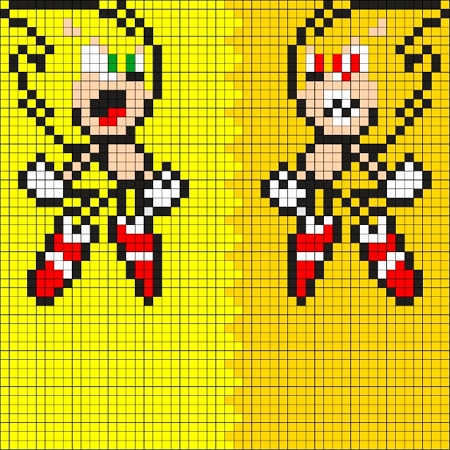 For a comparison of Super Sonic's initial and final transformation, superev64 has got you covered with their pattern. It would be cool also to create a blue Sonic so you can display his full transformation.
You know it's always a fun time when Tails is around. It gets even more exciting when Tails pairs up with Sonic to form an almost unbeatable duo of intellect and speed.
DogtorWho's channel shares this amazing video tutorial of a pattern of Tails flying while Sonic is holding on to him.
Soar high with these pretty Perler bead bird patterns.
12 Sonic the Hedgehog Characters Perler Beads
Sonic is not only defined by his super speed, but also by other anthropomorphic animals, some of which are his friends while others are considered frenemies.
You could put a cute face on an animal or object and they would become like these Kawaii Perler bead patterns!
If you'd like to introduce your little ones to the world of Sonic, there's no better Perler bead project to start with than this video tutorial from tannah's channel.
The simple designs include the heads of Sonic, Tails, and Knuckles, all of which are straightforward and require basic primary colors to complete.
Get your little ones to know primary colors and more with these rainbow crafts.
It wouldn't be a Sonic Perler bead list without the inclusion of his archenemy, Dr. Ivo Robotnik, also known as Dr. Eggman. JAP CHANNEL's channel shares this amazing Dr. Eggman portrait that's perfect for display.
17. Simple Tails Perler Bead Activity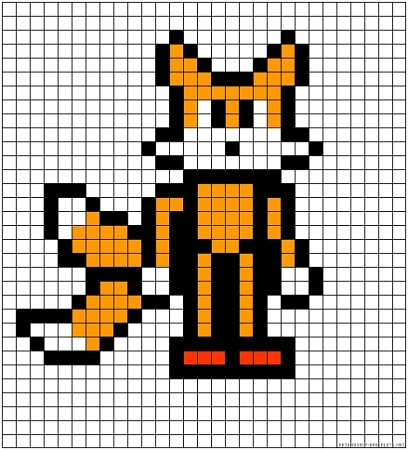 Are your children a fan of Tails? Owl_girl will keep them satisfied with this super easy Tails design.
Just like Sonic, Tails also has his own victory move. Frost Entertainment's video tutorial shows us exactly how Tails does it.
19. Flying Tails Perler Bead Pattern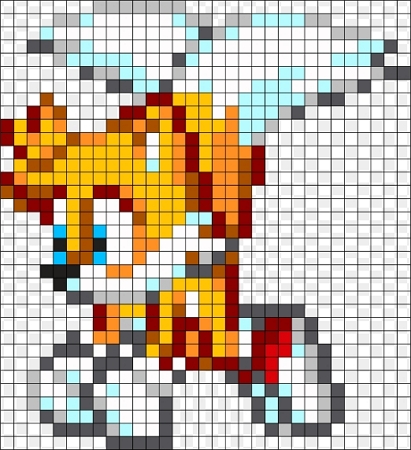 There's nothing quite as satisfying as playing as Tails and flying above your enemies through the stages. If you need a challenging yet satisfying pattern, then this Tails pattern on Fly Clipart is for you.
20. 8-Bit Knuckles the Echidna Perler Beads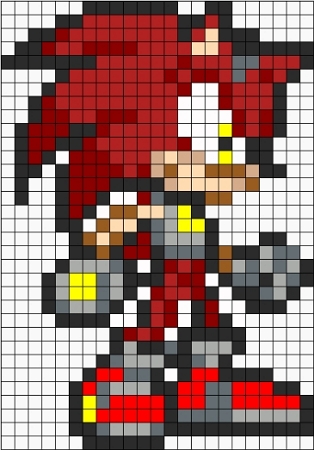 Knuckles is not quite a hedgehog, but he's equally as popular as Sonic. Here's freakinflip showing us how to do an 8-bit pattern of Knuckles, who's an echidna.
21. Another Knuckle Perler Bead Pattern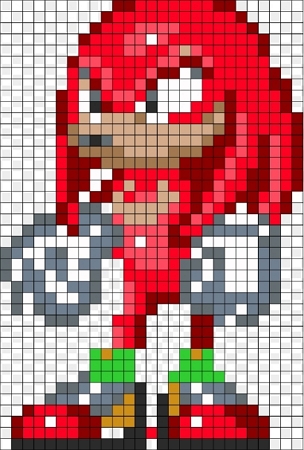 For a more sophisticated pattern of Knuckles, try out this stunning design found on PinPNG.
22. Chilling Knuckles Perler Beads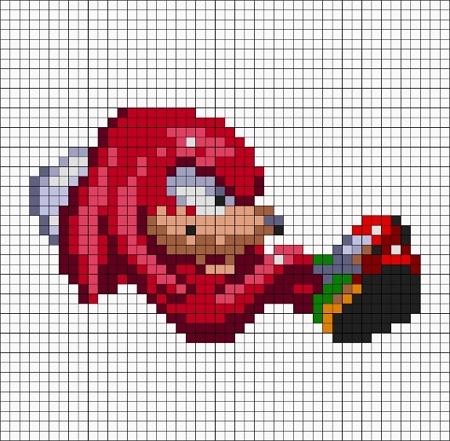 As opposed to Sonic, who has abilities of super speed, Knuckles has the ability of super strength. Knuckles knows when to conserve his energy for heavy lifting, as shown with this relaxing Knuckles pattern by bucket_.
23. Amy Rose Perler Beads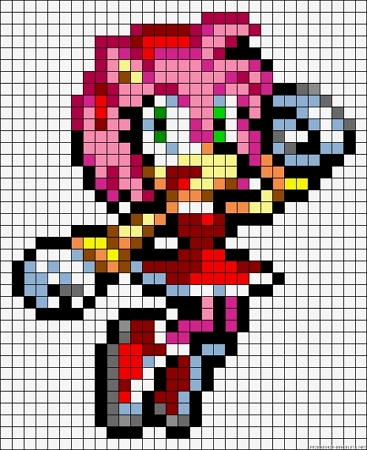 Amy Rose would be Sonic's love interest if he'd returned her feelings. Nevertheless, Amy Rose is one of Sonic's best friends and this pattern by NeoGriever looks absolutely incredible.
Shadow the Hedgehog is considered an anti-hero in the franchise. While he already looks impressive on his own, his character and style are brought to life by DogtorWho's video tutorial, where he teaches viewers to make a Shadow Perler bead stand.
For a satisfying and easy activity, check out our 3D Perler bead patterns, which will show you how to make awesome 3D figures.
25. Manic the Hedgehog Perler Beads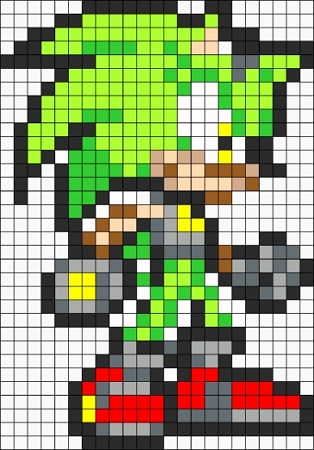 Many people are familiar with Sonic, but only the true fans are familiar with his brother, Manic the Hedgehog. Though not gifted with super speed like his brother, Manic has mastery over computers and machines.
Racing Through These Sonic Perler Beads
If fans are anything like Sonic, they'll be able to make these Sonic Perler beads in no time.
For other Perler bead patterns such as this one, simply visit our other lists: