There are multiple reasons why Disney's 60th animated film is such a hit.
For one, the animation, colors, and characters are astounding. The plot and lesson of the story are also exceptional.
No wonder why the movie is relatable and loved by so many. I'm talking about the blockbuster film Encanto.
Keep the magic alive by doing these enchanting Encanto perler bead patterns.
You'll find below Encanto-themed patterns that both you and your kids will enjoy making. From patterns of Mirabel, Abuela, and the person we don't talk about (aka Bruno), this list will give you the whole package.
Everyone has to take the first step. Build your perler build skills with these easy perler bead patterns.
17 Encanto Perler Beads
1. Encanto Logo Perler Bead Pattern

Just seeing the logo will let you know that you're up for a good time.
You'll enjoy every minute of the movie even if you've watched it for the third, sixth, or ninth time (believe me, I've done it).
Encanto fans of all ages will like this iconic perler bead pattern.
Feeling the summer heat already? Pile up on the kids' activities such as these summer perler bead patterns.
2. Encanto Characters Perler Bead Pattern

This is the pattern to make for fans who can't get enough of the Madrigals.
In this single pattern, you'll be able to make five members of the most magical family: Luisa, Isabela, Mirabel, Camilo, and Dolores.
3. Dolores Perler Bead Pattern
Let's hear it for the woman who can hear anything from miles away.
Like most of the Madrigals, Dolores was given a special skill which in her case is super enhanced hearing.
Although it has a drawback at times especially in crowded places, Dolores still chose to use her gift for the good of the community and her family.
4. Isabela Perler Bead Pattern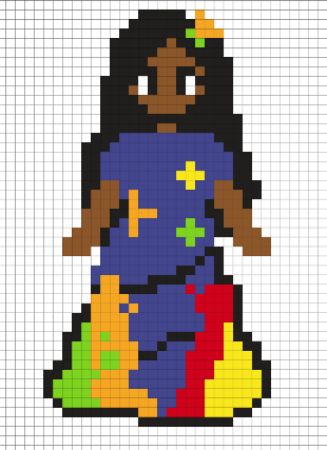 Growing up and knowing who you are and what you really want is normal as exemplified by Isabela.
The realization may not be as glamorous as the movie, but it's still important for kids to learn that at an early age.
For fans of Isabela version 2.0, this pattern will be a treat.
5. Mirabel Perler Beads
Mirabel may not have been given a magical gift like the other Madrigals but it will not stop her from becoming a hero.
Her character shows young kids that they can excel and help others in their own little ways (with or without magic).
Plus, just her loyalty and love for her family make her a notable Madrigal.
This video by Doc's Playhouse will teach you how to create the black-haired Madrigal beauty.
6. Antonio Perler Pattern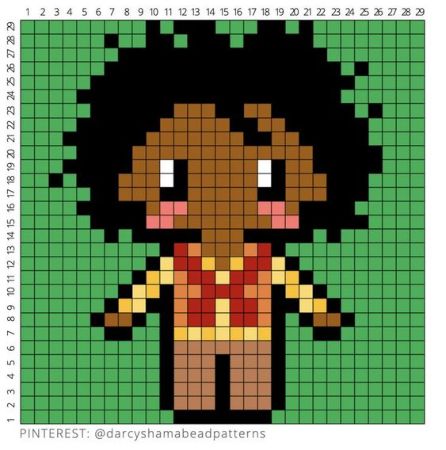 Antonio is arguably the cutest character out of the bunch so the list won't be complete without him.
Plus, his unique pets like the capybaras, toucans, coatis, and tapir (just to name a few) makes him a fun character to watch on screen.
Are you a certified animal lover, too? Include these beautiful  butterfly peler bead patterns on your list of future projects.
7. Bruno Perler Bead Pattern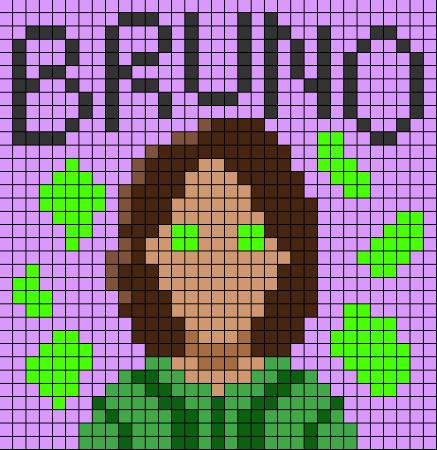 We will talk about Bruno in this list.
The character of Bruno shows that saying the truth may not gain you a lot of friends— and that's perfectly fine.
As long as you have their best interest at heart and do not use the power of words to hurt other people.
This fun pattern features Bruno and his hazel green eyes that see the future.
8. Isabela Perler Bead Pattern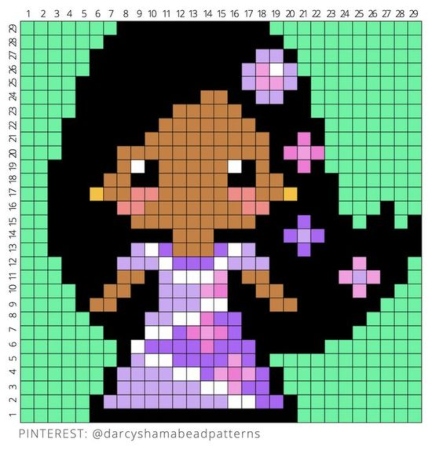 The epitome of beauty, elegance, and grace. Need I say more? We all know which Madrigal I'm talking about—Isabela.
Her charm and magical skill make the Casa Madrigal a joy to live in.
Have the power to create beauty through flora and fauna through these perler bead flower patterns.
9. Luisa Perler Pattern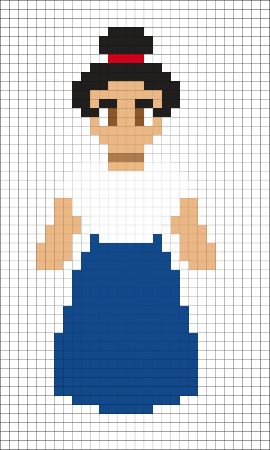 Encanto breaks gender stereotypes and through Luisa, teaches kids that girls can be tough and strong as well.
Her superhuman capabilities amaze all especially when she carried a church, donkeys, and people with little effort.
Seeing this strong and capable woman on the screen will inspire and tell kids that there's no limit to what a woman can do.
10. The Madrigal Family Perler Bead Pattern

Say, Casa Madrigal!
This nice family portrait of the Madrigals will be a nice project to do with your kids.
It includes a Madrigal from each generation like Abuela, Pepa, and Luisa.
Want more activities that the kids will enjoy? Here's a list of Dr. Seuss preschool crafts for you to try out. 
11. Felix Perler Bead Pattern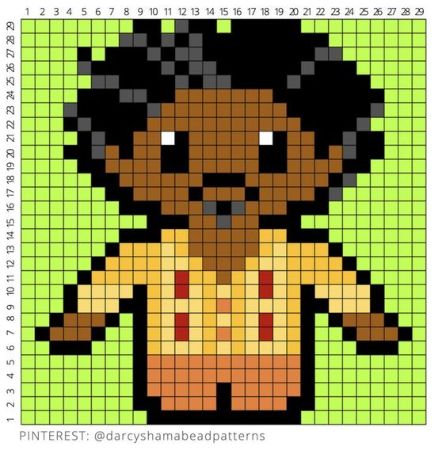 Watching the carefree and fun-loving character of Felix makes us all wish to have an uncle like him.
Brownie points for his amazing dance moves, too!
Despite not having a magical gift, he proves to be a valuable and important member of the family.
Everything can be mastered through practice. Enhance their artistic skills by showing them these easy animals to draw for kids.
12. Isabela with Flower Perler Beads
Isabela was never without her flowers.
Growing different kinds of flowers and plants is not only her special skill but is also a huge part of what makes Isabela, well Isabela.
This tutorial video by Fun Fam Films shows Isabela in her element.
13. Julieta Madrigal Perler Bead Pattern

Not only does Julieta's food taste amazing, but her cooking can also help heal others. How cool is that?!
Aside from being an exceptional cook, raising her three beautiful daughters is another admirable thing that she did.
This perler bead pattern will remind them of a mother's dedication and love for her family.
14. Agustin Perler Bead Pattern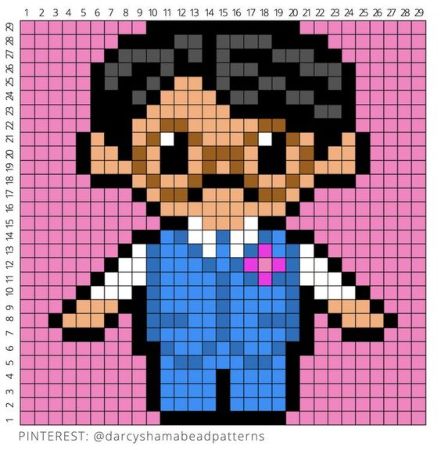 Being clumsy and accident-prone makes Agustin and Julieta perfect for each other.
Despite these, he takes his father duties seriously and is not afraid to stand up for his daughters especially his youngest, Mirabel.
Looking for more perler bead patterns to do? Find the hidden Mickey in these Mickey Mouse perler beads patterns.
15. "Magic Awaits You" Perler Pattern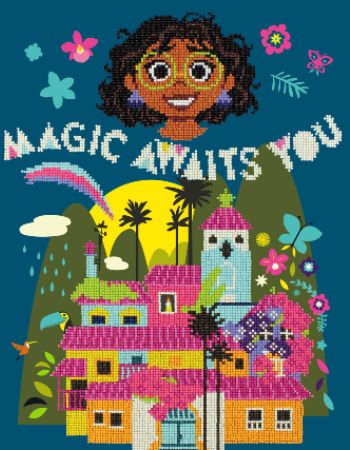 In Casa Madrigal, more than magic awaits you.
There is a ton of singing and dancing so everyone will have a magical time.
Brownie points for the interesting and lovable people that live in this magical place, too.
16. Bruno Perler Bead Pattern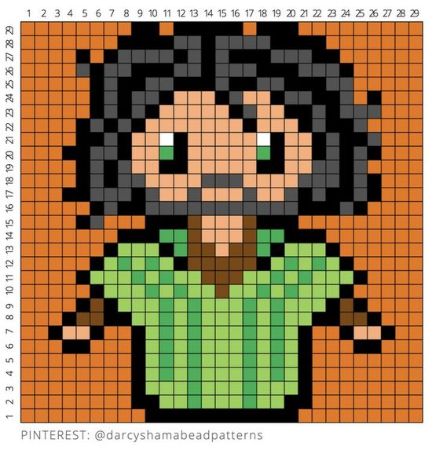 Living within the walls of Casa Madrigal doesn't always seem easy or comfortable but Bruno did that for his family.
This Bruno perler pattern is dedicated to the selfless people who would put their family's needs before their own.
17. Pepa Perler Beads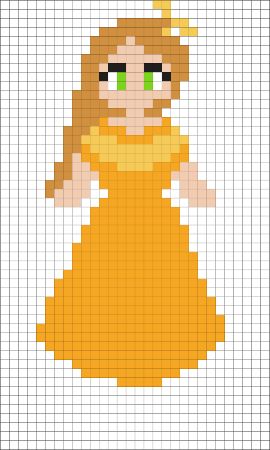 Pepa has a huge personality that brings a different kind of energy to the film.
Her unique magical gift also brought out a lot of laughs from the people making her a memorable character.
Changing the weather based on one's emotions sounds like a dream. You can also make DIY dream catcher crafts for kids with the help of this post.
Magical Encanto Perler Beads
Welcome to Casa Madrigal!
Each member of this magical family had something to contribute to the family and the neighborhood. They chose to use and share their magical gifts for the good. Not only is the film a joy to watch but kids and adults alike gain valuable lessons after watching Encanto.
Here are more fun patterns for both the kids and kids at heart: