Come on and let's save the (boring) day of your little ones by learning how to draw the trusty and hard-working PAW Patrol characters!
It's not hard for children to be captivated by the courage, diligence, and absolute awesomeness of these superhero pups. And, I wouldn't blame them if they've been eager to try something new, like drawing their favorite character on the show!
In this post, you will find wonderful and especially easy PAW Patrol drawings that, with enough adult guidance, even preschoolers can try their hand at.
Don't forget to check out our easy animals to draw guide, where there are hidden gems to be found for beginner artists.
3 PAW Patrol Drawing Kits
Here are some kits that you and your children may find useful during your fun drawing activities.
If you're interested in similar crafts, look no further than these PAW Patrol crafts.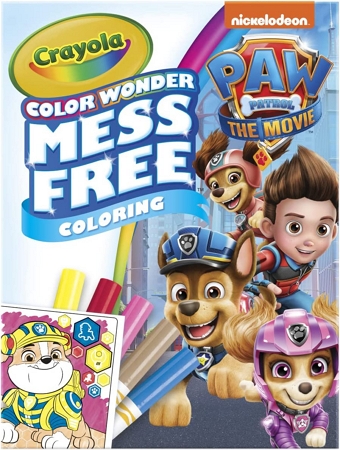 If you and your children can't find the time to draw their favorite PAW Patrol character, this mess-free coloring book might be for you.
It contains exciting designs from the PAW Patrol movie and memorable moments that will evoke a feeling of nostalgia for those who had watched it.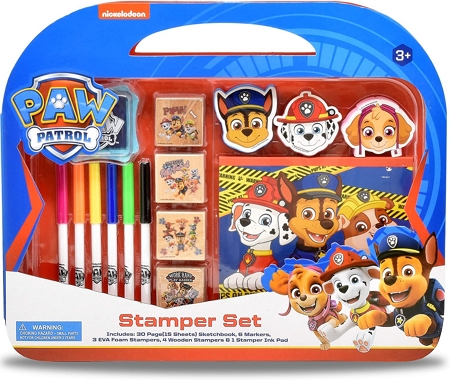 Most toddlers aren't skilled enough to handle a pencil or any sharp materials that might pose a risk to them.
Have peace of mind with this safe and toxic-free stamper set for your children. This will keep your little ones busy while freeing you from any worries.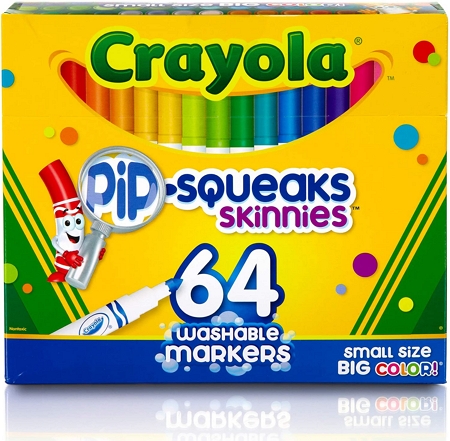 Lastly, any drawing activity is infinitely better when you finish it off with some color. Make that possible with these Crayola washable markers, which are non-toxic and suitable for children ages 3 and above.
The possibilities with these washable markers are endless for your children since this Crayola set contains 64 different colors. And the only thing you need to fret about is getting enough drawing guides because your children will finish these designs in a heartbeat.
With these many colors, children will be able to make different kinds of rainbow crafts.
3 Ryder PAW Patrol Drawings
4. Easy Ryder Drawing from Paw Patrol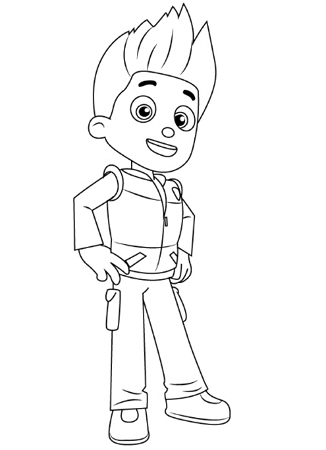 Drawing Tutorials 101 delivers to us this confident pose by our PAW Patrol leader, Ryder, who's ready to save the citizens of Adventure Bay.
Save others with these superhero crafts!
Here we have Ryder pointing as if he were instructing the PAW Patrol squad to move quickly in that direction.
It's a great design by HT Draw's channel that will introduce children to depth and perspective.
Ryder is always there with his team for any emergency in Adventure Bay. The secret to all his speedy rescue is this motor vehicle, also known as an ATV!
Tell your children to make sure Ryder wears his helmet at all times; he's got to protect himself first before he can save other people!
3 Skye PAW Patrol Drawings
Any little girl who watches PAW Patrol would love to have a friend and companion like Skye. After all, she has one of the coolest vehicles in the show, and that's the helicopter!
8. Skye the Air Rescue Pup Drawing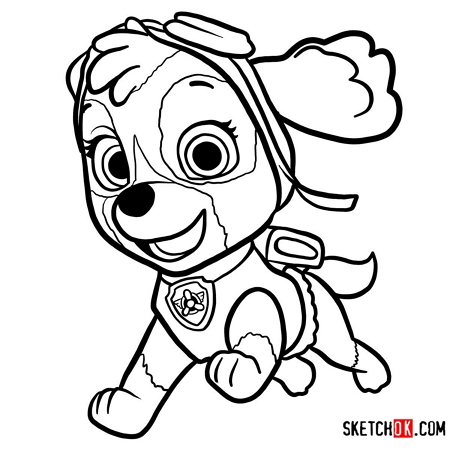 Your little ones will be as excited as this Skye, who looks eager to help the people in Adventure Bay. Check out Sketchok's webpage to see the step-by-step instructions.
Here's the design that every little girl is waiting for, Skye's helicopter. This drawing is not limited to girls, but every kid who desires to soar into the sky.
Thanks to Glitter For Kids' video tutorial, many children will be able to practice their drawing skills and have fun while doing it.
4 Chase PAW Patrol Drawings
We're used to drawing sketches with pencil first so we can erase any crooked lines. But Art for Kids Hub delves straight into the craft with crayons, telling us that it's perfectly okay to make mistakes because it's when we fall and pick ourselves up that we learn the most.
11. How to Draw PAW Patrol Chase Step-By-Step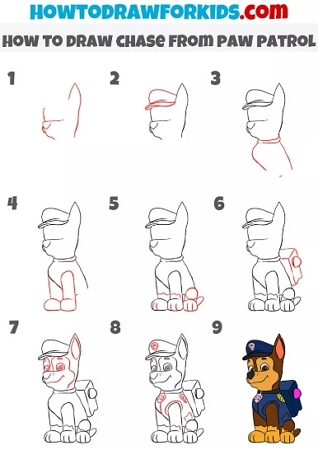 If you're fine with a written tutorial, How To Draw For Kids has a concise guide for drawing everyone's most-loved German Sheperd, Chase.
In nine easy and guided steps, your kids will have drawn an excellent guard dog who's been trained to perform the honorable duties of a K9.
If time doesn't permit for an entire Chase drawing, this simple Chase head design from Colouring Academy might suffice.
Fitting in a quick activity to practice those developing hands is better than no activity at all.
Chase has an impressive police motorcycle that children will enjoy drawing. Tim Tim TV's video tutorial shows their viewers how to recreate their design, starting from Chase's head with a helmet to the motorcycle and its details.
4 Marshall PAW Patrol Drawings
14. Simple Marshall Drawing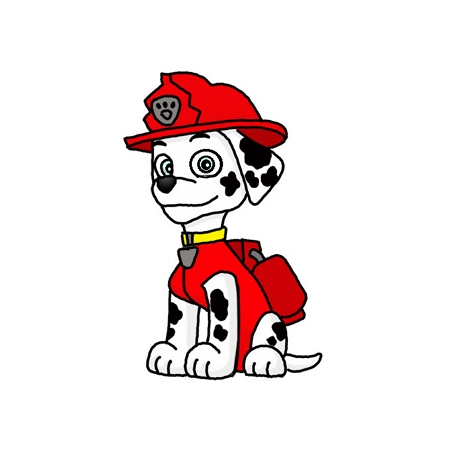 Fire incidents can happen at any moment and spread super fast. Fortunately, there's Marshall the Firefighter pup to save people from such instances, whose courage and skills are admired by many.
Kids who look up to the inspiring duties of Marshall can now draw him with Drawing Howtos's drawing tutorial.
Don't forget to make these firetruck crafts for Marshall!
While these designs are already extremely adorable, Draw So Cute manages to make Marshall even cuter by adding their own flair to his design.
In this design, Marshall's fire emblem is also included, which signifies he's a certified firefighter pup.
Starting off with something easy, such as this Marshall head drawing from Pencilica Easy Drawing's channel, is totally reasonable.
You wouldn't want to overwhelm your little ones with entire drawings if they're not in the mood.
This list wouldn't be complete if a firetruck drawing was excluded from it. After all, how will you extinguish dangerous fires with haste if the fire department didn't have the necessary vehicle?
Luckily for your kids, Busy Bee Kids made their fire truck simple and equipped with the bare minimum, making it easier for children to draw.
3 Rubble PAW Patrol Drawings
I admire the strength and tenacity of the English Bulldog, and I certainly see it from Rubble, who is the construction pup.
Rainbow Playhouse's drawing tutorial has Rubble dressed and ready to do any heavy lifting.
19. Fun Rubble Drawing from Paw Patrol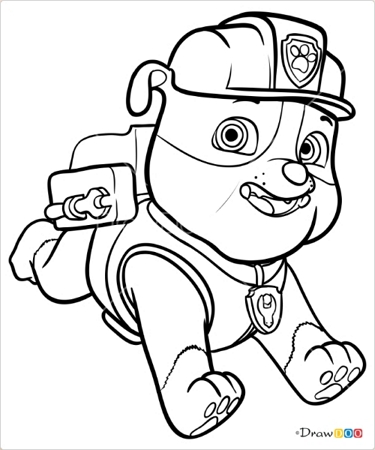 Despite his bulky appearance, Rubble is a sweet dog. He has a fear of spiders, but that won't deter him from performing his tasks for the people of Adventure Bay.
The construction truck is probably my favorite vehicle amongst them all. Lifting big boulders out of the way is no easy feat, and this machine makes it look too easy, and that's why I respect it.
Busy Bee Kids is back with another no-fuss vehicle drawing.
Speaking of rocks, children won't need any machinery to create art such as these rock paintings ideas.
3 Rocky PAW Patrol Drawings
Here's Easy Little Drawings's video tutorial showing Rocky with his standard pose.
22. Amused Paw Patrol Rocky Drawing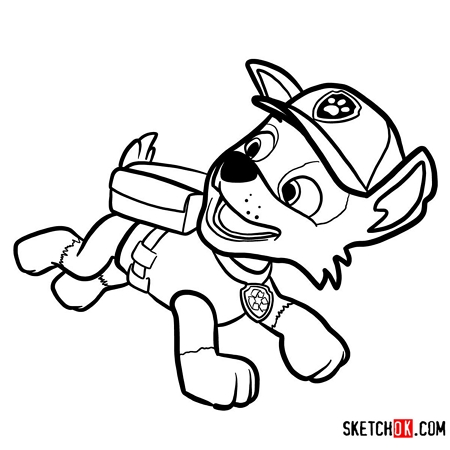 Rocky is the recycling pup, teaching kids about sustainable methods to make our world a greener place.
Sketchok captures the moment when Rocky sees something that might look trash to others but can be turned into something valuable.
Recycle and reuse things that would otherwise go to waste, like these toilet paper roll crafts.
The recycling truck is probably one of the more underrated vehicles in PAW Patrol, but one that's essential for the city to function.
Red Cloud For Kids's channel shares this great video tutorial of Rocky's truck, which should be appreciated more.
3 Zuma PAW Patrol Drawings
Yaazhini Fine Art shows us how a trained and diligent dog responds to its owner's commands.
In a fictional world where people love water activities, Zuma's responsibility as a water rescue pup is tremendous but quite enjoyable, as he loves surfing in the water.
Love the ocean? Try making these ocean crafts with your kids.
A boat that can transform into a submarine is something kids would probably want. Such a multifunction vehicle is too awesome not to have!
Rainbow Coloring Girl's video tutorial shows exactly how to draw Zuma's spectacular water vehicle.
PAW Patrol Drawings to the Rescue!
Whichever main PAW Patrol character your children prefer, they'll certainly find one in this article and save Adventure Bay with it.
If you'd like more content to keep your children busy or develop their skills, check out these other animal drawing guides: