If you've ever wanted to make some horse Perler bead patterns, well, you are in luck my friend.
No need to gallop around the Internet to find horse patterns, because everything you'll ever need regarding horse Perler bead activities is found in this article.
I've listed 23 horse Perler bead patterns below, ranging from easy ones that toddlers and preschoolers can create under adult supervision to more complicated horse patterns that will blow your mind.
For your convenience, I've also included some horse Perler bead kits that will help you in your children's activities, saving you precious time and effort trying to scour the web.
3 Horse Perler Beads Kits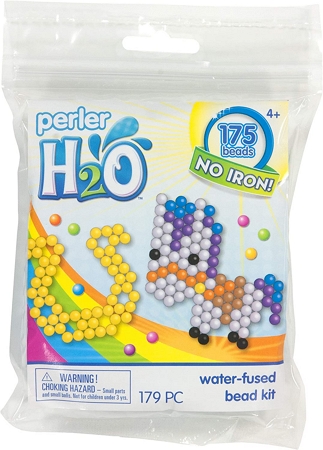 Try something fresh with this water-based fuse bead horse kit. This is quite suitable for small children, like toddlers and preschoolers, as the beads don't require any ironing and are activated by spraying water.
This kit is a combination of both safe and fun activity!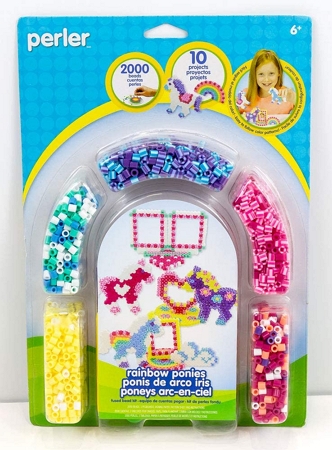 Little girls who always dreamed of owning their magical and colorful pony can enjoy making their own through this rainbow ponies kit.
Not only will this stimulate their visual skills, but it's also a great way to enhance their creativity.
Inspire your little ones with these My Little Pony Perler beads and rainbow crafts!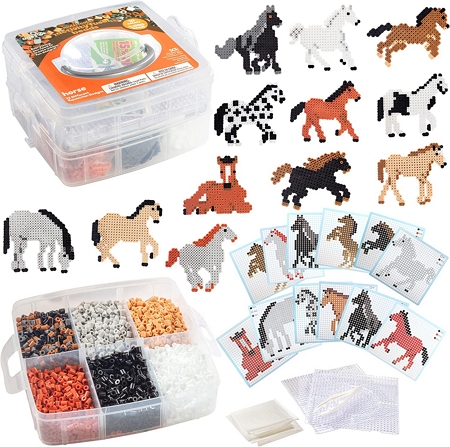 This is the kit for you if you want the most bang for your buck. Most horses come in neutral colors, such as white, brown, black, and a combination of those, and this kit certainly knows that.
It contains 4,000 fuse beads, 12 unique horse patterns you can mix and match to your liking, a pair of tweezers, and square pegboards.
7 Easy Horse Perler Bead Patterns
The first nine patterns feature easy and quick horse patterns suitable for preschool and elementary children.
If you just started with your Perler bead adventure, I highly suggest checking out our easy Perler bead patterns, where a comprehensive guide is waiting for novices.
4. Easy Horse Perler Beads Activity for Kids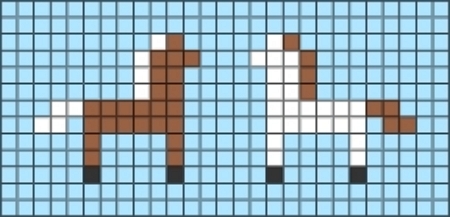 If you're looking for the easiest horse Perler bead pattern you can find, this one from Hassey is for you. This horse pattern is reminiscent of those stick man figures.
Created with the minimum amount of beads and details, this one is perfect as your children's first-ever Perler bead craft.
Here's a video tutorial from Lacey's Crafts's channel, one that's a little bit more detailed than the previous pattern, but still very easy nonetheless.
I recommend encouraging your little ones to create a horse with a different color to stimulate their creativity!
6. Horse on a Circle Pegboard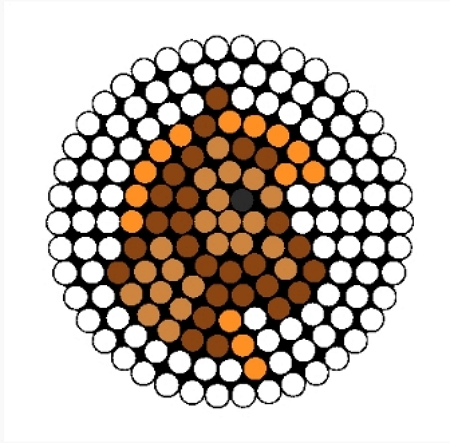 Introduce your little ones to the world of geometry by trying out this horse pattern made for a circle pegboard, courtesy of Kandi Patterns.
Find out more circle patterns on our list of circle Perler beads!
7. Heart Horse Perler Beads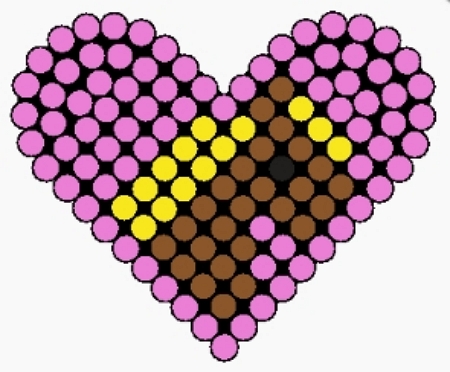 Here's a pattern suggesting that you should always love your pet, whether it's a horse or a dog. CookedCarp creates a simple horse head pattern that's made specifically for the heart pegboard.
Enjoy more heart-shaped Perler beads in this heart Perler beads compilation.
8. Horse Head Perler Project
SeekPNG brings us a detailed horse head pattern. But don't get intimidated, since Perler bead activities are fairly intuitive; they're a great learning resource for skills such as counting, color recognition, and much more.
9. Stardew Horse Perler Beads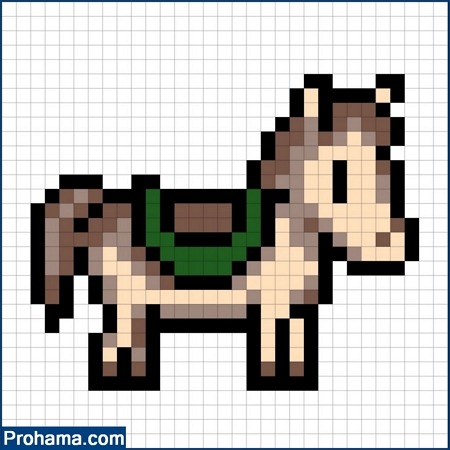 Anyone who has played Stardew Valley will recognize this pixelated horse created by ProHama. If you've ever fantasized about having your own farm, where you grow crops and herd animals, then that game and this pattern are for you!
For Perler bead patterns of famous games, check out these ones: Minecraft Perler bead patterns and Fortnite Perler beads.
10. Easy Horse Head Perler Pattern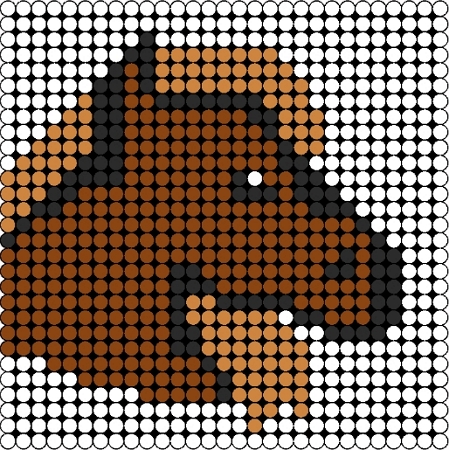 Here's another horse head pattern, shared by IramosLionLove. While it requires a fair amount of beads, it is much easier than making the entire horse.
4 Cute Horse Perler Beads
Horses don't come to mind when we speak of cute animals. But I bet these five horse patterns will change your mind.
Perhaps these cat Perler beads or dog Perler beads are what you have in mind when talking about cute pets.
11. Tiny Adorable Horse Perler Beads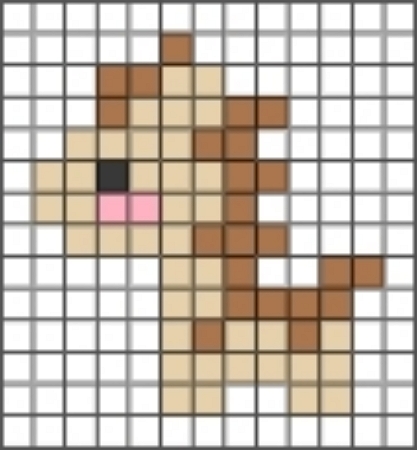 For a simple and cute horse pattern that can be done easily by preschoolers, gecko_girl has got you covered with this horse with an adorable blush on its cheeks.
Did you know inanimate objects such as food can look cute, too? Simply check out these food Perler bead patterns to find out.
12. Kawaii Horse Perler Beads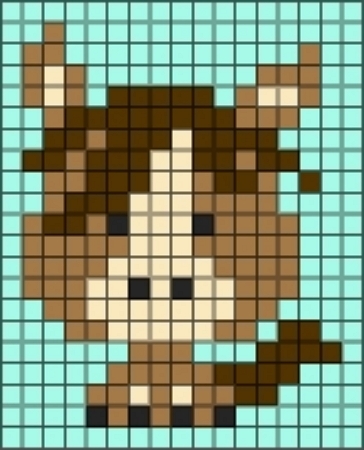 Chibi is a popular drawing style in Japan that means "short". The style consists of distinct facial expressions, and most drawings are characteristically short versions of the original ones.
I've also included a chibi goat in this list of goat drawings!
13. Cute Pink Carousel Perler Bead Pattern
This carousel pattern from Fritzenstein is a personal favorite since my favorite color is pink! From the mane to its hoofs, this pony is quite detailed without being too complicated to finish for children.
14. Hello Kitty in a Horse Costume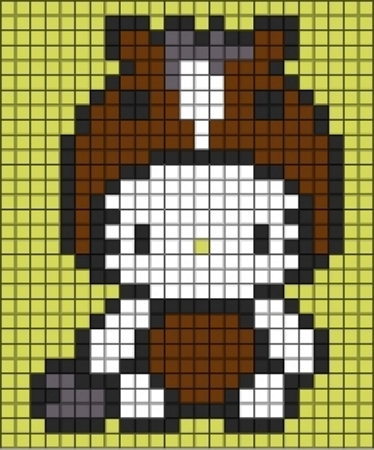 Hello Kitty's design is so versatile and adorable that she'll fit in any costume you put her in. And yes, as this horse pattern by Miii demonstrates, she can pull off a horse costume and still endear anyone.
6 Complicated Horse Perler Beads
These next horse patterns are more suitable for advanced Perler bead enthusiasts. Some of these are inspired by popular media, while others have added a pinch of artistic creativity.
15. Ponyta Pokemon Perler Beads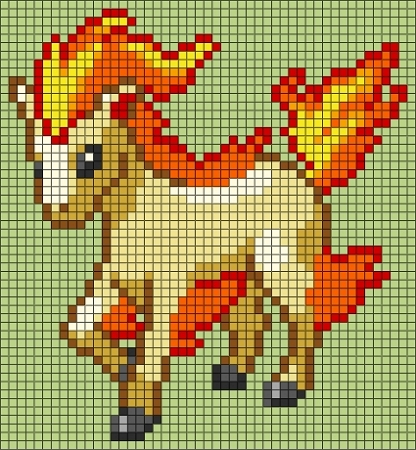 While many children dream of the unicorn or the pegasus, most Pokemon trainers would love to capture a Ponyta, an equine Pokemon with cream-colored fur and flames that will burn anyone who mistreats it.
Sparrows delivers this amazing Ponyta pattern, just for those who dream of capturing 'em all.
I'll give you a clue on where to capture other Pokemons; simply follow this list of Pokemon Perler beads!
16. Shiny Ponyta Perler Beads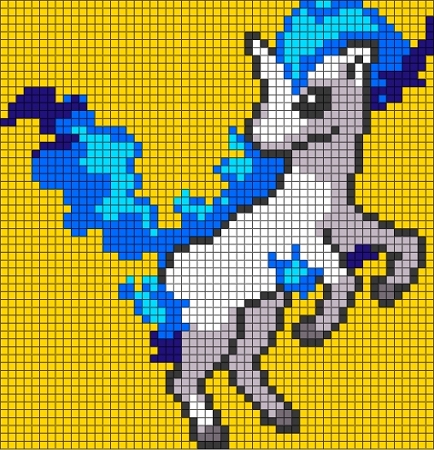 Here's a shiny variation of Ponyta, which is a rarer version with blue flames. Just like in the previous pattern, the details in this shiny Ponyta shared by toribug11 is greatly appreciated, especially for those who love making works of art.
17. Awesome Cartoon Horse Pattern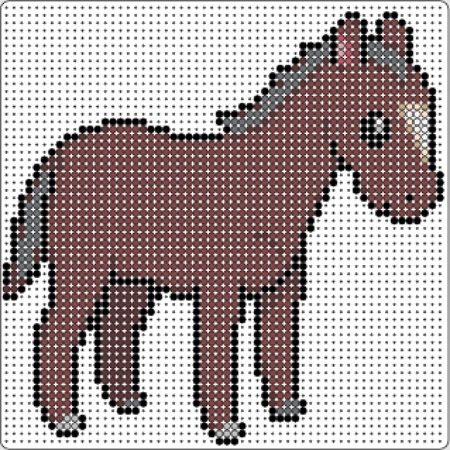 Perler Bead Patterns shares a simple horse Perler bead pattern, one that is a little bit time-consuming given the number of fuse beads required, but quite rewarding to complete.
If you'd rather make the horse's mythical counterpart, then these unicorn Perler beads and unicorn crafts will satisfy your wants.
18. Artistic Horse Silhouette Perler Beads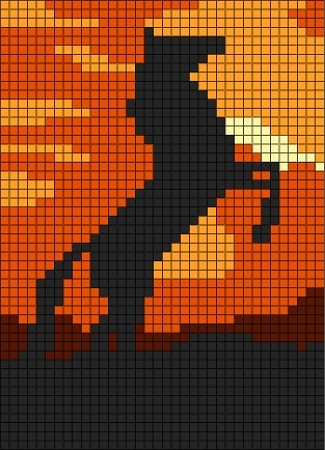 Is there a gap on your wall that needs decorating? Look no further, because Aracne is here with this beautiful horse silhouette that can make for a great wall display.
Are your little ones feeling a little artistic? Why don't you try these rock painting ideas for kids?
19. Horse with White-Mane Perler Design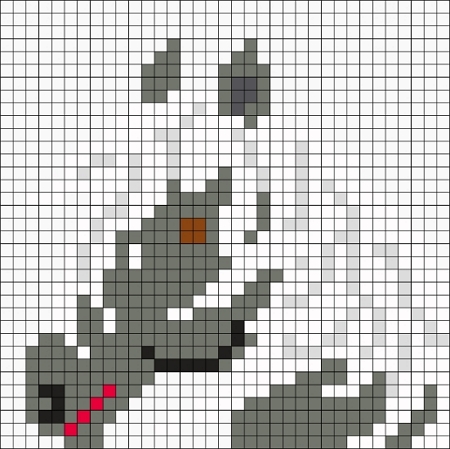 Horses with white mane are a sight to see, and this design from JoBar is no exception. While the pattern only features the head, the shading of the mane can be quite challenging.
20. Realistic Horse Portrait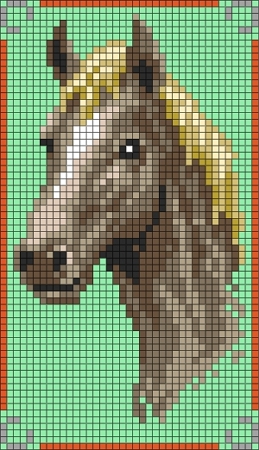 It's astonishing how small pigments put together in a well-thought manner can produce an intelligible image. Such technique is used on this horse pattern by grungemilk.
You might be requiring interlocking square pegboards for this realistic horse portrait.
3 3D Horse Perler Bead Projects
Did you think those last six horse patterns were challenging and rewarding enough? Wait until you see these next three 3D horse patterns.
LOLY PIXEL ART's channel takes Perler bead projects to the next level by making a literal rocking horse with fuse beads!
To figure out how they manage to complete such a project, simply watch their video tutorial, which is as entertaining as it is instructional.
22. 3D Carousel Perler Bead Project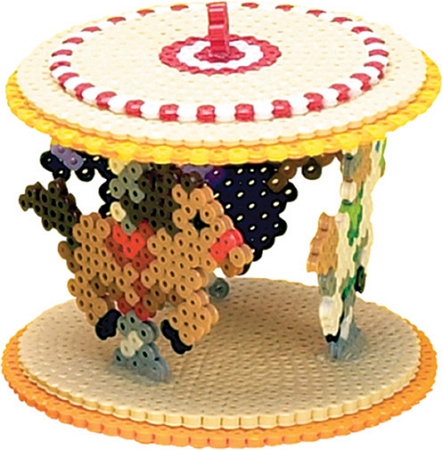 Here's another project from Perler that will blow your mind. It's a 3D carousel made entirely out of fuse beads.
While it doesn't have any moving parts, it's still quite impressive how this is made.
Are your kids playing Minecraft all day? Redirect their attention and energy to meaningful activity and craft by making this 3D Minecraft horse with diamond armor.
Each component of this 3D horse is carefully demonstrated in the video tutorial, so there's no need to be intimidated by the superbness of this craft.
Check out these 3D Perler bead patterns for more awesomeness!
You Won't Say Nay to These Horse Perler Beads!
Whether it's a simple horse craft to introduce your toddlers to the animal or a bigger project for a relaxing weekend, these horse Perler bead patterns have got your needs covered.
For more animal Perler beads, try these other links: