Did you know most of today's pandas live in some parts of Asia since they're endemic to those regions? That means fewer pandas are seen in zoos because they're an endangered species.
Pandas are one of the most adorable creatures on the planet, so it's a given that anyone will love making these panda Perler bead patterns.
If you are unsure where to start learning about this wonderful activity, simply read our easy Perler bead patterns post to learn the basics.
3 Must-Haves for Panda Perler Beads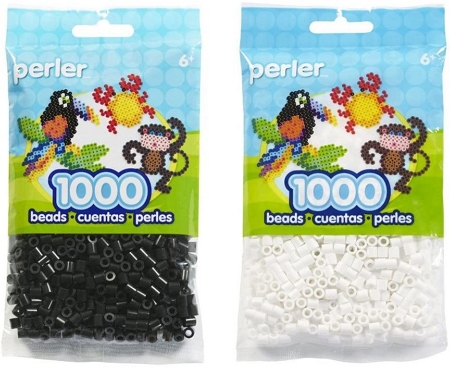 If you haven't noticed, the panda's color consists of only black and white. Here are a couple of Perler bead packs, each containing 1,000 Perler beads.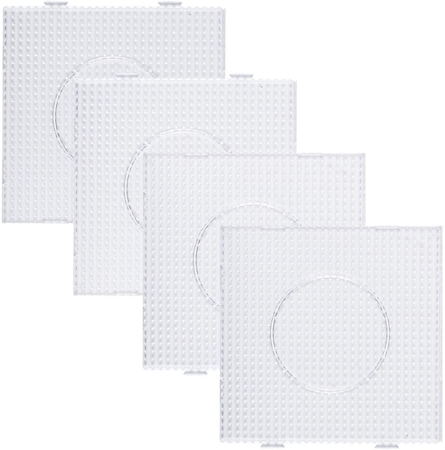 Most of the panda patterns below are straightforward and small, but some will require bigger pegboards. Here's a pack of interlocking square pegboards to create designs of any size.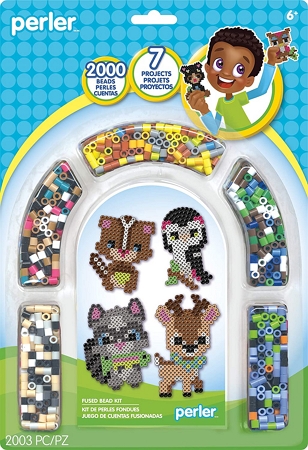 Why stop at pandas? This pack includes 2,000 Perler beads for 7 cute forest animal designs for kids to enjoy.
7 Simple Panda Perler Bead Patterns
Beginners will appreciate these simple panda Perler bead patterns.
4. Quick Panda Pattern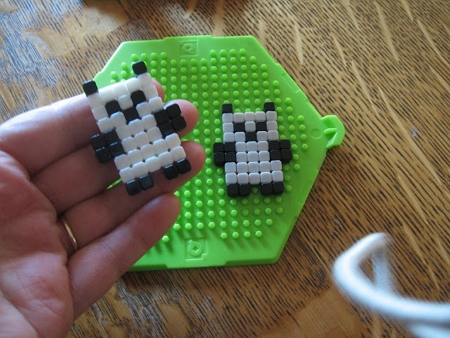 Let's start with this quick and easy pattern provided by Almost Unschoolers Blogspot.
The design consists of only using a few Perler beads so beginners like toddlers won't have a hard time.
5. Panda Outline Perler Pattern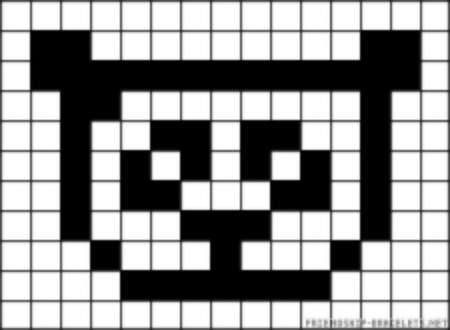 If you love to keep it simple, Penguinluver66 has you covered with their easy panda pattern that's great for even a toddler.
Just like this panda pattern, these Mickey Mouse Perler beads will keep it simple for your toddlers.
6. Square Panda Perler Bead Pattern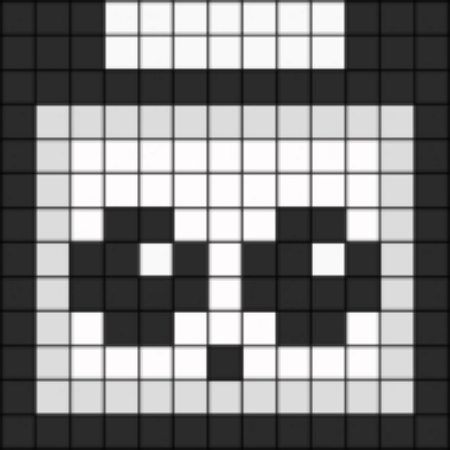 One of the skills that children acquire while making Perler beads is counting.
Kawaiiloverizzy shows us with their square panda pattern that they're also helpful in introducing toddlers to shapes.
7. Red Panda Perler Beads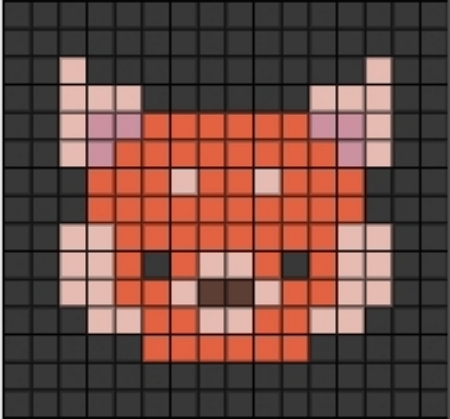 Red pandas are actually not related to the panda we all know and love (also known as the giant panda).
Nevertheless, these cute animals share similar behavior and characteristics with the giant panda, such as having a diet of bamboo and living in the forests of Asia.
User e-g-g-s on Bracelet Book gives you a chance to create this long distant cousin of the giant panda.
8. Easy Panda Face Perler Beads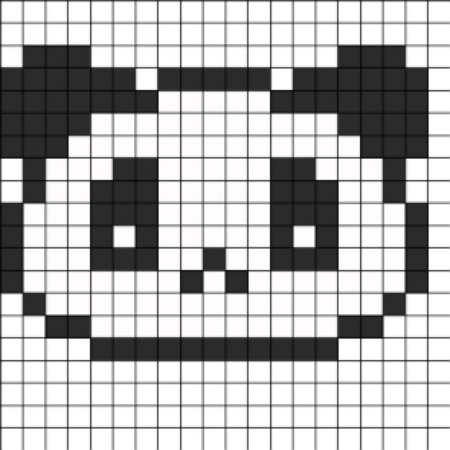 SeekPNG shares a panda face pattern that looks like a steamed bun, which makes this panda cuter than it already is.
9. Sitting Panda Bear Pattern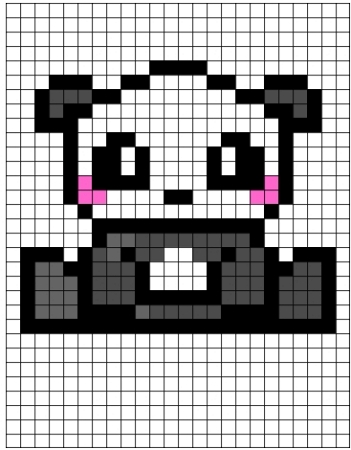 Here's valentina_sot sharing a pattern of a cute little panda in a sitting position.
Tired of all the black and white? Try a little color variety and make these loyal dog Perler beads instead.
10. Large Panda Face Pattern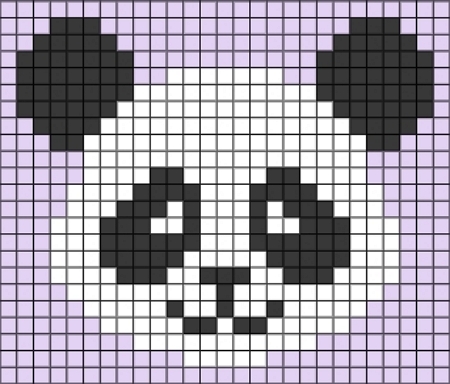 The black patch on the panda's eyes is one of the characteristics that make it adorable. Skysong accentuates that trait in their larger than life panda face design.
5 Cute Panda Perler Beads
Pandas are already adorable on their own, but these next five patterns will truly melt your heart.
11. Adorable Red Panda Perler Pattern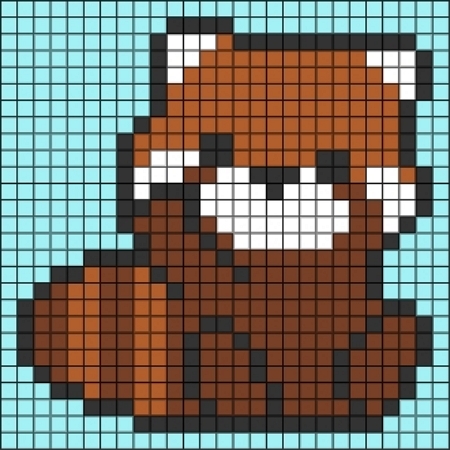 I know red pandas are distant cousins of the giant panda, but I'm sure won't want to skip making this super adorable red panda pattern shared by user 141594 on Bracelet Book.
12. Large Kawaii Panda Perler Beads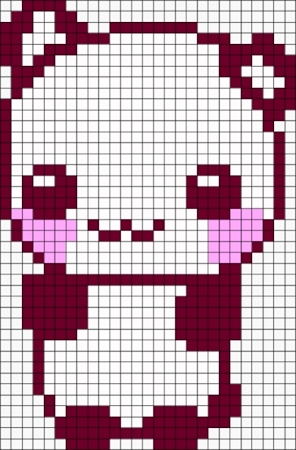 "Kawaii" is the Japanese term for cute, so when someone is referring to a kawaii object, they're usually referring to this specific style of drawing.
PrincessToxicLuna shows us with this panda design what is meant by the term kawaii.
Becom familiar with more kawaii things through this list of kawaii Perler bead patterns.
13. "Melty" Panda Fuse Beads
Follow autiegirl1980's sleepy panda pattern so you can spend some quality time relaxing during the weekend. The pattern is quite simple and shouldn't take more than 30 minutes to complete.
14. Large Umbrella Panda Pattern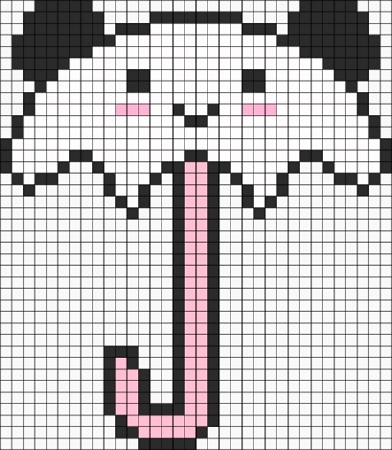 Volcanin provides an advanced level silly panda umbrella pattern.
Rainy day? There are plenty of rainbow crafts for kids to make when the weather isn't agreeable.
15. Toad in a Panda Hat Perler Pattern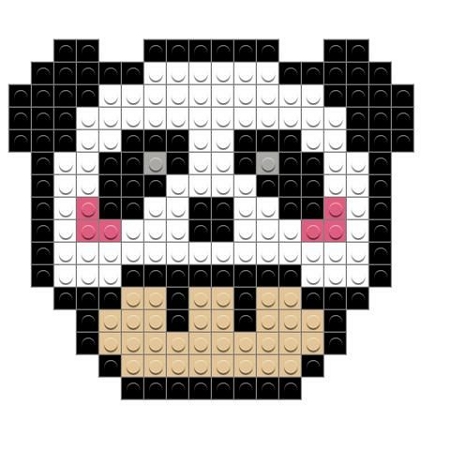 Fans of the Mario franchise won't be able to skip out on this pattern of Toad in a panda  hat courtesy of Brik.
Complete the set with these Mario Perler bead patterns.
4 Advanced Panda Perler Bead Patterns
These next four panda patterns feature big panda patterns suitable for intermediate to advanced Perler bead enthusiasts who find the previous ones too easy.
These elephant Perler beads are also larger than life – check them out!
16. Cute Panda in a Ramen Bowl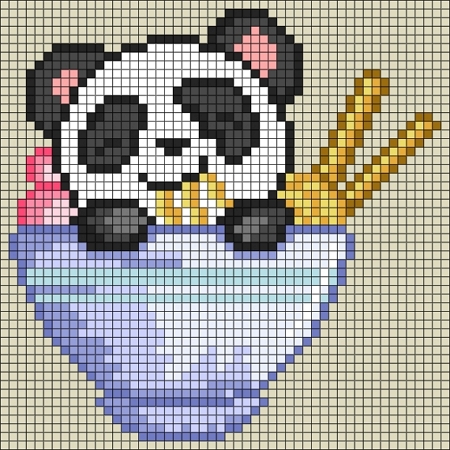 Aracne will make you hungry with this pattern of a panda eating ramen.
17. Panda Eating Bamboo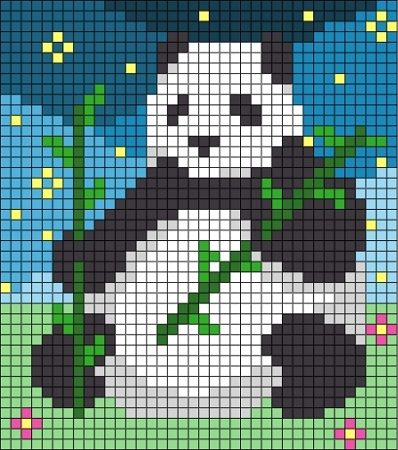 Here's Axolatl providing an incredible panda pattern that develop the fine motor skills and dexterity.
18. DIY 3D Minecraft Panda
Are your children fans of Minecraft? Here's QDCrafts providing an awesome tutorial on how to make a 3D figure of the panda from the game.
Apart from making the animal, they also show you how to make the panda's favorite food, bamboo!
Minecraft is a big world, so here are other Minecraft Perler bead patterns for you to enjoy.
19. Detailed Panda Face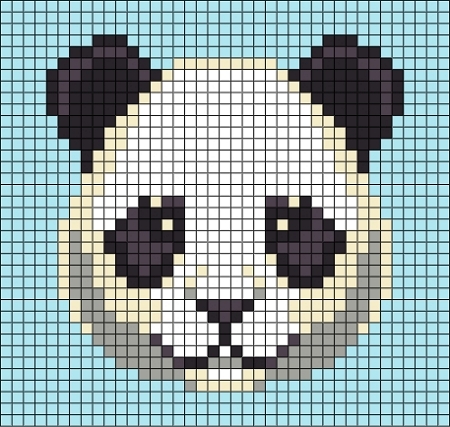 While this pattern created by jiuyhtg123 is big, the more complicated aspect of this design is the panda's shading.
4 Pop Culture Panda Perler Patterns
20. WWF Panda Logo Pattern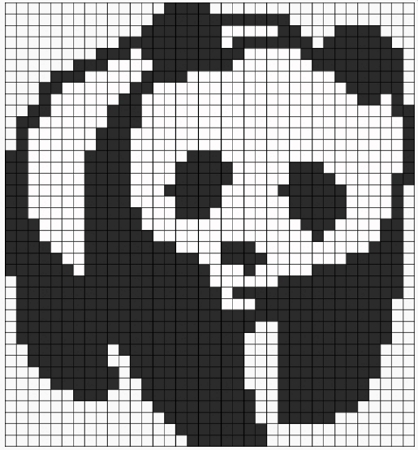 Since the panda is considered an endangered species, it has been the logo of the World Wide Fund for Nature for the longest time.
To commemorate it, dagiodante shares a pattern of the organization's iconic logo.
Let's do our part in saving the environment and by making some of these toilet paper roll crafts.
21. Pan-Pan from We Bare Bears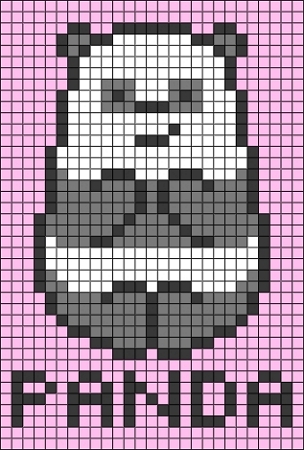 Anyone who watches Cartoon Network is familiar with the group of bears shown in We Bare Bears.
Paula-030 gives you a chance to make your favorite bear from the show.
For more cartoon-inspired crafts, check out these Paw Patrol crafts and Bluey crafts.
22. Po from Kung Fu Panda Perler Bead Pattern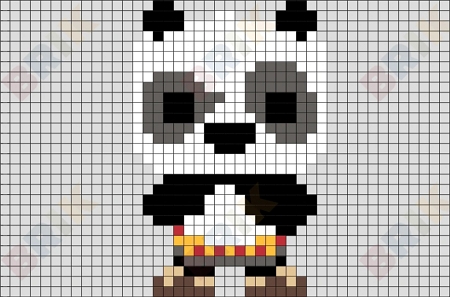 Kung Fu Panda teaches children that they can achieve their dreams if they put their minds to it.
Become inspired by this Po pattern shared by Brik.
23. Hello Kitty in a Panda Costume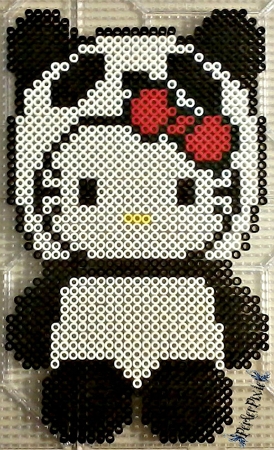 Perler Pixie creates this adorable Hello Kitty Panda Perler bead pattern for fans of this famous kitty.
For other kitty designs, try checking out these cat Perler beads.
These Perler Bead Patterns Are Panda-stic
These Perler panda patterns are great activities to do during the weekend or whenever you find yourself with some free time. They're great to do alone or with the whole family!
We love animals so much that we've compiled more animal Perler beads patterns: