Elephants are the world's largest land-dwelling animals, striking awe in most children when they encounter them in school, cartoons, and more.
Don't be overwhelmed by their size. Perler bead activities are incredibly intuitive, even when dealing with giant elephant patterns. If you or your little ones are new to Perler beads, here's a post on easy Perler bead activities where you'll find a comprehensive beginner's guide.
Here's a list of 23 elephant Perler bead patterns for your kids to enjoy.
7 Simple Elephant Perler Bead Patterns
Toddlers and preschoolers will benefit the most from these first seven fuse bead patterns because they're easy to do, and it's a great activity to get those little fingers moving.
1. Small Elephant Patterns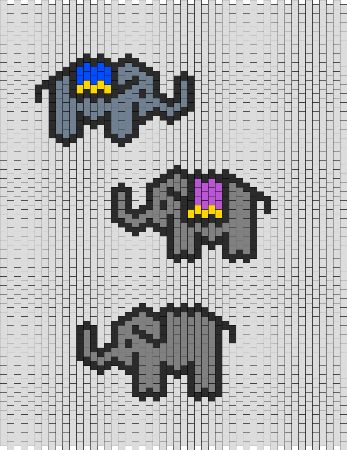 How much adult supervision do you need when your kids are making these Perler bead designs? The answer: very little. Apart from the ironing, even preschoolers can follow these simple patterns without much supervision.
Kandi Patterns has you covered with these elephants, letting us choose from a simple template to a more elegant one decorated with saddle cloth.
2. A Choose-Your-Color Perler Bead Elephant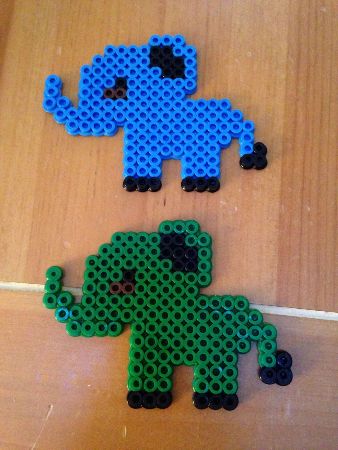 Even Perler bead designs that don't have a guide are easy to do because the final products are patterns that you can easily recreate on plastic pegboards.
This design from Stacy Gunderson proves that you don't need a guide, simply follow the succession of colored beads line-by-line.
3. Mama Elephant With a Playful Youngster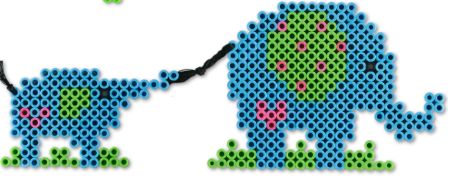 Here's a cute mama elephant with her antsy baby pulling on her tail.
Perler added some simple grass design on the base to make it seem like they're walking through the prairie. They topped it off with a couple threads of yarn to serve as their tails.
4. An Incredibly Simple Elephant Perler Bead Pattern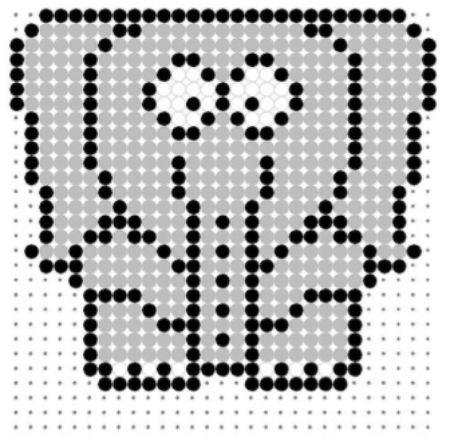 If you've ever wanted to look an elephant directly in the face, then this elephant pattern from Flickr is for you.
This simple design will allow your child to stand face-to-face with their miniature elephant creation.
5. An Easy Blue Elephant Pattern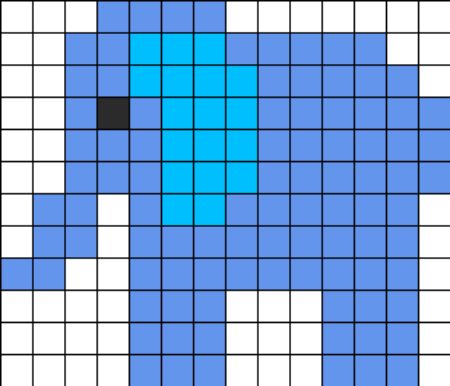 Perler beads are a great activity for preschoolers and toddlers because not only does it train their fine hand movements, but it allows them to better develop their visual skills.
Consider experimenting with colors other than just blue, or even mixing and matching for a flamboyant design.
Kandi Patterns has a simple blue elephant design that shouldn't take your children too long.
6. A Simple Elephant Melty Bead Keychain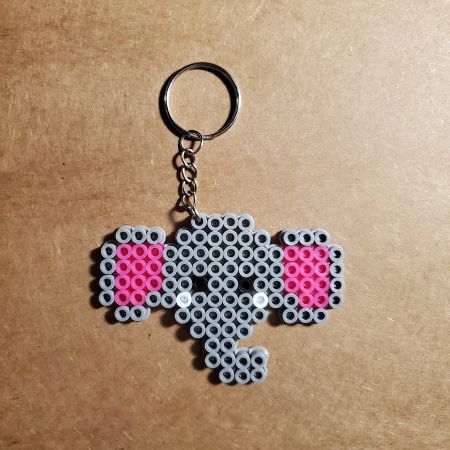 If you're looking for a simple and cute elephant head pattern, then this design is for you.
KaileysKeyrings makes it possible to take their new elephant friend with them everywhere they go. Since all Perler bead designs have holes, you can easily tack them onto a keyring.
You can attach these elephant Perler beads to their backpack, their pencil case, or just somewhere around their room.
7. Baby Elephant Perler Bead Pattern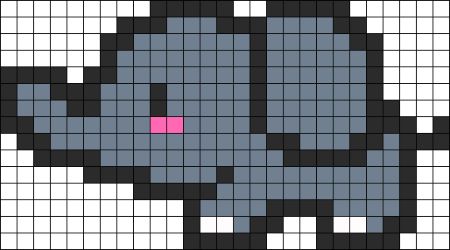 This is a kawaii Perler bead design that you can find on Kandi Patterns. Most kids adore tiny, cute things so you'd be hard-pressed to find a kiddo that wasn't thrilled to give this pattern a try.
Taking It Up a Notch: 7 Cute (but Complex) Elephant Perler Bead Patterns
These next seven patterns portray elephants with cute characteristics and doing adorable things. Just a heads up, though! Most of the designs throughout the rest of this article are more involved, and require significantly more Perler beads and time.
8. A Sitting Baby Elephant Pattern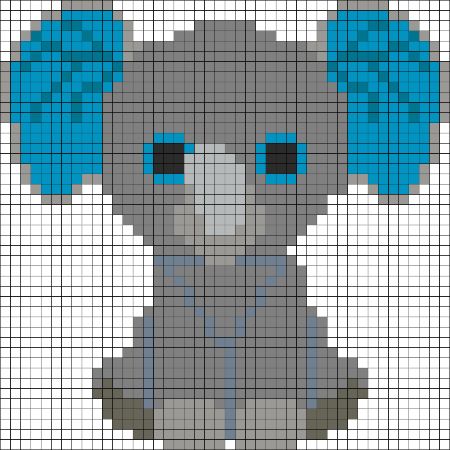 Did you know baby elephants can drink as much as three gallons of milk in a single day? I hope mom's got a Costco membership!
Recreate this playful baby elephant thanks to another design from Kandi Patterns. You can even see exactly how many beads you'll need, all of the way down to the number of beads needed for each color.
9. An Elephant with a Birdie Friend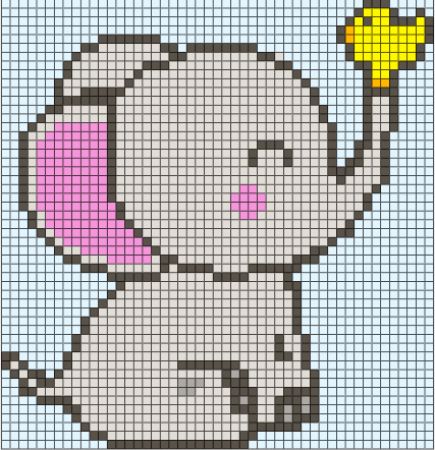 Elephants tend to be social animals, often traveling in groups with a matriarch to lead them.
Bracelet Book shows just how friendly these gentle giants can be, designing a baby elephant in the act of making a new friend.
They also include 3 other variations, including a pink and blue elephant, so if your children would like to change it to their favorite colors, they should feel free!
10. Happy Baby Elephant Pattern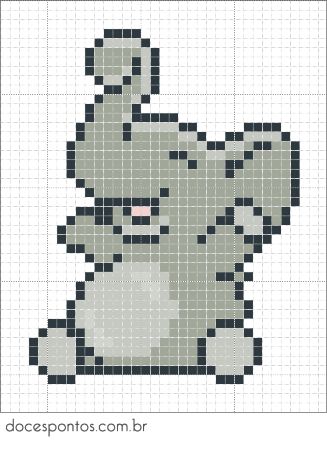 This enthusiastic baby elephant looks like a friend your child can go on imaginary adventures with. Doces Pontos provides the pattern for this jolly baby elephant.
11. Adjoining Heart-Shaped Elephant Trunks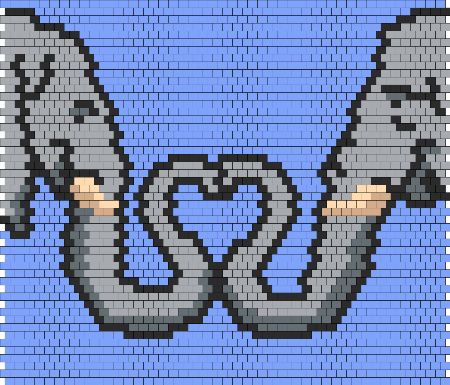 Kandi Patterns has the perfect elephant design to express our love for our little ones.
Whether it's for your love of elephants, love for a parent or spouse, or to express how much your little one means to you — get your Perler beads ready for this lovely design.
12. A Cartoon Elephant Perler Bead Pattern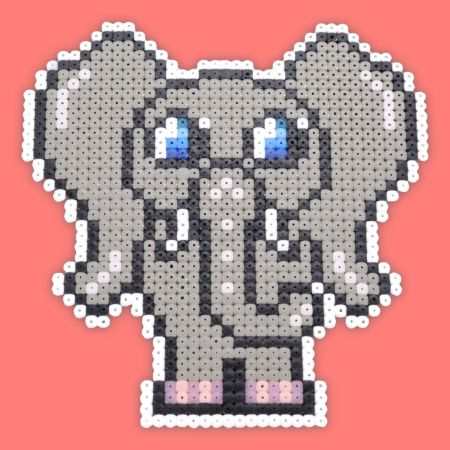 Cartoons tend to have designs that make them very relatable to kids, like this cute elephant pattern from Nabbi Beads.
This design has everything necessary for the perfect cartoon design — big blue eyes and a thick black outline, which is highlighted by another white outline.
13. Sitting Elephant Pattern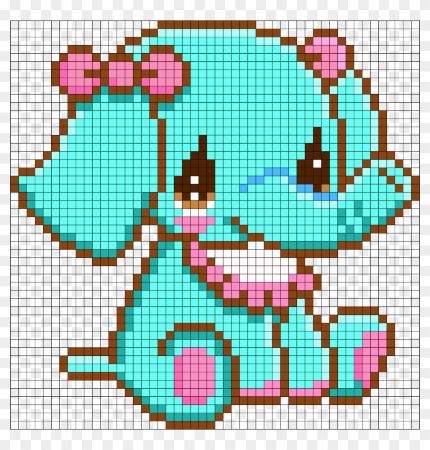 If your kids are into brighter designs, then you shouldn't pass up the opportunity to make this cute sitting elephant pattern from PikPng.
If you don't have a lot of teal beads at your disposal, then you can change the colors according to your kid's preference.
This will add another layer of challenge because they'll need to adjust for the shadows of the elephant, using a palette that's similar to their chosen color.
14. Adorable Elephant Perler Bead Pattern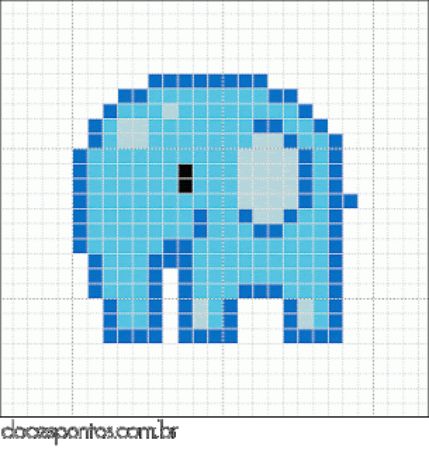 Designs don't have to be complicated to be recognizable, like this elephant design from Doces Pontos.
While it does have an unusually large head compared to real-life elephants, it's still entirely recognizable to children as an elephant.
Of course, you're not limited to the color blue. If they really wanted to, your kids could make this a rainbow elephant. Just make the outline black, and the beads around the eyes with any color but black.
7 Amazing Elephant Perler Bead Patterns (Not for the Faint of Heart!)
For older kids who think the previous elephant designs are a piece of cake, here are some significantly more advanced patterns that'll keep them (and you, should you care to join) occupied for hours.
You'll spend hours just preparing and counting the number of colored beads, which isn't a bad thing if you're up for a challenge.
15. Mom And Baby Elephant Perler Art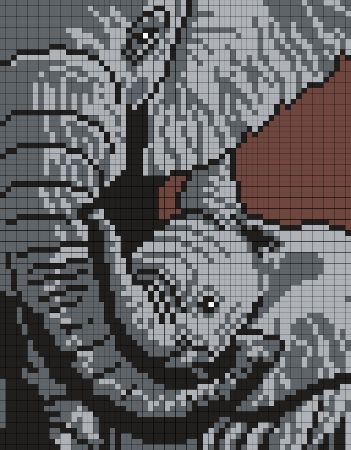 This elephant design from Kandi Patterns will need plenty of beads because the design is borderline photorealistic.
They make things easier by providing the exact number of beads you need for this design. The only thing you need to worry about is how much time it'll take you.
If you have a weekend to spare, then this is a perfect activity with your kids. It's very similar to assembling a jigsaw puzzle, so it's a bonus if your kids have some experience in that arena.
16. Tribal Elephant Perler Bead Inspiration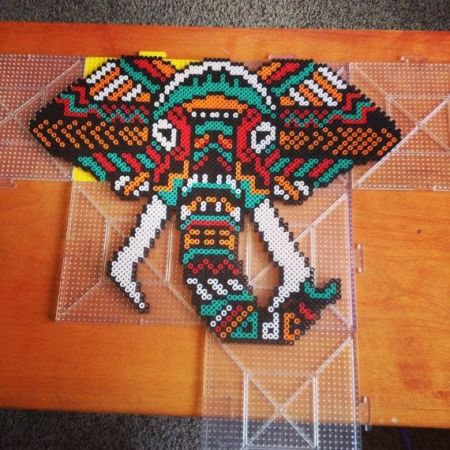 Time to truly test your creativity and artistic skills using this tribal elephant design. This one is made by Jamie Parker, but we both know you're not going to copy the exact design.
I believe you'll want to test your ability to make your own design or pattern. There's nothing wrong with following the pattern, of course, but I think it would be very satisfying to make an original tribal pattern.
Those who are up for a challenging piece of wall art should have a lot of fun with this one.
17. A Mandala Elephant Fuse Bead Pattern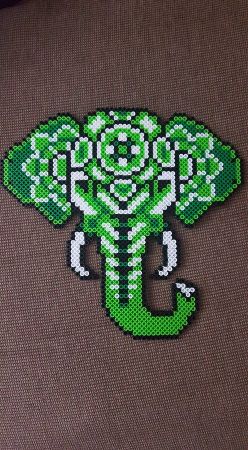 Here's another design from Kandi Patterns that gives you plenty of artistic creativity through the use of Mandala art.
If you aren't familiar, Mandala translates into 'circle' from Sanskrit. Typically, art that is inspired by Mandala has a circle starting point from which geometric shapes branch out.
While it is abstract, these shapes will form beautiful and more discernible patterns. Try to have fun with different shapes and colors, and see what your kids produce.
18. Supernatural Elephant Perler Bead Design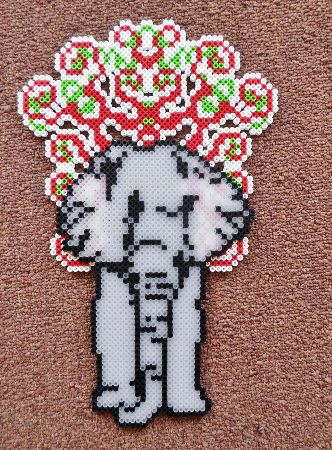 This design from Bead Pattern is also reminiscent of a Mandala art style. This one, however, puts the Mandala art outside of the elephant, imparting the elephant with a mystical aura.
19. Mama And Baby Elephant Beads Pattern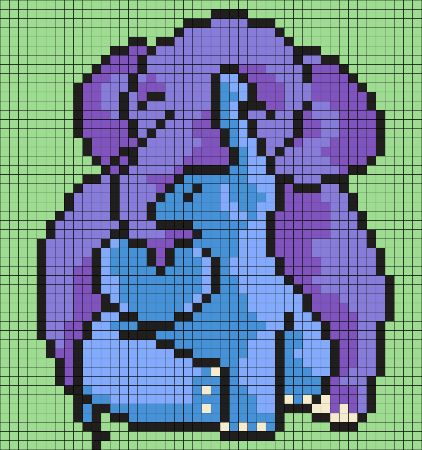 Kandi Patterns has yet another lovely elephant family design. Bond with your children, like this mother and baby elephant, by recreating this pattern.
It's important to develop a nurturing relationship with your kids, especially in the early stages of their development, because they need plenty of emotional support as they mature into different phases of their life.
20. Magical Elephant with a Rainbow of Perler Beads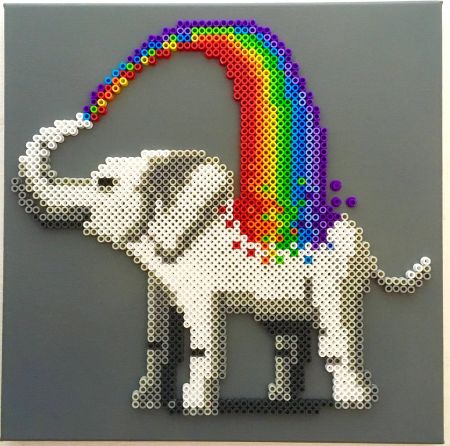 Elephants typically use their trunks to pour water into their mouths, but in this instance, it's a firehose for shooting rainbows!
This design from Pixel Art Shop is truly a work of art. I love how they use white beads for the elephant's body to highlight its shadows, and of course, the rainbow.
The small splashes of the rainbow are also a noteworthy detail to add.
More rainbow, you say? Here you go, we've gathered plenty of rainbow crafts for your kids to enjoy.
21. Decorated Elephant Pattern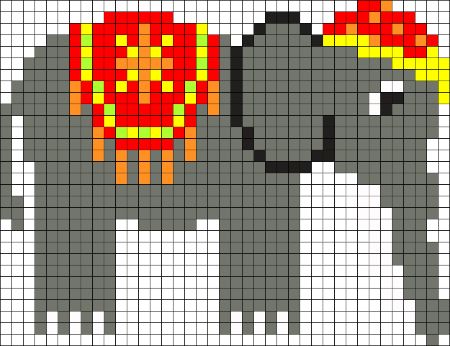 In some parts of the world, like India, many festivities commemorate these gentle giants.
The elephants are adorned with plenty of colorful jewels and luxurious saddle cloths called jhool, like this elephant pattern from Kandi Patterns.
2 Bonus Elephant Patterns
The last two elephant patterns are simply bonuses for those who love cartoons and Disney.
22. Dumbo Portrait Perler Bead Pattern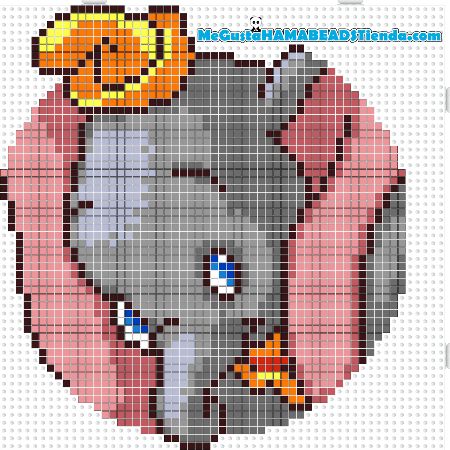 This first one involves a portrait of Disney's most popular elephant, Dumbo.
Me Gusta Hama Beads provides the exact number and colors of the beads you need for this, so it's a stress-free project.
If you're looking for more Disney projects, then head out to our Bluey crafts and Baby Yoda crafts posts.
23. Dumbo Cartoon Melthy Bead Pattern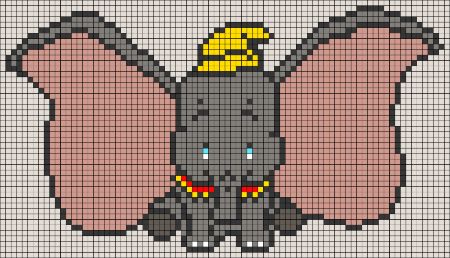 Elephants, in general, are known for their big ears, but Dumbo, in particular, is known to fly using those pink floppy ears.
Salvabrani's design highlights that detail by extending Dumbo's ears to their full capacity.
Let's Put All These Elephants in Your Room
Whether you just want a project to pass the time, you want to help your children's development, or you're looking for a way to bond with your kids, these elephant Perler bead activities will perfectly suit your needs.
Which of these elephant patterns do you like the most? Comment below to let us know!
If your children can't get enough of elephants or other common animals, check out our elephant crafts and easy animals to draw for kids.