I've compiled 19 different goat drawings below for your kids to recreate and improve their drawing skills with.
For your convenience, the list includes different drawing styles (drawing from letters, drawing from numbers, and drawing from shapes), plus two additional categories for younger and older kids.
3 Goat Drawings From Letters
One of the best ways to help kids memorize the letters of the alphabet is by doing entertaining activities that leave a lasting impression, like these goats drawn from letters.
1. Goat Drawing From Lowercase Letter "g"
It takes some high-level creativity to create art from letters, and that's why these kinds of drawings are so impressive.
The Dessiner's channel provides an awesome video tutorial in which they take the lowercase letter "g" and turn it into a simple goat drawing.
2. Simple Goat Drawing From Uppercase Letter "G"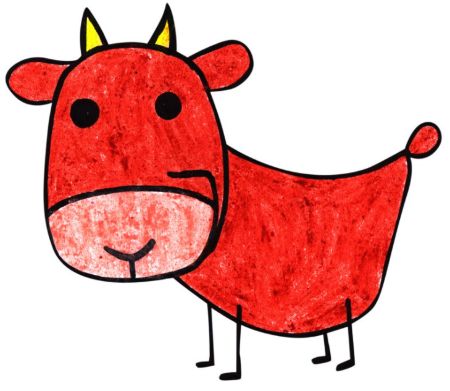 Who said bright red goats can't exist? Children can make their goats as colorful as their imaginations allow.
This goat design from Drawing Tutorials 101 teaches you how to draw a goat from an uppercase letter "G" with step-by-step instructions on their website.
If your children are learning all about the letter G, there are several letter G crafts that you can check out on this site, too!
3. Goat Face Drawing From the Word "Goat"
Drawings that start from entire words are either the easiest or the hardest to draw because you can remember the pattern just as easily as you can forget it.
Fortunately for us, Facedrawer's channel provides us with an accessible and original guide.
They take the word "goat" and creatively transform it into an awesome goat face drawing.
3 Goat Drawings From Numbers
Teach your children how to count and also improve their drawing skills with these goat drawings drawn from numbers.
4. Cartoon Goat Drawing From the Number "3"
The goat's horns are conveniently similar to the curves of the number 3, so this drawing is very easy for beginners to do.
Doodle Art Time colored this simple goat yellow, but you can make it any color you want. Allow your kids to add details to the drawing to make it more beautiful.
5. Goat Face With Easy Step-by-Step Tutorial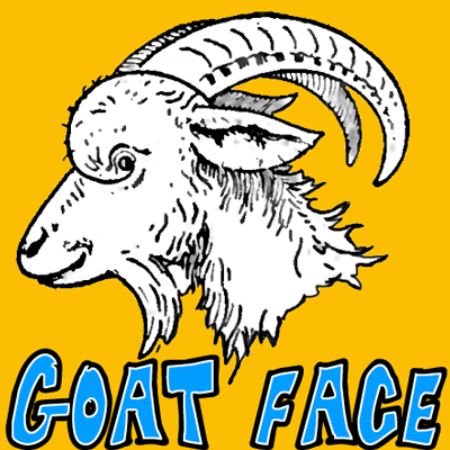 At first glance this goat face drawing might worry you because it looks difficult and like something only more experienced artists could draw.
But don't fret because How To Draw Step By Step Drawing Tutorials shares clear instructions that incorporate different letters and numbers to make this tutorial easier to follow.
6. Cartoon Goat Drawing From the Number "4"
Here's another simple drawing that will keep your kids busy. It's simple enough that even a beginner could try it.
Follow Doodle Art Time's video tutorial to make this goat drawing that's both 2-dimensional and 3-dimensional.
4 Goat Drawings From Shapes
Drawing from shapes allows children to improve visual skills and hand-eye coordination, which are both important for every kid's development.
7. Goat Drawing From Solid Shapes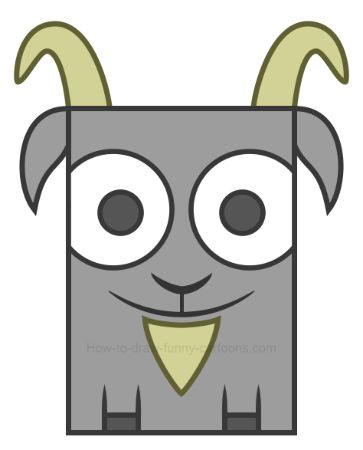 This one looks like it was inspired by one of the toilet paper roll crafts on our site due to its 2-dimensional shape.
This goat drawing from How To Draw Funny Cartoons is perfect for preschoolers because it allows them to get acquainted with different shapes like circles, rectangles, and triangles.
8. How to Draw a Cute Goat With Circles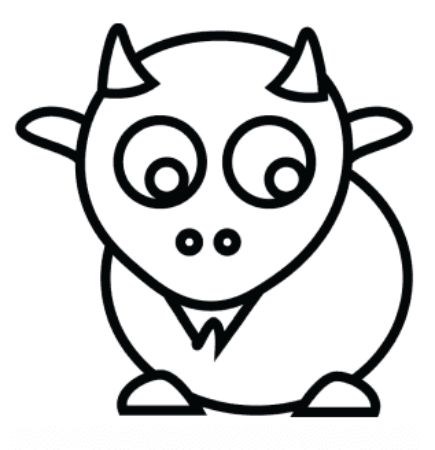 Draw a plump and cuddly goat using this guide from We Draw Animals. Even it's horns look harmless!
Simply give your kids their favorite coloring materials and let their inner creativity run free.
9. How to Draw a Wild Goat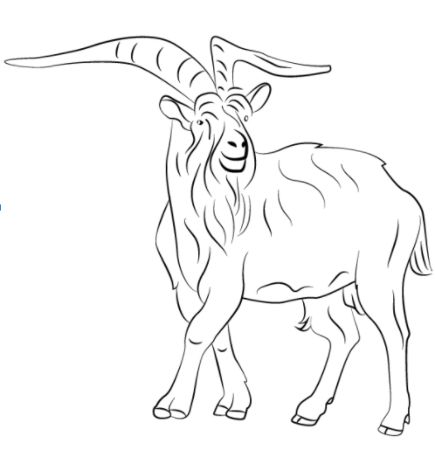 There are countless different species of goats around the world, so explore the varied look of this interesting animal with this drawing from Drawing Tutorials 101.
You can tell this is a wild goat because it's characterized by long black horns and unshorn fur.
10. Simple Rectangular Goat Drawing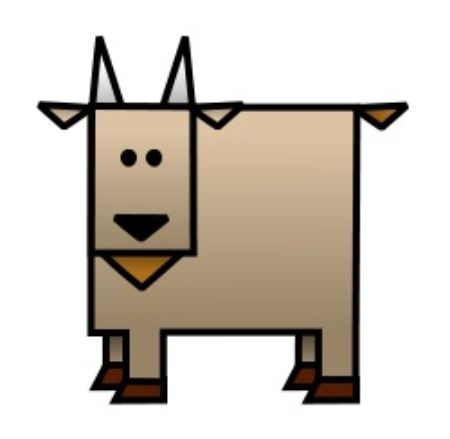 This design from How to Draw Funny Cartoons is an easy goat drawing that will familiarize your children with straight lines and 90 degree angles.
It might be simple, but it goes a long way in helping your children with their fine motor skills.
If you enjoy easy to follow crafts like this, then check out some of these easy Perler bead patterns that you can try with your kids!
4 Cute Goat Drawings
The next 4 designs feature cartoon goat drawings that kids will love trying (or, at the very least, watching you draw).
11. Easy Goat Drawing: Step-by-Step Guide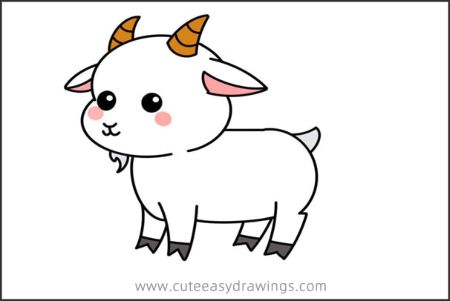 Which kid will be able to resist this cute goat face? It's too adorable!
From its small mouth and to its large head, this very cute goat is reminiscent of chibi-style art, which is perfect for kids because they're easy to draw.
Cute Easy Drawings has a step-by-step guide for your children to follow.
12. Cartoon Goat Drawing
Sometimes, after a long school day, children look forward to watching their favorite cartoon TV show.
If that's the case for your kids, then try recreating this cute cartoon goat drawing from Art For Kids Hub that shouldn't take more than 30 minutes.
My kids in particular love watching Bluey. Check out these Bluey crafts that we had a lot of fun with!
13. Cute Goat Drawing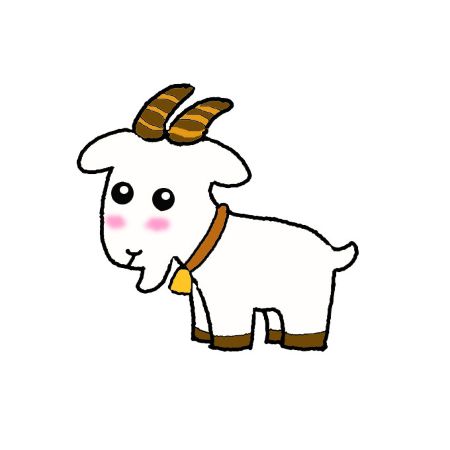 This drawing activity will keep your kids busy for a while.
Drawing Howtos provides a free printable template that can be used as a guideline.
14. Baby Goat Drawing
This baby goat drawing is really simple to draw, as ArtHH demonstrates in their video tutorial.
Get your toddlers involved in more activities by trying some of these toddler painting ideas.
3 "How to Draw a Goat" Tutorials for Beginners
The next 3 drawings are more suitable for older kids who are starting to show an interest in art because the designs involve somewhat precise lines and curves.
Check out our other post if you're interested in easy animals to draw for your toddlers and preschoolers.
15. Goat Drawing Guide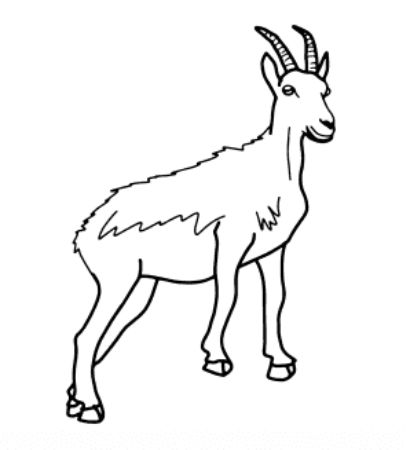 This goat drawing from We Draw Animals is great for someone who has moved past the beginner stage.
Their website contains the individual steps for drawing this goat.
16. Goat Drawing Tutorial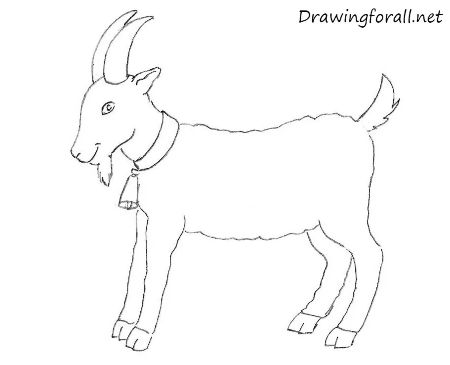 This goat design from Drawing For All depicts a goat with a cowbell, a bell farmers put around the necks of free-roaming livestock to keep track of where they're grazing.
This design looks almost realistic, yet it doesn't involve too many jagged lines or curves that would complicate the goat drawing.
17. Goat Head Drawing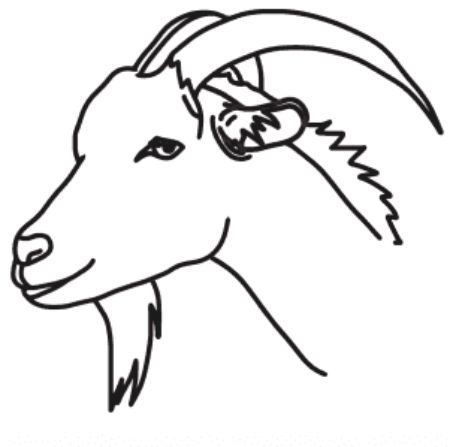 If your kids are working on small details in their art, then they should practice with this goat head drawing from We Draw Animals.
While drawing an animal's body takes time, drawing the head is more complicated because you need to pay attention to the details.
This is a great exercise to work on refining small hand movements.
Do you know what else takes a lot of hand-eye coordination? Origami. Try your "hand" at origami with one of these origami kits for beginners.
2 Bonus Realistic Goat Drawings
These bonus goat drawings are for those who want to take their skill to the next level.
There's no harm in trying, so have fun with these bonus goat drawings!
18. Goat Sketch: Step-by-Step Guide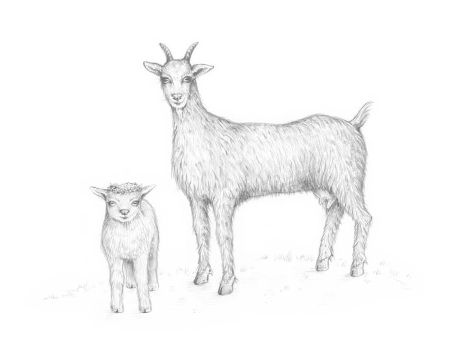 Did you know that the correct term to refer to a mother goat with her baby goat is a "nanny goat and her kid?"
Envato Tuts+ will guide you through the entire process of drawing this realistic depiction of a nanny with her kid.
19. How to Draw a Goat: Traditional Drawing Style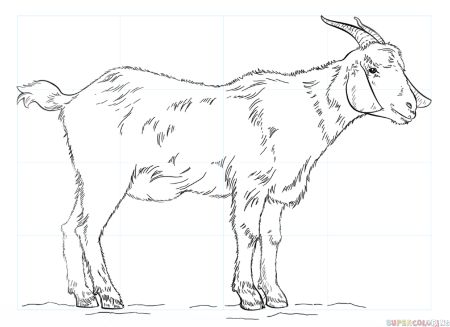 I'm impressed with how artists start with simple shapes that act as guidelines and finish with something like what we see in the picture above.
Super Coloring started with oval guidelines and worked with those to create the detailed head and body of this magnificent goat.
I'm sure your kids will also be able to create this wonderful goat sketch by following the instructions on Super Coloring's site.
G.O.A.T. Goat Designs
There's a variety of goat drawings for you and your children to choose from, ranging from goats drawn from simple shapes to more realistic drawings.
Check out these other animal drawing posts for more ideas: