Perler beads is a great activity to spend some time with your little ones, and these 15 heart Perler bead patterns are a great a way of showing your love for each other. Replicate these for Valentine's Day or to simply sneak in an hour or two of quality time together.
But if you aren't familiar with Perler beads, you should first check out our post that shares some easy Perler bead patterns and a tutorial to help you get started. Not that this is a complicated activity to do!
And parents, just because this is a kid's craft site doesn't mean you can't have a little fun with these on your own.
Materials Needed:
6 Simple Heart Perler Bead Patterns for Beginners
These first six simple Perler bead patterns are more suitable for beginners and kids who might have trouble with complex patterns.
1. Undertale Hearts Perler Bead Pattern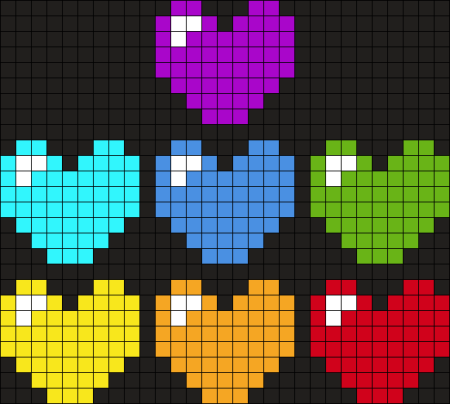 Check out these simple pixelated heart patterns from the popular game, Undertale, a 2-D role-playing game where the player controls a child who explores towns and caves and solves puzzles along the way to reach their objectives.
This simple heart pattern from Kandi Patterns will be a great starting point for any beginner.
2. 8-Bit Minecraft Hearts Pattern (and Necklace)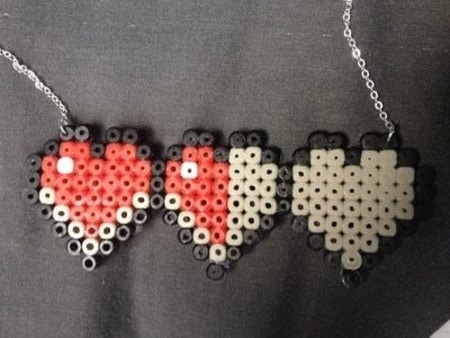 People who love to play sandbox games (where they're free to roam and create worlds) have surely played the extremely popular game Minecraft, the epitome of sandbox games. If your kids are fans of Minecraft, try making this hearts Perler bead pattern with them.
Cut Out And Keep has provided a step-by-step tutorial on how to transform it into a necklace, too!
Since Perler beads and Minecraft are a match made in heaven, we've compiled a list of some of the best Minecraft Perler bead patterns.
3. Black Angel Heart Perler Bead Pattern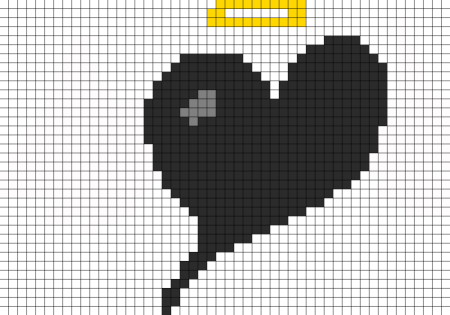 This heart pattern from NicePNG is pretty straightforward. And even though the pattern is depicted using black melty beads, you can change the black color to one that's more appealing to you. That's the beauty of this craft!
4. 3-Color Perler Heart Patterns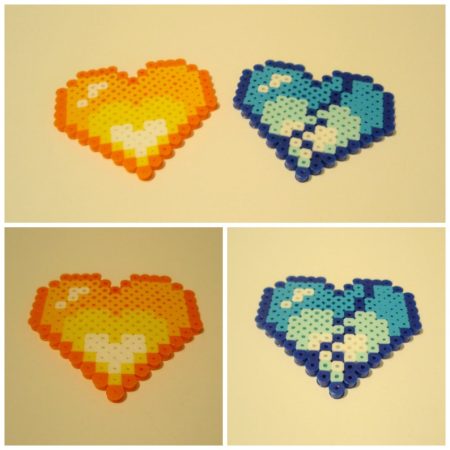 Free Bead Pattern gives us two simple designs for creating a heart Perler bead that only uses three colors. Use the same colors they do, or choose three of your favorite colors.
5. Simple Big Heart Pattern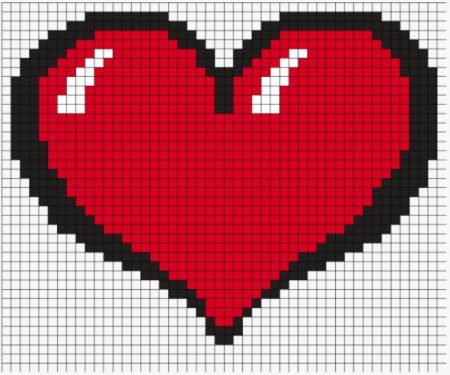 I hope you have plenty of red Perler beads at your disposal, because this bad boy from KindPNG is going to use A LOT of them. A craft this size is bound to help develop your children's number and counting skills. Not only that, it'll also help them practice dexterity, creating a stronger connection between their brain and small fingers.
Challenge their creativity by incorporating different Perler bead colors as well. You'll be surprised by the results of your child's effort!
6. Winged Heart Perler Bead Pattern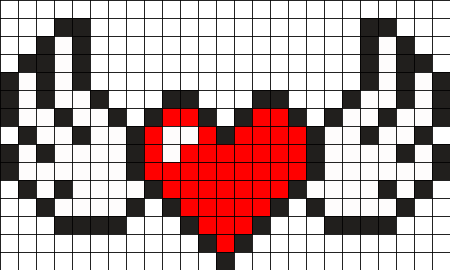 Here's an idea: add wings to your heart, like this idea for a pattern by PNGKey. Let your children's imagination "fly high" by letting them choose the colors of the heart and wings.
Explore more winged creates with these amazing owl crafts!
3 Rainbow Heart Perler Beads Patterns
Rainbows and hearts simply go hand in hand, so, I've listed three rainbow heart Perler beads for you to enjoy.
For other colorful activities you can do with your kids, we've compiled a list of these neat rainbow crafts just for you.
7. Cool Rainbow Heart Perler Beads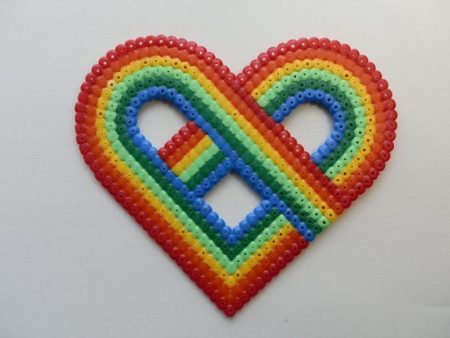 Kids love to experiment with their surroundings, and we should encourage them to do so because it's critical for the development of their analytical skills. Try to recreate this cool rainbow heart Perler bead pattern to help them explore this important skill.
I strongly recommend using a heart-shaped pegboard for this one.
8. Magical Unicorn Rainbow Heart Pattern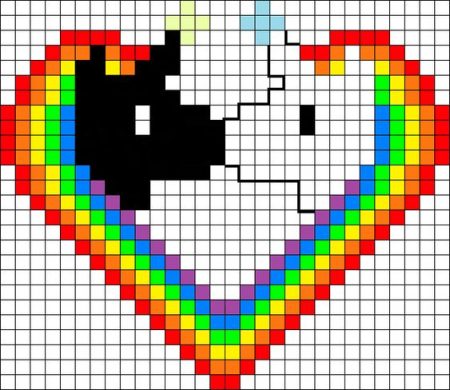 The best thing about Perler beads is that they're pretty intuitive to work with. Considering they're similar to pixels, even the most complicated patterns are intelligible images on a pegboard.
Just like this unicorn and heart pattern found on Pinterest.
9. Rainbow Heart Pattern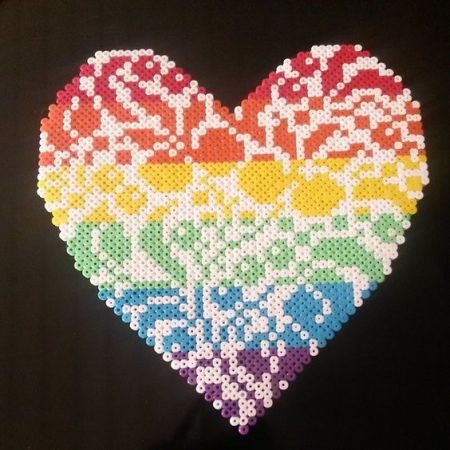 For those who want to take their Perler bead activities to the next level, I present you with this wonderful rainbow pattern found on Pinterest.
There are many ways to proceed with this. You can start putting the beads of the rainbow, and replace beads with white ones to create that mesmerizing pattern. Or, you can start with the pattern and finish the craft by filling up the rainbow colors. It's up to you!
Whichever way you approach it, you'll be spending some time making this one.
5 Sophisticated Perler Heart Patterns
10. Pizza Heart Perler Bead Pattern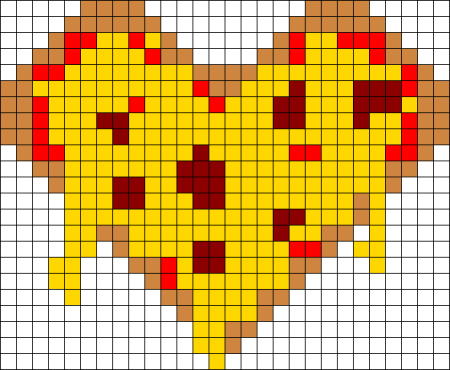 If I had to choose only one Perler bead craft on the list, I would create this one from Clip Art Max. "Why?" you might ask.
Well, why not? It's a pizza in the shape of a heart. What further explanation is needed?
There's no better way to prove your undying love for pizza than creating this Perler bead pattern. Don't blame me if you decide to order pizza for dinner tonight.
11. Another Winged Heart Perler Bead Pattern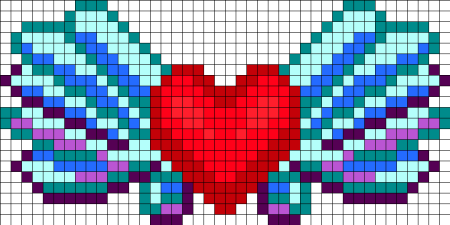 Here's an alternative to the winged heart pattern above from Kandi Patterns that allows for more personalization. Try adding different colors to the wings or change the color of the heart.
Word association is another important skill to develop literacy, so try these letter H crafts with your little ones today.
12. Spiraling Heart Perler Bead Pattern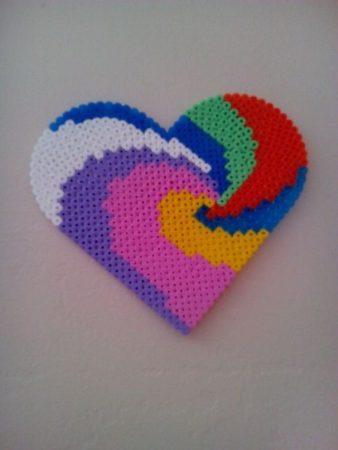 The concept of a spiraling heart pattern is absolutely mind-blowing. Even though there's no printable template to follow here, it will become fairly simple to recreate using a heart-shaped pegboard.
13. Perler Bead Heart Trinket Box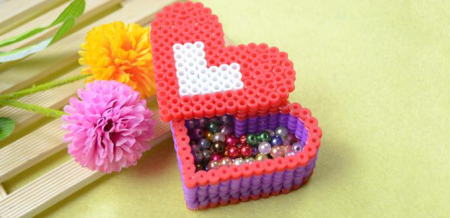 Now, if you're looking for a Valentine's gift that's affordable and handmade, then you shouldn't miss out on this trinket box from Fashion Beads And Accessories that can be used as a coin holder, key holder, or jewelry box.
Rest assured that your loved ones will find this gift very thoughtful. Who knew simple beads could turn into a precious keepsake?
For other DIY crafts, you should also check out our post on homemade instruments that will provide hours of entertainment for the whole family.
14. Perler Bead Rainbow Cosmic Heart Pattern
This video tutorial from Destination Creativity's channel includes two amazing heart patterns: a rainbow tie dye and a cosmic heart pattern.
If the video tutorial is too fast to keep up with, hit pause or slow the playback speed to 0.25x or 0.5x speed.
Tie dye is a surprisingly fun activity, so head on over to our guide to learn how to tie dye a shirt!
Spreading Love to the World, One Craft at a Time
The Perler bead fun doesn't stop here. We've got plenty more lists of some of the best patterns you can find online!
Check them out below: