Toy Story became an instant classic kid's film when it first came out in 1995. With such a diverse and unique cast of entertaining characters, it's no surprise that kids (and adults alike) love the franchise.
One important thing we've learned from the films is that you don't have to spend a lot of money to entertain your children.
We see this most clearly in Toy Story 4, where Bonnie's sentimental attachment for Forky, a DIY toy made with a plastic fork and other craft materials, moves the plot forward.
For that reason, I've compiled a list of DIY Toy Story crafts that your kids will love as much as Bonnie loves Forky!
10 Toy Story Craft Ideas
1. Hamm & Little Green Man Paper Bag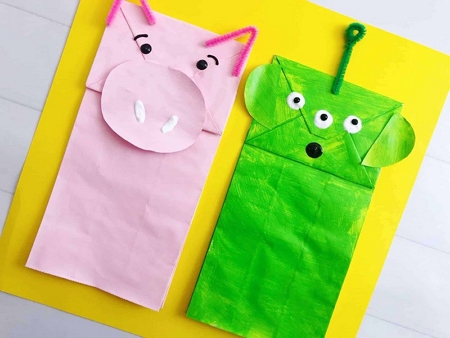 Toys will inevitably involve some sort of role-playing among kids. That's why The Inspiration Edit has made these awesome Hamm and Little Green Man paper bag puppets.
You'll need the appropriate paint to color your paper bags (either tempera or acrylic), as well as pipe cleaners for the finishing touches. Head to their website for full instructions.
Since paper bag puppets are awesome, we've decided to also compile a list of these crafts just for you!
2. Slinky Paper Ring Craft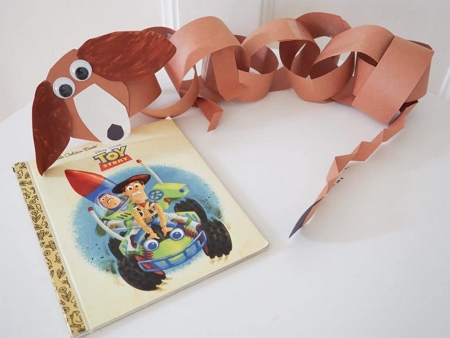 Here's a creative and fun way to recreate our favorite toy dog, Slinky!
The Chirping Moms takes a proven and tested craft, paper rings, to bring loads of excitement to your children's day!
And let's not forget to mention the time and effort that will go into developing their crafting abilities.
3. Buzz Lightyear Paper Craft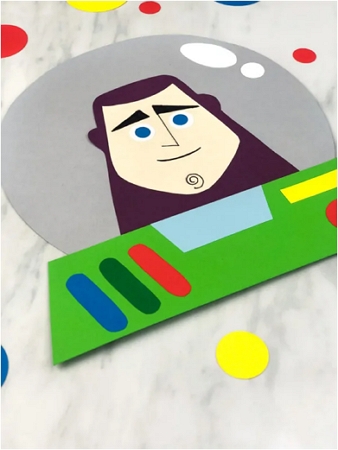 You could say that Buzz Lightyear, alongside Woody, is the face of the Toy Story franchise.
So it's not surprising I've included this easy paper craft from Simple Everyday Mom that will keep your little ones busy.
Make this craft in preparation for Buzz Lightyear's own feature film that's planned to premiere in 2022!
4. Toy Story Bookmarks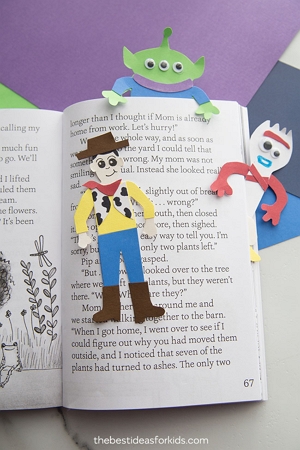 Have your preschoolers mastered the letters of the alphabet and are ready to move on to more complex reading materials?
Well, don't miss out on these amazing Toy Story-inspired bookmarks created by The Best Ideas For Kids.
This tutorial features Woody along with two cute side characters, a Little Green Man and Forky, the latter of whom was featured heavily in the latest movie in the franchise, Toy Story 4.
5. Alien Handprint Paper Craft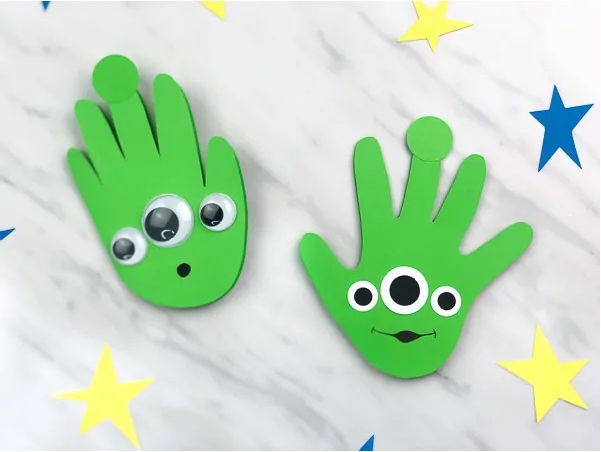 I love seeing interactive crafts like this alien handprint from Simple Everyday Mom.
Activities such as these can stimulate your children's imagination and better develop their sensory experiences because it's a craft that's new to them.
Plus, it will make for a decent keepsake and remind them of how much they've grown when they pull this out of their toy box years later.
Try similar crafts like this one by checking out this post on turkey handprint crafts.
6. DIY Forky from Toy Story 4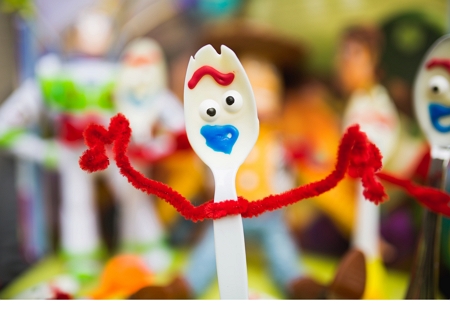 Toy Story 4 reminds us that toys don't need to be expensive, or even beautiful, for children to get emotionally attached.
When they create DIY toys, it gives them a sense of accomplishment and makes the toy even more valuable.
Magic For Miles takes that idea a step further and transforms Forky into a white chocolate-covered toy!
While DIY crafts made with homemade materials are amazing, there's also nothing wrong if you purchase a Forky crafting kit, which includes all the materials you need to make Forky!
7. Toilet Paper Forky Craft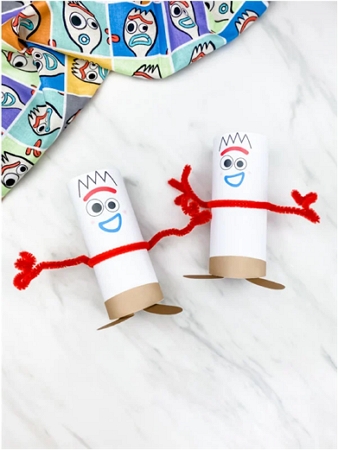 Toilet paper roll crafts are ubiquitous because they're easy to make and are convenient to transform into your kids' next favorite toy (while also being friendly to the environment).
You're hitting multiple birds with one stone when you make crafts such as this one by Simple Everyday Mom.
8. Ducky And Bunny Paper Plate Craft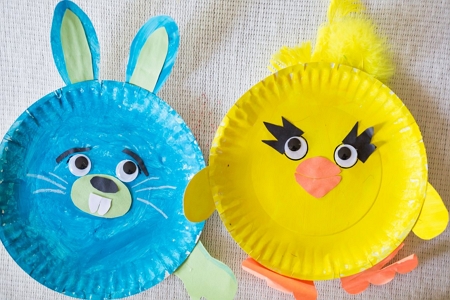 Ducky and Bunny are both an extremely funny addition to the Toy Story cast, especially when you learn that these two carnival toys are voiced by the comedic geniuses, Key and Peele.
For those who have been captured by the silliness of this pair, Magic For Miles has provided you with an awesome paper plate craft.
All the materials and instructions are detailed on their website.
9. Alien Headband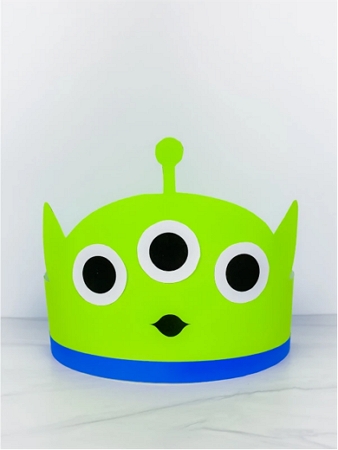 Planning a Disney-themed birthday party and want to make DIY headbands?
Well, choose this very cute alien headband from Simple Everyday Mom that your kids will be proud to wear to the party.
10. DIY Disney Jessie Ears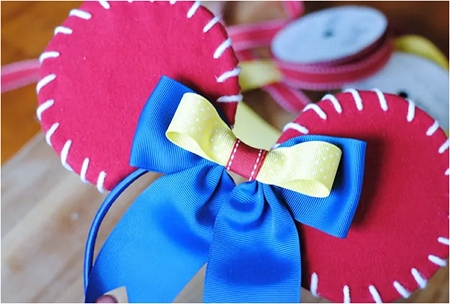 For a more complex headband for your daughters and nieces who love Toy Story's favorite cowgirl, try making these DIY Disney Jessie ears that One She Two She kindly shares.
They have an amazingly comprehensive tutorial that will guide you through the entire process of making them.
If you're interested in making other Mickey ears, check out our step-by-step guide on how to make your very own DIY Mickey ears.
7 Toy Story Art Projects
11. Mr. & Mrs. Potato Head Footprint Art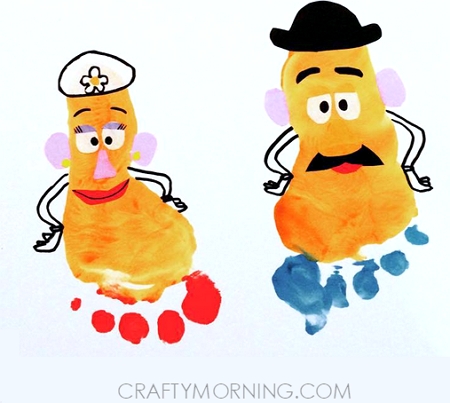 While footprint arts aren't a new idea, Crafty Morning somehow manages to keep this classic kids craft refreshing and aesthetically pleasing.
Simply dip your little one's feet in paint and let them add Mr. and Mrs. Potato Head details with colored markers.
If you'd rather play with the real thing, check out this Mr. and Mrs. Potato Head toy kit that's customizable according to your kid's preference and imagination.
12. Incredible Slinky Toy Craft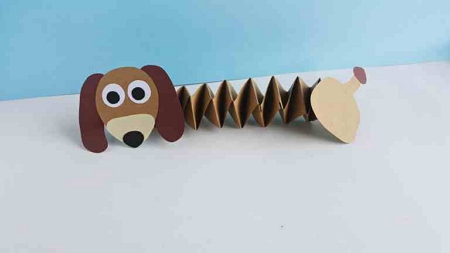 Take your crafts to the next level with this incredible Slinky craft shared by Seasonal Memories that's made from construction paper and paper bags.
They also include a free printable template!
13. Another Amazing Slinky Craft
How do you make a DIY Toy Story craft that's faithful to the movie? Kids Activities Blog knows how.
They creatively attached some curled pipe cleaners to both ends of Slinky's body that acts as his coil, just like in the movies.
14. Toy Story Characters Cute Perler Beads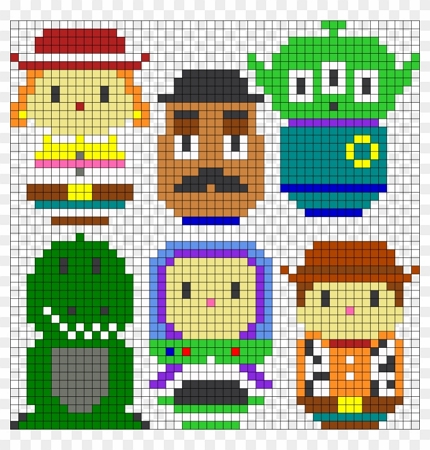 Preschoolers will be amazed by how easy it is to make these cute Toy Story Perler Bead patterns from PikPNG.
Make memorable characters such as Woody, Buzz Lightyear, and Jessie, as well as supporting characters like Rex and Mr. Potato Head.
These Perler bead designs are inspired by the super adorable Tsum Tsum toys children love so much.
Looking for more fuse bead designs? Check out these other easy Perler bead patterns to learn how to have fun with melty beads.
15. Mr. & Mrs. Potato Head Felt Craft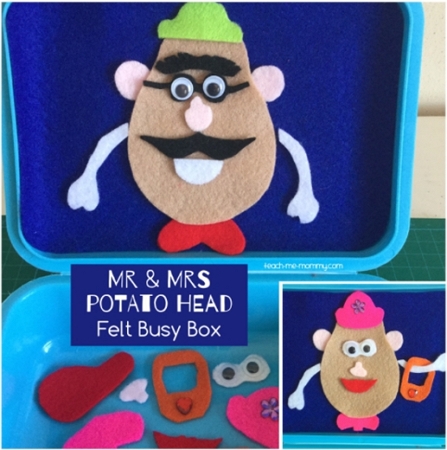 If you've got some extra felt from previous crafts lying around, then try following Teach Me Mommy's guide on how to make this interactive Mr. and Mrs. Potato Head busy box.
For more interactive activities to keep little hands busy, try these Thanksgiving sensory bins and winter sensory bins.
16. Little Green Men Rock Painting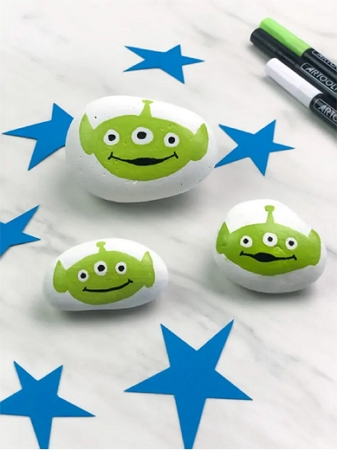 Rock painting is an exciting activity that can improve your children's creativity and hand-eye coordination.
Simple Everyday Mom draws these cute Little Green Men on some rocks that you can place in your garden or your children's rooms.
And while you're at it, try these other rock painting ideas for kids!
17. Toy Story Themed No-Carve Pumpkin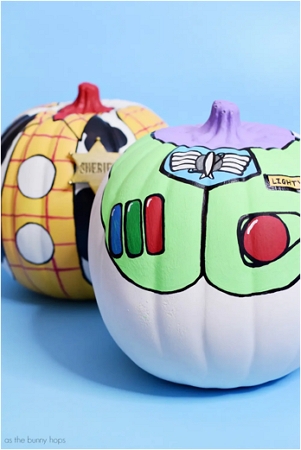 No-carve pumpkins can be one of the most aesthetically pleasing crafts that you can make, especially during the fall season.
They also have the added bonus of being super safe, so what are you waiting for? Try creating these Toy Story-inspired pumpkins designed by As The Bunny Hops.
Are you craving new activities to make during the fall season? Try out these paper mache pumpkin ideas that will astonish both you and your kids!
6 Unique Toy Story Crafts for Kids
18. Alien DIY Slime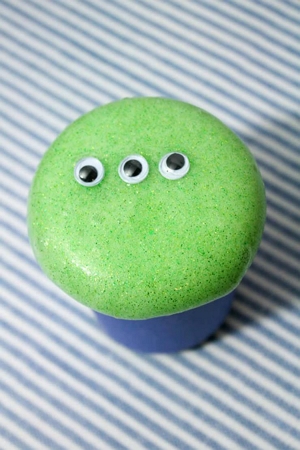 Children love exploring new things and activities because it stimulates their imagination.
They also love playing with toys that have an exciting tactile sensory experience such as slime because it's gooey and soft, but firm at the same time.
Give kids a new sensory experience by making this DIY Alien slime shared by Kimspired DIY.
19. Little Green Men Cake Pops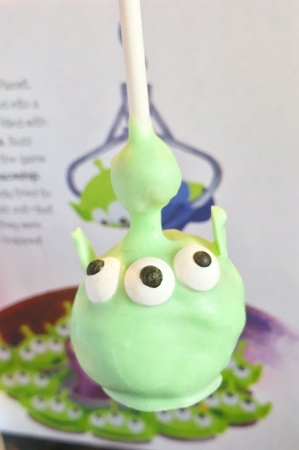 When you're the one who's organizing a Disney-themed party for your children and their classmates, you'll need the help of A Magical Kingdom Called Home's ideas.
A bunch of sugar-craving children will be delighted to know that there's Little Green Men cake pops to eat at the party!
20. Alien Jello Cups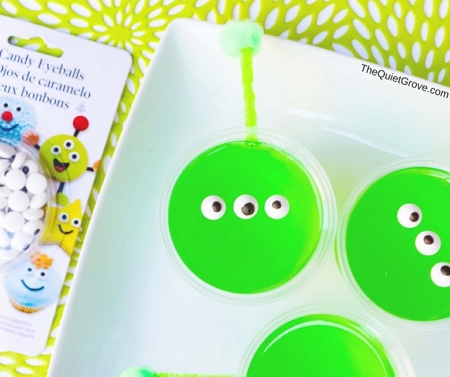 Whether it's for a party or a simple everyday jello snack for your children, The Quiet Grove has you covered with an amazing recipe for Toy Story-inspired jello cups.
You can even entrust your children with simple tasks when making the jello, like gluing the decorative pipe cleaners and pompoms to each cup.
21. Mr. & Mrs. Potato Head Cookies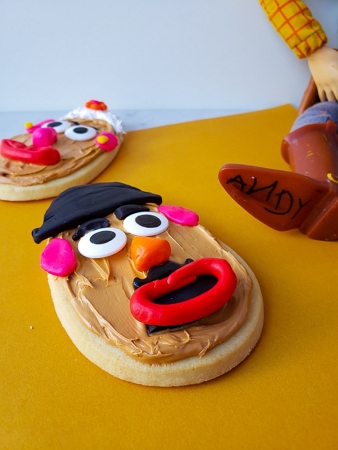 While Mr. and Mrs. Potato Head are, well, toy potatoes, that didn't stop Mommy Made That fr0m making these delicious cookie treats.
Make sure to follow their recipe and instructions to make every part of these cookies edible.
22. Toy Story Inspired Disney Ornaments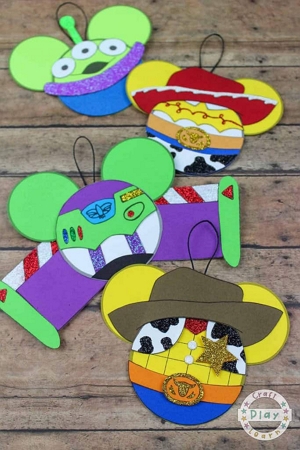 Replace those old ornaments with a refreshing addition to decorate the Christmas tree this year by making these amazing Disney ornaments with a Toy Story design by Craft, Play, Learn.
They even provide a free printable template for the Buzz Lightyear ornament.
23. DIY Woody Popcorn Box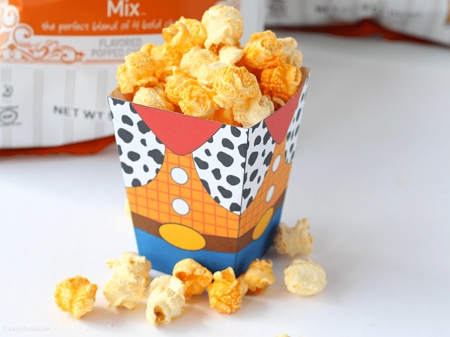 Raising Whasians knew exactly how to create the perfect atmosphere for binge-watching all of the Toy Story movies.
You'll feel like you're part of the Toy Story universe when you're eating your snacks from this DIY Woody-inspired popcorn box.
To These Toy Story Crafts… And Beyond!
I hope that your children have gotten their Toy Story fix with these 23 Toy Story craft ideas.
Let me know what other crafts you'd like to see next in the comment section below!
Are you looking for other enjoyable crafts to make? Check out these Harry Potter crafts and Baby Yoda crafts, too.