These flower doodles that can be done in under ten minutes will save the day when you're on hold or when that weekly Zoom meeting becomes too boring to bear. While they're quick to draw, these flowers are pretty enough to deserve a spot in your bullet journal, too.
The 16 guides on this list will teach anyone how to doodle flowers, so let's get started!
7 Beginner-Friendly Flower Doodle Guides
Select one of these nine flower doodle guides to easily liven up your bullet journaling when taking a 5-10 minute break. Most of them consist of a stem and a bunch of petals, which are surprisingly easy to replicate!
Looking for kid-friendly drawing ideas instead? Check out our compilation of easy animals to draw for kids to get started.
1. Simple Daisy Doodle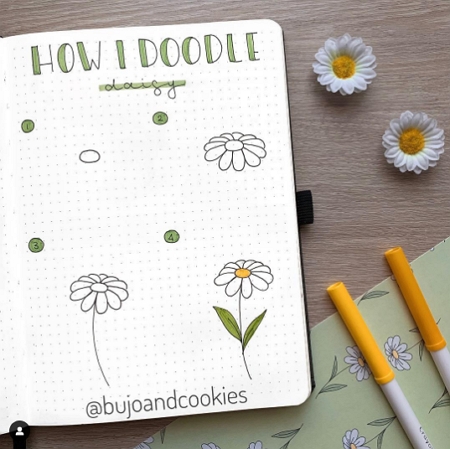 Everyone knows what a daisy looks like, but less artistically inclined people (like me) shouldn't hesitate to seek help on how to draw such a simple flower.
bujoandcookies is here to teach us how to draw a a simple daisy doodle. While the daisy looks plain, those looking to fill the white spaces in their journal will surely welcome the addition of this flower.
2. How to Doodle a Simple Rose (and Other Simple Flower Doodles)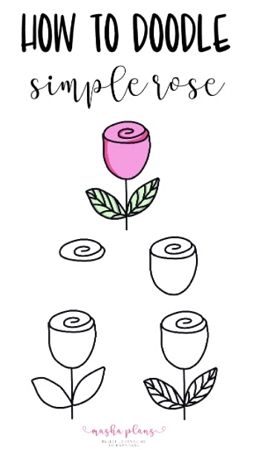 Masha Plans does an incredible job of sharing a wide variety of simple flower doodles to decorate any bullet journal, all of which should only take 5 minutes.
Scroll through her various guides to learn how to easily doodle a rose (#4 on the linked page), a vine with berries (#12 on the linked page), and even just a simple flower (#14 on the linked page).
3. Easy Dandelion Flower Doodle
Dandelions seem intimidating to draw because of all the small flowers that make up the dandelion head. Don't worry, though, because Yogini Patil shares a video tutorial that will comfort anyone who might be afraid to draw a dandelion on their own.
The quick video tutorial blows us away with how easy it is to draw the dandelion seed head! This flower doodle will be satisfying to look at once complete.
4. Assorted Flower Doodles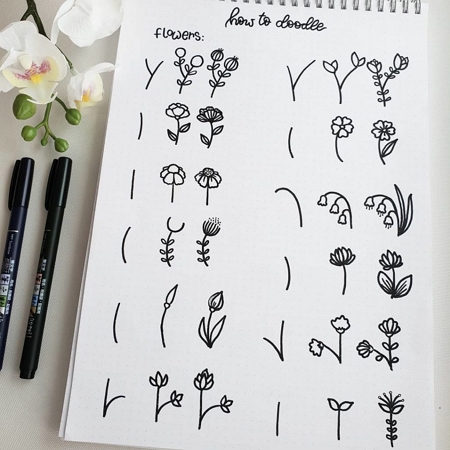 Splendid Scribbles did a wonderful job making assorted flower doodle guides with three simple steps. I count 12 varieties of unique flowers that will elevate the decoration of any journal.
5. How To Draw Assorted Plants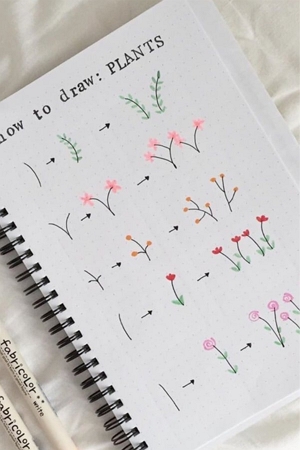 Intoku presents a variety of plant doodles that consists of a stem and colored markings that complete it as a flower. They essentially give us a template on how to make very simple flowers, so try experimenting with the colors you love.
I'd suggest considering how many stems branch out, how many leaves it contains, the pattern of the petals. This can personalize your journal in a way that you can proudly claim as your own.
6. Inspiring Floral Doodles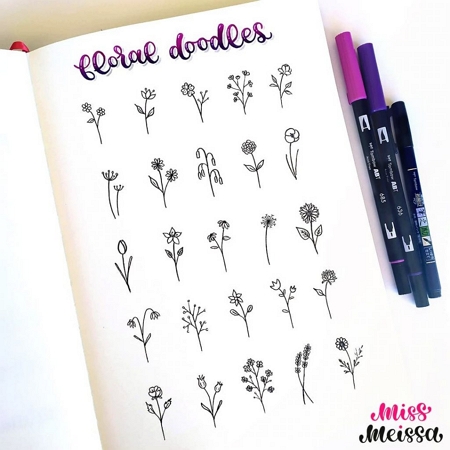 Miss.meissa inspires us with a selection of gorgeous floral doodles. This one demonstrates how elaborate and tidy a journal looks with simple doodles that can be drawn in under five minutes.
If at first you feel insecure drawing directly on the journal, consider practicing on a separate piece of paper, making a type of blueprint that can be carefully copied where you need it.
7. Anemone Doodle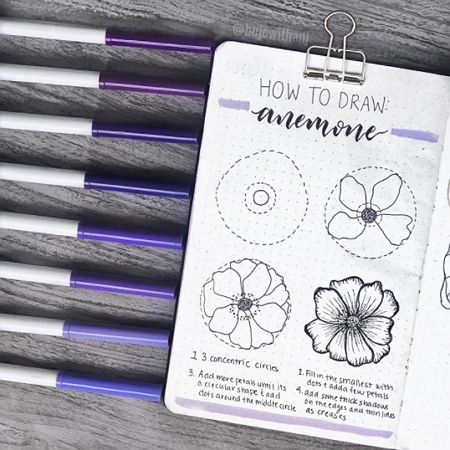 Bujowithanj teaches us how to draw an anemone flower, which is a pretty flower species that is often mistaken for the sea anemone. To make it less confusing, the anemone flower is also known as windflower, which comes in different colors, giving bullet journal enthusiasts more freedom with their design.
9 Cute Flower Doodles
These 9 doodles will teach how to make stunning flowers with relative ease. While some of these flowers might be recognizable and other types not so familiar, they're all just as pretty as the next.
And while you're at it, why not add a little more detail to your doodles by learning how to draw a hummingbird? 
8. Step-by-Step Doodles of Mixed Flowers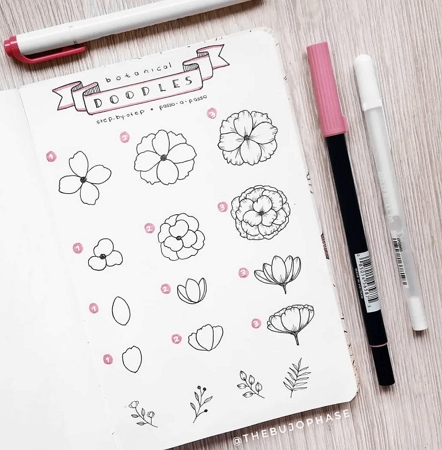 It's amazing how a few lines add incredible detail and depth to flower doodles, as The Bujo Phase demonstrates with their floral samples.
Simply take a look at the second column of flowers. With the careful addition of lines, the flower becomes something that's worthy of being included in your journal.
9. How to Draw a Plumeria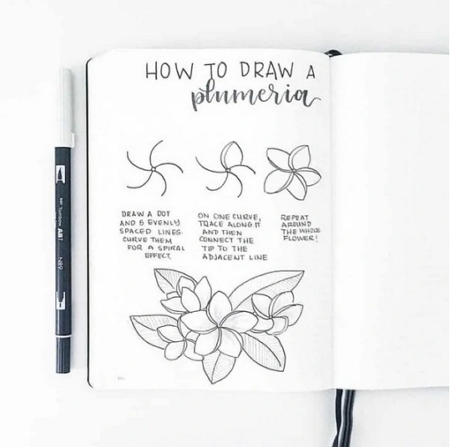 The shape of the plumeria is one of the most pleasing to look at, and Bonjournal  shares a drawing tutorial of this unique plant along with some tips and tricks to help you at every step.
10. Sakura Flower Doodle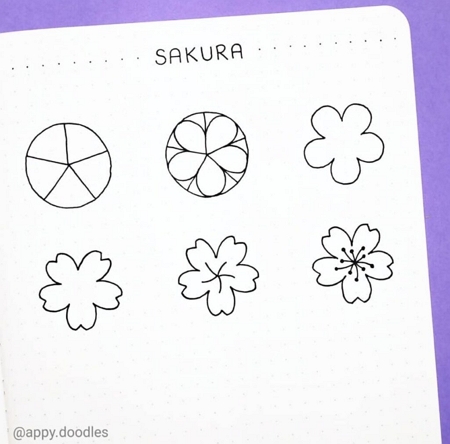 There's no better way to make the winter days shorter than by drawing these hopeful sakura blossoms made by Appy Doodles. Learn how to use the shape of a circle to draw this flower. One doodle trick is to first sketch it with a pencil and later trace it with a fine-tip pen!
11. How to Draw Pretty Flower Petals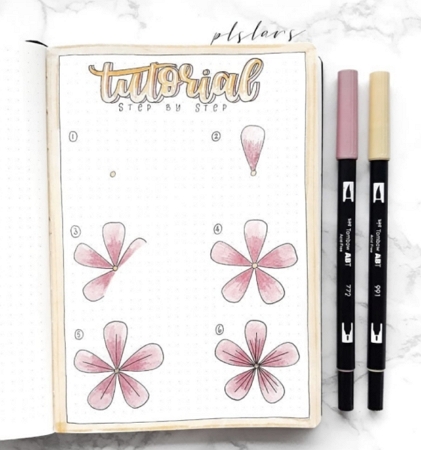 Plslars plays around with different shades of pink with their flower doodle, which may come in handy when you start exploring your flower doodle game more.
Try mixing and matching the shape of the petal, the color, and maybe even attaching it to a stem. The limit does not exist!
12. Step-by-Step Rosebud Doodle Tutorial (and Other Helpful Doodle Tips)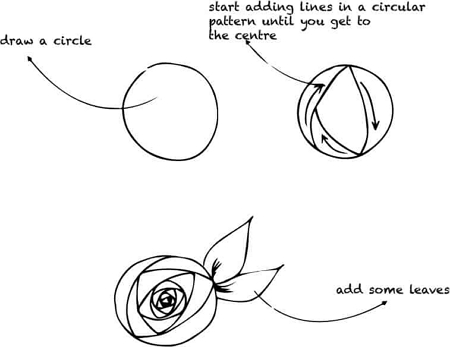 The rose is the type of flower that will never be excluded from a journal with a floral theme, so here's Artful Haven's version on how to make a more artistic rosebud with leaves.
Just like with other seemingly complicated flowers, the rose might look intricate, but it's actually quite simple to draw. And once you know the basics, the possibilities are endless.
13. Rose with a Stem (and More Flower Doodle Ideas)

The Petite Planner show us how to draw a rose and stem with their step-by-step design (scroll down to #4 on the linked page).
They also share a plethora of other flower doodles for you to try, so check out their page for more inspiration!
14. Step-By-Step Gladiolus Drawing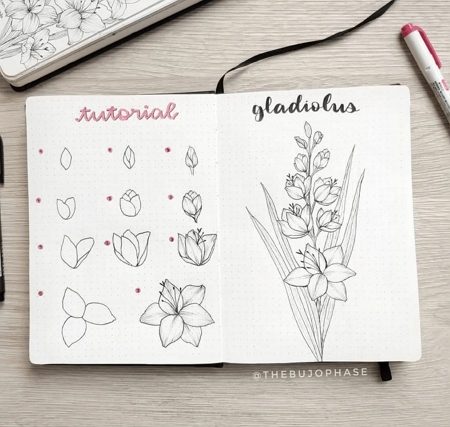 The gladiolus is another flower that is not well-known but looks really stunning. Also known as "the sword lily," this flower will be a welcome addition to your bullet journal.
The Bujo Phase guides you at every step of the stage to making this intricate floral doodle.
15. Minimalist Doodles for Your Bullet Journal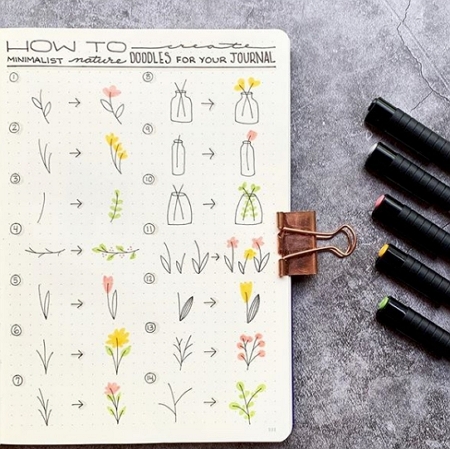 If you're less artistically inclined but are looking for more variety nonetheless, Plans That Blossom shares exactly that with their 14 different minimalistic doodle guides.
16. Flower Wreath Doodle Ideas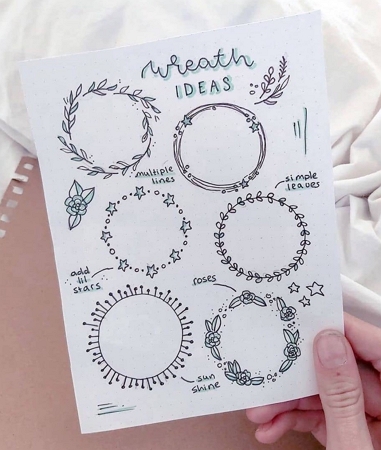 Handletteringspiration shares a few samples of flower wreaths (and other wreaths) to fill your bullet journal with. These are perfect to cover the white space that's attracting too much attention in your journal.
Blooming Flower Doodles for All Skill Levels
I hope you enjoyed scrolling through these flower doodle guides as much as you did giving them a try. Drawing doesn't always have to be perfect, and that's why we appreciate a good doodle.
If you're someone who enjoys a good DIY project and crafting as a hobby, these might interest you (and even your kids):