Making snowmen with real snow is a wonderful activity for kids and a great tactile sensory experience for their development. But let's face it – sometimes it might be too cold to make snowmen outside, both for the kids and parents.
Those days with absolutely freezing temperatures require activities that can easily be made indoors, so what better way to keep the winter spirit alive than by making snowmen crafts?
Here's a compilation of 29 snowmen crafts that kids can make within the comfort of their warm home!
15 Easy Snowman Crafts for Toddlers and Preschoolers
The first 15 snowmen crafts include projects that are super easy to do, even for toddlers and preschoolers, and are made with very accessible materials, most of which are available at home.
1. Cotton Ball Snowman Craft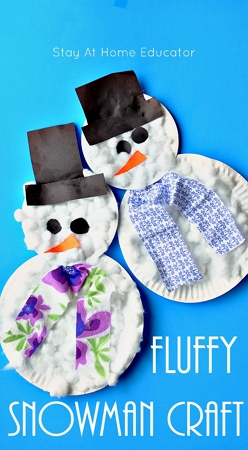 One of the most enjoyable moments that kids experience while making snowmen outside is the feel of snow. Stay At Home Educator tries to replicate that, but with a much softer texture using cotton balls.
2. Paper Strips Snowman Craft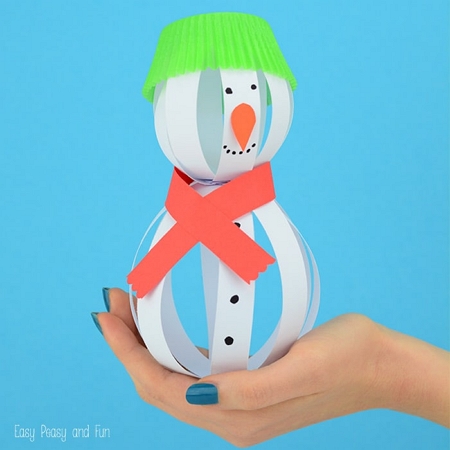 Easy, Peasy, and Fun shares a simple snowman craft made of paper strips. With just a few resources, kids will get their own paper snowman toy or decoration. The paper strips also make the snowman bouncy, which I'm sure kids will enjoy.
3. Paper Snowman: Accordion-Style
Here's the ultimate snowman paper craft from Julia DIY's channel to help develop children's fine motor skills because it involves a lot of folding. It consists of folding paper in an accordion pattern, which creates a mesmerizing visual effect.
After making the base, they demonstrate how to add accessories to make this snowman even more appealing.
4. Toilet Paper Roll Snowmen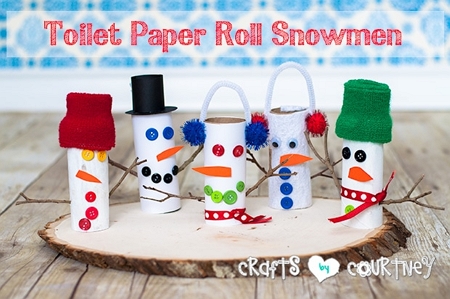 Crafts By Courtney brings the entire crew of snowmen with their toilet paper roll snowmen guide. I love how they make and add different accessories, which creates a unique personality for each snowman!
At this point, the sky is the limit when it comes to additions the kids can put on their creations, but definitely check out the tutorial webpage for ideas and tips.
Apart from this project, you should also start collecting more empty rolls for these other toilet paper roll crafts for kids!
5. Paper Snowman Craft for Younger Kids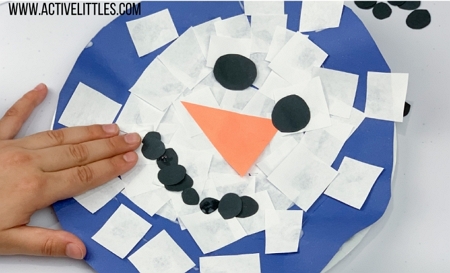 Active Littles shares an activity for younger kids who are still at the early stages of their development that consists of gluing foam sheets to a paper plate.
It's a very simple project. Plus, the use of foam sheets makes it safe and easy for toddlers.
6. 3D Paper Snowman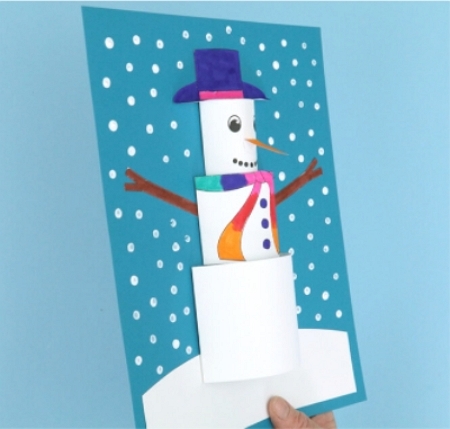 If you're looking to give little ones a sense of accomplishment, The Craft Train has got you covered with this 3D paper snowman. The visual effect is incredible and can easily impress kids, sort of like a pop-up greeting card!
This craft can be hung on the wall to give kids a sense of accomplishment every time they see it.
7. Paper Bag Snowman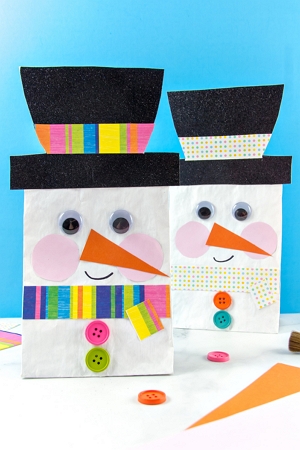 Bring snowmen to life through pretend play with a paper bag snowman craft. While they can act as puppets, Kids Activities Blog has designed this craft to serve as a bag to carry candies and other small objects.
Once again, crafts like these enhances children's creativity, so encourage them to make it as personalized as possible.
Check out these other paper bag puppets crafts!
8. Another Paper Snowman Craft
Here's a snowman craft from KROKOTAK made entirely of paper. I'm amazed how they were able to use a single sheet of paper to create a snowman that can stand on its own!
Its accessories are also made of cut paper, making it quite an accessible activity for everyone. It's a great craft that takes less than 15 minutes.
9. Shredded Paper Snowman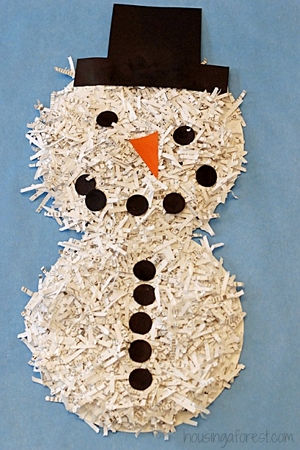 Got plenty of paper to shred? Not a problem. Repurposed those old documents into this snowman craft by Housing A Forest.
Prepare for a big wave of tactile sensory experience since the shredded paper has a fluffy texture when touched, and it will become sticky when glued.
10. Melting Snowman Made with Bottle Caps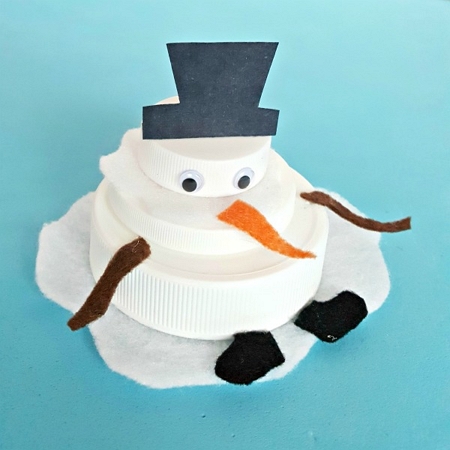 Here's an innovative craft shared by Preschool Toolkit. It's a snowman that's made of bottle caps that are increasing in size, creating an amazing effect that finishes with a white felt puddle.
They show that with a little bit of creativity, kids are able to make incredible things with just the resources available. This craft is best made in that period between winter and spring to recreate the snow outside that's starting to melt.
Just like this snowman craft, these ice cream crafts won't melt anytime soon.
11. Laminated Snowman Bookmarks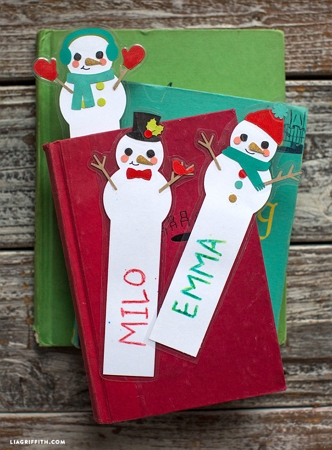 Lia Griffith encourages children to read more by creating their very own snowman bookmark.
To ensure that these paper snowmen don't "melt" and last longer, she suggests laminating the paper snowman after the decoration has been added, or simply making it out of more durable cardstock.
12. DIY Snowman Corner Bookmark
Check out this video tutorial of another snowman bookmark from Bookmark's channel. Since it's a corner bookmark, this edition involves a lot of folding, which can be enjoyable and educational for kids.
Don't worry about the corner of books being damaged because the design ensures that it won't get dog-eared.
13. Popsicle Stick Snowman
TheFuzzyDragon1's channel shares a lovely snowman decoration. With only a few materials, they were able to turn plain popsicle sticks into a wonderful companion that kids can hang beside their bed.
It's an easy painting activity for kids, consisting only of black and white colors, while the rest is just gluing the accessories to popsicle sticks. The video tutorial also demonstrates how to attach the thread so it can be hung anywhere.
Those extra popsicle sticks will come in handy when making these popsicle stick crafts!
14. Cute Cotton Ball Craft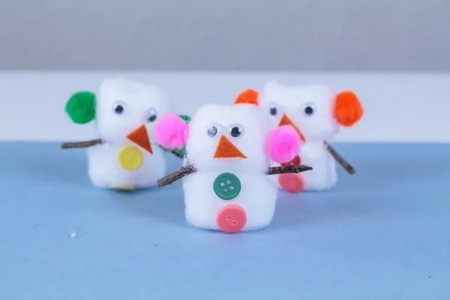 Transform cotton balls into something that kids will cherish.
Darcy And Brian create the easiest DIY snowmen out of cotton balls, googly eyes, and small pom poms, making it the perfect temporary toy until the weather allows the kids to go outside again.
Kids love DIY toys so much, so here are some DIY Toy Story crafts for kids.
15. Easy Clothespin Snowman Craft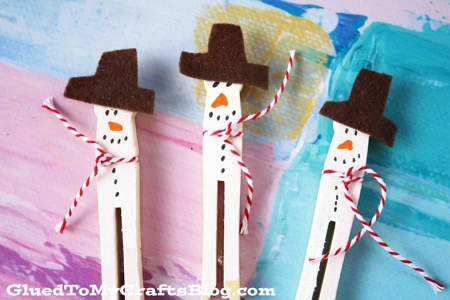 Glued To My Crafts Blog makes use of what's available by creating this clothespin snowman craft.
Simply get some white and orange paint, a black marker, and decorative string and follow the instructions on their webpage.
Test your resourcefulness by making these other clothespin crafts.
16. Styrofoam Cup Snowman with Scarf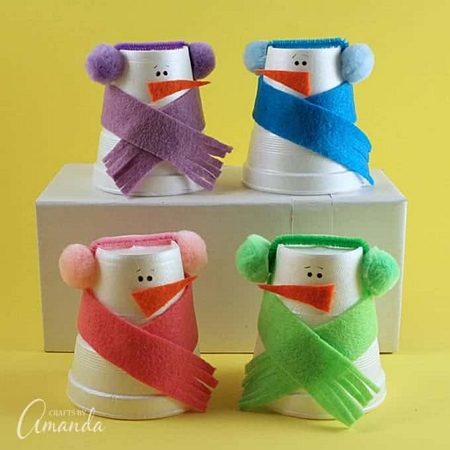 Here's another simple snowman craft, this time brought to you by Crafts By Amanda. It's made of a simple styrofoam cup, which is perfect as the snowman's body.
They used snowmen accessories with matching colors, but try encouraging kids to mix and match between different colors to enhance creativity.
13 Unique Snowman Arts and Crafts
17. Snowman Mason Jar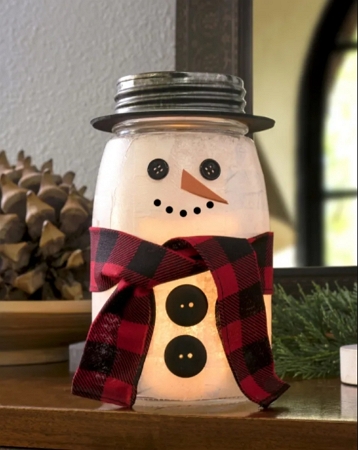 Check out this craft for those who'd like an adorable indoor snowman decoration. Mod Podge Rocks lists five simple steps to complete this extraordinary mason jar snowman.
They also include various tips to ensure that your crafting process is as smooth as possible.
The finished product can be filled with a battery-operated tealight that will create a magical atmosphere in the dark.
18. Melting Snowman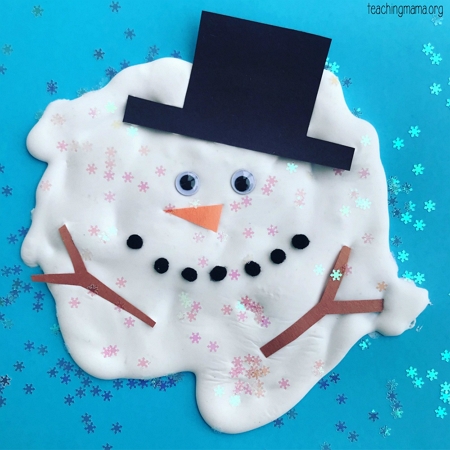 I've seen amazing DIY slimes before, but Teaching Mama takes the creativity to another level by making this melting snowman. The secret ingredient in this one is shaving cream.
While it's not as gooey as DIY slimes, it's still an incredible craft that's perfect to make during those boring winter days.
19. No-Carve Snowman Pumpkin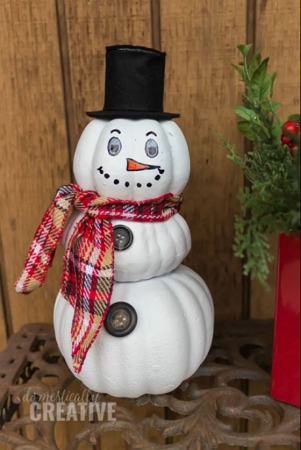 I thought pumpkins could only ever used during Halloween for jack-o-lanterns. Domestically Creative changed my mind with this great snowman decoration for the winter.
The best part is that kids can take a really large paintbrush and simply start painting the three pumpkins with white paint. The snowman is way too easy to embellish after the paint has dried.
Pumpkin decorations are best when there's no carving involved. That's why I compiled a list of paper mache pumpkins!
20. Snowman Pencil Holder
Red Ted Art shares this cute snowman tin can craft. The best part about this craft is that it doesn't require the tin can to be painted, so it can be replaced with a new design for the spring.
21. Snowman Handprint
I sound like a broken record when I say that handprint art is a very engaging activity for children. What can I say? It's a versatile activity that can turn a simple handprint into any design.
Take these handprint turkey crafts or snowman handprint ornaments, for example.
Learning And Exploring Through Play makes a whole family of snowmen with handprint art, with each member having their own personality.
22. Snowman Footprint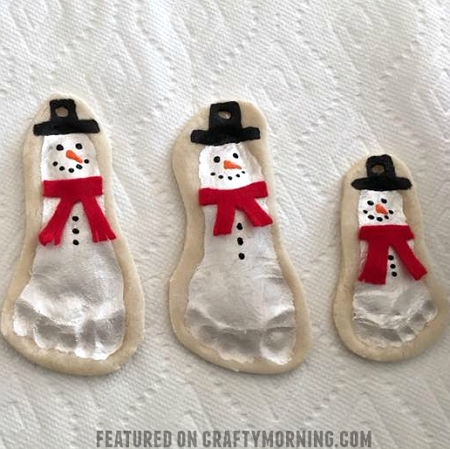 Homemade playdough is easy to make, and Crafty Morning takes advantage of that to make this snowman footprint which can serve as a keepsake for the kids.
23. Saltdough Man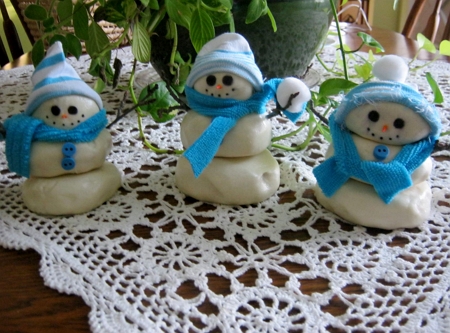 Three P's And Q creates cute little snowmen from salt dough, or as I call them, saltdough men. Anyone can make these all year round, and all it takes is some flour, salt, and water. Simply pop these bad boys in the oven after shaping them.
Take inspiration from their sock and pom pom decoration, or try to create your own!
24. Battery-Operated Tealight Snowman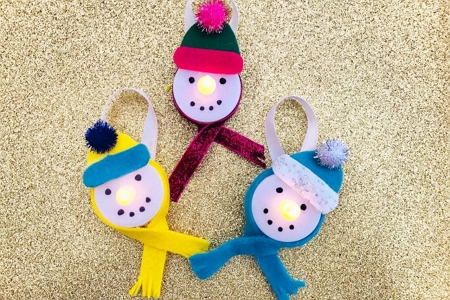 Battery-operated tealights are included for crafts only for decorative purposes, but not this craft from Mas and Pas, who creates a mindblowing snowman craft from tealights.
The customization for these snowmen is endless, and I don't doubt that they'll look really good when hung on the Christmas tree.
25. Unique Snowman Art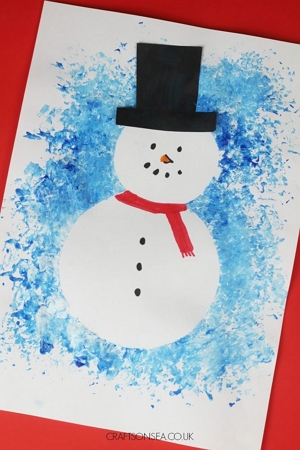 Crafts On Sea shares a unique art style called resist art, which consists of covering an area to prevent it from being colored. In this case, they covered an area with the shape of a snowman and used foil as painting material to create a special effect.
What's intriguing about this technique is that any painting material with a unique texture (such as sponges, loofahs, toothbrushes, etc.) can be used to create a fascinating visual effect.
26. Pretzel Snowmen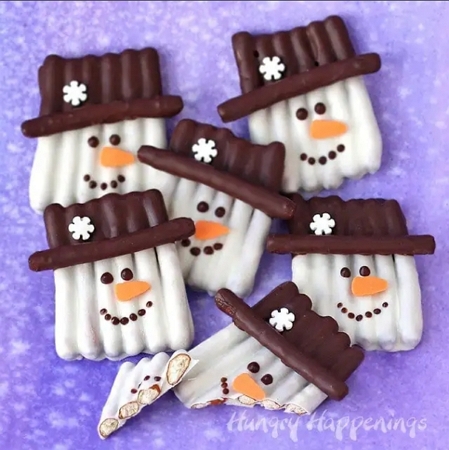 Hungry Happenings has a temporary remedy for those little ones who happen to have a sweet tooth. This snowman craft consists of dipping salty pretzels into white and milk chocolate.
Learn how to make your own by visiting their webpage!
27. Easy Snowman Marshmallow on Hot Cocoa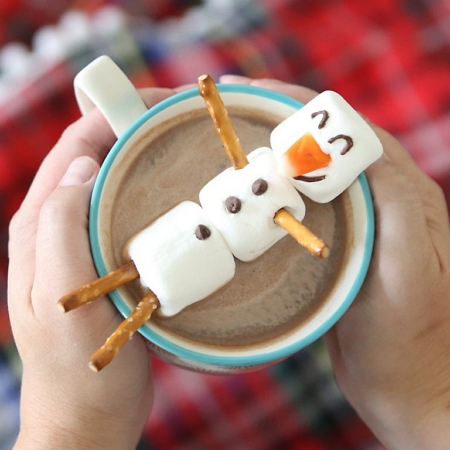 There's never a time when cold weather and hot chocolate don't pair well. It's Always Autumn makes hot cocoa more exciting with a marshmallow snowman swimming on the surface.
28. DIY Sock Snowmen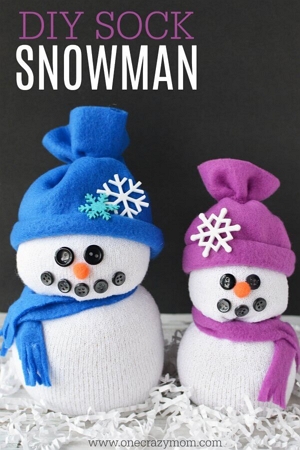 One Crazy Mom encourages us to repurpose old socks into these cute snowman crafts. Make bigger or smaller snowmen depending on the sock size. When the winter season has ended, don't forget to use the rice to avoid wasting food.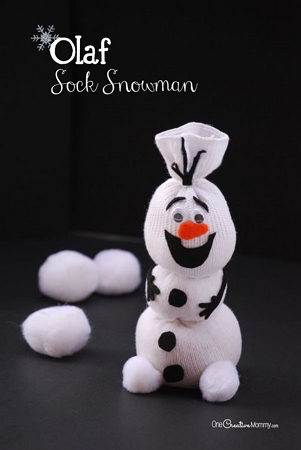 On the other hand, One Creative Mommy creates everyone's favorite snowman, Olaf from Frozen!
29. Pom Pom Snowman
Pom poms provide a nice texture that's a great sensory experience for kids. While this craft requires a pom pom maker, getting one is inexpensive and will allow you to make plenty of pom pom crafts!
Or, you can buy ready-made pom poms.
Plenty of Reason to Stay Indoors this Winter
Whether it's too cold to make snowmen outside or it's been an unusually hot winter with no snow, there are plenty of options to make snowmen made of materials other than snow.
Check out more winter crafts here: