Get to know one of the most fascinating groups of living organisms by making these mushroom Perler beads.
While most people are aware that mushrooms are part of the Fungi kingdom, not many people are aware, for example, of their ecological or medical significance.
If you're enthralled by the complexity and diversity of the fungi kingdom, or simply enjoy tossing these tasty mushrooms into your salad, then you won't resist making these mushroom Perler beads!
8 Fun Mushroom Perler Beads Patterns
The first eight mushroom designs involve Perler bead patterns that are fun to make.
For fast and simple patterns, look no further than these easy Perler bead patterns you can do with your kids!
1. Small Red Mushroom Pattern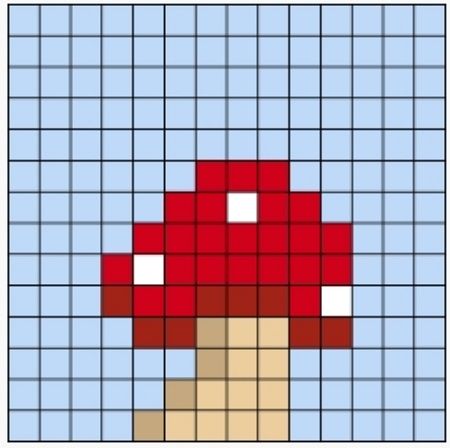 Just like bandits in the forest, the poisonous red mushroom appears in groups and is highly dangerous, although the latter is much more captivating and deadly only when consumed.
Linde_sanrio shares this small pattern for those who are interested in mushrooms and would like to try making Perler bead patterns.
2. Little Mushroom Perler Bead Idea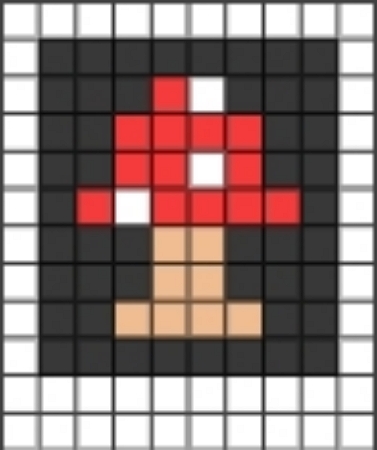 Commonly known as fly agaric, these red mushrooms are an excellent trap for flies, hence the word fly in its name!
Here's emypandy providing another easy pattern for children who are learning about the fungi kingdom.
3. Exotic Mushroom Perler Bead Pattern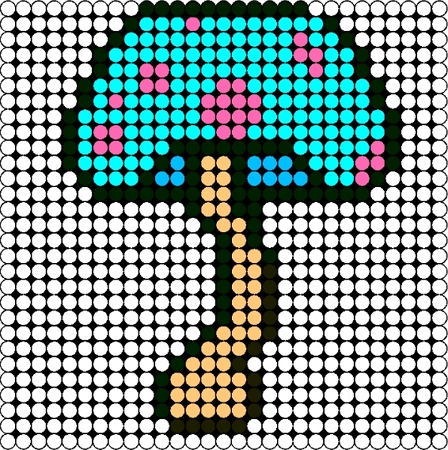 There are over 144,000 known species of fungi, so it wouldn't be surprising to see a neon mushroom like this pattern by Violetmind.
If you love colorful creations, make these amazing rainbow crafts.
4. Cute Cartoon Mushroom Perler Design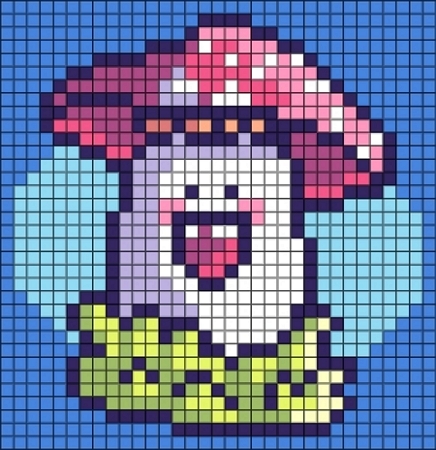 How do you make mushrooms and vegetables more relatable and attractive to children? Add a cute and funny face, just how Skribble did to this fly agaric.
With a cute face like that, this fly agaric seems a little friendly.
Children who are obsessed with their cartoons can redirect their energies to these Bluey crafts and PAW Patrol crafts.
5. 3D Wild Mushroom Perler Bead Pattern
For a more challenging Perler bead activity, KandiPerlerFairy shares this amazing video tutorial of 3D Perler bead mushrooms. In the video, they illustrate how to make three versions of mushrooms: a small, medium, and large.
For other interesting 3D designs, head check out our guide for 3D Perler bead patterns.
6. Chanterelle Perler Bead Pattern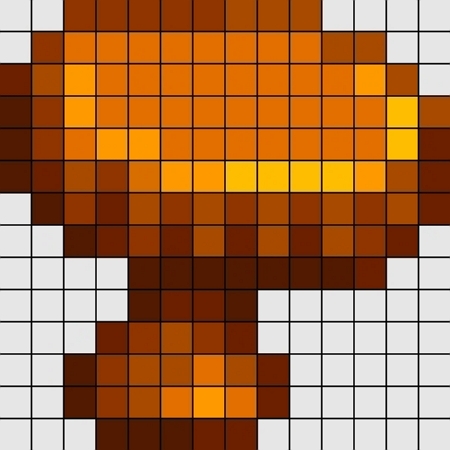 Chanterelle is one of the most recognizable edible wild mushrooms. Combine that with the popularity and appealing design from the game Stardew Valley, and you get this pattern created by echotheloco.
For Perler bead patterns of other popular games, here are Fortnite Perler beads and Minecraft Perler bead patterns.
7. Fly Agaric Mushroom Perler Bead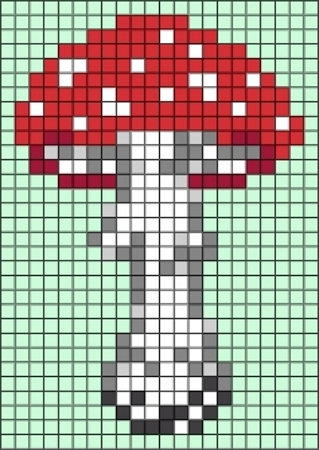 For a more sophisticated take on the fly agaric, redrum_ has you covered with their eye-catching mushroom pattern.
8. Kawaii Mushroom Perler Bead Pattern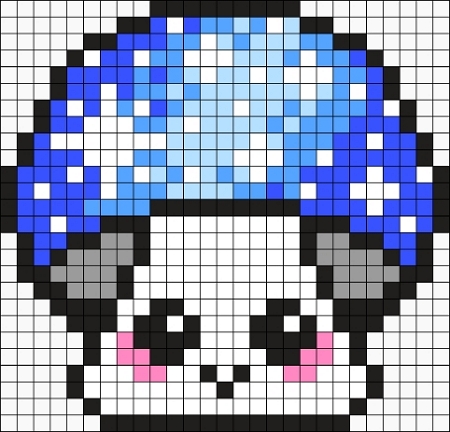 Adding cute faces on inanimate objects such as food and mushrooms can be referred to as kawaii, which literally means "cute" in Japanese. CookieClimax demonstrates this art form with their adorable blue mushroom pattern.
For other patterns such as this one, visit our kawaii Perler bead patterns!
4 Mario Mushroom Perler Beads Ideas
Mario lives in a magical and fictional place called the Mushroom Kingdom, so it's not shocking that many mushroom-inspired characters live in it, too.
Mario is a favorite of ours, so we've compiled a bunch more Perler bead patterns in this list of Mario Perler bead patterns.
9. Toad Perler Pattern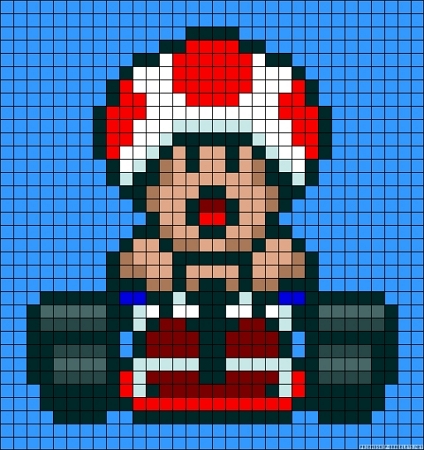 Among the mushroom characters in Mario there's one we can't miss, and that's the very cheerful Toad! This protector of the Mushroom Kingdom is also Princess Peach's attendant, carrying heavy yet noble responsibilities.
Here's BIZARRE's pattern of Toad inspired by the game Mario Kart.
10. Detailed Goomba Perler Bead Pattern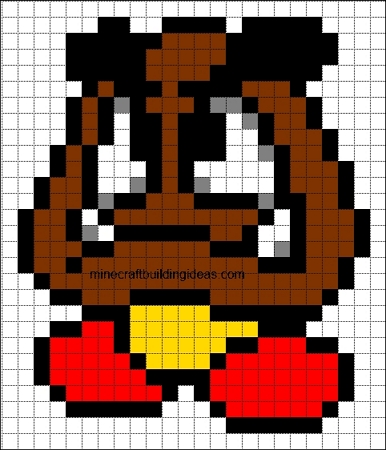 Mushrooms can virtually grow anywhere, and so Goomba the mushroom is one of Mario's most commonly encountered enemies. Minecraft Pixel Art Templates shares this modern and more detailed version of Goomba.
11. Retro Goomba Perler Bead Design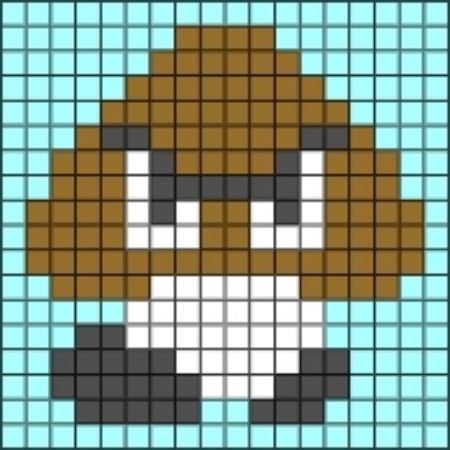 For people who feel nostalgic about old-school Mario, here's Laura00871 recreation of 2D Goomba, which first appeared back when the game Super Mario Bros. was released on the NES.
12. 3D Mario Mushroom Project
Shendijiro & Ura's channel shares a video tutorial where they make Mario's mushroom, a power-up that enhances his abilities, come to life!
Anyone who played the game always gets a rush whenever they see a power-up such as this one, so if you're one of those people, this 3D Perler bead mushroom pattern is a must-do.
4 Other Incredible-Looking Mushroom Perler Beads
Mushrooms are truly mesmerizing to look at. If you don't believe so, then these next four patterns might help convince you.
13. Parasect Perler Bead Pattern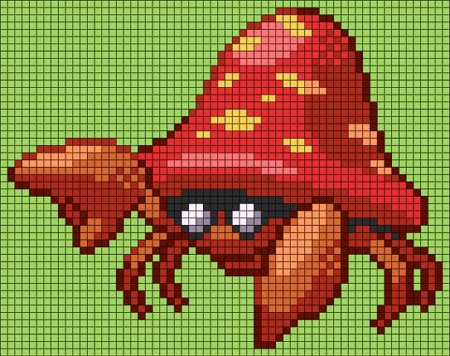 Fungi are truly incredible, and this insectoid Pokemon pattern by Sparrows proves it. It's a mushroom parasite that has taken over the body of an insect.
Pretty neat concept, huh, one that's been popularized by games such as The Last of Us franchise.
You've got to catch 'em all, or rather craft them all, with these Pokemon Perler beads.
14. Hello Kitty Mushroom Pattern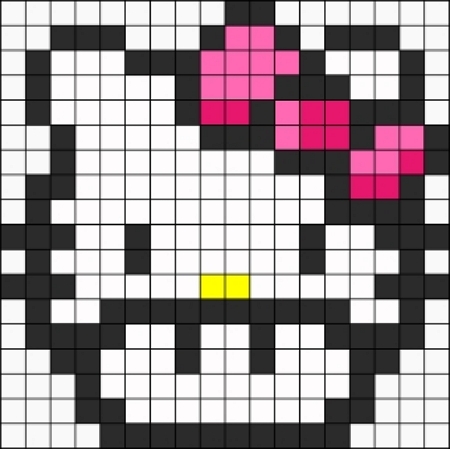 Mario's mushrooms have spawned countless variations of it over the internet, mixing and matching different icons of popular media. One of them is this pattern by vickiinmyhead, who fuses the beloved Hello Kitty with Mario's mushroom design.
Get more Hello Kitty designs in this list of Hello Kitty Perler beads!
15. Fantastical Mushroom Perler Bead Design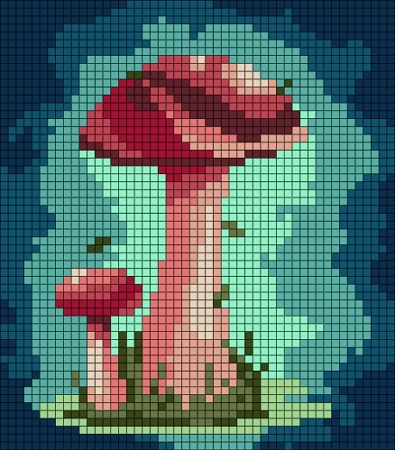 RilWil takes you to an imaginary and magical world through this fantastic giant mushroom design.
Don't know where to find these fantastical mushrooms? A good place to start is with these Harry Potter Perler bead patterns!
16. Magical Purple Mushroom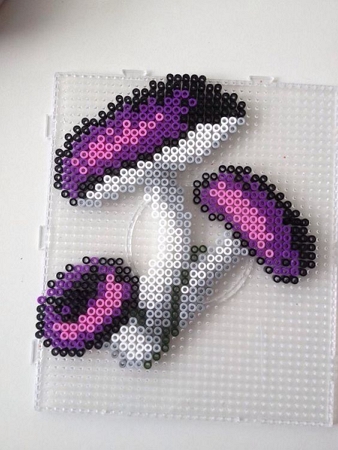 Surely, purple mushrooms must exist in our world. If they don't, then Else Jørgensen brings them to life through this amazing mushroom pattern.
6 Seasonal Mushroom Perler Beads
Mushrooms can grow anywhere under the right conditions. However, these next designs are Mario-inspired mushrooms that can be made according to the appropriate season.
17. Witch Mushroom Pattern for Halloween
For an activity during the Halloween season, here's a Mario mushroom with a witch design provided by Brik.
Get more inspiring Halloween crafts by checking out our list of Halloween painted rocks.
18. Pumpkin Jack-O'-Lantern Mushroom Project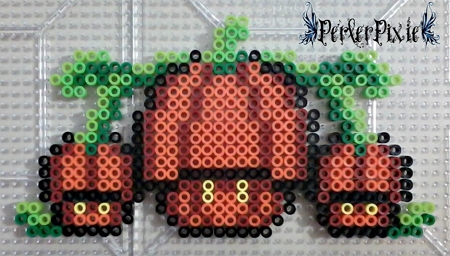 We must remember that Halloween, while the most awaited festivity during the autumn season, is not the only source of inspiration for decoration.
PerlerPixie (and our paper mache pumpkin guide) gives us a fresh idea with this jack-o'-lantern fused with a Mario mushroom Perler bead design.
19. Frankenstein Mushroom Perler Bead Pattern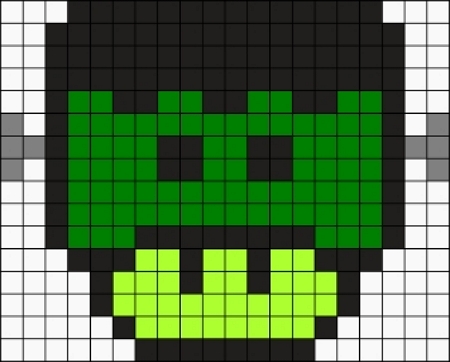 Here's a Frankenstein mushroom pattern, another quick-and-easy Halloween decoration by tashar_h that can be done in under an hour.
20. Christmas Mushroom Perler Bead Designs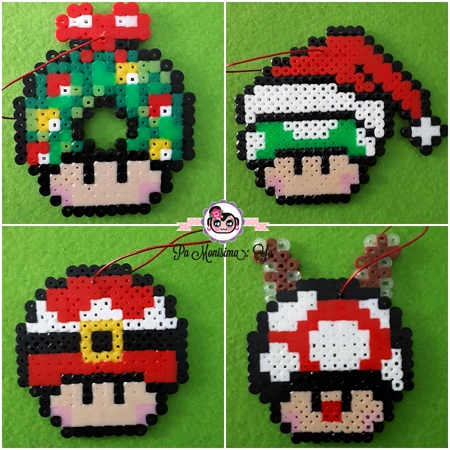 For Christmas-themed mushrooms, Moneriasenfieltro has got you covered with this set of cute mushrooms. These include a regular Mario mushroom wearing a Santa Claus hat, a reindeer, and a beautiful Christmas wreath mushroom.
21. Christmas Present Mushroom Pattern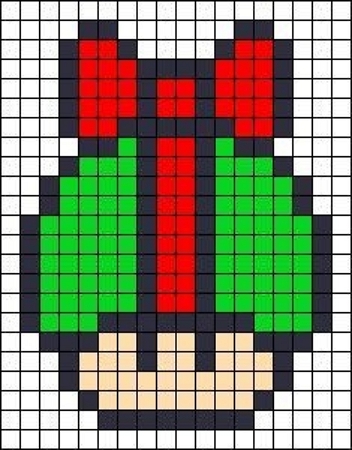 For the little ones who'd like to give their loved ones a little "present", Slam Jam's Perler Parlor with this wrapped-mushroom gift.
22. Christmas Tree Mushroom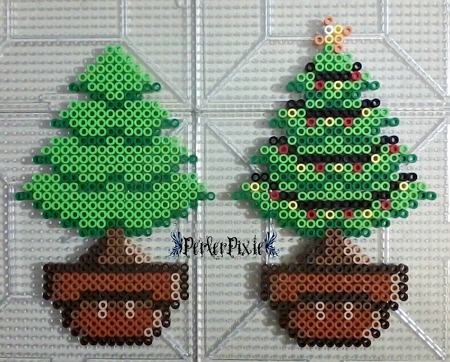 Here's Perler Pixie thinking outside the box and transforming the Mario mushroom into a full-blown Christmas tree.
For ornament ideas on your Christmas tree, here are some snowmen handprint ornaments that children can enjoy making!
These Mushroom Perler Beads Are a "Mush" Do!
Whether mushrooms are your favorite ingredient on a pizza pie or you're a big Mario fan, these mushroom Perler bead patterns are right up your alley!
For more Perler bead patterns, don't forget to check out these other compilations on our site: