Allot some time to make these gorgeous Perler bead butterfly projects! Butterflies come in different forms and colors, yet their life span is short, lasting no longer than one to two months.
Despite that, these beautiful insects show their full splendor during their time as butterflies.
I've compiled different types of butterflies, ranging from small butterflies for children to special butterflies that are harder to find.
3 Butterfly Perler Accessories
Before you embark on your adventure to make butterfly Perler beads, make sure you have the necessary materials.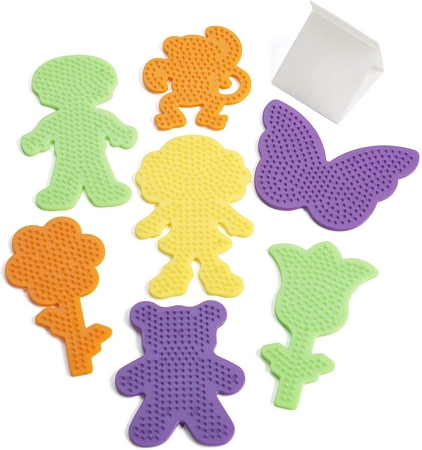 It's already a challenge to make a stunning butterfly pattern from scratch, let alone trying to figure out its shape on a traditional square pegboard. Fortunately, there are already pegboards in the shape of a butterfly.
With this pack, you might not have the freedom of creating your butterfly's shape, but it lifts the burden of having to create one and allows you to focus on the creative design.
It comes with several other pegboards, including a boy and girl shape, flowers, a monkey, and a bear.
Interested in flower patterns? Head on to our Perler bead flowers.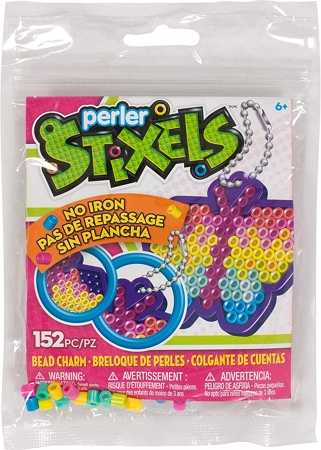 Ironing is an integral part of Perler fuse beads, which must be done by an adult. This process might make some children feel left out of the entire Perler bead activity.
With Perler Stixels, they won't have to anymore, as these don't require any ironing. They'll also be able to proudly display their craft by attaching it to their bags or pencil case.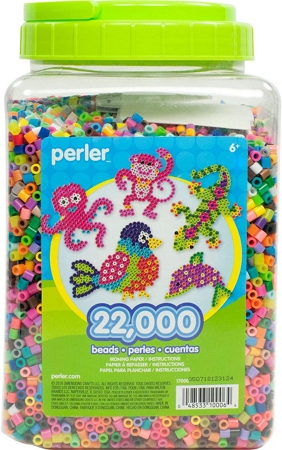 As mentioned before, butterflies come in different colors and shapes. Don't be limited by just several colors and unleash your creativity through this assorted Perler beads jar containing 22,000 fuse beads, ready to be transformed into an impressive butterfly creation.
9 of The Easiest Butterfly Perler Beads
For a quick and easy butterfly project, look no further than these nine butterfly patterns, which start from small patterns aimed at beginners to more elaborate ones that will challenge novices.
If you're truly a Perler bead beginner seeking simpler patterns, these easy Perler bead patterns will set you in the right direction.
4. Easy Butterfly Perler Beads for Children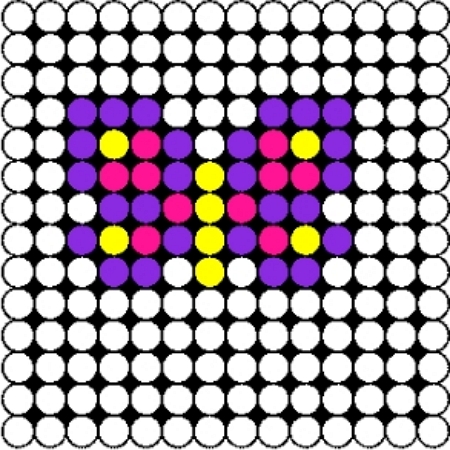 Those looking for an easy butterfly Perler bead pattern for their children should check out this basic design shared by PolarRiotz. The project involves no more than three colors, which kids can mix and match according to their preference.
5. Quick Butterfly Perler Design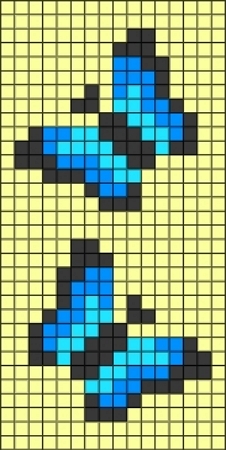 These butterfly patterns almost act as a sort of template for parents, teachers, and people who are interested in doing Perler bead activities in general.
Take for example this pattern by sodapop, who shares a simple butterfly with blue wings. It's easy to change the butterfly's color into the one you prefer while still maintaining the essence of the original design.
Simply follow the color shading in this one and you're set!
6. Simple Butterfly Perler Beads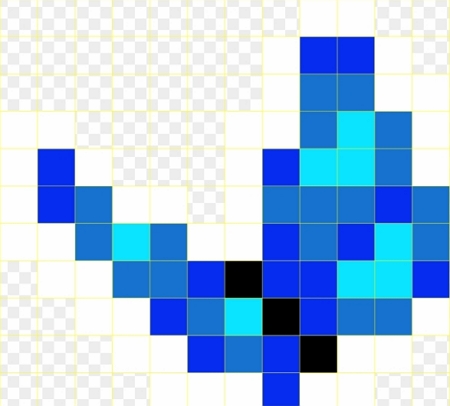 PNGFind stimulates our minds with yet another simple flying butterfly pattern. Most butterfly patterns involve symmetrical designs, but this unique pattern teaches beginners the concept of perspective and depth.
7. Assorted Butterfly Patterns for Children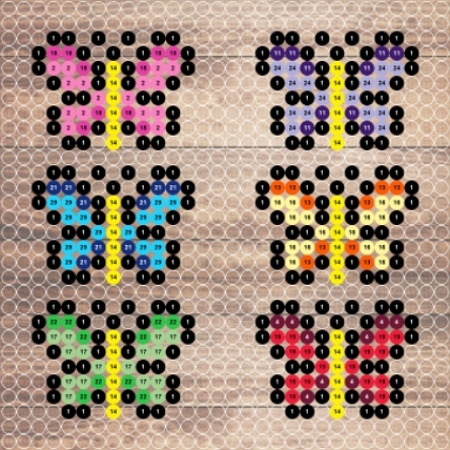 If you're looking to make plenty of butterfly patterns, look no further than these designs from Salvabrani, which shares six butterfly patterns with the same shape but different colors.
8. Amazing Pink Butterfly Design
Rose1555Evo provides us with a stunning pink butterfly, highlighting its beauty through different shades of pink.
9. How to Make a Cute Perler Bead Butterfly
Here's another straightforward butterfly pattern that anyone can quickly and easily do, courtesy of Laceys Craft's channel.
10. Cute Butterfly Pattern on a Hexagon Pegboard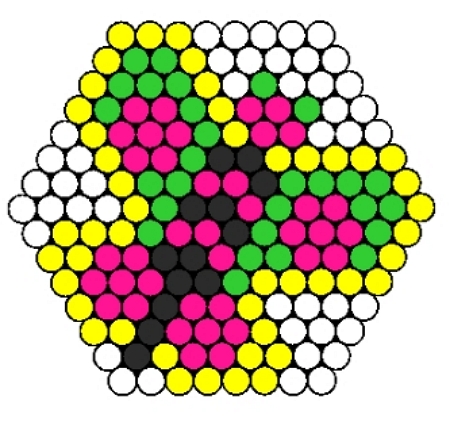 Do you only have a hexagonal pegboard at your disposal? No worries, JinxyJess teaches us how to create a unique butterfly using this specific pegboard.
11. Butterfly Pattern on a Heart-Shaped Pegboards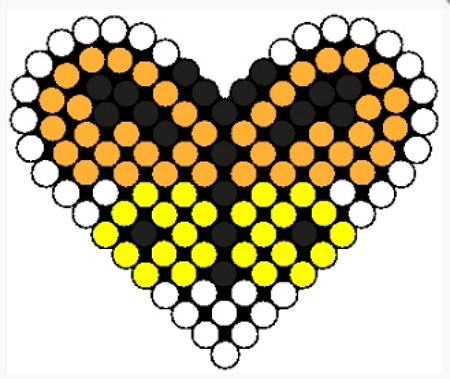 Show your love for a friend or a relative with r0tten_bugz_04 pattern using a heart-shaped pegboard.
For more heart-shaped patterns, head on to our heart Perler beads.
12. Cartoon Butterfly Pattern for Kids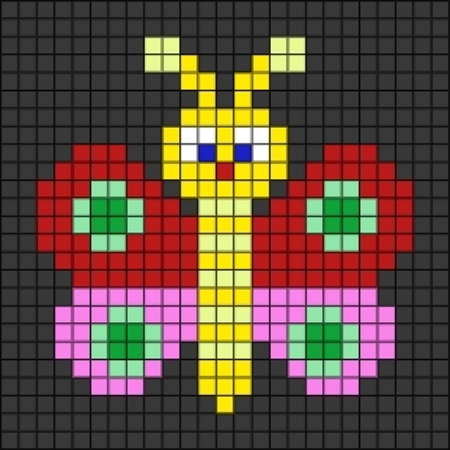 For children who find it more relatable to create butterfly figures with a cartoon element, elena_elg has got you covered by sharing a cute butterfly pattern, complete with big eyes and an adorable nose.
Here are some Paw Patrol crafts to redirect your children's focus on TV into something meaningful!
5 Grand Butterfly Perler Patterns
For those who are seeking more challenging patterns, I've compiled these seven grand butterfly Perler bead patterns.
Looking for ways to improve your children's artistic skills? If so, head on to this list of easy animals to draw for kids!
13. Detailed Cartoon Butterfly Pattern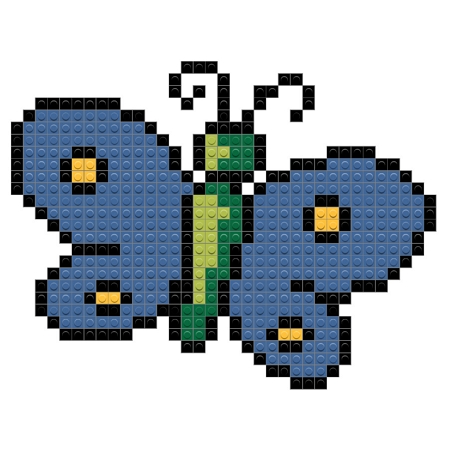 Brik shares another pattern with a cartoonish design. While it may not have big eyes, the black outline on this one indicates that it's inspired by butterfly drawings.
For more crafts inspired by children's shows, check out our list of Bluey crafts that will inspire you to be adventurous!
14. Rainbow Butterfly Perler Project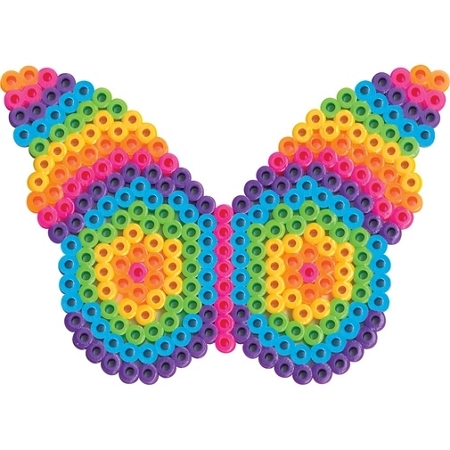 Making a butterfly with a rainbow design is a must. Thankfully, Perler is here to show us their version of how to make a rainbow butterfly. This project requires the butterfly pegboard and assorted beads to complete (see above).
No need to feel gloomy on those rainy days since you can always make these rainbow crafts for kids!
15. Chubby Butterfly Perler Bead Pattern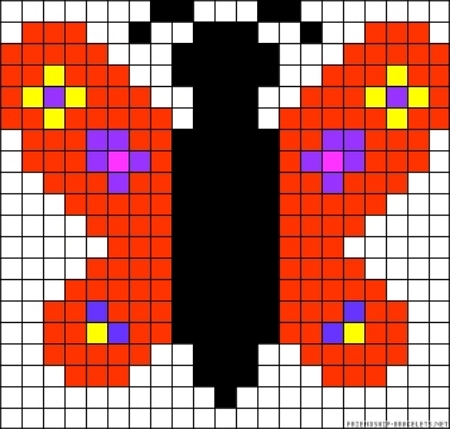 Like I said before, butterflies come in different forms. Some might be smaller or larger than others in shape, just like this pattern shared by meercatred.
16. Monarch Butterfly Pattern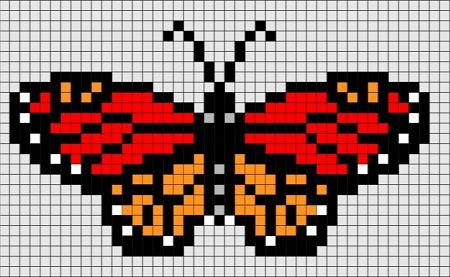 The monarch butterfly is named monarch for a reason — that's because its distinct orange appearance is one of the most elegant and regal butterflies in existence.
To learn how to make one for yourself, simply follow Brik's monarch butterfly pattern.
17. Beautifly Pokemon Perler Beads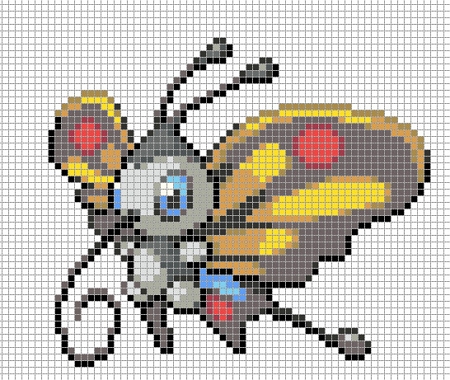 As our Pokemon Perler beads list has demonstrated, there are all sorts of Pokemons that you can make into Perler beads. For the enthusiasts out there who love to collect these designs, here's another one for you: a Beautifly pattern shared by Electryonemoongoddes.
7 Unique Butterfly Perler Bead Ideas
We are just getting to the more interesting butterfly patterns, so stick around for these seven unique butterfly Perler bead ideas.
18. 3D Rainbow Butterfly Pattern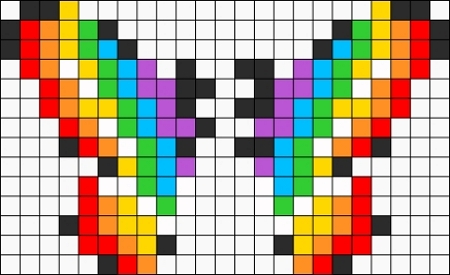 Admit it, those looking for butterfly patterns would also love to create one that looks realistic, like a 3D design. I've yet to hear about a rainbow-colored butterfly in real life, but this pattern by _Sandwich_ is the closest design you'll get to a realistic butterfly since it's 3D.
Simply change the color of the butterfly if you'd like to make it seem less fantastical.
Get inspired by more 3D Perler Bead patterns!
19. Dog Butterfly Perler Bead Pattern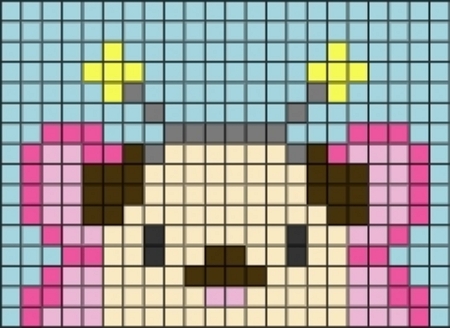 You probably didn't expect this design in this list, did you? This pattern by _Cheese_ of a dog in a butterfly costume is too cute not to include in the list!
Excited for more dog patterns? Don't worry, I've got you covered with these dog Perler beads!
20. Perler Bead Butterfree
Here's another Perler bead pattern of one of the original Pokemons in the 1st generation, Butterfree, brought to you by Mystfang Media's channel.
21. Neon Butterfly Perler Beads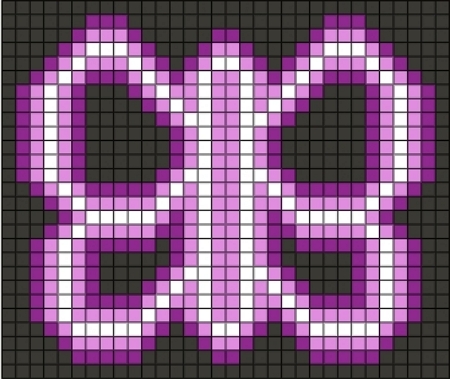 For a cool take on the butterfly, here's jgrace sharing a neon-colored design. I believe that the black background should be included or else the pattern wouldn't work.
22. Butterfly Keychain Made with Perler Beads
If you like carrying your creations around or hanging them on your bags, here's Saray crafts sharing a video tutorial on how to make a monarch butterfly with a keychain.
23. Celestial Butterfly Perler Beads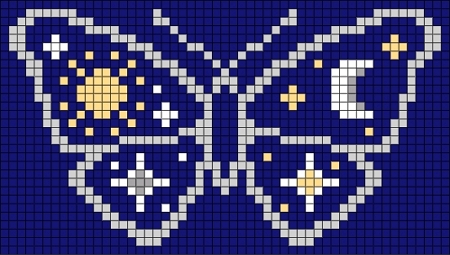 Create one of the most stunning butterflies you've ever seen by following this pattern by arts_milia. It features elements of the sky, which astronomy enthusiasts will enjoy.
Are your little ones fascinated by space? Then start these space crafts for kids!
24. Hello Kitty Butterfly Perler Beads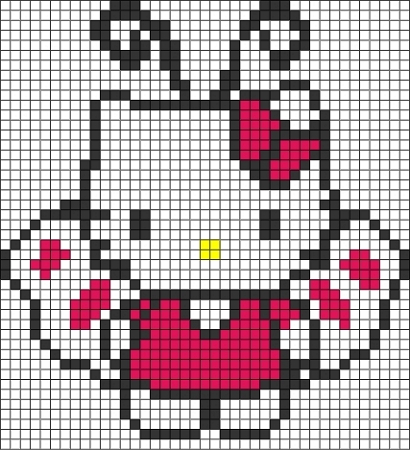 There have been so many iterations of Hello Kitty over the years that one in a butterfly costume surely exists. AngieKitty shows us with their pattern that it does exist, and it is super adorable.
For more adorable patterns, check out our kawaii Perler bead patterns.
2 Bonus Caterpillar and Butterfly Net Patterns
Here are some bonus patterns in case you needed these for your butterfly Perler bead projects!
25. Colorful Caterpillar Pattern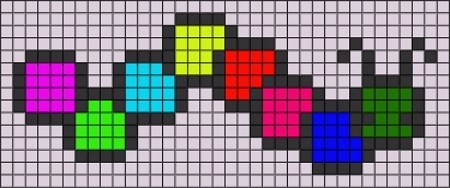 If you didn't know about metamorphosis, you wouldn't believe butterflies transform from these wriggly caterpillars. WTKaitlyn shows us a relatable and colorful caterpillar pattern that children can enjoy.
This pattern looks a lot like pom poms that are glued together. I think you'd be able to recreate this caterpillar by following our list of pom pom crafts.
26. Caterpie, Metapod, and Butterfree Evolution Perler Beads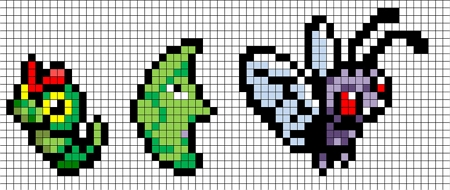 Pokemon captures exactly the transformation of a caterpillar into a beautiful butterfly. Thanks to maximus237, we get an entire picture of the evolution (or metamorphosis) of Caterpie, Metapod, and Butterfree.
27. Butterfly Net Catcher Pattern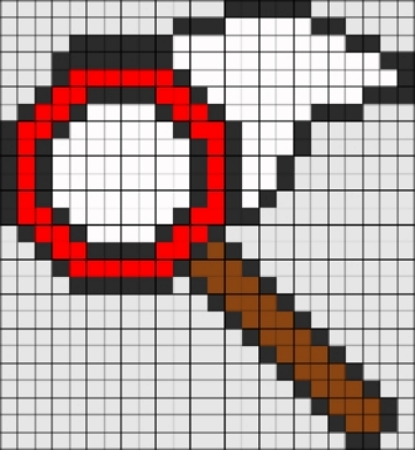 NicePNG shares a butterfly net to catch all those beautiful butterflies. If you would like to stimulate your children's imagination through pretend play, this is a pattern you shouldn't miss.
This net is similar to SpongeBob's jellyfish net. Fans of the show wouldn't hesitate to make these SpongeBob Perler beads.
Incredibly Stunning Butterfly Patterns
Butterflies show the world their fleeting yet extraordinary beauty, and I hope you've enjoyed capturing that in these butterfly Perler beads.
If you did, then check out our other lists of animal Perler bead projects: