Relive the nostalgia of the '90s by creating these Hocus Pocus Perler bead patterns.
After decades of reruns during the spookiest month of the year, Hocus Pocus acquired the status of a cult classic, having garnered the interest of a dedicated group of followers.
This renewed appreciation for the film is enough for the Sanderson sisters to return from beyond the grave and get revenge in their sequel.
Let's dread and prepare for their resurrection by making the wicked patterns below!
3 Materials for Hocus Pocus Perler Activities
Let's make sure you've got the necessary materials for your Hocus Pocus Perler bead projects.
For painless Perler bead activities for kids, I've compiled these easy Perler bead patterns.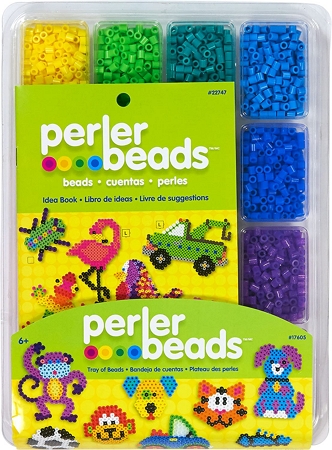 With witches as colorful and interesting as the Sanderson sisters, you must have an array of fuse beads, a need that is easily satisfied by having this assorted Perler bead tray.
There's no need to concern yourself with missing a shade of color since this pack contains 16 different colors, ranging from cheddar to plum, from parrot green to neon orange, and over 4,000 fuse beads to use.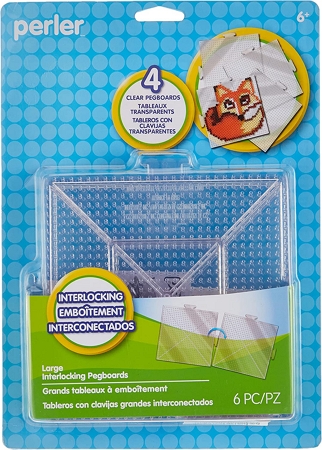 If you're a beginner, this indispensable Perler bead pegboard will be your best friend, whether creating nasty witches from Salem or other nostalgic characters from Star Wars.
The six pegboards in this pack can be linked together, allowing Perler bead enthusiasts to create more ambitious and challenging projects.
When you've got the layout planned, all you need to do is place the beads accordingly. Do that effortlessly with this Perler bead pen, which is a great tool to have when making intricate Perler bead projects.
There are great projects to be found in these amazing Spider-Man Perler bead patterns.
7 Sanderson Sisters Perler Bead Patterns
Though the Sanderson sisters have a unique design, their distinctive features can be done in various ways.
4. Pixelated Hocus Pocus Designs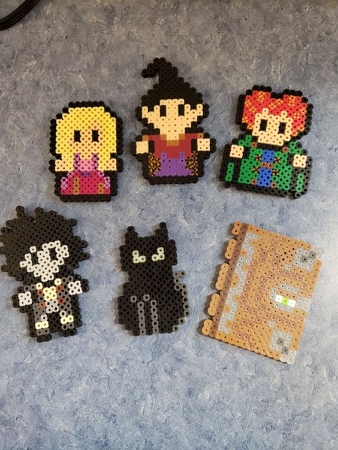 For a pattern that's reminiscent of the '90s era with its pixelated graphics and design, Tosh Mease shares these inspiring Sanderson sisters design ideas.
For similar 8-bit patterns that will remind you of the old days, here are Legend of Zelda Perler bead patterns, which also include patterns of the more recent games.
5. Hocus Pocus Logo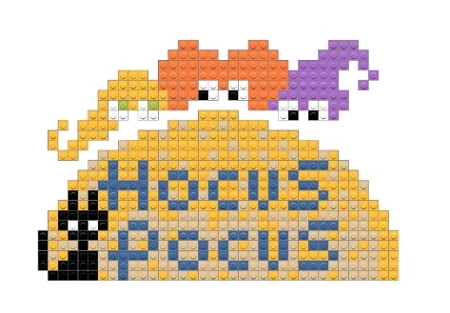 Pay homage to the brilliance and wickedness of the Sanderson sisters with a pattern of their remarkable hairstyles and Thackery Binx beside the logo of Hocus Pocus.
Other unique hairstyles can be found in these My Little Pony Perler beads, although they may not be the styles of a human.
6. Plain Perler Bead Pattern of the Sanderson Sisters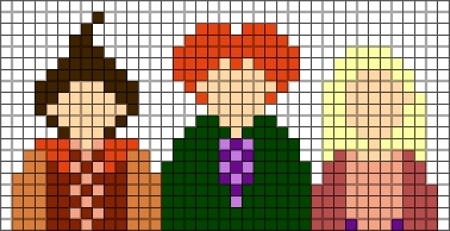 Anyone particular about the aesthetics of their crafts will find this plain pattern shared by ehillman quite appealing.
Attach some self-adhesive magnets to the back of your craft so you could stick it to your fridge and enhance your Halloween witch motif.
7. Minimalistic Sanderson Sisters Pattern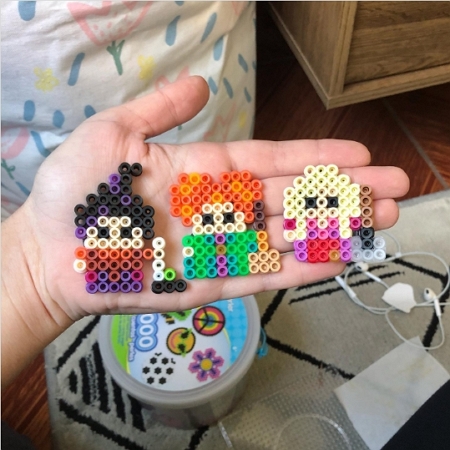 Preschoolers will appreciate lojamilomilo's simple pattern, which is packed with small details that will enhance your little ones' visual and observational skills
Come and appreciate the changing of colors of the leaves in autumn and make these fall Perler bead patterns!
8. Basic Sanderson Sisters Template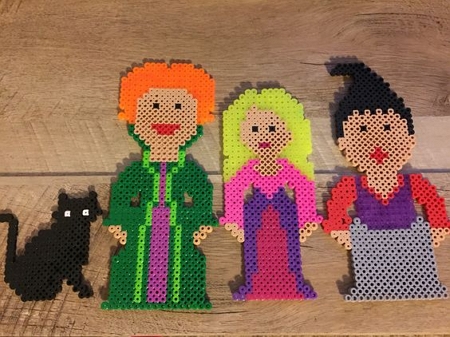 Get inspired to make your own design by looking at this pattern shared by Chapin Leigh. This demonstrates to us that there's no need to stress the details and that we should be proud of our original designs.
9. Standing Sanderson Sisters Perler Beads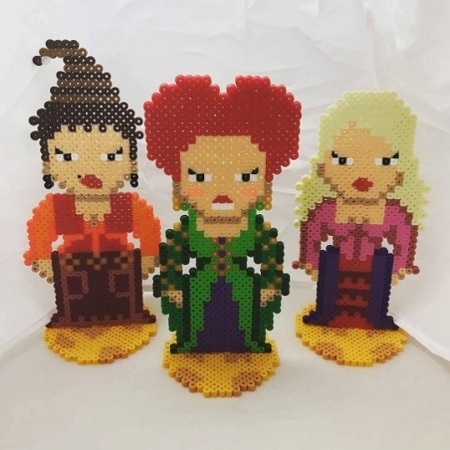 The wicked nature and vindictive look are accurately captured in this standing Sanderson sisters' Perler bead idea by mistfunk.
Spook your visitors with other vengeful spirits by making these ghost Perler beads!
10. Hocus Pocus Perler Bead Poster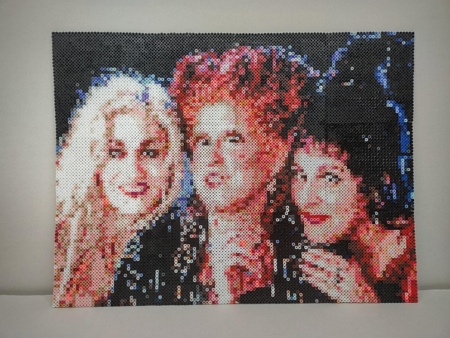 Magnificent Mage's impressive realistic Perler bead project is proof that with time and effort almost any creative idea can be done on a Perler bead pegboard.
6 Black Cat Perler Bead Patterns
Thackery Binx is one of the unfortunate characters who got transformed into a black cat by the Sanderson sisters. Here are some black cat patterns to commemorate the character.
Create more adorable cats by following list of cat Perler beads!
11. Adorable Black Cat Pattern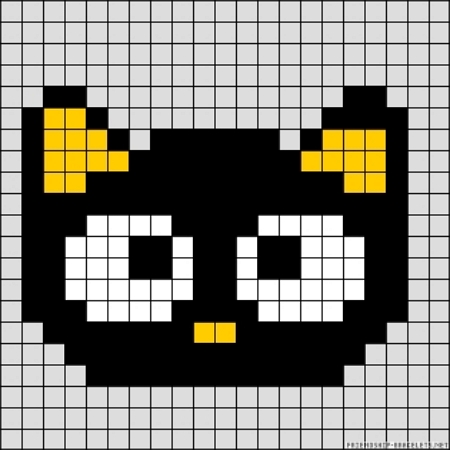 While the Sanderson sisters can be wicked, the film has not failed to bring its audiences some cheap laughs.
But if some children were genuinely terrified of the film, simply show them joey95's super charming cat pattern, and they'll forget all about the film.
Switch over to the magical kingdom of Anna and Elsa in this list of Frozen Perler beads to take your children's minds off the cruelty of witches.
12. Black Cat with Witch Hat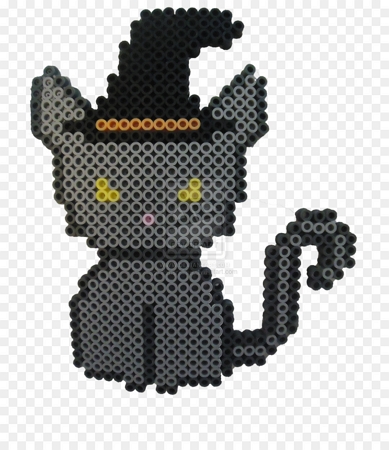 Combine a witch and a black cat, and you get a black cat with a witch hat, which sounds almost like a tongue twister. CleanPNG shows us how to make this eerie cat.
13. Curious Black Cat Perler Pattern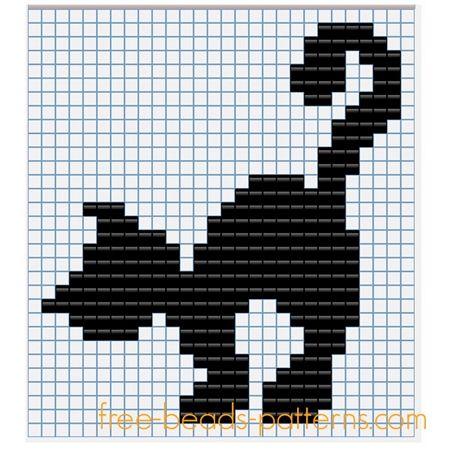 Cats, especially juvenile ones, tend to be curious and explore territories. If you've ever cared for one, you won't be surprised about their behavior of knocking over expensive home decorations.
Here's Free Beads Patterns sharing a black cat with an arched back, ready to tackle your exotic vase.
Anyone creative enough could probably fit any design on a Mario mushroom. Frost's Entertainment's video tutorial shows us how to make a feline-inspired mushroom.
15. Black Cat and Witch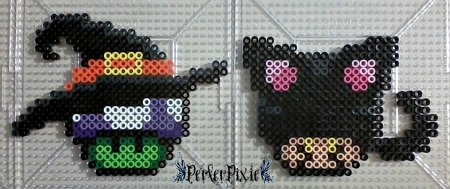 Here are patterns from PerlerPixie showing us a pair of Mario mushrooms similar to the one above.
See what other mushrooms are in store for you in these Mario Perler bead patterns.
16. Classic Cat in Moon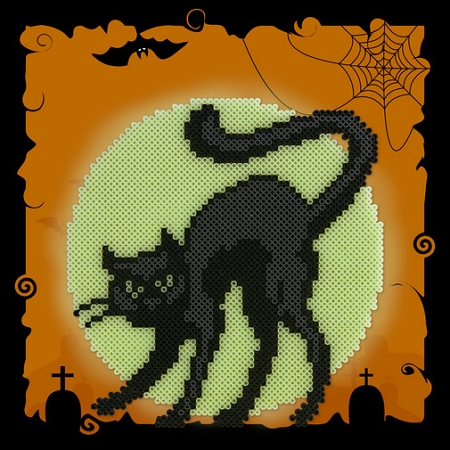 Take your craft to the next level and recreate this captivating black cat pattern against the moonlight, courtesy of Perler.
Compare the aesthetics of this project to these Nightmare Before Christmas Perler beads.
6 Hocus Pocus-Related Perler Bead Patterns
Let's see what other ideas can complement our Hocus Pocus Perler bead pattern in these next seven items.
17. Zombie Mask Perler Bead Activity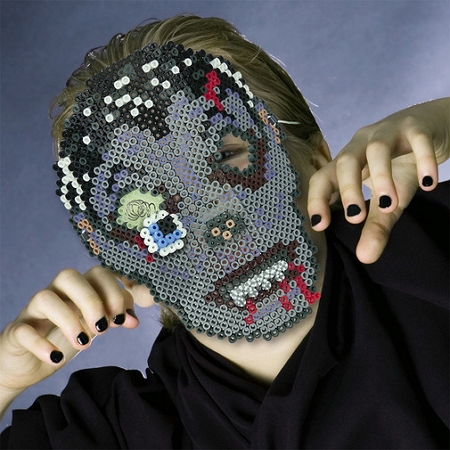 Another important character in the film is Winifred's lover, Billy Butcherson, who was raised from the dead by the witch to capture the protagonist.
Here's an intriguing zombie mask project made by Perler. With this mask, your little ones can pretend to be Billy Butcherson and even use it for trick-or-treating.
Prepare your home by making these Halloween painted rocks.
A hardcore Minecraft player wouldn't miss the opportunity to make perhaps the creepiest villain in the game, the witch. It's just the freakish sound it makes when she struts around.
QDCrafts makes an excellent video tutorial on how to make a 3D Perler bead witch from Minecraft.
Be sure to check out our other Minecraft Perler bead patterns.
19. Cute Witch on a Broomstick Pattern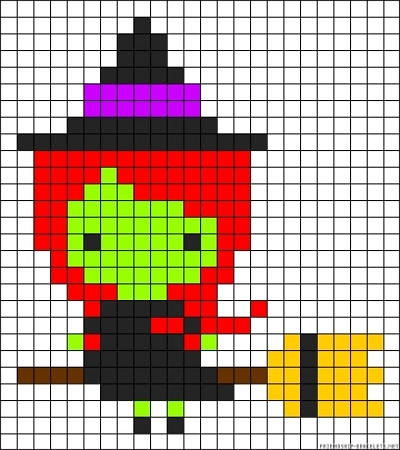 Make making witch projects less frightening by following this cute pattern made by fredgirl1804.
20. Wicked Witch Perler Bead Project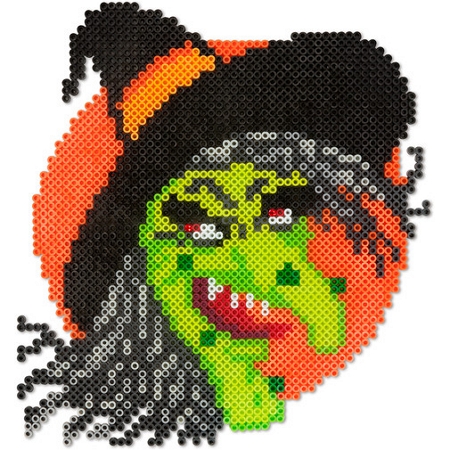 Here's another wicked witch, an outstanding example again from Perler. This is reminiscent of the Witch of the West from the tale of the Wizard of Oz.
21. Kawaii Witch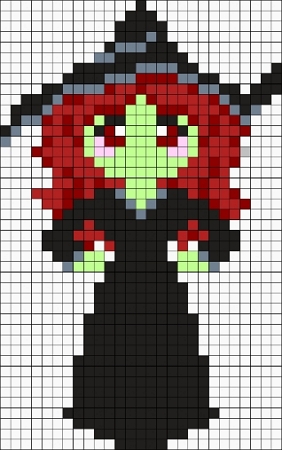 Not all witches look like old hags. There are some like this alluring witch that haleyhorror has shared, which I'm sure girls will find enchanting.
Find similar designs in these kawaii Perler bead patterns.
22. Ghastly Graveyard Project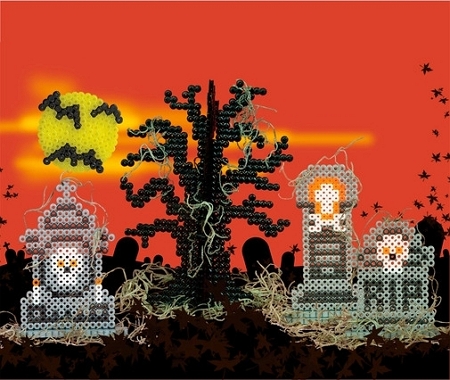 Make your Halloween motif even more otherworldly by making this project graveyard set project provided by Perler.
Don't Wait 300 Years for These Hocus Pocus Perler Bead Projects
Waiting for the inspiration to strike is just as bad as waiting for the Sanderson sisters to return from the grave. So make these Hocus Pocus Perler bead patterns now, which is a great distraction while waiting for the sequel to come out.
Find other activities by heading on to our other curated lists: