Just like Elsa, practice your skills and take control of your magic by making these charming Frozen Perler beads!
Scroll down to see Perler bead kits that will facilitate your Frozen projects, as well as patterns of your favorite Frozen characters such as Anna, Elsa, Olaf, Kristoff, and more.
The complexity of the patterns progressively increases in each section, so you'll see simple patterns first then more sophisticated ones.
Perler beads projects are an entertaining and instructive way to spend the weekend or afternoon, and if you're searching for easy designs, look no further than these easy Perler bead patterns.
3 Frozen Perler Bead Kits
Be assisted in your Perler bead activities by getting one of these Perler bead kits and materials.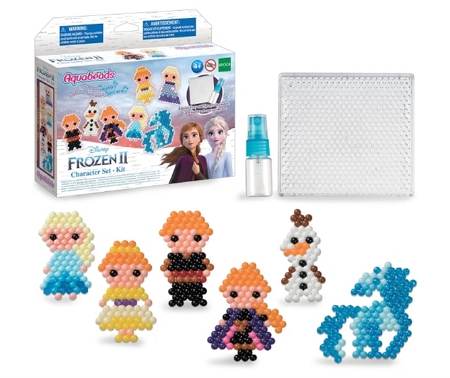 Try something truly magical by getting this Frozen Aquabeads kit. Instead of fusing together through heat, these beads are joined through the power of water!
Your little ones will feel as if they had the water manipulation powers of Elsa herself!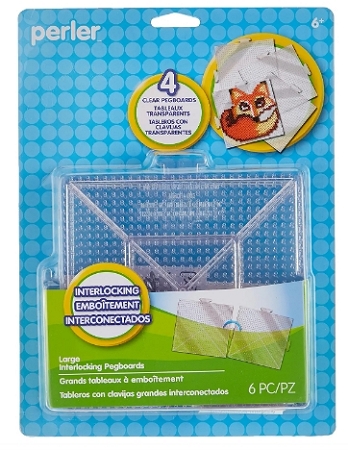 All of the Frozen Perler bead patterns you'll encounter below are assembled and fused on a square pegboard. As such, this Perler bead pegboard is a must-buy for any Perler bead beginners.
If you'd love to mix things up every now and then, I suggest making these circle Perler beads.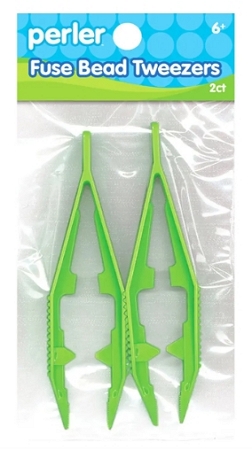 Hone your skills with precision by getting these fuse bead tweezers. Not only do they help your little one develops their fine motor skills, but it also allows them to complete their Perler bead designs faster.
I suggest creating these PAW Patrol Perler Beads to try out these tweezers!
7 Elsa Perler Bead Designs
Here are seven of the most regal Queen Elsa Perler beads.
Go back to the classics with these Mickey Mouse Perler beads.
4. A Simple Elsa Craft for Kids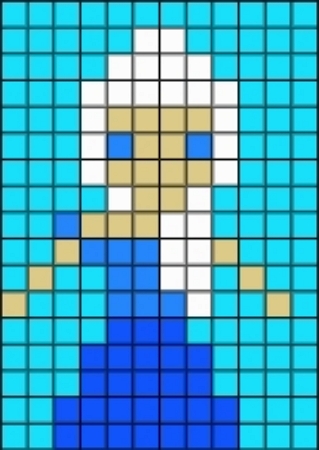 There's nothing wrong with doing a Perler bead design that's ultra simple. In fact, it's perfect for kindergartners who are just now exploring these activities.
Here's a simple pattern of Elsa shared by gymnast31.
5. 8-Bit Elsa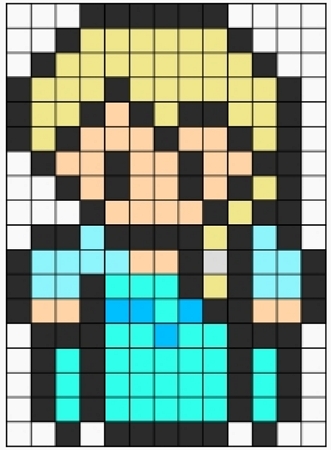 For a unique 8-bit Elsa pattern that's reminiscent of games played on old consoles, see this design provided by jennasteuee.
Who else played The Legend of Zelda on the NES? Fans will reminisce about the good ol' days when they make these Legend of Zelda Perler beads.
6. Perler Bead Pattern of Elsa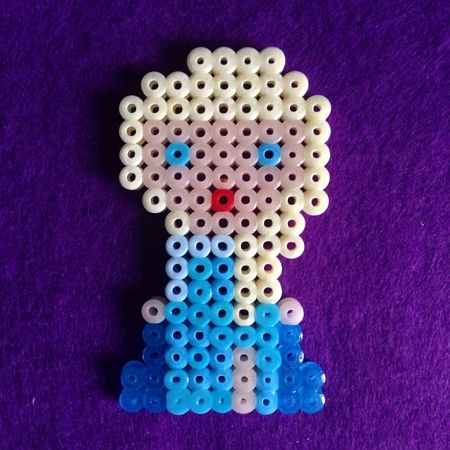 Here's another no-fuss Elsa pattern that's basic yet still recognizable for Elsa fans. This one is shared by mariloena.
7. Singing Elsa Pattern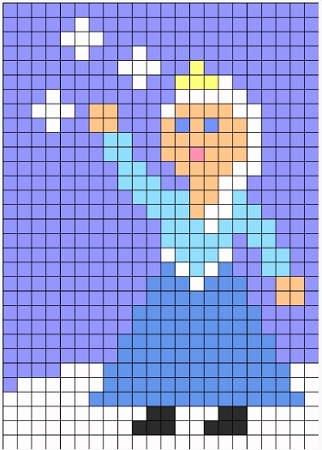 User katara designs a pattern of Queen Elsa while enjoying her snowy creations. Make sure to play the tune of a Frozen song while making this pattern to keep your little ones engaged.
For winter ornaments that you can make at home, I suggest looking at our list of snowman handprint ornaments!
8. Elsa as The Snow Queen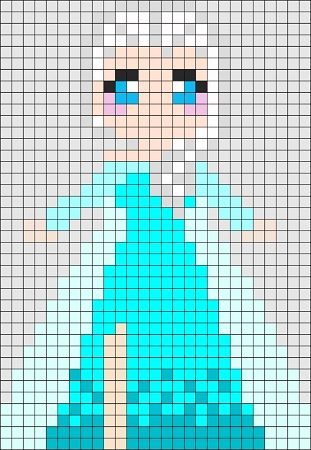 Elsa is not only a powerful ruler, but she's also caring and beautiful. PNGKey demonstrates her beauty through this Elsa pattern, who's wearing the icy dress she conjured.
Introduce children to a sensory frosty activity by following our list of winter sensory bins!
Those tired of making 2D Perler projects can look up to Wolleplanet's video, which shows an amazing guide on how to make Perler bead 3D Elsa.
Test your abilities by making these other 3D Perler bead projects!
10. The Ultimate Elsa Perler Bead Project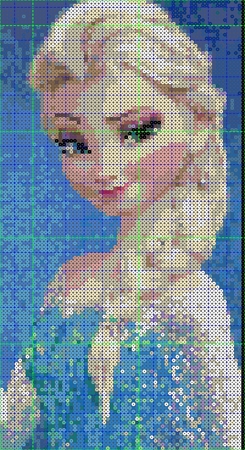 Would you like a true Perler bead challenge? Check out almond150150, who creates this stunning and detailed Elsa portrait.
It may take time to build and many Perler beads to finish, but the project will reward you in the end.
6 Anna Perler Bead Designs
We can't miss Elsa's beloved sister, Anna, who continues to stay on Elsa's side despite her uncontrolled powers.
Check out other superheroes with incredible abilities by heading on to our list of Batman Perler beads and Spider-Man Perler beads!
11. 8-Bit Anna Perler Beads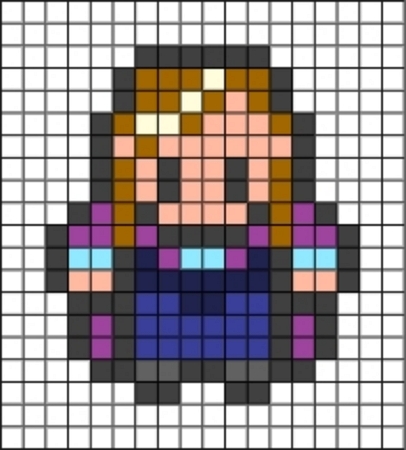 Complement pixelated Elsa with this 8-bit Anna Perler bead pattern made by rstring5.
Don't miss out on these Sonic Perler beads!
12. Simple Anna Pattern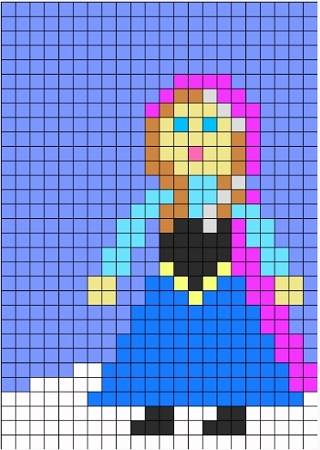 Stimulate your children's imagination by making this pattern of Anna walking through a snowy area by katara.
13. Cute Anna Perler Beads Pattern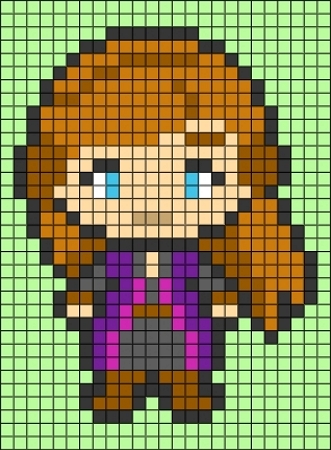 Lizziecorn introduces chibi designs to little children with this adorable Anna pattern.
Almost anything can have a chibi design, even these food Perler beads!
Having a royal upbringing, Anna has an air of elegance, even as a young child. Try to bring out her playful side by making this kawaii Anna Perler bead pattern shared by TheCrazyPonyLady.
15. Anna Profile Pattern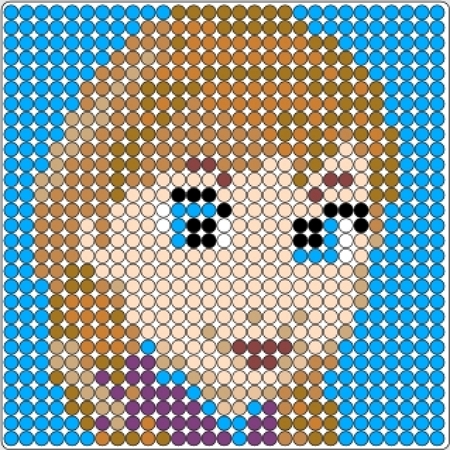 Some people appreciate the nuances and detail involved in a portrait. Those aspects are obvious in this incredible Perler bead portrait of Anna, as seen on Perler Bead Patterns.
16. Chibi Anna Perler Beads Design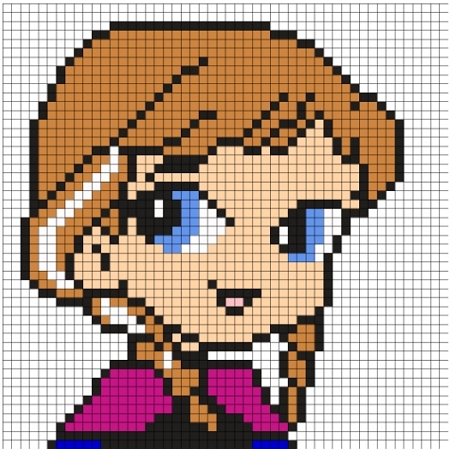 For a more cartoonish version of Anna, follow NicePNG's cheerful pattern.
5 Olaf Perler Bead Patterns
Building a snowman can be such an enjoyable activity, and the resulting project can be so heartwarming, just like Olaf!
If you're like Olaf who dreams of living in the summer, then these summer Perler beads are for you!
17. Warm Hugs from Olaf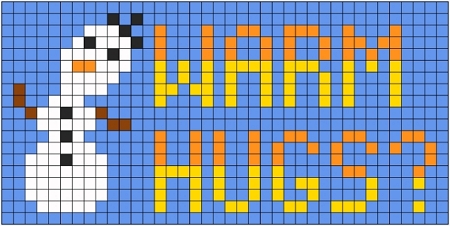 Olaf is one of those characters who'd gladly offer a warm hug to anyone in need. Tjalle shows us how to make Olaf, who's ready to provide his warm embrace.
Just like Elsa, obtain the ability to conjure up a 3D Perler bead Olaf by following Wolleplanet's video tutorial.
19. Simple Olaf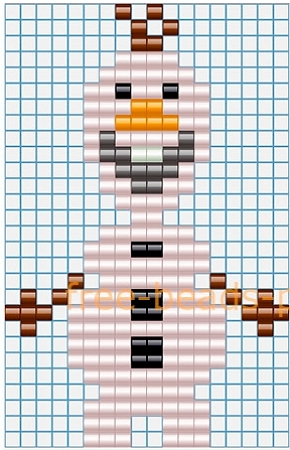 People who don't like to bother with a complicated snowman design should simply make this Olaf design, courtesy of Free Beads Patterns.
20. Cuddly Olaf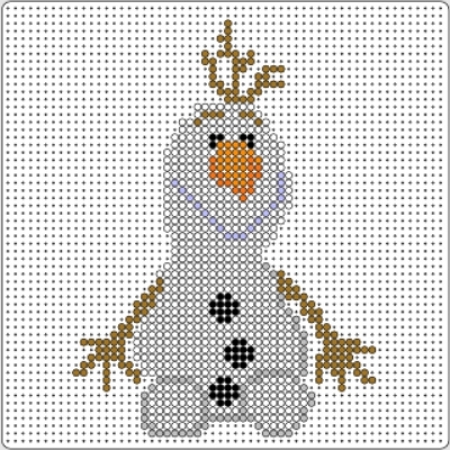 Here's a not-too-complicated Olaf pattern worthy of being displayed on your children's wall, brought to us by Perler Bead Patterns.
21. High-Level Olaf Perler Bead Pattern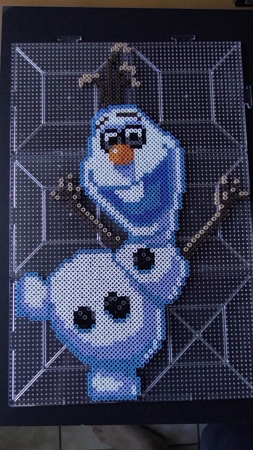 The best way to pay homage for those who consider Frozen as the best Disney movie of all time is to create this enthusiastic Olaf pattern, shared by Haive135.
We can see and appreciate that the shading in this pattern is planned meticulously by the creators.
7 More Frozen Characters Perler Patterns
Here are other Frozen characters that play a very important role in the movies.
Assemble beads for characters of another Disney movie hit in this list of Encanto Perler beads.
22. Kristoff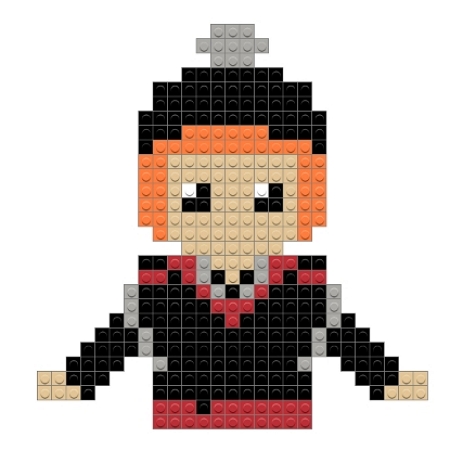 Not everyone will swoon over Kristoff, but we can't deny his kindness and helpful nature. Here's SusanGuinto sharing a cute pattern of Kristoff.
23. Sven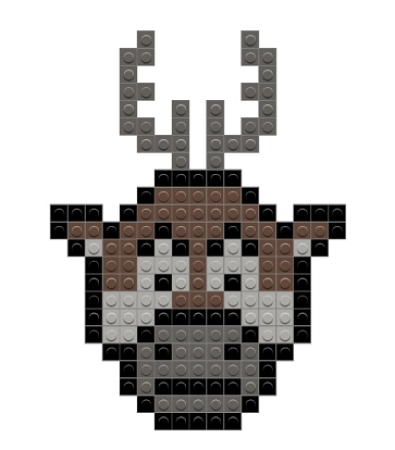 Aside from Olaf, Sven is another secondary character that we've come to love. Create this goofy reindeer by following this pattern by Brik.
24. Another Sven Perler Pattern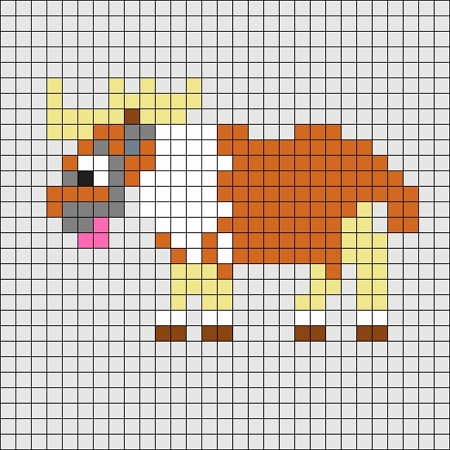 FruitfulEden shares a simple yet full body pattern of Sven.
Deers are one of the animals that are typically associated with fall!
25. Bruni, Everyone's Favorite Sidekick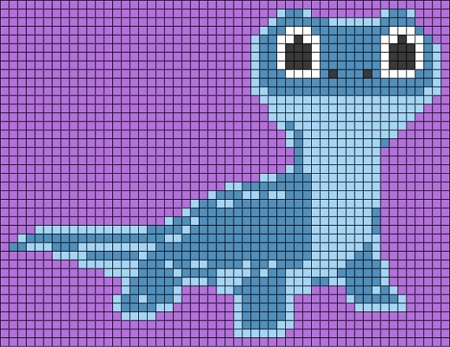 Just when we thought Disney couldn't release a more wholesome character than Olaf, they create Bruni, a super adorable salamander first introduced in Frozen 2.
Here's ashlynb28's interpretation of Bruni.
26. Another Bruni Pattern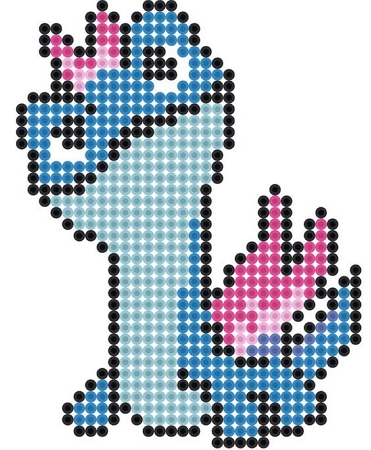 Though shy at first, Bruni shows off his elemental powers by bending fire around him. Linawaty Lim shows the moment Bruni reveals his pyrokinetic abilities.
Meet some of Bruni's distant cousins by checking out these frog Perler beads.
27. The Entire Frozen Cast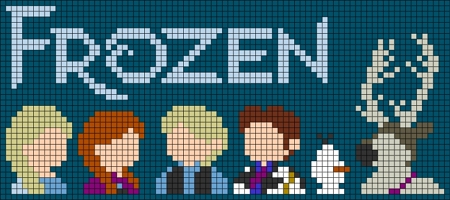 Those looking for an all-encompassing pattern should be thankful for this ensemble Perler bead pattern shared by mel315, who recreates the cast from the first film.
Harness Your Inner Powers Through Love!
In the end, Elsa is able to take control of her abilities through the power of love. The moral of the story is to express love for your family and relatives, and you can make that happen by making these Perler bead patterns for them!
Get more inspiring ideas from these other lists: