If you're trying to find out the true identity of the Batman, then you're in the right place because you'll learn much about him after making these Batman Perler beads.
There are plenty of reasons kids love Batman. Even adults love him, and that's because of his helpful nature in getting rid of Gotham City's corruption, his incredible willpower, and his impressive fighting skills and the gadgets at his disposal. That's only but a few character traits that make him so admirable.
So put on your Batsuits and get ready to make these 32 Batman Perler beads.
For the uninitiated, here's my guide on easy Perler bead patterns where you'll get started on the easiest designs you could make.
4 Batman Perler Bead Kits
Before heading out to clear the streets of Gotham – aka, making these Batman Perler beads – first you need to have the right equipment!
So here are four items that will help you in making Batman Perler beads.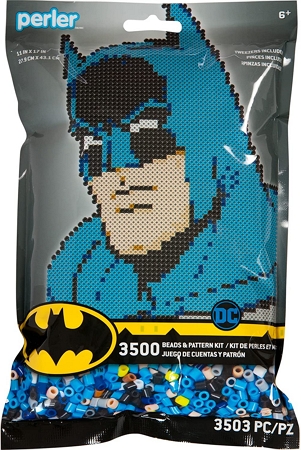 Are you looking for a hobby to do in your free time? Perler beads activities might be for you.
There's no better way to start Perler bead activities than with your favorite superhero, Batman!
These Perler bead activities are relaxing and similar to jigsaw puzzles, where you need to assemble the beads in the right order to get the full picture.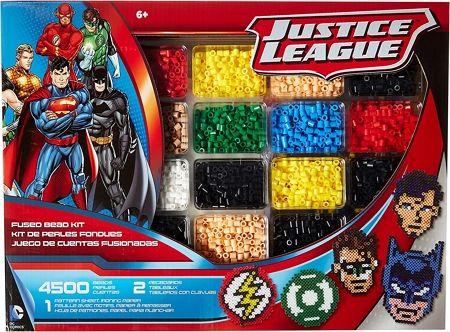 Introduce your little ones to America's greatest band of superheroes, the Justice League. The fuse bead kit includes 4,500 beads, two pegboards, a pattern sheet with instructions, and ironing paper.
Not only are these Perler bead activities a great way to steer your little ones from the constant TV viewing, but they're also instructional for them.
These small beads will train their little fingers and fine motor skills, as well as their creativity and color recognition.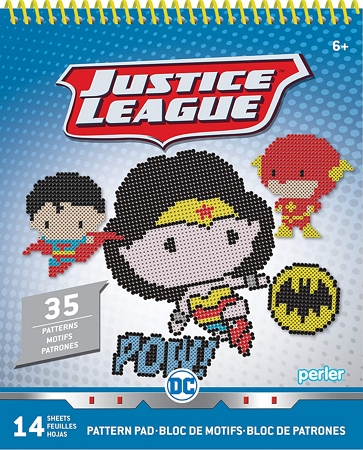 If you're already a Perler bead aficionado and are seeking only patterns, then I recommend this Justice League Perler bead pattern pad.
It contains 35 unique patterns of your favorite DC Comics superheroes, as well as their emblems and symbols.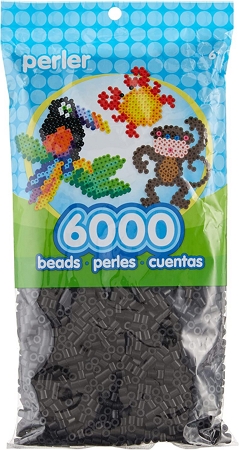 Lastly, Batman is associated with the dark, so it's only logical to stock up on these black Perler beads. Those true fans of Batman would undoubtedly love to display their respect for the character, so it wouldn't be unthinkable to make all of the patterns below!
Light up the dark with some of these campfire crafts for preschoolers!
9 Mini Batman Perler Beads for Children
It's great for kids to look up to a superhero, and you can do that by having them make these small Batman Perler designs.
For more Perler beads designs for another superhero, try out these Spider-Man Perler Beads.
5. Small Batman for Children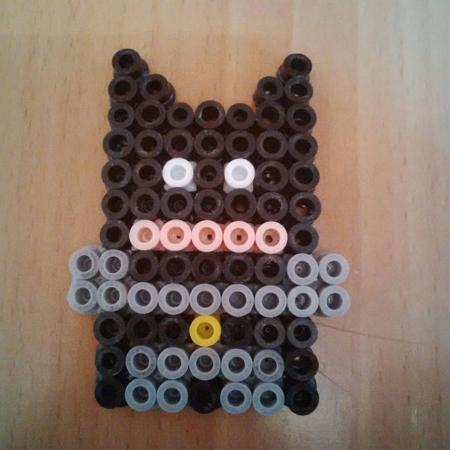 There's nothing wrong with going for a minimal design, like this one from Karla-Jade-2015. It will actually be good for your preschoolers' visual and recognition skills through these small-scale activities.
6. Batman in Action Perler Beads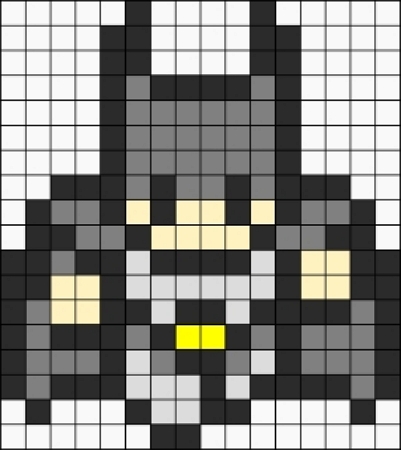 Here's a Perler bead design of Batman in action, brought to you by pablojraandrade.
Another benefit of doing smaller projects is to not overwhelm your little ones. Remember, a journey of a thousand miles starts with a single step!
7. Kawaii Batman Perler Bead Pattern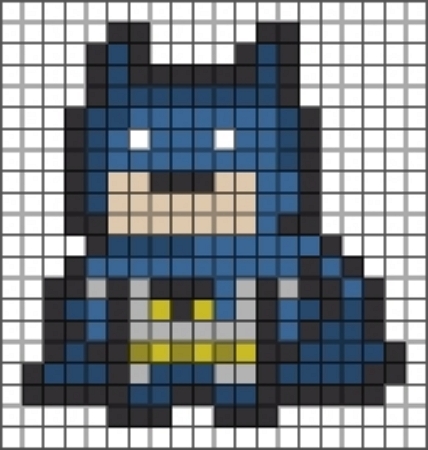 We think of Batman as the tough and intimidating vigilante that scares the living hell out of criminals. However, Dos_Ren manages to create a Batman Perler bead pattern that's adorable and non-threatening.
For more things that will melt your heart, look no further than these kawaii Perler bead patterns.
8. Another Straightforward Batman Craft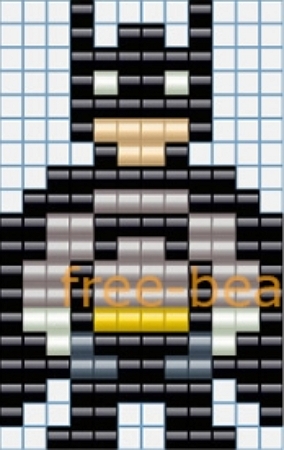 If you're seeking a 30-minute activity for your kids, this Batman pattern from Free Beads Patterns is for you.
The pattern is easy to discern and the symmetry makes the craft very straightforward.
9. Simple Batman Pattern for Kids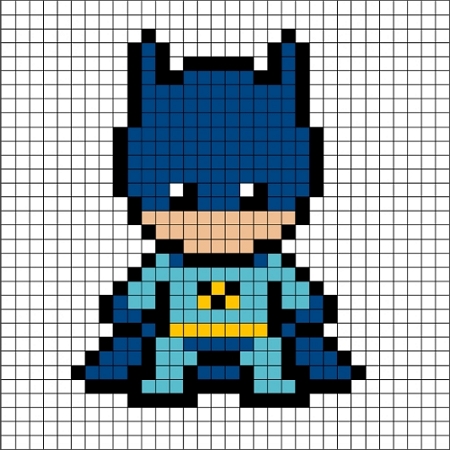 Here's another simple Batman fuse bead pattern by Pixel Real that I'm certain kids will enjoy. Characters with oversized heads are typically a good formula to attract the attention of children, as they may find these strangely cute.
10. Jumping Batman Design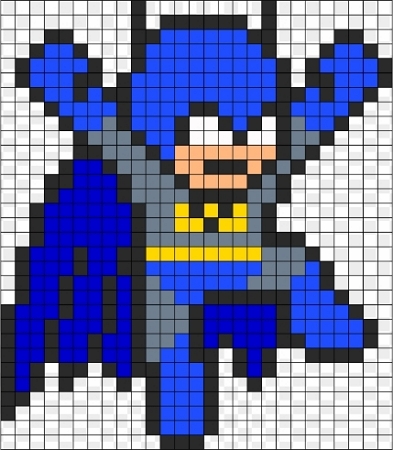 Often, Batman's nocturnal activities involve leaping and gliding from one building to another in search of clues. Witness Batman's incredible physical prowess through PNGFind's pattern of jumping Batman.
11. Flashpoint Batman Perler Bead Pattern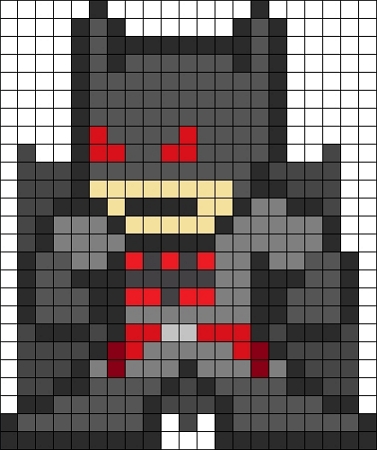 In an alternate universe, Batman is a ruthless and nihilist vigilante who'd crossed the point of no return after his child and wife had died. That's right, in this universe, called Flashpoint timeline, it's not Bruce who became Batman, but his father.
If you're a fan of that timeline, then you'll definitely enjoy making this Batman by wasdye3000.
12. Robin from Teen Titans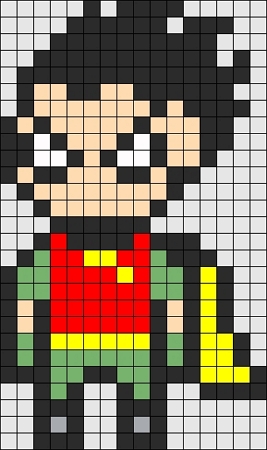 Batman prefers working alone, but there are some younger individuals who he took under his wings (pun intended) as his protégé. There have been multiple Robins under Batman, but this one from PNGKey is the one who became the leader of the Teen Titans.
13. Robin Perler Pattern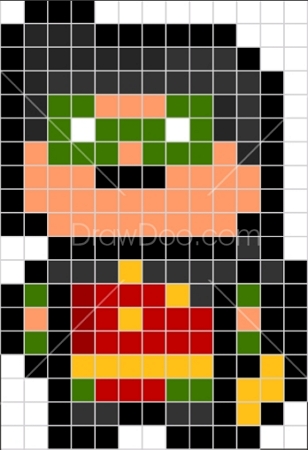 DrawDoo shares an adorable version of Robin with their pattern.
7 Complicated Batman Perler Bead Patterns
Hardcore fans will not be disappointed with these sophisticated Batman Perler bead patterns.
If you'd rather make crafts for your children, then these superhero crafts are perfect to save the day.
14. Artistic Perler Bead Batman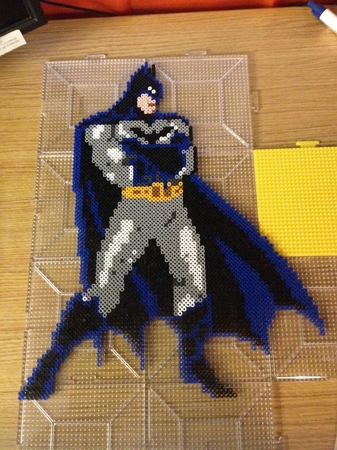 Take your Batman Perler bead designs to the next level by following this pattern by Proto-Kye, who makes a flawless model.
15. Batman Perler Bead Activity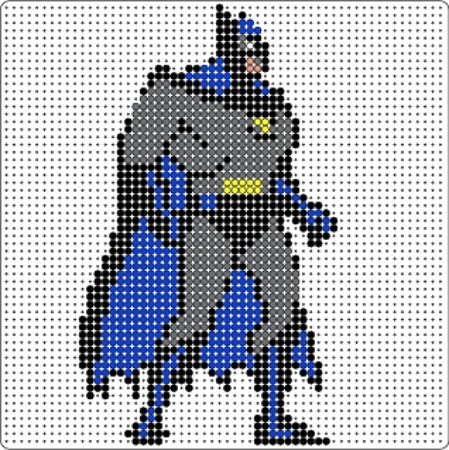 Because of his intellectual prowess, it's easy to forget that Batman is a 6-foot man who has an Olympic-level physique. But Perler Bead Patterns is here to remind us that he is both brains and brawns, as they share this bulky Batman Perler bead design.
16. Chibi-Like Batman Pattern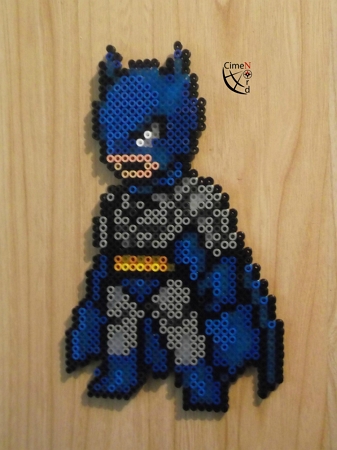 For a small yet sophisticated pattern that you can display or place on your desk, Cimenord inspires us with this chibi-like Batman pattern.
Chibi refers to things, animals, or people that are made cuter by the fact that they're short.
Some of the patterns in this food Perler bead patterns can be considered chibi.
Tired of the same 2D Perler bead pattern? No problem, because Wolleplanet is here to challenge you with their 3D Batman Perler bead project.
3D projects are rewarding so make more in this list of 3D Perler bead patterns and 3D paper flowers.
18. Sophisticated Batman Poster Perler Bead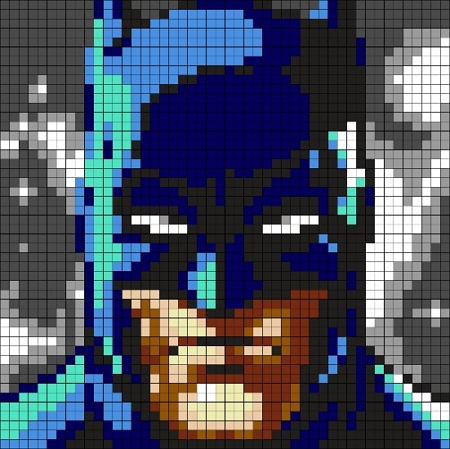 19. Amazing Batman Art Perler Beads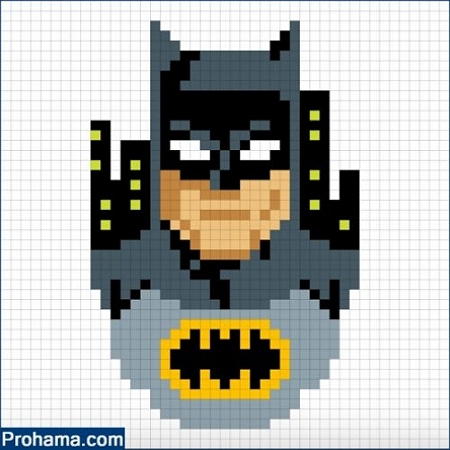 If you're looking for a Perler bead design that can be displayed as a fridge magnet or hung on the wall as decor, then this amazing pattern by ProHama is for you!
20. Batman Beyond Perler Beads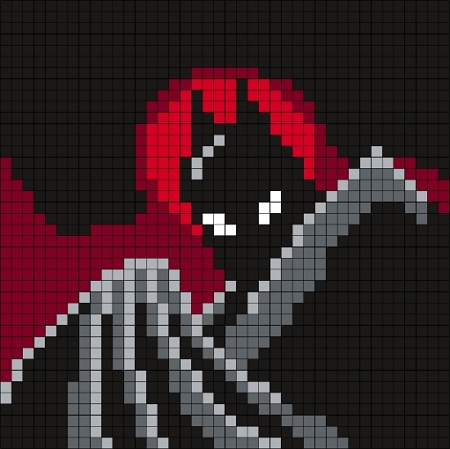 Fans of the Batman Beyond series will finally get to own their own creation through maninthebook's seriously stunning pattern, or should I say art.
8 Batman Villains Perler Beads
We can't talk about Batman without also talking about his greatest enemies.
Check out more pop-culture Perler beads here: Star Wars Perler beads.
21. Easy Bane Perler Beads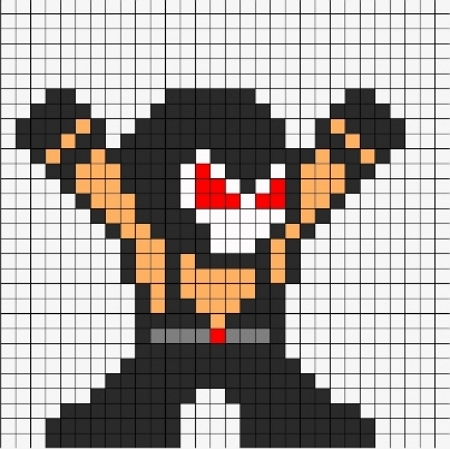 Bane is a brute who possesses inhuman physical strength. He's notorious for being the "man who broke the Bat", so he's not only physically strong but also smart enough to corner Batman.
22. Two-Face Perler Bead Pattern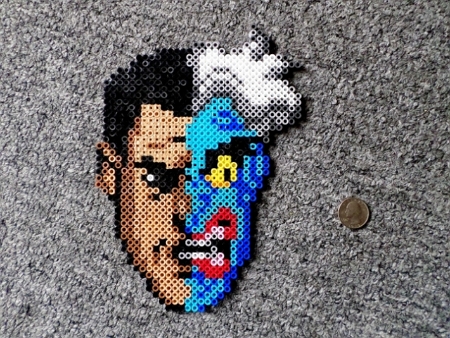 Highly unpredictable and very dangerous, Two-Face is one of Batman's most underrated villains. Here's Long Black Fingers sharing their design, along with a small coin, on which Two-Face loves to base his decisions.
23. Easy Joker Perler Beads

Joker is perhaps one of the most terrifying villains Batman has ever encountered. Fortunately, mimi88 has made their pattern so that he is more tolerable to children.
24. Harley Quinn Perler Beads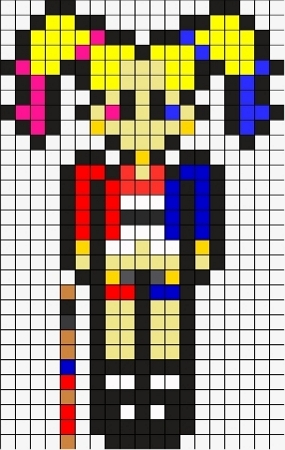 While not entirely a recurring villain for Batman, Harley Quinn is always beside the Joker, so that makes her part of his rogues gallery.
Here's another pattern by SeekPNG that children, especially girls, will enjoy making.
25. Joker Card Perler Bead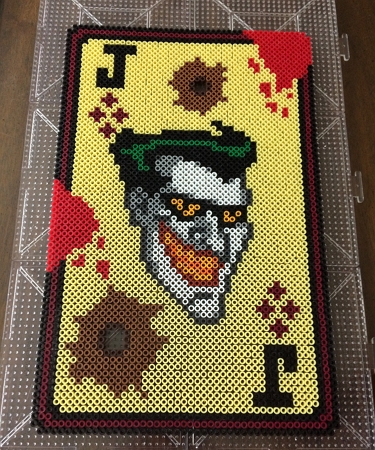 The Joker's origin is muddy, but his character is inspired by the joker card. Here's riperry showing us how to create an awesome Perler bead Joker card.
26. Heath Ledger Joker Perler Bead Pattern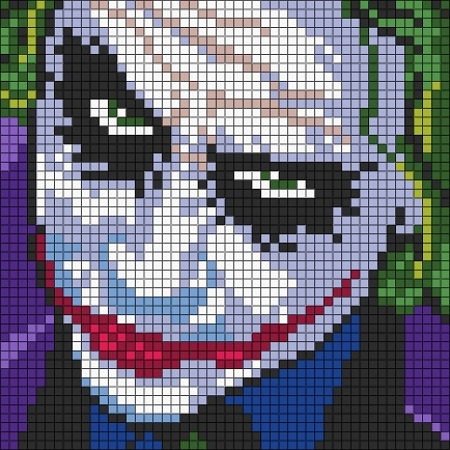 The late Heath Ledger cemented his legacy through his Joker performance in the 2008 film, The Dark Knight. Here's biancaplem's Perler bead pattern, which is great if you'd like to commemorate that version of the Joker.
27. Joaquin Phoenix Joker Perler Bead Pattern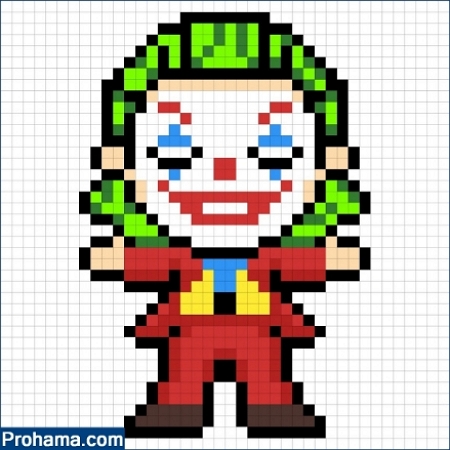 Joaquin Phoenix's Joker is a serious contender for being one of the best Jokers on screen. If you love his portrayal of the character, then this Perler bead pattern from ProHama is made for you.
28. Batman and Joker Mirror Image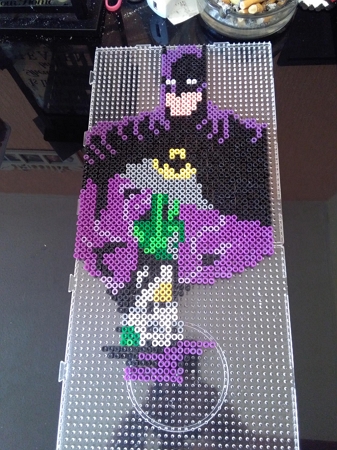 Many consider the Joker to be the mirror image of Batman. In some stories, one cannot simply exist without the other. Here's kitsunenairu showing us the symbiotic relationship between these two characters.
3 Perler Beads Batman Symbols
These last three patterns are some fun patterns that can be done in less than 30 minutes.
Create more symbols in these Emoji Perler bead patterns.
29. Batarang Perler Bead Pattern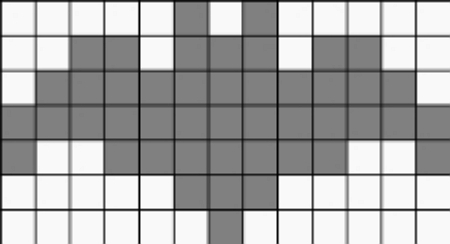 TheBakerofCupcakes shows us how to make one of Batman's most used gadgets, the Batarang.
30. Bat Signal Perler Bead Pattern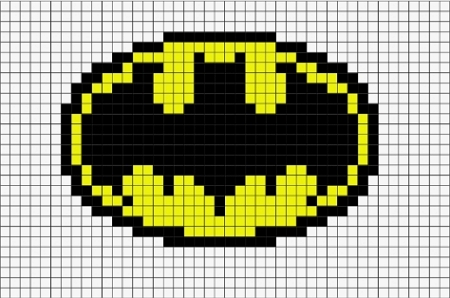 The most notable symbol in Gotham City, the Bat-Signal instills fear in criminals. Here's NicePNG's pattern to create your own.
31. Batman Symbols and Icons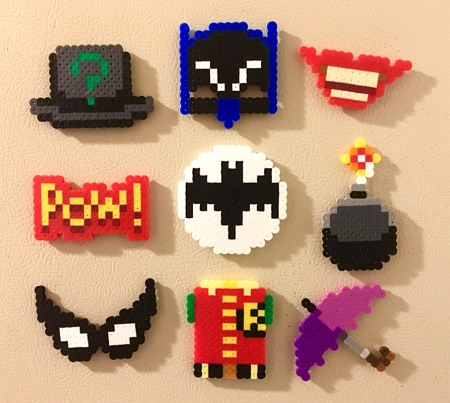 Other characters and symbols that didn't make it into our list can briefly be made through these icons made by Pixel Art Shop. These include the Riddler's hat, Cobblepot's umbrella, and Batwoman's mask.
The Perler Beads We Deserve
I hope you've enjoyed making these Batman Perler beads along with your little ones.
Create more of these interesting crafts by following one of our links below: