Making dinosaur crafts can be an exciting weekend activity to introduce little ones to prehistoric creatures that once inhabited the Earth.
Dinosaurs existed mostly during the Mesozoic era, which ranged from 250 million years to 65 million years ago. It's hard for scholars to accurately depict events that happen thousands of years ago, let alone millions of years.
Fortunately, there are paleontologists who work hard to give us a glimpse of what dinosaurs looked like.
So prepare to travel back in time and visit the prehistoric ages where enormous creatures will excite your toddlers and preschoolers by making one of these 24 dinosaur crafts!
3 Dinosaur Craft Kits
To help little paleontologists in their journey to discover more about dinosaurs, I've listed three dinosaur craft kits that will point them in the right direction.
Illuminate any room by getting this DIY dinosaur lantern crafts kit. This is a great set for those who'd want to enhance their creativity, as the kit contains various decorative materials, like glitter, leaves, and gems that allow the user to personalize their lantern.
The product also comes with six different types of dinosaurs, some coconut trees, and a remote to control the tealights.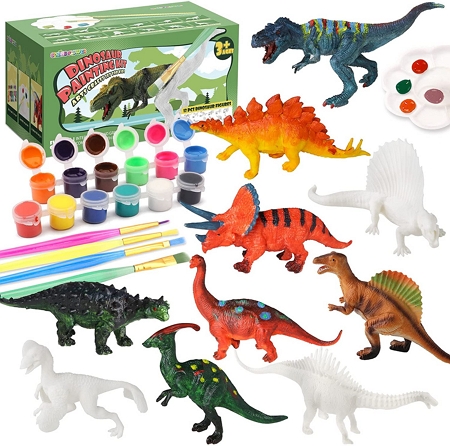 Create the dinosaur that your little ones have envisioned through this dinosaur painting kit. Through this set, preschoolers will also learn about the basics of color theory, like how mixing red and yellow can produce orange.
With 12 dinosaurs to unleash their creativity on, children will be looking forward to their dinosaur painting activity after school or every weekend!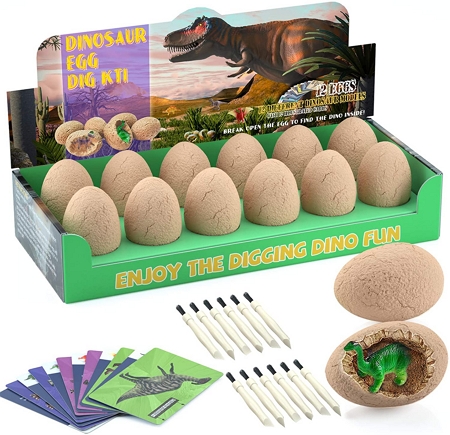 For a more sensory type of learning experience, I've included this awesome dinosaur egg digging kit. This kit is great for kindergartners who aspire to become paleontologists as the set simulates the uncovering of buried dinosaur eggs and fossils.
9 Dinosaur Crafts for Preschoolers
Apart from zoologists and pet lovers, nobody else loves learning about animals more than preschoolers do!
Dinosaurs will fascinate them even more since these are creatures that existed millions of years ago.
Here are nine crafts that will excite those little ones.
4. "D" Is for Dinosaur Craft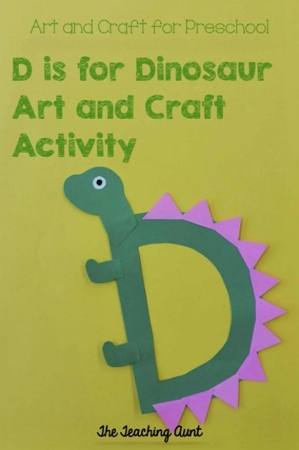 The Teaching Aunt helps us remember the image of the dinosaur while also reinforcing the letter "D" in the minds of your little toddlers through their "D" is for dinosaur craft.
It's so convenient that the letter "D" is shaped like the back of a stegosaurus. Simply add a head, legs, and some spikes and your little ones have produced an amazing craft.
Do similar crafts by heading on to our letter "D" crafts list.
5. Popsicle Dinosaur Stegosaurus Craft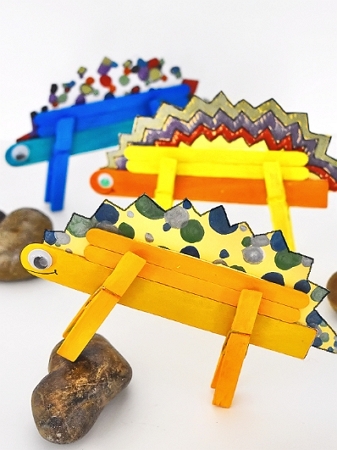 For a sturdier dinosaur craft, Our Kid Things suggests making dinosaurs out of popsicle sticks and clothespins.
The designs that your preschoolers can come up with are only limited by their imagination, which I'm sure is beyond infinite! It's better to get craft popsicle sticks with plain colors so that children can have a fun time painting them with some tempera paint.
Any leftover materials from this dinosaur craft will not go to waste if you make these popsicle stick crafts.
6. Handprint Dinosaur Pom Pom Craft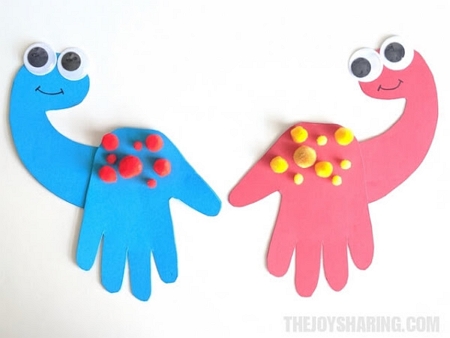 Here's a simple yet engaging activity shared by The Joy Sharing. Their cute dinosaur craft consists of using a handprint on a piece of construction paper and then cutting it out to make the creature's body. Simply add the pom poms of their choice to embellish their craft.
Finish the craft by making the dinosaur's head and by adding some googly eyes.
If you're looking for easy pom pom crafts that don't need a pom pom maker, then simply head on to our list!
7. Toilet Roll Dinosaurs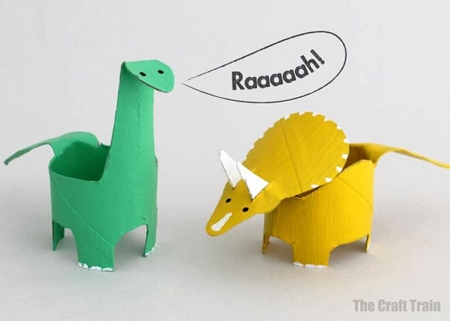 It's amazing what you can make out of repurposed toilet paper rolls. The Craft Train demonstrates with their toilet paper roll dinosaur craft where resourcefulness can take anyone willing to make amazing art out of simple materials available at home.
Stop letting crafts materials go to waste with this list of toilet paper roll crafts!
8. Cupcake Liner Dinosaur Craft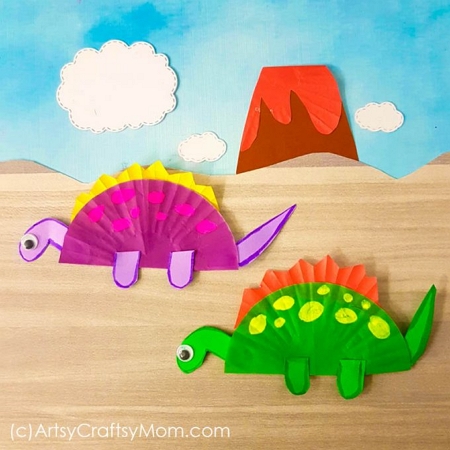 Artsy Craftsy Mom thought outside the box with these cupcake liner stegosaurus crafts.
It's a clever use of a common item I rarely see used in crafts. I just had to put it on the list!
9. Toilet Paper Roll Dinosaur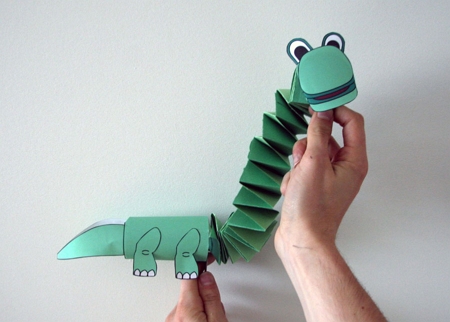 DLTK's Sites for Kids shares a guide on how to make a slinky dinosaur craft out of toilet paper rolls.
This can be an amazing activity to promote your preschoolers' fine motor skills since it involves plenty of gluing and cutting to make the middle section of the dinosaur.
This craft reminds me of Slinky Dog/Rex hybrid from Toy Story. Make DIY Toy Story crafts by checking our link!
10. Pipe Cleaner Dinosaur Craft
For a craft that feels soft to the touch, here's a video tutorial on how to make a pipe cleaner dinosaur, courtesy of Eager Crafts's channel.
To learn more about this highly versatile craft material, check out our pipe cleaner crafts guide!
11. Tissue Paper Dinosaur Craft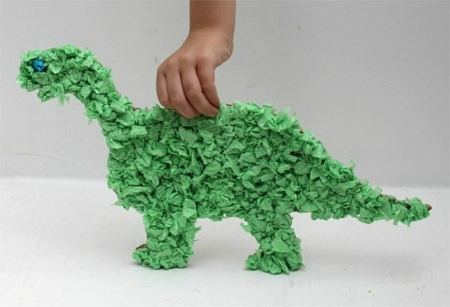 I love crafts that involve a new textural experience for children, like this dinosaur craft from Mom Unleashed.
To make it, simply draw an outline of their favorite dinosaur and glue the toilet paper of their choice.
Check out these tissue paper crafts to see the variety of projects that kids can enjoy using this method.
12. Clothespin Stegosaurus Craft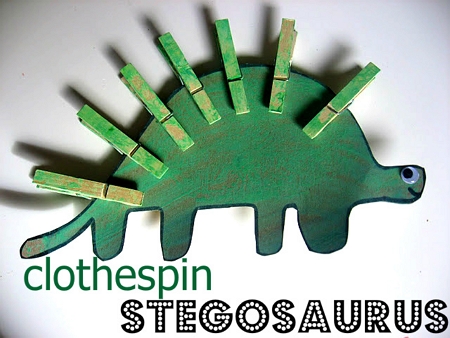 No Time For Flashcards shares a very simple craft with this clothespin stegosaurus craft.
It's a three-step project that involves drawing and cutting, painting the construction paper and clothespins, and piecing each component together!
DIY clothespin crafts are waiting for your kindergartners to be made!
6 Dinosaur Art Projects
For creative projects, I've listed six dinosaur art projects that will amuse your little ones.
If you're enjoying these dinosaur crafts so far, don't forget to also see our dinosaur Perler bead patterns.
13. How to Draw an Easy T-Rex Dinosaur
Draw So Cute's video tutorial guides the viewer on how to draw a tyrannosaurus rex step-by-step.
If children aren't confident yet with immediately starting with a marker pen, they can begin their drawing with a pencil so any mistakes can easily be erased.
Hone those drawing skills by making one of these animals to draw for kids.
14. Dinosaur Rock Painting Activity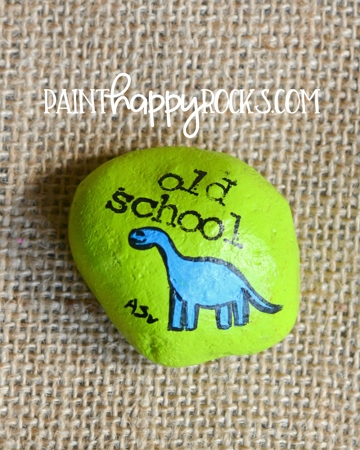 Paint Happy Rocks takes us to the world of rock painting by making this easy dinosaur rock painting activity.
Try similar activities with these owl rock paintings.
15. Dinosaur Handprint Art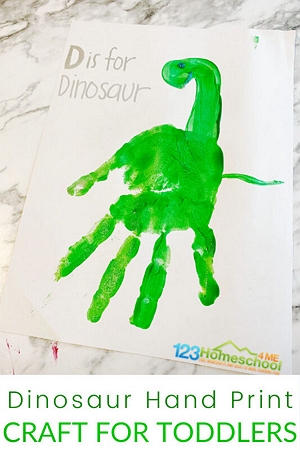 Here's another engaging activity brought to us by 123 Homeschool 4 Me.
I love handprint crafts since it gives kids the opportunity to get messy and have a fun touch sensory experience.
Here are some turkey handprint crafts for seasonal activity.
16. How to Make an Easy Origami Dinosaur
Introduce your children to the world of paper folding, also known as origami, with this origami dinosaur tutorial made by PPO's channel.
Odds are, you'll end up doing most of the folding but your kids will love to help and watch.
Here are some origami kits to get beginners started.
17. Amazing Dinosaur Bookmark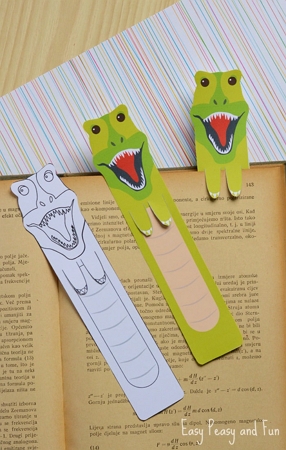 Easy, Peasy, and Fun teaches us the value of being a wide reader by making this awesome dinosaur bookmark.
Little ones who are dinosaur fanatics will be encouraged to read more whenever they see their favorite creature waiting in a book.
18. Dinosaur Corner Bookmark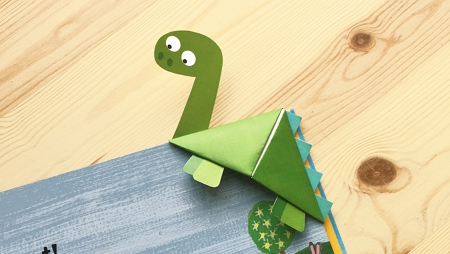 Toucan Box shares a dinosaur bookmark of a different style. Traditional bookmarks don't differ much from corner bookmarks; it's just a matter of preference.
The guide kindly shares a convenient template for the dinosaur. Alternatively, children can make their own designs if they're up to the challenge.
6 Engaging Dinosaur Crafts Ideas
While all children's crafts are engaging in some way, these seven crafts provide additional features other than purely decorative crafts.
For example, dinosaur paper mask crafts allow for imaginative play; playdough fossils open up digging activities.
Similar functional crafts can be found in this guide to making homemade instruments.
19. Triceratops Dinosaur Paper Plate Mask Craft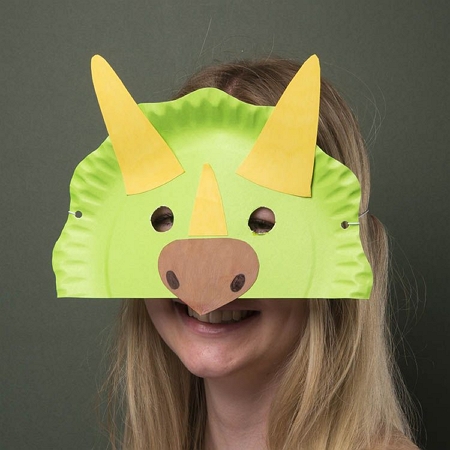 Baker Ross helps children make their favorite triceratops with their detailed written tutorial.
Crafts such as these encourage imaginative play and are great for occasions, like Halloween!
Try out these paper bag puppets if your little ones are looking for more characters to pretend play with.
20. Dinosaur Eggs Digging Activity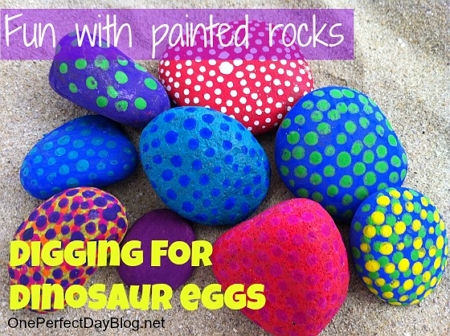 When the weather is favorable, Be A Fun Mum's "digging for dinosaur eggs" activity is a great way for children to get some fresh air. The activity involves two parts: painting the rocks and then hiding these throughout your home for children to "dig up".
Have you ever taken a nature walk? You probably have, if so, collect some nature's treasure to make some nature collage!
21. Pop-Up Dinosaurs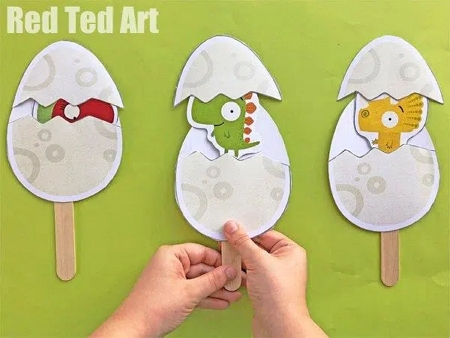 Red Ted Art shows children how dinosaurs hatch from eggs with their pop-up dinosaur craft.
To make crafting easier, they've kindly provided a printable template for both the eggs and the dinosaurs.
Studies have found that dinosaurs are not that far from birds, so it's the perfect opportunity to make chicken crafts, as well!
22. Dinosaur Fossil Activity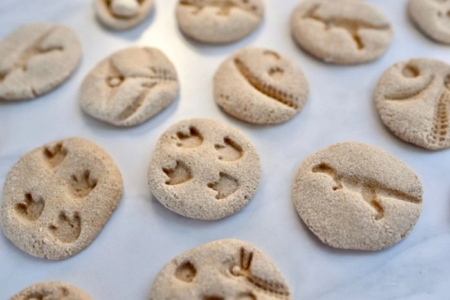 Have your kids wondered how creatures from millions of years ago were discovered? If they have, then making Make Life Lovely's dinosaur fossil craft will enlighten them on how!
These fossils are made with a simple mixture of salt, flour, and water, commonly known as salt dough. Making the fossils simply require imprinting your children's dinosaur toys on the fresh salt dough.
If your little ones are interested in playdough, here's the best recipe for homemade playdough, made with salt dough! For crafts during the winter season, you can make these snowman handprint ornaments, which are made with salt dough too!
23. DIY Dinosaur Bookends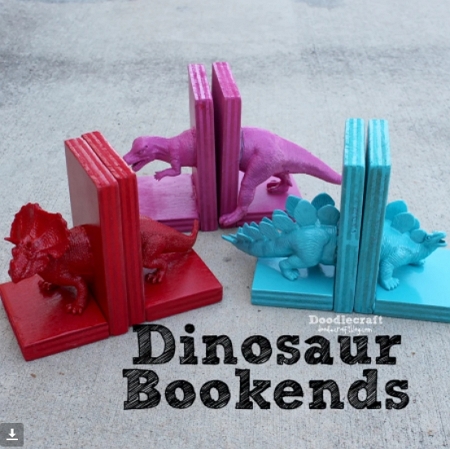 If your children's library is just starting to be filled, Instructables is here with a DIY dinosaur bookends craft.
Simply head on to their page to see the full list of materials and instructions on how to make these bookends.
24. DIY Dinosaur Soap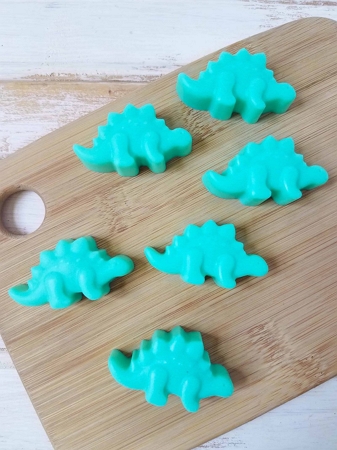 Make bath time more exciting with these DIY dinosaur soaps made by The Inspiration Edit.
All you need for this activity is to have a dinosaur mold and the rest of the materials found on their webpage. Simply follow their instructions and you'll have these dinosaur soaps in no time!
Fascinating Dinosaur Crafts for Children!
I hope these dinosaur crafts have been fun and engaging for your children. Dinosaur lovers will find a variety of crafts to kill their time with, ranging from art projects to more useful dinosaur crafts.
Don't forget to check other animal crafts and drawings here: