Dragons are some of the scariest and sometimes wisest magical creatures out there. While they aren't real, it doesn't mean they can't become real with a little craft magic.
The 29 easy dragon crafts for kids below ensures kids as young as toddlers can take these mythical creatures home.
20 Easy DIY Dragon Crafts
Keep kids safe and independent with these safety scissors. You might want to have some washable paint and googly eyes handy as well as a lot of these crafts call for each.
1. Paper Plate Dragon Craft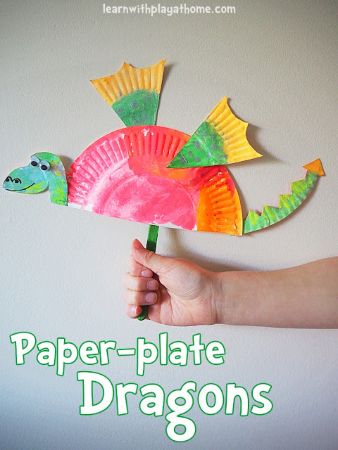 Paper plates are pretty much a staple crafting material, and Learn with Play at Home uses one to make a simple dragon craft even my toddler could do.
It's up to your kids if they want to add a pair of googly eyes and use paint to give their dragon a fierier quality!
2. Glittery Dragon Craft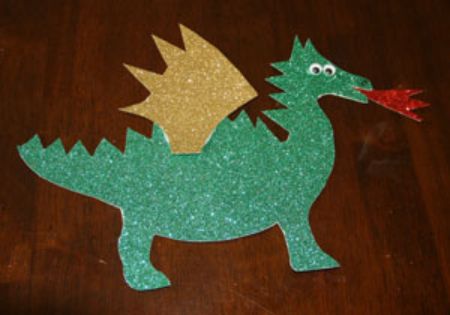 Make way for this glamorous dragon craft from All Kids Network! All it takes is some glitter paper (or construction paper and glitter) and the templates for the dragon's body and wing.
Kids will have a grand ol' time putting this together, as their imagination continues to sparkle with this easy craft.
3. Chalk Art Dragon Craft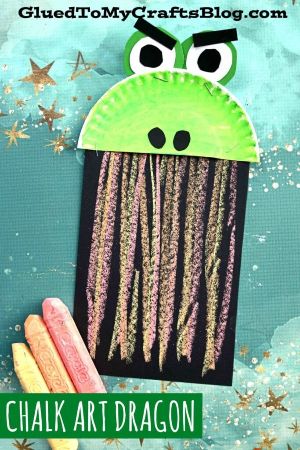 Bored of using plain old crayons? Then chalk it up to Glued to My Crafts to show kids a simple way to use colored chalk to bring the heat with this fire breathing dragon craft.
4. Handprint Dragon Craft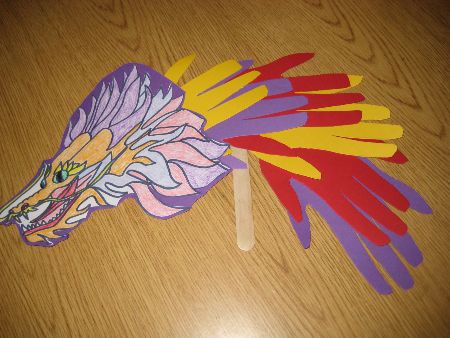 Scholastic already provides a neat dragon head template for your kids, and they'll have a hand in making the rest of the dragon's body on their own with hand tracings.
Add in a jumbo popsicle stick or two for your little ones to parade it around at home.
Check out this list of popsicle stick crafts for more craft inspiration.
5. Cupcake Liner Dragon Craft
Satisfy your kid's craving for creativity using things found in your kitchen. All it takes is some cupcake liners, scissors, and glue to leave your kids asking for more!
6. Fire Breathing Paper Dragon Craft
Drink with straws and blow some fire with this dragon craft! Okay, not actual fire, but Paper Magic has a cool looking, fire breathing dragon craft your kids will enjoy making.
7. Egg Carton Dragon Craft
Before throwing out those egg cartons, let kids use them to make this dragon craft by Kidspot. What makes this craft even better is that it also doubles as a cool dragon puppet with jaw-chomping action!
8. Toilet Paper Roll Dragon Craft
More fire breathing action you say? Say no more as Sema's Lab has a fiery project for kids to make using empty toilet paper rolls.
Here are some more toilet paper roll crafts your kids will love making if they want to keep the fun going.
9. Chinese New Year Dragon Craft
Mimic those giant dancing dragon puppets seen in parades during the Lunar New Year (on a smaller scale) thanks to Ria!
Be sure to watch the video tutorial to see what your kids will need to make their own.
10. Paper Chain Dragon Craft
Gwinnett County Public Library shows your little ones how to easily make a paper chain dragon craft. These loops won't have your kids running around in circles.
11. Easy Paper Dragon Puppet
Looking for something easy, fun, and inexpensive? Then you've come to the right place. S&S Worldwide has your back with this easy paper dragon puppet.
Your kids can make a lot of them in one sitting with different colors and designs, so let them go nuts and show off their creativity!
12. Pipe Cleaner Dragon Craft and Foam Dragon Egg
Check out Carol's video and be amazed by how simple materials can create such a lovely and mysterious dragon egg. Dragons are fiercely protective of their eggs, which is why hers is a video tutorial of both a dragon egg and a dragon.
Now, that's a two-for-one bargain!
13. Dragon Hobby Horse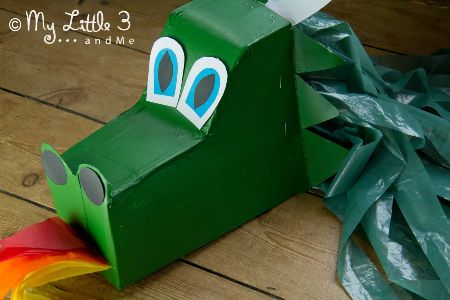 Kids Craft Room will let your kids ride their very own dragon at home! Sadly, you will be sacrificing your broom's handle. But at least your kids will have fun, right?
14. Paper Dragon Bookmarks
Take a page out of Red Ted Art's book and let your kids craft a neat corner dragon bookmark to guard the page of the books they're reading.
15. Dragon Pencil Holder
Your little one's coloring materials couldn't have asked for a better keeper. Thanks to Melissa's video, people will think twice before grabbing any of your kid's things, lest they be burnt to a crisp!
16. Dragon Cup Puppet
Disposable cups: great for holding water, but better off as your kid's next crafting material! Carolyn shows them how to use multiple cups to make an insane dragon puppet.
Pro tip: Use different colored cups to mimic a dragon's prismatic scales!
17. Flying Dragon Kirigami
Forget about flying boring old paper planes. It's much, much cooler for kids to fly paper dragons instead!
Arts and Crafts AR will have your kids flying mini dragons in their backyard or at school. Be sure to watch their video tutorial to learn how to make one.
If your kids want to make actual airplanes, skim through my list of awesome airplane crafts when you're done with this one!
18. Flapping Dragon Origami
Origami animals are great, but origami dragons that flap are a chef's kiss! Yellow Paper Origami shows kids how to make one, but a grown-up might need to help out as there are steps in the video that might be too tricky for little hands.
19. How to Train Your Dragon Pom Pom Craft
"Welcome to Berk!"
After the last How to Train Your Dragon movie, the dragons are now hidden with the Berkians protecting them. Don't worry though! Kids can take both Toothless and the Light Fury home thanks to One Little Project's pom pom dragon craft.
They even provide a dragon template, so be sure to check out their site to see what other materials are needed to bring these two to life.
20. How to Train Your Dragon Slime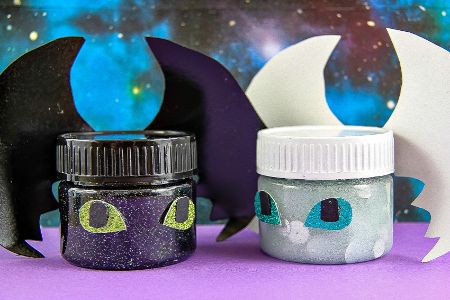 Capture the majesty of both Toothless and the Light Fury in gooey slime form thanks to Make and Takes. Dazzle them up even further by adding glitter to the slime mix and using glitter paper for the wings.
Oh, and don't forget to download their free template as well!
5 Dragon Art Projects for Kids
21. Thumbprint Dragon Art
Get ready for a messy painting activity with Fun Handprint Art's. This is one of the more simple dragon crafts for kids that has them use their thumbs to paint a dragon of their very own.
Of course they can also use all their fingers, so be sure to have some baby wipes handy!
22. Handprint Dragon Art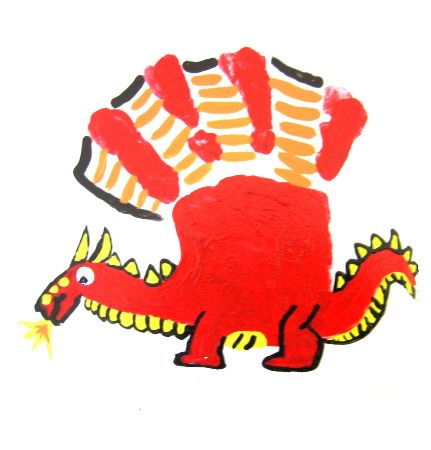 Posh Little Pixies on the other hand shows kids how to use their entire hand to make an easy dragon painting. They also share a tip on how to use a gloss sealer to preserve your little one's dragon art for years.
(Why didn't I think of that??)
23. Handprint Dragon Painting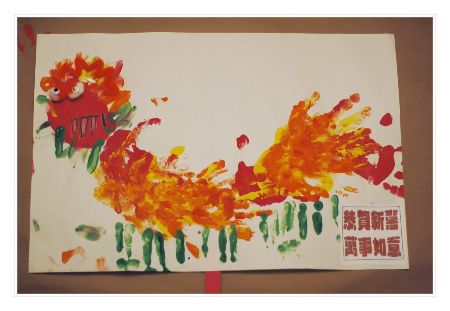 Kids can go wild with Create Town's tutorial on using multiple handprints and fingerprints to paint this messy but lovely dragon painting. You'll really want to have some wet wipes handy for this one.
24. Rolling Pin Dragon Art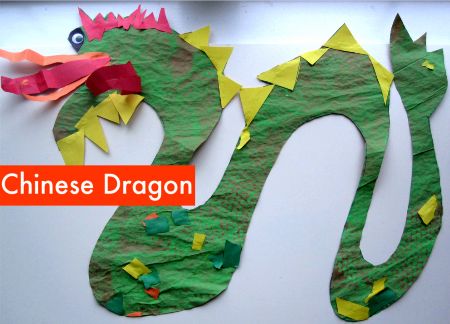 Prepare for some fun in the kitchen as No Time for Flash Cards gives kids a unique painting experience. Wrap your rolling pin with bubble wrap and let kids roll a dragon into existence.
25. Easy Dragon Drawing Tutorial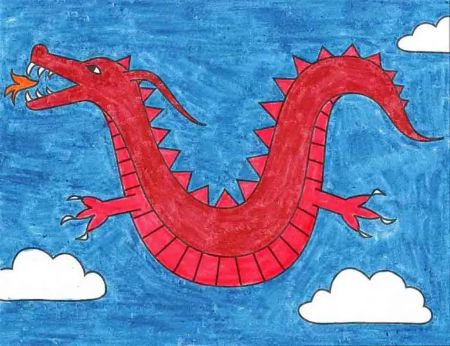 For kids who want to learn how to draw a dragon, Art Project for Kids gives a great step-by-step tutorial using shapes. This is a great way for kids to start drawing, improve their skills, and eventually develop their own dragon drawing style!
You can even print out the instructions.
If your kids enjoy drawing, then they're going to love tackling some of these easy animal drawings as well!
4 DIY Dragon Crafts to Unleash Their Inner Dragon
26. Foam Dragon Feet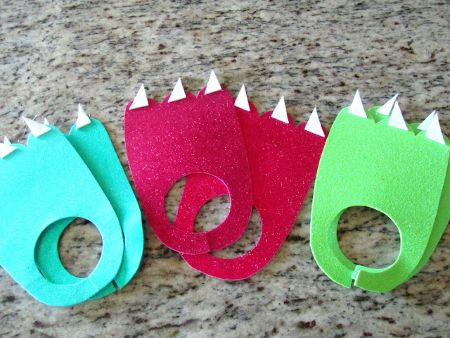 Time for your kids to embrace their inner dragon and stomp around like one with this dragon craft preschool kids can make. They can be hung on door knobs too, making for neat dragon decorations.
Pinning with Purpose shares all the materials and instructions you'll need to put this one together.
27. Cardboard Dragon Mask
Box Yourself will show kids how to transform ordinary boxes into an awesome looking dragon head!
Their step-by-step tutorial will guide kids on how they can experiment with different shaped boxes for a more uniquely shaped dragon head.
28. Paper Dragon Claws
Turn their hands into dragon claws thanks to this tutorial by Paper Creative Masters. Kids will just need to sharpen their paper folding skills. They can also opt to glue and paint them as well!
29. Felt Dragon Wings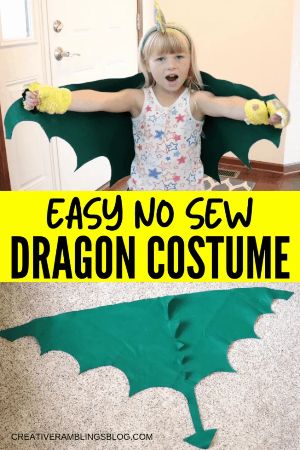 One of my favorite dragon crafts for kids is this no-sew felt dragon by Creative Ramblings that will have your kids soaring like a dragon.
The coolest part about this no-sew costume is that it can be designed differently from the one shown in the tutorial. Kids will enjoy using different colored felt to add more spikes or even make the tail longer!
Dragon Crafts to Turn Myth into Reality
Get ready for a dragon invasion at home with these 29 dragon crafts for kids. Kids of all ages, including toddlers and preschoolers, will love making their very own dragon (or even turning into one).
Want more interesting creatures to craft with your little ones? Try some of the activities on the following craft lists: