Pipe cleaners, as the name suggests, were originally intended for cleaning things with small holes and tight spaces.
But I'm so glad (and you should be, too!) that there are people who came up with the idea of making arts and crafts out of this versatile tool (also known as chenille stems).
Seriously! You'll spend hours making all sorts of pipe cleaner crafts with your kids using the ideas on this list.
These crafts range from pipe cleaner animals to fun things to do with pipe cleaners to keep your children occupied.
11 Pipe Cleaner Animals
It's amazing how many animals you can make with pipe cleaners. This list is only the tip of the iceberg when it comes to pipe cleaner animal crafts, but here are 11 to start with.
1. Pipe Cleaner Snail Craft
This video tutorial by Miss Tricks Mix Crafts and DIY shows us just how easy it is to make animals with pipe cleaners.
With just 3 pipe cleaners you'll have a cute snail that your children will enjoy playing with.
A strong adhesive (like a glue gun) is required to complete this craft.
2. Pinecone Turkey Decorated with Pipe Cleaners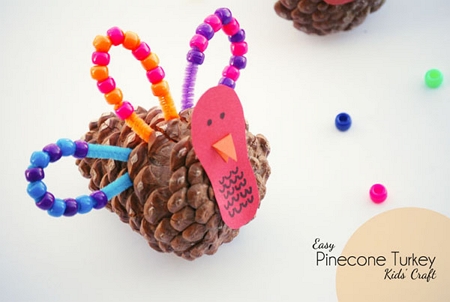 Recreate this pinecone turkey with your kids. This a perfect activity to do during the Thanksgiving season!
One Creative Mommy sure did get creative with this craft because the pinecone provides a sturdy body for the turkey and it allows you to easily insert the pipe cleaners.
While you're out foraging for pine cones, don't forget to grab a couple extra more for these pine cone crafts for kids.
3. Reindeer Bottle Decoration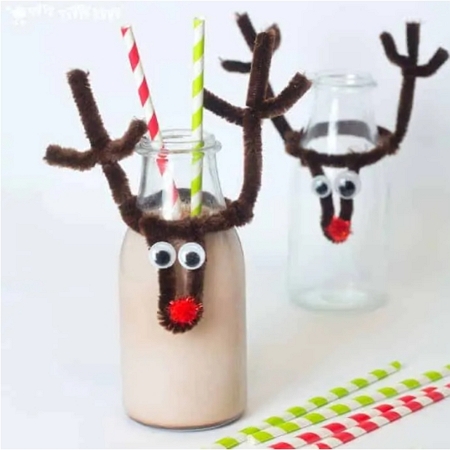 Make your eggnogs tastier during the Christmas season with these pipe cleaner reindeer bottle decorations by Kids' Craft Room.
Who knew simple pipe cleaners, a red pompom, and some googly eyes would elevate the Christmas spirit to another level?
4. Snake Pipe Cleaner Craft
Here are some easy pipe cleaner snakes to make your children's afternoon less boring.
It's really simple to make, as the video tutorial by Laura Torres will show you, and it mostly involves coiling pipe cleaners (of any color) around a pencil.
5. Cool Octopus Craft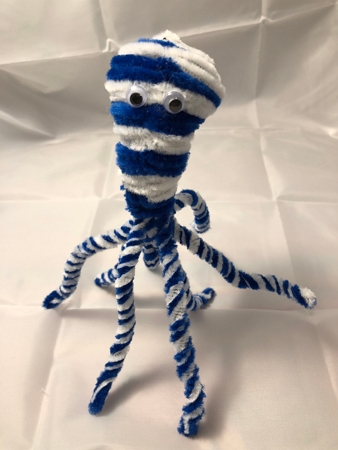 It's widely known that octopuses have the incredible ability to camouflage with their surroundings to avoid nasty predators.
Pipe Cleaner Animals stays true to the animal's characteristics by making this pipe cleaner octopus that can easily hide in plain sight with its mesmerizing colors.
They made this with white and blue pipe cleaners, but encourage your kids to get creative by using other colors that would match their ownsurroundings.
Try making these other octopus crafts or octopus drawings to learn more about this fascinating animal.
6. Colorful Pipe Cleaner Caterpillars
Caterpillars tend to have simple colors that allow them to blend with the food they eat, i.e. the leaves they munch on before they become beautiful and colorful butterflies.
Laura Torres gives you the chance to make your own colorful caterpillars before their metamorphosis.
7. Dog Made from Pipe Cleaners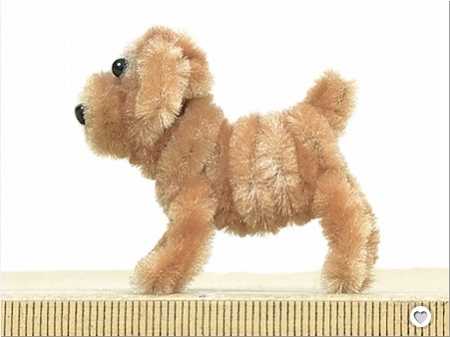 Craft Foxes provides you an opportunity to recreate your pet dog through their pipe cleaner tutorial.
This craft is an inexpensive way to give your kids a toy dog that they'll cherish like their own pets.
They have a detailed step-by-step guide and even helpful images that will aid you in making this cute companion.
Check out our compilation of dog Perler beads for more amazing dog crafts!
8. Pipe Cleaner Dinosaurs
Who knows exactly what dinosaurs truly looked like? Maybe they had scales like reptiles, or perhaps they had a furry exterior just like these pipe cleaner dinosaurs do.
Allow your kids to expand their imaginations and have fun making these pipe cleaner brachiosauruses from Eager Crafts.
This craft involves plenty of twisting and turning, which makes for a rewarding experience for kids.
9. Teddy Bear Pipe Cleaner Pencil Topper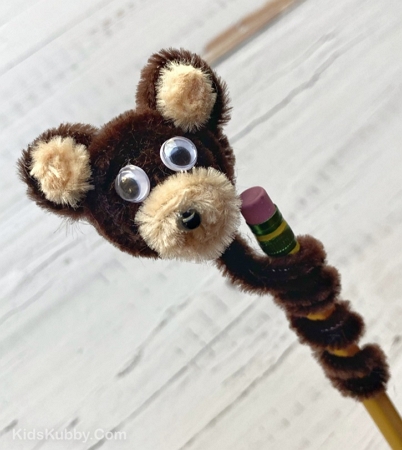 Engage your children in a fun activity by making this teddy bear pencil topper from Kids Kubby.
The sight of this teddy bear topper on their pencil will not only encourage them to write more, but will also keep their motivation high when they remember the fun time they had making it.
Kids Kubby has an excellent guide for this teddy bear topper and other animals, so it's definitely worth a look if there are other pipe cleaner animals your kids would like to make.
10. Spider Web Pipe Cleaner Craft for Halloween
This spider and cobweb made of pipe cleaners are a nice addition to your Halloween decor.
The great thing about pipe cleaners is that they're pliable, and because of that this spider craft doesn't require any adhesive to attach it to its cobweb, and you can remove the spider any time you want.
Easily make this with your kids by following the video tutorial from CraftsToMake.
Try your hand at these Halloween painted rocks to challenge your kids' artistic abilities while you're at it.
11. Wooly Llamas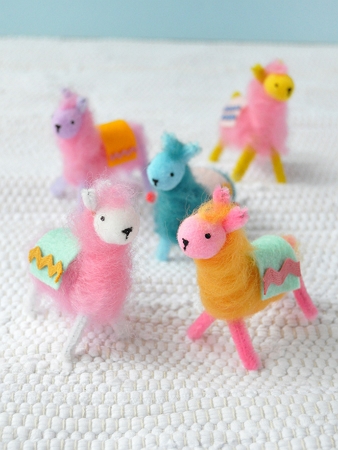 Here are some colorful llamas from Handmade Charlotte to brighten up your day.
Every aspect of this craft is impressive, from the usage of pipe cleaners to serve as the llama's structure to the selection of craft wool for its texture and pleasant color.
With their clear step-by-step instructions, you won't have any trouble making these adorable llamas.
6 DIY Things to Make with Pipe Cleaners
These next DIY crafts are interesting things to make with pipe cleaners that your children can actually wear.
12. Pipe Cleaner Rose Ring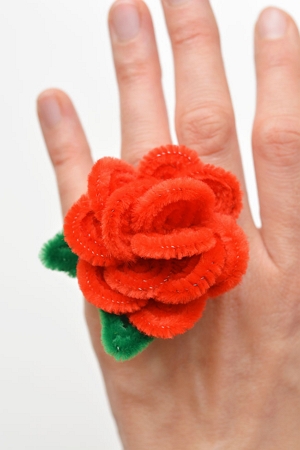 Make a lovely rose ring made out of pipe cleaners for your kids. This rose ring by One Little Project is beautiful as it is durable.
You'll need 6 pipe cleaners of the color of your choice, plus a green one for the leaves.
This craft shows how easy it is to work with pipe cleaners because you don't need any tools or materials (glue nor scissors) to create this wonderful flower.
13. DIY Crystal Pipe Cleaner Headband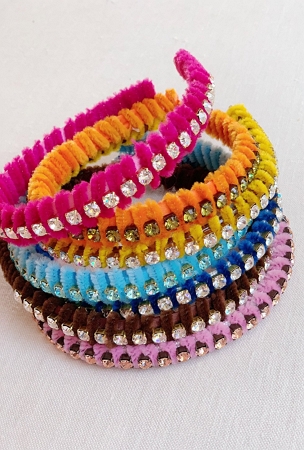 Honestly WTF found a simple way to make your daughter's plain headbands prettier with pipe cleaners and chain crystals.
Simply pick your favorite pipe cleaner color and follow the full instructions on their website to create these pretty headbands in no time.
14. Easter Bunny Headband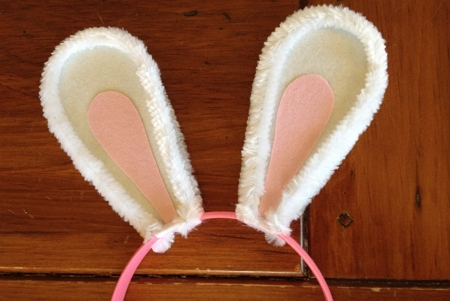 Keep your egg hunts more interesting by crafting this Easter bunny headband that Events To Celebrate has made.
The texture of the pipe cleaners is the key to this craft, making it fluffier and more enjoyable for your kids to wear.
Make these other spring crafts for kids after you've finished your egg hunts!
15. Golden Pipe Cleaner Tiara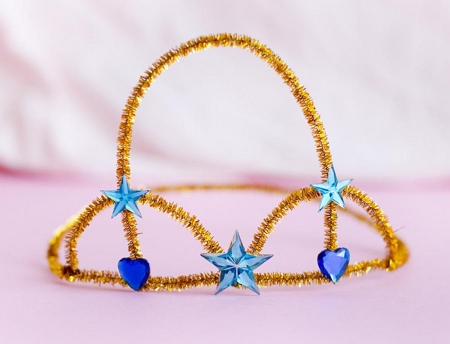 While they're already charming princesses in your eyes, your daughter and nieces will feel like they belong to royalty once they wear these pipe cleaner tiaras.
Make Me Iconic shows us exactly how to make a golden pipe cleaner tiara adorned with craft gems. It's simple yet a valuable craft that helps your kids' development and creativity through role-playing.
16. Medusa Headband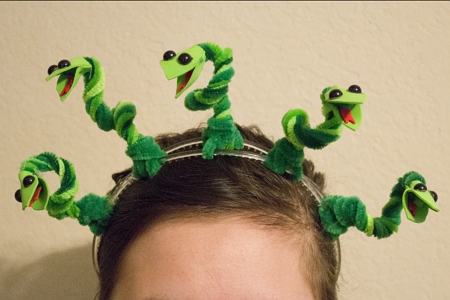 This is one of the coolest-looking DIY headbands that's perfect to wear during Halloween or just for fun.
Even without its petrifying powers, this amazing Medusa headband from Aesthetics Shorts has got me stunned because of how incredible it looks.
17. Fashionable Pipe Cleaner Glasses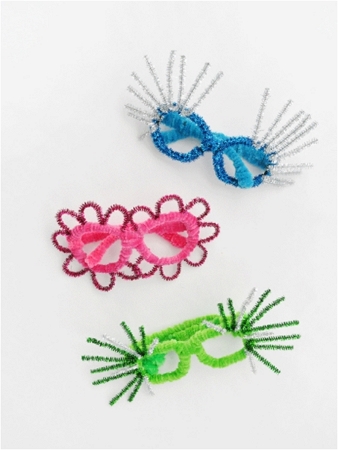 Kids love to role-play and copy other people. If your kids are curious about glasses because they see other people wearing them, Handmade Charlotte teaches how to make your own DIY glasses from pipe cleaners.
Try to be as creative as possible, including multiple colors and textures of pipe cleaners as well as different designs. Just make sure they're comfortable for your kids to wear.
6 Pipe Cleaner Arts and Crafts Activities
18. Rainbow Paper Plate with Pipe Cleaners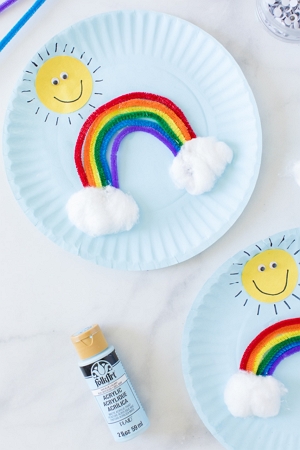 On those rainy days remember that there'll always be a rainbow after. Also, remember that there are plenty of things to do with pipe cleaners when you're forced to stay indoors, like this rainbow craft by Made To Be A Momma.
Simply grab pipe cleaners, cotton balls, and some yellow acrylic paint to include a bright and happy sun.
Check out these other cotton ball crafts for more ideas on activities for toddlers and preschoolers.
19. DIY Pipe Cleaner Fall Tree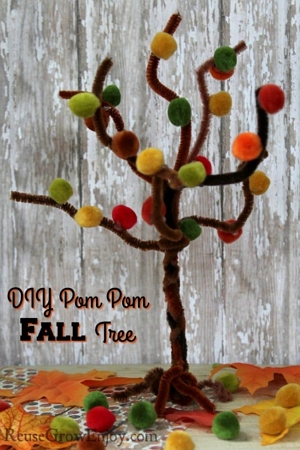 Recreate fall foliage indoors with this DIY pom-pom tree made by Reuse, Grow, Enjoy. Although this is a kid's craft, I wouldn't be ashamed to display it during the autumn season, especially when it's made with love with your little ones.
20. Pipe Cleaner Trees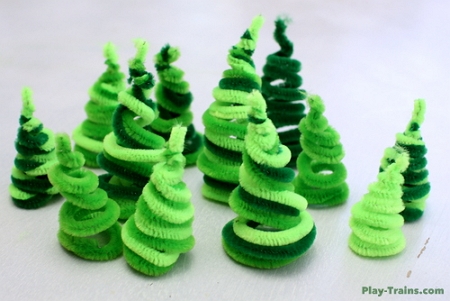 Complement any Christmas decor with these trees made from pipe cleaners. I love how Play Trains used different shades of green to create a variety of trees!
Not only that, but they also made other guides for different types of trees that are appropriate for different seasons and occasions. Check out their site for more ideas!
21. Pipe Cleaner Holiday Wreathe
If you're out of materials to make an authentic Christmas wreath but you have a ton of green pipe cleaners lying around, then you're in luck.
Cindy deRosier has got you covered with a guide on how to make a wreath that is just as authentic, considering the materials that went into this are simple pipe cleaners and a bunch of colored pom-poms.
22. Christmas Tree Snow Ornament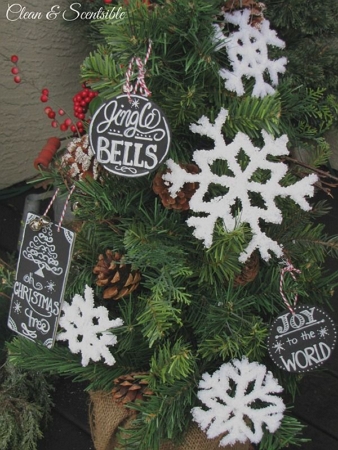 Capture the beauty of the snowflake with this easy pipe cleaner craft from By Stephanie Lynn. Your guests will think that these ornaments are store-bought simply because of how incredible they look.
They'll be surprised when you tell them that they're simply made with white pipe cleaners and Epsom salt!
Don't hesitate to make these snowman handprint ornaments if your Christmas tree is looking a little bare this year.
23. DIY Dream Catchers Made of Pipe Cleaners
Are your kids having bad dreams? Don't worry because they'll immediately forget those once you're done crafting these DIY dream catchers on Shaun and Kyra's channel.
The video tutorial will keep you engaged because not only did the kids do a great job of presenting their DIY dream catchers, they've also included educational concepts (like chemical processes) that will keep you and your kids hooked.
If you're kids are still having nightmares, try making these other DIY dream catcher for kids.
7 Pipe Cleaner Toys and Activities for Kids
Lastly, these seven pipe cleaner crafts are among the countless toys you can make and activities that you can do with your kids.
Some of these are educational and will teach your children how to count, and some of these will keep them entertained.
24. Pipe Cleaner Ocean Creatures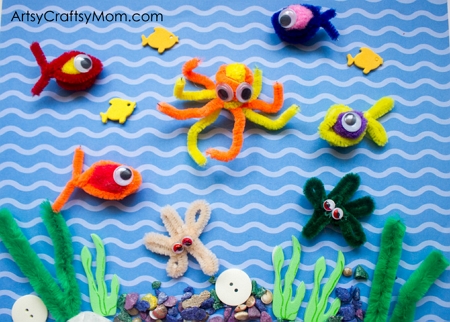 Get to know some of the creatures of the ocean through these pipe cleaner crafts that Artsy Craftsy Mom shares.
They include step-by-step instructions for each of the animals you see on the image, providing your kids a chance to enhance their creativity as well become familiar with various marine creatures.
If your kids are longing to see the beach, then make these ocean crafts or Moana crafts in the meantime.
25. Pipe Cleaner Finger Puppets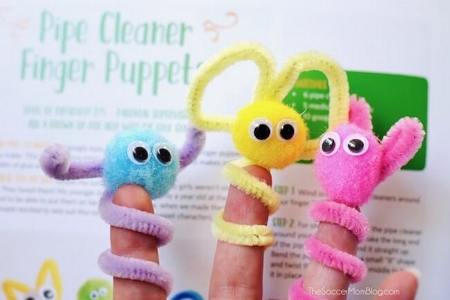 Stimulate your child's imagination and enhance their verbal skills through role-play with these pipe cleaner finger puppets.
The Soccer Mom Blog has some ideas on how to create these puppets, but with a little bit of creativity, I'm sure your kids are able to create them with their personal flair.
Even simple and inexpensive pipe cleaner crafts can become your kid's next favorite toy. If you're looking for other DIY toys, then ttry these Toy Story crafts!
26. Star Wars Finger Puppets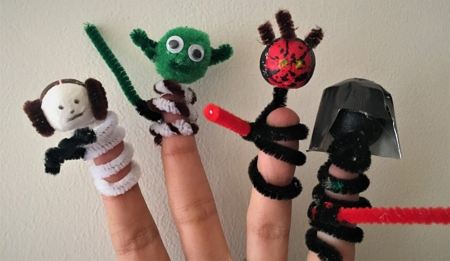 It's never too early to introduce your children to one of the greatest movie franchises of all time with classic Star Wars characters and villains made from pipe cleaners.
Curious And Geeks did an amazing job with these pipe cleaner finger puppets! Simple as they may look, these designs capture each character's most recognizable looks.
The lightsabers look fantastic, too!
27. Halloween Pipe Cleaner Finger Puppets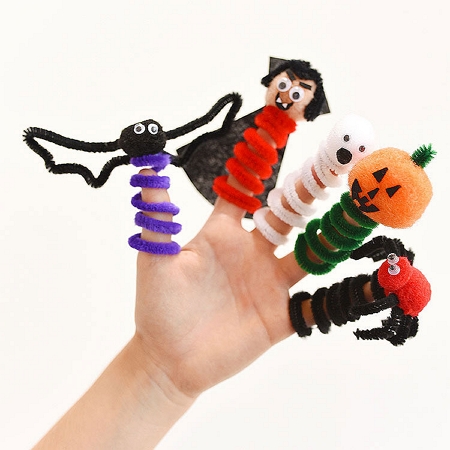 Teach your kids that not everything Halloween related needs to be scary and that you can even make imaginary friends with some of the so-called terrifying creatures of the night.
One Little Project shows us that you can have your own Count Dracula or skeleton friend in under just 10 minutes. Simply follow their instructions to summon these puppets.
28. Pipe Cleaner Sensory Toy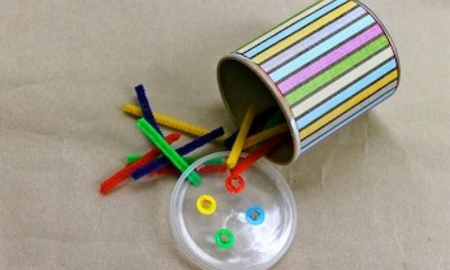 Help your toddlers distinguish colors more accurately with this pipe cleaner toy that Kid Spot has made.
Simply poke holes through the lid of a container and outline each hole with the color of the pipe cleaners that your kids will have to match and insert.
Watch your preschoolers gain some self-esteem and sense of accomplishment after they've inserted all the pipe cleaners in the correct holes!
29. Pipe Cleaner Fishing Activity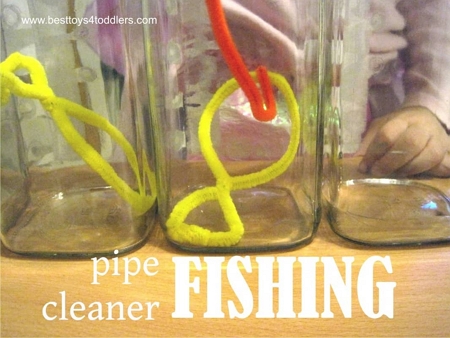 Train those fine finger and hand movements through this fishing activity that Best Toys 4 Toddlers has created.
Developing hand and finger movements is an important foundation for many aspects in life.
As they say, "Teach a man how to fish and you feed him for life."
30. Counting Beads Activity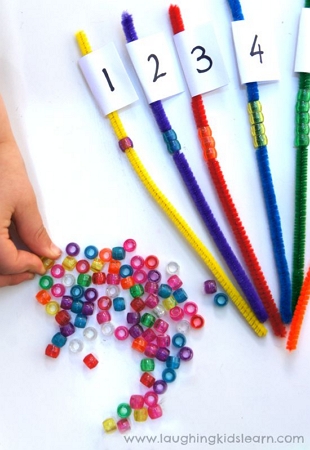 Laughing Kids Learn found an entertaining way to teach your kids how to count using beads and pipe cleaners.
The colorful beads will keep your kids hooked on this activity. Who would've thought pipe cleaners could help teach your preschoolers how to count?
Easy Pipe Cleaner Crafts for Young Kids
This list barely scratches the surface when it comes to the number of pipe cleaner crafts and activities that you can make with your kids.
Let us know if you found these useful!
Don't forget to keep the crafting fun going with these popsicle stick crafts and easy Perler bead patterns.