Clothespins aren't just great for hanging clothes – they can also be used to make cute clothespin crafts, too!
From insects to dolls, I've found 28 fun clothespin crafts your kids can make using both spring-clothespins and dolly pegs.
21 Clothespin Craft Ideas
The most common clothespins can be found in both wooden and plastic form, and chances are you already have a few of them tucked away somewhere.
1. Clothespin Giraffe Craft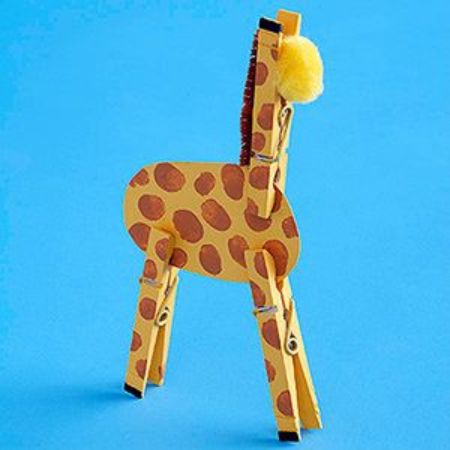 No need to go to the grasslands or the zoo to see a giraffe because Parents.com has one that kids can make at home with clothespins.
Want to make it even more fun? Let them paint the giraffe's spots with their fingers!
2. Counting Octopus Clothespin Craft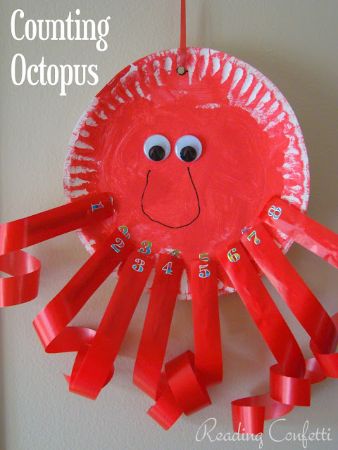 Who said learning has to be boring and rigid? Turn a boring old lesson on numbers and counting into a fun activity with this clothespin octopus craft by Reading Confetti.
3. Paper Plate Clothespin Hedgehog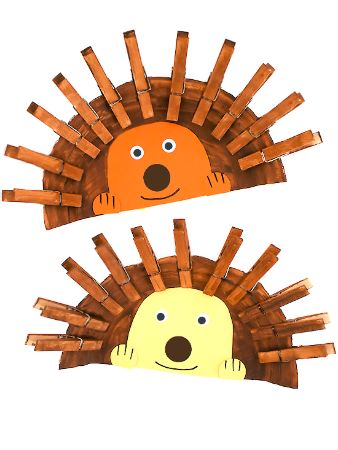 Here's a hedgehog your kids can pet without worry! Our Kid Things shows your little ones how to make a hedgehog out of clothespins and a paper plate. Oh, and you'll want to get a 1" hole puncher for this project, too.
For even more craft ideas of these spiney critters, here are some hedgehog crafts for kids!
4. Clothespin Stegosaurus Craft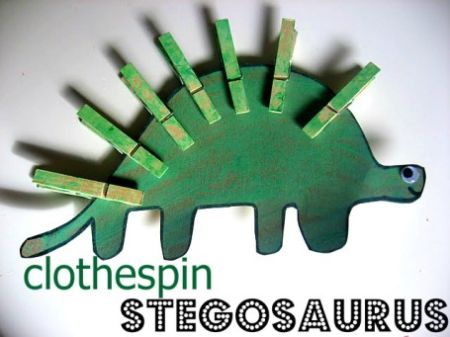 Dinosaurs are extinct, but that doesn't mean kids can't resurrect them. While not exactly Jurassic Park levels of resurrection, No Time for Flash Cards has your little one bring a spiky stegosaurus to life using clothespins.
5. Clothespin Sunshine Craft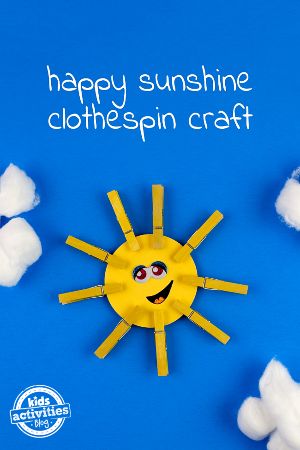 While you're waiting for your clothes to dry, kids can make the sun itself using clothespins courtesy of Kids Activities. Drawing a perfect circle might be too tricky for kids, so this tutorial also teaches them how to trace around a circular lid.
6. Cupcake Liner Butterfly Clothespin Craft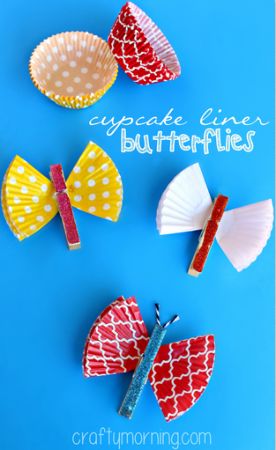 Cupcake liners are great for baking and for crafting! Crafty Morning shows how to make pretty and colorful butterflies using ordinary clothespins and cupcake liners.
This activity is super easy and great for toddlers and preschoolers!
7. Caterpillar to Butterfly Clothespin Craft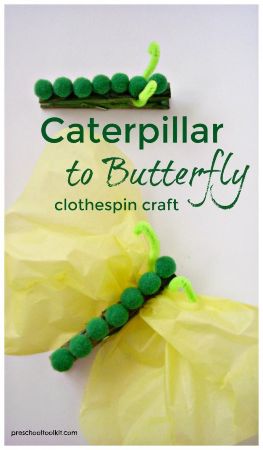 From an ugly caterpillar to a beautiful butterfly, Preschool Toolkit teaches kids the lifecycle of this unique insect in such a simple yet ingenious way.
While this tutorial does skip a stage of the caterpillar's development, kids will be amazed by this clothespin craft nonetheless.
8. Clothespin Butterfly Snack Bag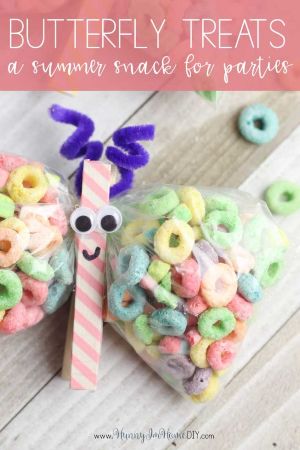 Hunny I'm Home has some adorable butterfly snack packs that kids can use to store their sweets on the next family trip.
Pack their favorite cereal, candy, or even some mini cookies in these adorable bags.
9. Easter Bunny Clothespin Craft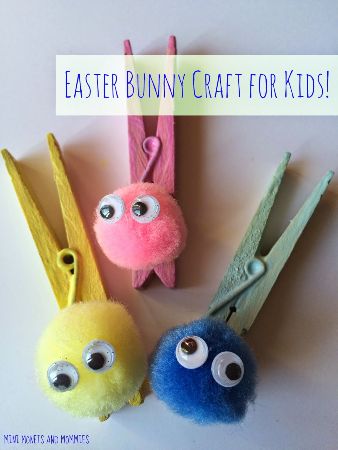 Prepare for Easter with Mini Monets and Mommies' tutorial. These cute little bunnies will help kids show some love for the Easter bunny and are really easy to make.
Need more activities for spring? Then head on over to our spring crafts for kids post!
10. Grasshopper Magnet Clothespin Craft
Animaplates's tutorial uses pipe cleaners, clothespins and a magnetic strip to create a cute grasshopper fridge magnet your kids will enjoy playing with while you prep dinner in the kitchen.
11. Clothespin Ant Craft
I'm not really a fan of ants, but these are just too stinkin cute! From the makers of everyone's favorite crayons, Crayola teaches us how to make a clothespin ant.
This clothespin craft is so easy, kids can make an entire colony of them to control, just like Marvel's superhero, Antman.
12. Clothespin Paper Puppets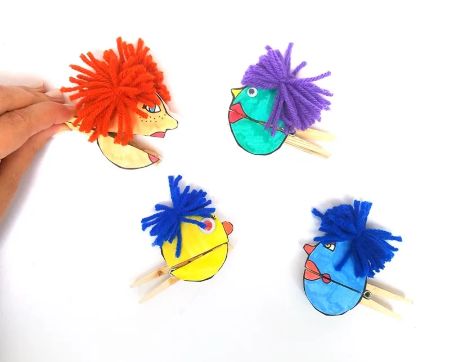 These cute little clothespin puppets from Moms and Crafters kind of remind me of Pacman, but with hair.
Be sure to check out their tutorial to see what your kids will need and to get the free templates that are available on the site (accessible after you sign up for their newsletter).
13. Dinosaur Clothespin Puppets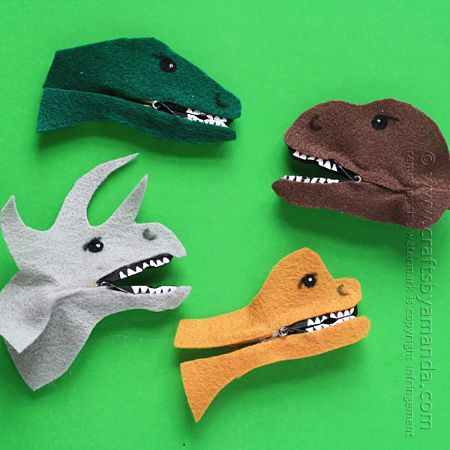 My kids had way too much fun with these dino puppets made with felt from Crafts by Amanda. What's cool is that she includes free dinosaur patterns you can print out for your kids to easily trace.
14. Clothespin Alligator Craft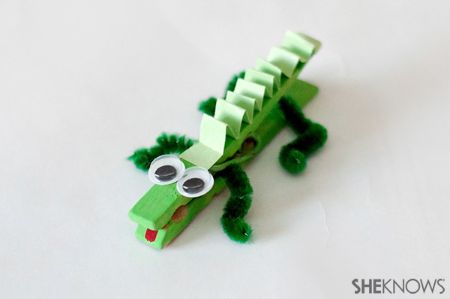 See ya later, alligator!
No need to wait for later with this alligator clothespin craft by She Knows. Most of the materials are really easy to find, and you might already have some of them handy. So, what're you waiting for? Start making memories!
15. Peek-a-Boo Egg Clothespin Craft
This craft of a tiny chick peeking out from an egg is SO cute it just melts my heart everytime we make it. One Little Project has outdone themselves with this peek-a-boo egg clothespin craft.
These can even double as lovely Easter decorations as well!
16. Clothespin Airplane Craft
Instead of hanging clothes, kids can hang some air time with this easy-to-do clothespin airplane by Factory Direct Craft that can be made with normal and mini popsicle sticks.
The great thing about this airplane craft is that kids don't have to make a bi-plane – they can design their own flyer, so let them test their creativity!
Can't get enough of crafting with popsicle sticks? Then try these other popsicle stick crafts my kids loved!
17. Clothespin Race Car Craft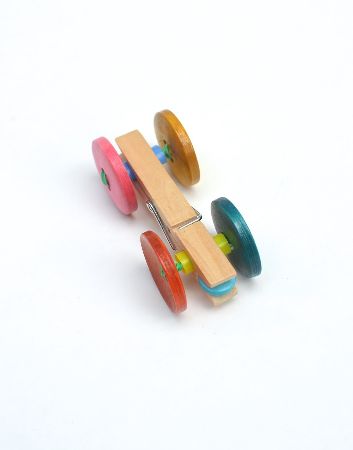 If kids want a more grounded vehicle, then Ikat Bag has a really cool race car clothespin craft that can actually race! My son really appreciated this project because he's obsessed with toy cars!
The tutorial even shares an idea for a simple ramp that can be made out of cardboard for some head-to-head racing with the whole family.
18. Minion Clothespin Craft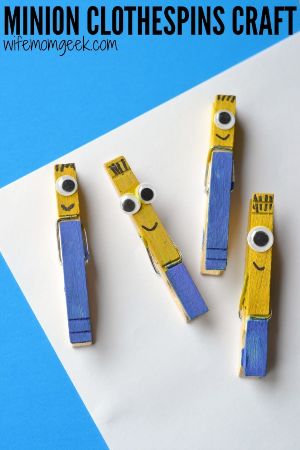 These adorable and gibberish-speaking little yellow Minions from the Despicable Me franchise make for cute and easy clothespin crafts courtesy of Glue Sticks + Gumdrops.
This is a great craft for kids to develop both their fine motor skills as well as their painting skills.
19. Catapult Clothespin Craft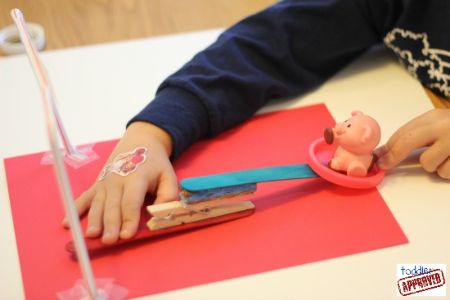 You know what other use you can get of a clothespin's spring? A tiny catapult!
Kids will love launching tiny objects across the room (or yard) thanks to Make and Takes easy to follow tutorial.
Be prepared to pick up (and probably step on) a lot of small objects afterwards. You have been warned.
20. Clothespin Bunny Bracelet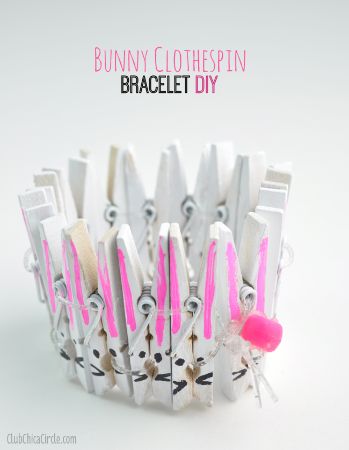 Let your kids try their hand at making a pretty bunny bracelet following this clothespin craft tutorial from Chica Circle.
This activity is a great balance of fun and challenge, and will definitely test your little one's fine motor skills!
Did you have fun making this bracelet? Then try making friendship bracelets as well!
21. Mini Clothespin Foosball Table
Goooaaalll!!!
U Create Crafts shows us how to make a mini foosball table using clothespins. Spend hours one-upping each other in competitive rounds (or, you know, just have fun).
This clothespin craft does require a few more extra materials than most of the other crafts on this list, so make sure you have everything you need before you get started.
7 "Dolly Pegs" Clothespin Crafts for Kids
The next few crafts on this list use what are referred to as "dolly pegs." These are single piece clothespins and are most commonly made of wood.
22. Dolly Peg Butterfly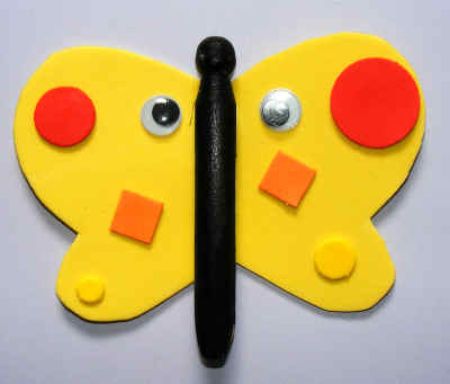 Activity Village has a simple butterfly craft that requires attaching craft foam to a wooden peg. Check out the tutorial to see how to make those butterfly wings pretty.
They also provide a template for the base of the wings that you can access once you become a member of their site.
23. Dolly Peg Dancers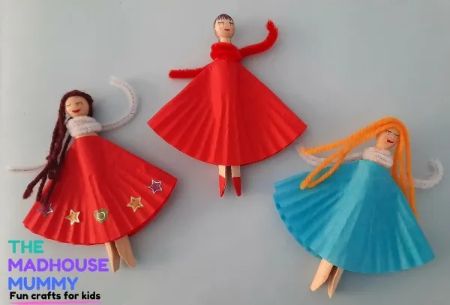 Is your little one obsessed with dance and ballet? Well then help them create their own tiny dancers using cupcake liners and pipe cleaners with this clothespin craft tutorial by The Madhouse Mummy.
24. Dolly Peg Mermaid Craft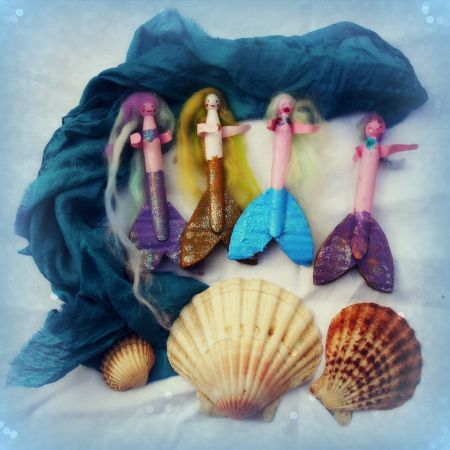 No need to scour the seven seas to bring Ariel from The Little Mermaid to life thanks to this unique clothespin craft by Mooncat Dream Designs.
To bring even more mermaids to life, check out this list of cute DIY mermaid crafts I put together!
25. Tinkerbell Dolly Peg
Peter Pan is one of my most beloved classic Disney movies, and your little ones can turn a wooden peg into Peter's most loyal companion, Tinker Bell.
Red Ted Art teaches kids how to make this Tinkerbell dolly peg that will take them straight to Neverland!
26. Angelic Dolly Pegs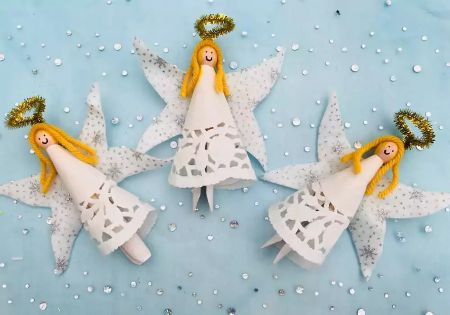 Let your kids experience decorating their own angels for this year's holiday tree using Mas & Pas' clothespin craft tutorial.
Angelic dolly pegs will keep your kids entertained while decorating for the winter holidays. You'll feel at ease knowing that these little angels will be guiding your kids as they do this holiday craft.
27. Pom Pom Turkey Clothespin Craft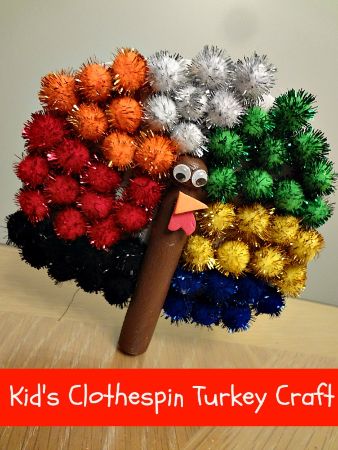 Thanksgiving would not be complete without turkeys. So while you're preparing the actual turkey, let Mom Unleashed keep your kids busy by helping them make one of their own with clothespins and pom poms!
28. Dolly Peg Fan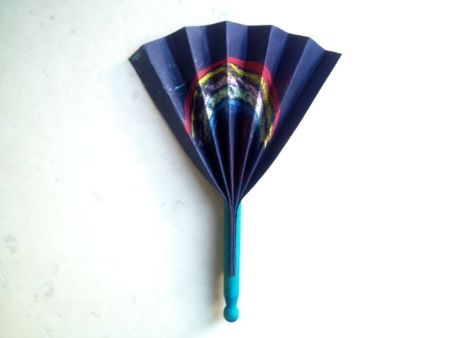 Beat the heat with probably the most useful clothespin craft in this list. Folding paper to make the fan is easy enough for younger kids to do, and they can draw on or paint it anyway they want. Check out My Kid Craft's tutorial to see how they do it.
Fun DIY Clothespins Crafts
Using clothespins for crafts are not only enjoyable, they can also help enhance your kid's fine motor skills. These 30 clothespins crafts will definitely keep kids busy for hours.
If you want more crafts using things found in your household, then take a look at these cotton ball crafts for kids next!