The octopus is one of the most interesting creatures in the animal kingdom, and with that comes plenty of unique and inspiring octopus crafts.
As you'll see when you browse through the list, there'll be plenty of octopus crafts that make use of interesting materials, which other animals crafts can't imitate.
Without further ado, here's a list of 19 easy and wonderful octopus crafts that your toddlers and preschoolers can easily make with your help.
5 Octopus Crafts for Toddlers
Toddlers, with the help of an adult, can easily make one of these 5 octopus crafts, which range from activities like octopus handprints to paper octopus crafts that require some gluing.
1. Easy Octopus Handprint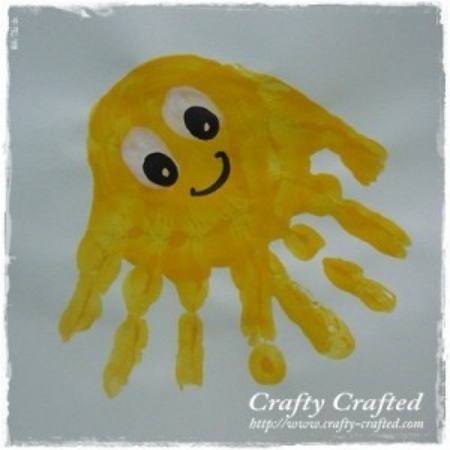 Handprints are an engaging activity for kids, not only because they create personal art that gives your children a sense of accomplishment, but also because they improve little children's hand dexterity and also allow them to have new sensory tactile experiences.
Crafty Crafted provides an excellent octopus handprint activity, the instructions of which are detailed on their website.
I'd suggest using washable paint because it could become frustrating when it leaves stains on your shirt or furniture.
2. Letter "O" for Octopus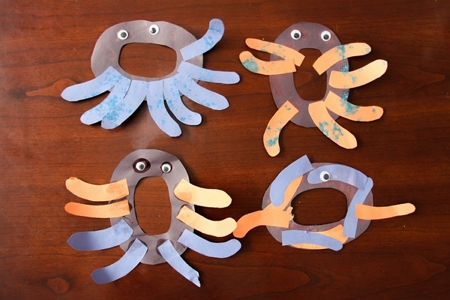 Let's reinforce the fourth vowel of the alphabet with this letter "O" for octopus that The Kindergarten Connection provides everyone with.
Optionally, they suggest using bubble wrap and paint to create the "suction cup" detail on the octopus's arms.
You can see some really silly and creative designs in there and you should encourage your children to do the same. This will et your children's uniqueness and individuality shine.
If your children are still having a hard time with this vowel, try making these letter "O" crafts.
3. Cupcake Liner Octopus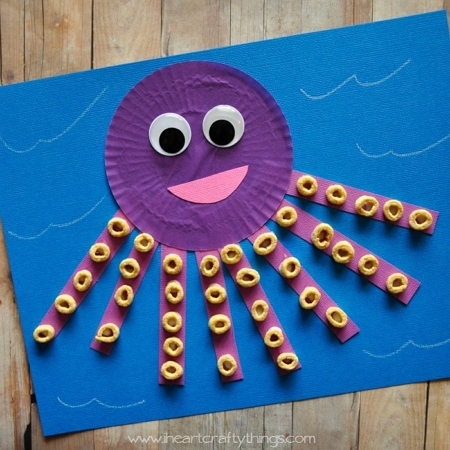 I had a funny suspicion that those suction cups were made of cereal.
I Heart Crafty Things brings us this easy octopus craft made with a cupcake liner and cereal.
This is one of my favorite crafts on this list because snack time is built in to the activity.
4. Paper Plate Octopus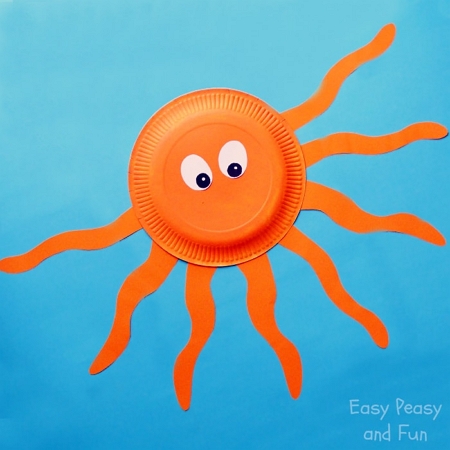 The paper plate is such a classic kid's craft that it would be surprising not to include this craft from Easy, Peasy, and Fun on the list.
Try mixing up the colors to encourage your children's creativity, making the octopus's head with one color and painting its arms with a different one.
5. Octopus Paper Craft with Template
I'm finishing this section with this video tutorial making a paper octopus craft from Paper Crafts-TR's channel, which kindly provides a template for the octopus.
Develop those fine motor skills by adding small suction cup details on the octopus's arms and by gluing the eyes and arms to the octopus.
7 Paper Octopus Crafts
These next paper octopus crafts are meant for children of any age, and they consist of crafts that are mainly made from paper.
6. Paper Bag Octopus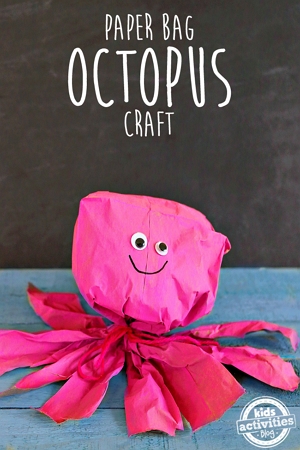 Paper bag puppets are your typical crafts when it comes to working with paper bags. Kids Activities Blog, however, has a different craft in mind with this paper bag octopus.
Instead of making a paper bag puppet, they turned this octopus into a paper bag toy, which is guaranteed to become your children's new favorite toy.
Speaking of toys, these Toy Story crafts remind us that often children get attached to their DIY toys more than store-bought ones.
7. Easy Cardboard Paper Octopus
At first glance, I thought this octopus is a product of a toilet paper roll craft, but it's actually an octopus craft made out of red construction paper.
Awesomely Crafty has surprised me with this creative and beautiful octopus craft, adorned with silly googly eyes and shiny craft gems.
Kids, like octopi, are attracted to shiny things, so try giving these vibrant diamond painting kits a shot!
8. Another Easy Octopus Activity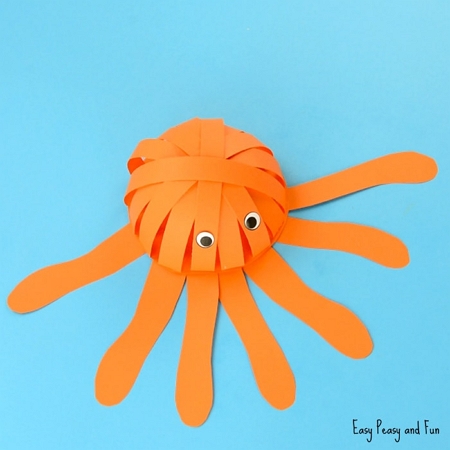 Here's another interesting and straightforward octopus craft from Easy, Peasy, and Fun. I love what they did with the octopus's head, which is made by gluing paper strips to a base.
The octopus arms are also simple to do, which can easily be cut by young kids with a pair of safety scissors and adult supervision.
9. Craft Stick Octopus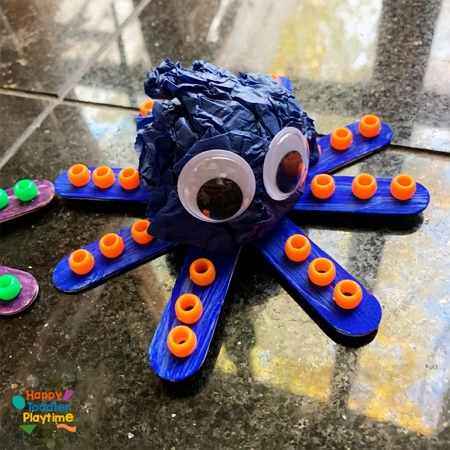 Make a sturdy octopus craft through this activity provided by Happy Toddler Playtime. This is a nice opportunity for your preschoolers to do some problem-solving.
They use only four craft sticks, yet the octopus's arms are eight! Allow your children's analytical cogs to turn and ask them how that might have happened.
Or if they aren't old enough to figure that out, teach them how to count when placing the pony beads that serve as the octopus's suction cups.
10. Paper Plate Octopus with Yarn Tentacles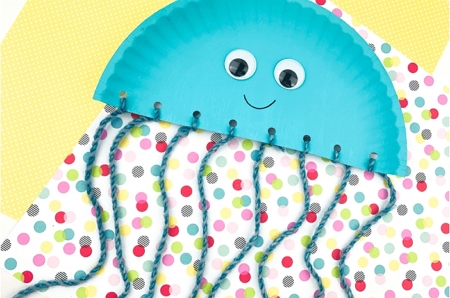 While this looks more like a jellyfish craft than an octopus one, we can still appreciate the effort that Life Over C's has put over this cute paper plate octopus craft.
They simply cut a paper plate in half and punched holes at the bottom, to which yarns that serve as the octopus's arms are attached.
It's a great activity during the summer days when you're thinking about diving into the ocean to get rid of that scorching heat.
Here are other ocean crafts that will remind you of the refreshing ocean and its creatures.
11. Paper Ring Chain Octopus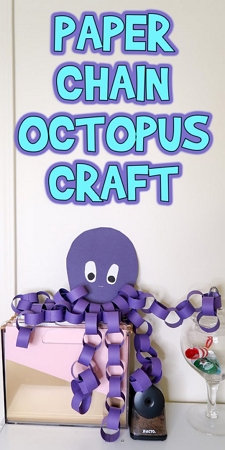 Give your children a challenging yet rewarding craft to make with this paper ring chain octopus from Woo Jr.
This is a great activity when you've got some hours to spare since it involves some labor-intensive gluing and paper rolling.
On the bright side, you get to spend some quality time doing memorable crafts with your little ones.
12. Toilet Roll Octopus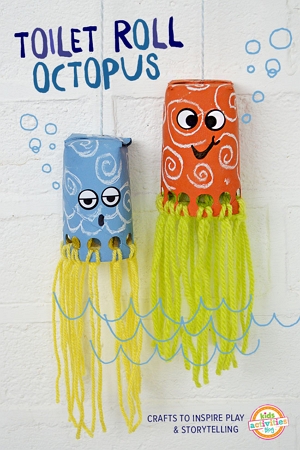 Like we've previously demonstrated in these toilet paper roll crafts, this material is very versatile and it's a good way to upcycle and protect the environment.
Kids Activities Blog does an amazing job with these toilet roll octopuses, and while they're very simple, the crafts take multiple steps that you wouldn't be able to complete if you don't check out their instructions.
7 Amazing Octopus Arts and Crafts
The next 7 octopus crafts are made with interesting materials.
Some of these crafts are more suitable for older children and will definitely require some adult help.
13. Octopus Craft Made with Stockings
If you've got some old pair of stockings lying around and waiting to be thrown away, then think twice before you do so because, as Meeta Joshi Arts & Crafts's video tutorial shows us, you'd be surprised what an amazing octopus you can make out of those.
Among the list of materials that you'll need for this craft are aluminum wire, cotton, and thread. Simply follow their instructions to make this amazing toy for your kids.
14. Easy DIY "Socktopus"
Who would've thought you could make an octopus craft out of socks!
This DIY Socktopus, as it's cleverly being named by Fun Sock City, is an awesome craft that your children will keep beside their pillow or on their desk as a cute little companion.
Although this craft requires some sewing, it doesn't mean that your children cannot participate at all because they can choose the octopus's color and they can also stuff the octopus's head and arms with cotton filling, which will give their craft some personalization and give them a sense of accomplishment.
Besides the detailed instructions, the video tutorial is full of tips in sewing up this DIY octopus doll.
15. Foam Ball Octopus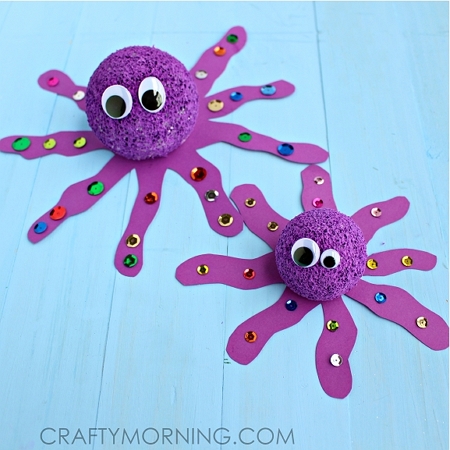 Here are some cute octopus crafts made out of foam balls. Cute animal crafts will undoubtedly get any child's attention, and this octopus craft is no exception.
I'm glad that Crafty Morning didn't add a mouth that would strip these adorable octopuses of their cuteness.
The little craft gems add a welcome flair to the craft.
16. No-Sew Baby Octopus Crochet
We are not yet out of the territory of some dangerously cute octopus crafts, as we are presented with these crochet baby octopuses from All From Jade's channel.
Your kids are guaranteed to bring these super adorable baby octopuses anywhere they go. Simply ask your children which color they'd want their baby octopus to be and follow the video tutorial.
Don't worry if the craft might seem complicated at first because you will be guided throughout the comprehensive video tutorial.
17. Craft Yarn Octopus
Here's a less complicated octopus yarn craft but equally as enjoyable to make as the previous ones.
CRAFT POINT's video tutorial presents you with a simple guide and some encouraging music to accompany your activity.
While the video doesn't contain any verbal instructions, the written instructions, as well as the visual guide, is enough to make it an intuitive activity for adults and their kids.
18. Pipe Cleaners Octopus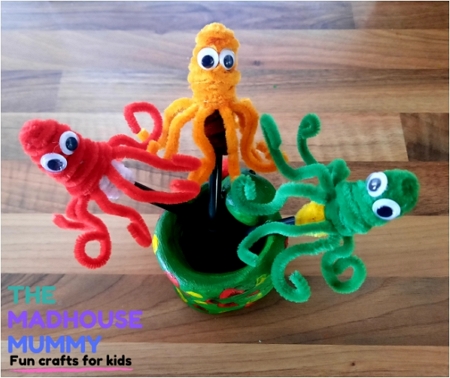 No craft within the list captures the octopus's arms more accurately than these pipe cleaner octopuses made by The Madhouse Mummy.
I think we can agree that pipe cleaners are a great and somewhat realistic material to make octopus arms because they're pliable and provide a nice texture, reflecting the flexibility of real octopus arms.
However, pipe cleaners don't go well with larger octopus crafts because they might be too thin.
19. No-Sew Fleece Octopus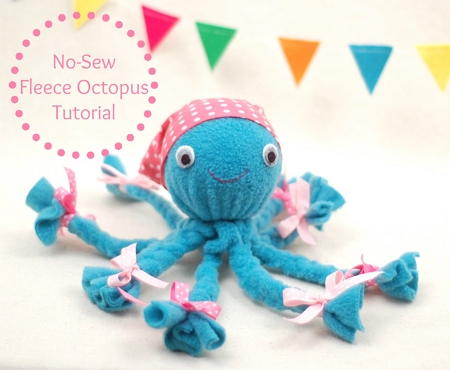 While She Naps offers a great octopus doll for those who are intimidated by the thought of sewing within their crafts.
The look of this octopus shouldn't intimidate you either because, while it looks challenging, the steps involved are very simple. The website provides full detailed instructions along with the materials you need for the craft.
Easy Octopus Crafts for Children
After seeing these octopus crafts, you probably wish you also had eight arms to make all these wonderful crafts at once.
Which of these octopus crafts impressed you and which do you plan on making? I'd like to hear your thoughts down in the comment section!
If you can't get enough octopuses, then make some octopus drawings while learning different facts about them.
If your kids want to improve their drawing skills, then take a look at these easy animals to draw.