Rock painting is a fun way to explore your artistic abilities, but where do you begin? What materials do you need? What kind of rock is best to paint on? What exactly do I paint?
While there are plenty of animals to choose from for your rock painting, owls are the best place to start.
Owls are one of the most fascinating nocturnal birds that exist, and their general body shape is the perfect fit for rock paintings.
I've compiled a list of 16 owl rock painting ideas below for you and your kids to try together.
4 Cute Owl Painting Ideas
Here are some essential materials you'll need before getting started:
1. Step-by-Step Owl Rock Painting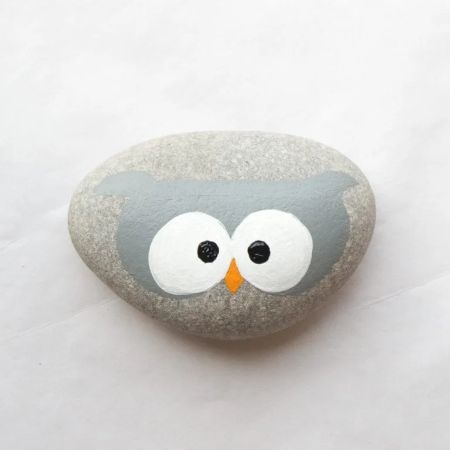 This is a quick and easy owl rock painting that even a grade schooler could do because it doesn't require too much attention to detail.
Sustain My Craft Habit provides a step-by-step guide for this simple owl craft, along with cute fox and bear paintings.
2. "Lovebirds" Owl Rock Painting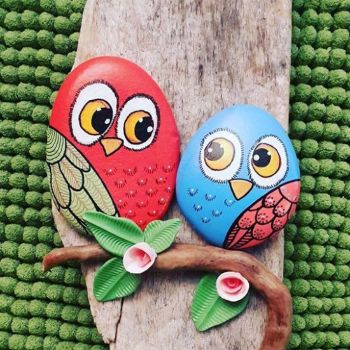 While owls are known for being solitary animals, there's no reason not to paint a couple of love birds together.
My Desired Home shares this design for an owl painting as well as many other designs for all sorts of animals and scenes.
3. Harry Potter Owl Painting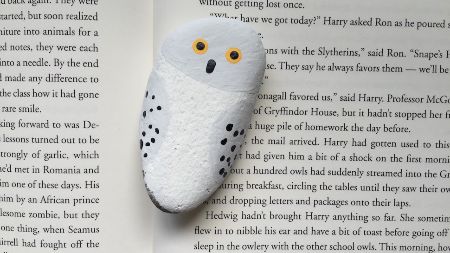 For fans of witchcraft and wizardry, here's a rock painting of Harry Potter's snowy owl, Hedwig.
This rock painting will be as dependable as Hedwig because it can serve as a paperweight, as Geek And Sundry suggest.
I'm impressed with how easily you can paint those eyes using the bottom end of a paintbrush to form a perfect circle.
Check out ideas for another iconic pop culture character with these Baby Yoda crafts.
4. Owl Rock Painting for Kids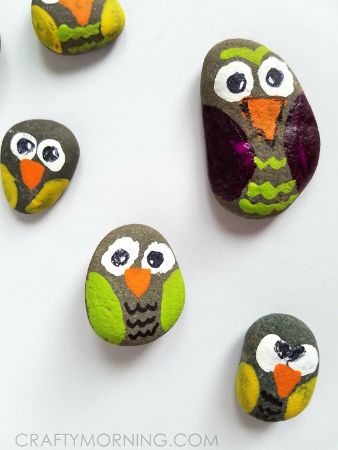 This is a straightforward owl painting that can easily be done by grade schoolers. They can have fun making as many or as little owls as they want!
This rock painting idea by Crafty Morning will keep your children busy and will help them enhance their creativity by allowing them to choose which colors they want to paint with.
Looking for an owl activity that's a little less advanced than these rock paintings? Try one of these easy owl crafts for kids.
7 Easy Owl Painting Ideas
These next 7 owl rock paintings require a little bit more finesse, but they're nothing a grade-schooler or a middle schooler can't do on their own.
5. Owl Rock Painting Idea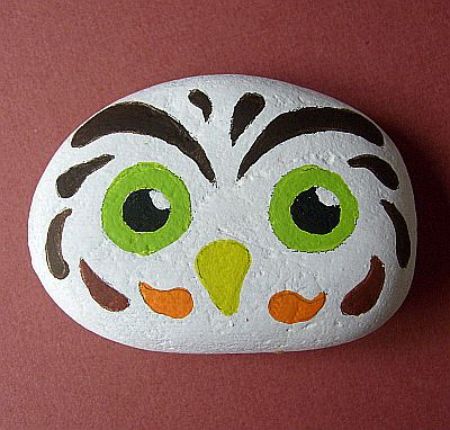 If you're looking for a simple owl painting that takes no more than 30 minutes to do, then this painting by Hand Painted Rocks is perfect for you.
It's incredible how just a few strokes of a paintbrush and a couple of circles can create a beautiful image, and that's exactly what this owl rock painting does.
6. Beautiful Owl Rock Paintings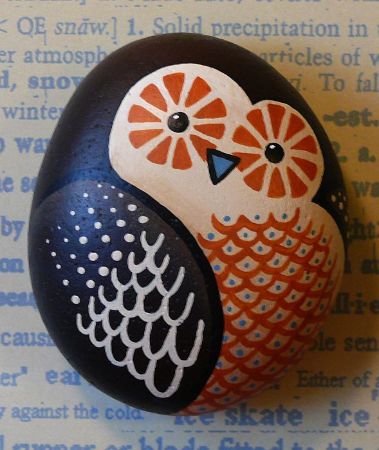 This is an adorable owl rock painting that makes you appreciate the finer details. You'll need a paintbrush with a fine tip if you want to create the same detail as He Sells She Sells.
Check out their website for more inspiration. They share other gorgeous owl rock paintings that you can imitate at home.
They make painting an owl on a rock seem effortless!
7. Cute Owl-Painted Rocks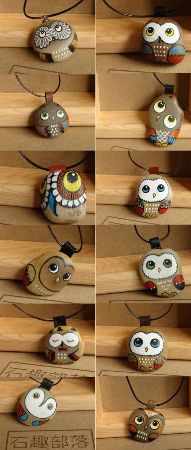 This set of owl-painted rocks from The Whoot are too adorable not to try! Get these, and even more owl rock painting ideas, on their website.
8. Easy Owl Rock Painting Idea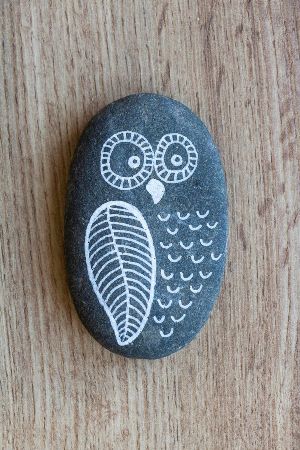 There's nothing wrong with going with a minimalist approach, just like this owl rock painting from The Fresh Patio.
If you're like me, you might find this simplistic art more aesthetically pleasing than other intricate designs.
9. No-Fuss Owl Rock Paintings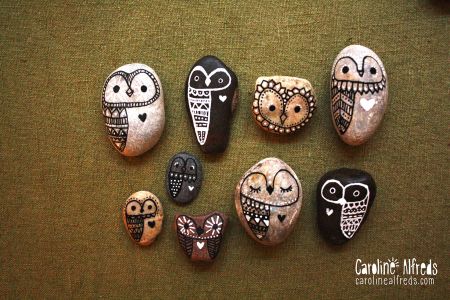 Here's another set of owl rock paintings that doesn't overcomplicate its design with a variety of colors. It's a straightforward design that looks really, really good.
Caroline Alfreds sticks with a simple color palette of black, white, and different shades of brown. Use either of these colors as your base and the other colors for detail.
But hey, I won't judge if you love color. If you're a color warrior, check out this compilation of rainbow crafts for toddlers and preschoolers.
10. Pretty Owl-Painted Rock Ideas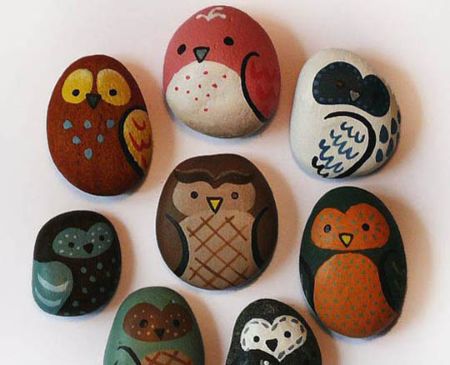 Here's another group of owl paintings that will instantly become a personal favorite. They're not too flashy and they incorporate unique colors, like dark teal, and interesting patterns.
Tightwad Blog shares a step-by-step owl rock painting tutorial that includes materials and other tips on how to paint these beautiful owl rock paintings.
11. Minimalist Owl Rock Painting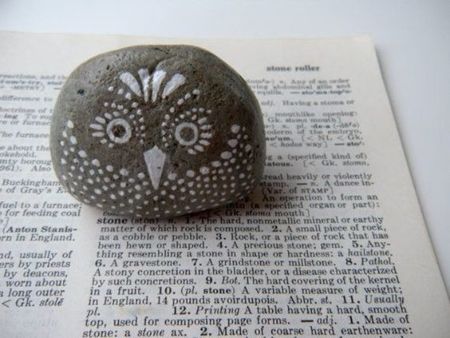 Check out this owl rock painting from The Fresh Patio inspired by a minimalist theme. A lot is achieved with this rock painting from just creating small dots!
5 Inspiring Owl Rock Painting Ideas
These last 6 owl rock paintings are for more creative teens that have a greater disposition towards art in general.
Naturally, kids who aren't into art can easily do these with a bit of patience, too.
12. Colorful Little Owl
This owl rock painting made by Rachel's Rock Canada's channel results in a perfect decoration that you can place anywhere in your house.
While the video tutorial is 23-minutes long, you'll be rewarded with a lot of tips and art techniques, and of course the full guide on how to make this very colorful owl.
13. Black & White Owl Painting Idea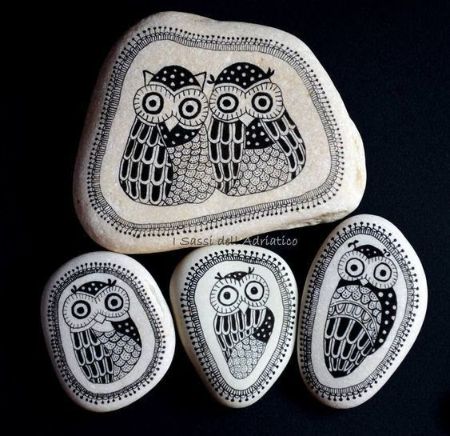 Let's get back to the basics with this owl rock painting from The Fresh Patio.
While these owl-painted rocks aren't sophisticated in terms of color, they're intricate in the level of detail involved.
14. Brightly Colored Owl Painting Idea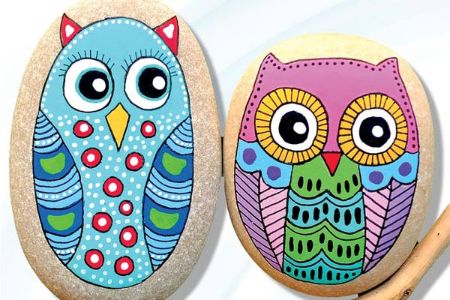 If you've noticed that your children are acing their geometry tests, then this is an owl rock painting that you should make with them because it's full of clean lines and shapes.
Empress of Dirt provides clear step-by-step instructions and tips for this vibrant owl rock painting.
15. Realistic Owl Painting
If your teen is up for a challenge, then they should try their hand at this realistic owl painting found on Laura Butterfly Creazioni's channel.
16. Owl's Eye Rock Painting
Brush up on your eye design skills with this owl eye rock painting on Annamoon FineArt's channel.
This is a fairly lengthy video tutorial, which is perfect for those who like to work at a slower pace.
Inspiring Owl Rock Painting Ideas
Whether you're creating decorations for the holidays or a cute companion for your little one, these 16 intriguing owl rock painting ideas will keep you busy for hours.
Looking for more rock painting ideas? Check out our compilation of other rock painting ideas for kids, or try these Halloween painted rocks just in time for the spooky season.