Elephants are gentle giants with a big heart. With their long trunk and big, floppy ears, kids find them irresistible – just like elephant crafts.
Elephant craft projects are the perfect after-school or rainy day activity. You know what they say: if you can't take the kids to the zoo, bring the zoo to the kids.
Let's get crafting!
Elephant-astic Craft Ideas for Kids
The following 13 craft projects are entertaining, easy to make, and cheap – your kids will have lots of fun with them!
All of the products on this list require basic crafting materials such as paper, scissors, glue, markers, and tape, and some may require additional materials such as paint.
1. 3D Paper Elephant Craft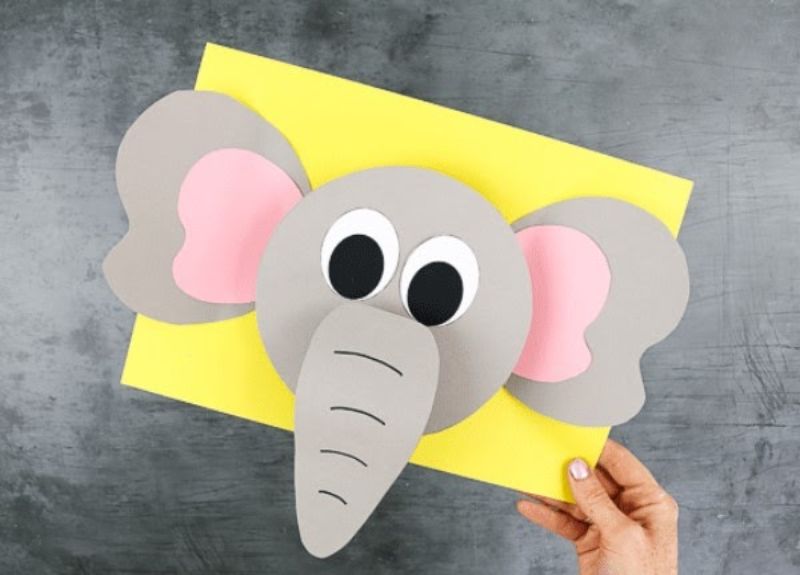 Photo Credit: Arty Crafty Kids
Make learning the Letter E more enjoyable with this 3D paper elephant.
With just colored cardstock, a black marker, glue, and scissors, your kids can make something that's both engaging and educational.
This activity can help develop fine motor skills as kids learn to work with depth, shapes, and lines.
Follow Arty Crafty Kids's step-by-step instructions to learn how to make a 3D paper elephant craft.
2. Balloon Elephant Craft
Balloons aren't just for parties – they make for fun crafts, too!
This balloon elephant is adorable because the elephant trunk actually moves! Your kids will be obsessed with this craft, and you'll soon have a herd of different colored elephants hanging on your walls.
Watch Vera's Creations video tutorial above to see how this balloon elephant craft is made.
3. Cereal Box Elephant
Don't throw away empty cereal boxes. Help save the environment by turning them into this adorable cereal box elephant. If you have several boxes that come in different sizes, make baby elephants, too!
Watch the video tutorial from Gwinnett County Public Library above and see what you can create with scissors, paint, and a little tape.
4. Coffee Filter Elephant Craft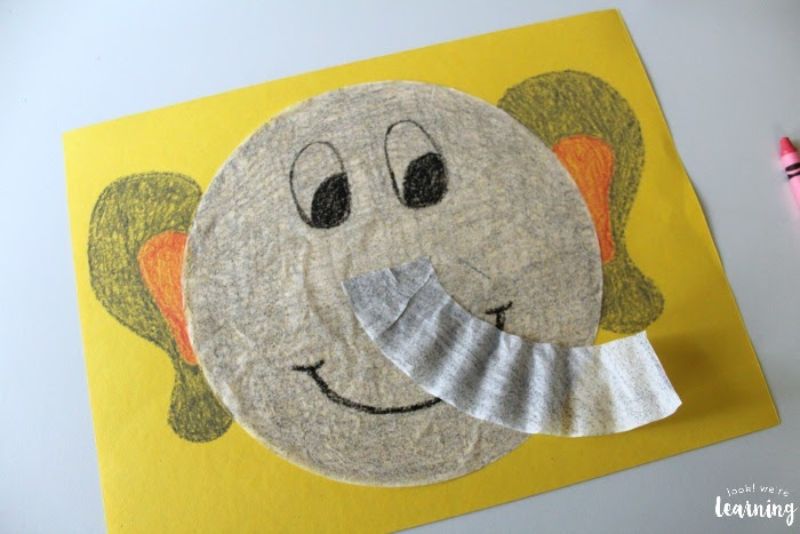 Photo Credit: Look We're Learning!
Craft materials are found everywhere, and this cheap and easy coffee filter elephant craft is a perfect example.
This elephant is made from something that's easily found in most homes. An adult should cut a coffee filter into the shape of the trunk for kids to enjoy coloring on their own.
Check out the detailed step-by-step instructions at Look We're Learning!
5. Corner Bookmark Elephant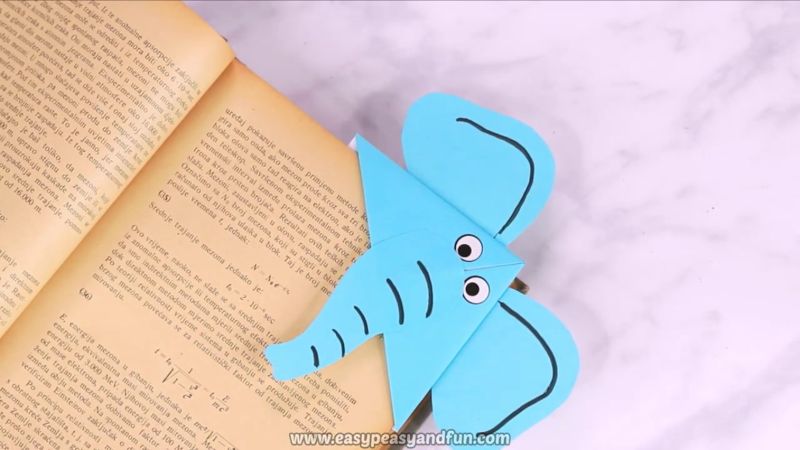 Photo Credit: Easy Peasy and Fun
This corner bookmark elephant craft is a quick, easy, and inexpensive project for you and the kids to do together. You can make plenty of these or give them to friends and family members who love to read.
Learn how to make a corner bookmark elephant craft by watching this video tutorial from Easy Peasy and Fun.
6. Crumpled Newspaper Elephant Craft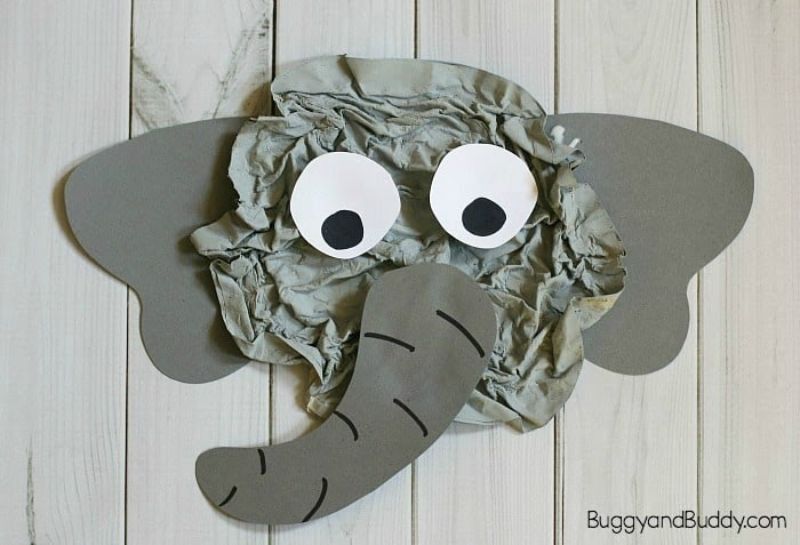 Photo Credit: Buggy and Buddy
Turn old newspapers into this visually appealing elephant craft. You could even paint the newspapers in different colors to make colorful elephants to hang around your kid's bedroom!
Buggy and Buddy has step-by-step instructions on how to make this crumpled newspaper elephant craft.
7. Egg Carton Elephant Craft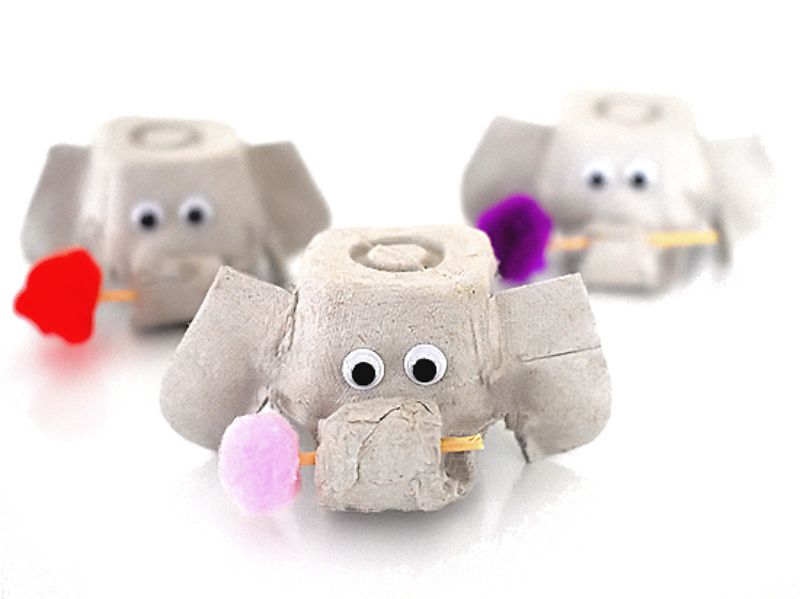 Photo Credit: Our Kid Things
Here's another activity that makes use of recycled material. For this egg carton elephant, your kids will need an egg carton, toothpicks, small pom poms, googly eyes, tape, glue, and scissors.
An adult's supervision is recommended for this one, especially when cutting the carton when working with the toothpicks.
Our Kid Things has detailed instructions on how to make an egg carton elephant craft.
8. Elephant Headband Craft
This elephant headband craft is a quick activity for your kids that shouldn't take longer than 20 minutes to make.
There's a free downloadable template from Simple Everyday Mom that you can print out available in color and black and white.
Watch the video tutorial by Fun Activities for Kids to learn how to make an elephant headband craft.
9. Elephant Mask Craft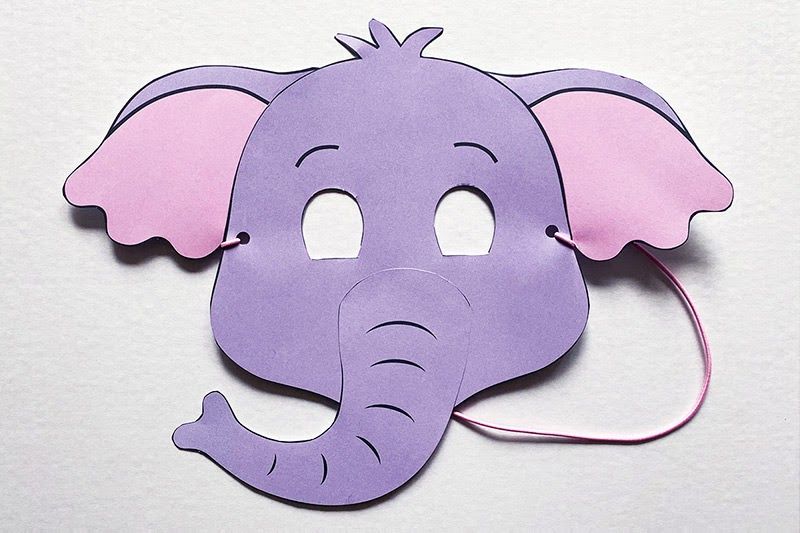 Photo Credit: First Palette
We all love simple, easy, and inexpensive crafts – and this elephant mask craft is all that and more.
Simply download the template, read the instructions from First Palette, and gather the materials: an A4 cardstock sheet, colors, rubber bands, a hole punch, scissors, and tape (I recommend an adult take care of any steps that involve the hole punch and scissors).
This craft is perfect when your kids are learning about zoo animals. While you're at it, why not make a mask of other animals found at the zoo, too?
10. Elephant's Trunk Craft
Toddlers and preschoolers will have lots of fun with this engaging activity that promises hours of entertainment.
Your kids will need colored construction paper, a straw, googly eyes, scissors, a black marker, and glue. This is a quick build that shouldn't take more than 15 minutes to make.
Watch 123 Easy Paper Crafts' video tutorial and see how easy it is to make this elephant's trunk.
11. Paper Bag Elephant Puppet Craft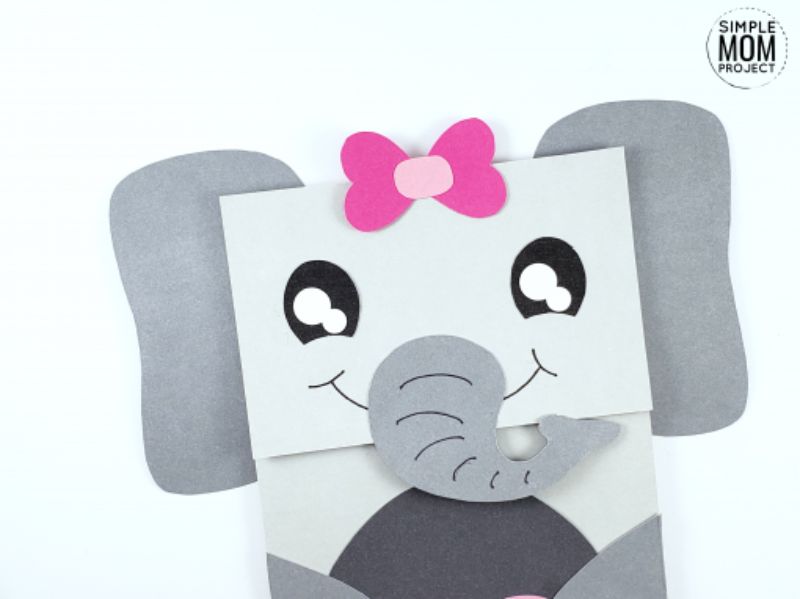 Photo Credit: Simple Mom Project
A craft list wouldn't be complete without a paper bag craft – especially if it's something as cute as this paper bag elephant puppet.
Your kids will need a paper bag, construction papers, cardstock, coloring materials, glue, and scissors. The downloadable template and step-by-step instructions are from Simple Mom Project.
12. Popsicle Stick Elephant Craft
This popsicle stick elephant craft is too cute and too easy NOT to make. Only a few materials are needed: cardstock, googly eyes, a popsicle stick, and glue – that's it!
It'll take your kids no more than 10 minutes to make this paper bag puppet. Just remember to pre-cut the cardstock according to the instructions.
Learn how simple and easy it is to make a popsicle stick heart elephant by watching Find the New Art's video tutorial above.
13. Toilet Paper Roll Elephant Craft
Make your very own herd of elephants using empty toilet paper rolls!
Toilet paper rolls are a staple on crafts lists because they're easily accessible. Your kids will need help cutting the shapes, but they can assemble the parts on their own.
For added fun, make the elephants as colorful as your kids want! Watch the video tutorial from Easy Kids Craft above to learn how.
Elephant Craft Projects for Older Kids and Teens
The craving to craft never ages – and that's why I've included two elephant craft projects for older kids and teens that will test their crafting skills.
As always, adult supervision is recommended when specialized tools are required.
14. Elephant Pom Pom Craft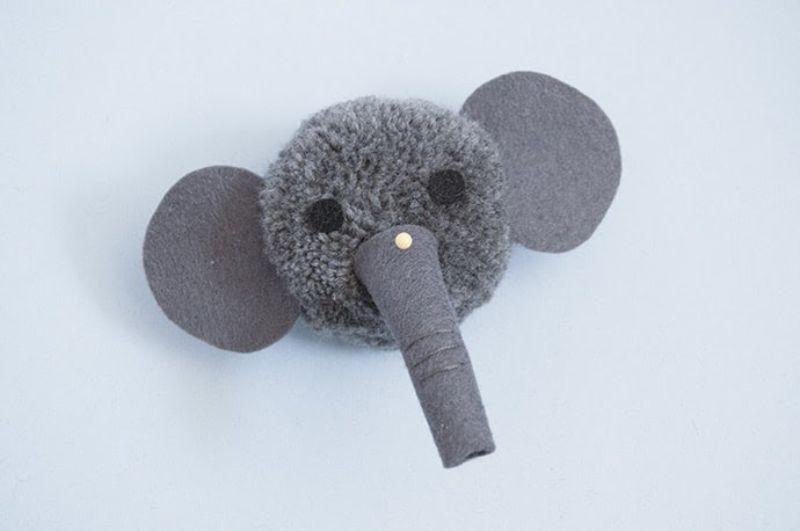 Photo Credit: Handmade Charlotte
Pom pom crafts are adorable – they can be hung from bags or be used as keychains, or be given to family and friends as gifts.
They're also fun to make, especially when you have ready-made pom poms available. This project requires pom pom balls, felt, and glue.
Handmade Charlotte has detailed instructions on how to make pom poms for this craft from scratch using a pom pom maker set from Purl Soho, however, ready-made pom poms work just as great and also cut out a few steps!
15. Milk Jug Elephant
Photo Credit: The Imagination Tree
It may look like the recurring theme for this list is recycling – but we love recycled craft projects!
This milk jug craft will require scissors, coloured tissue paper (cut into small squares), white glue and brushes, white cardstock, and a black pen.
Make sure to wash and dry the empty milk jug thoroughly. If an older kid is making this craft, I recommend an adult cut the milk jug to avoid cuts from the plastic. After that, your kids can do all the work.
Follow the instructions from The Imagination Tree to put this beautiful milk jug elephant together!
More Crafts? I'm All Ears!
There are a lot of projects online that you and your kids can work on together, whether that's elephant crafts or jellyfish crafts – this list is just the tip of the iceberg!
The coolest thing about kids' crafts is that they can be used for learning new letters of the alphabet, as an after-school activity, or just for fun.
You'll find plenty of different crafts on my website, like this list of DIY homemade instruments for kids that lets them get a little more hands-on. Explore the posts in the right column to get more crafting ideas today!