If you're looking for a fun activity to keep the kiddos preoccupied while the grown-ups prepare the Thanksgiving feast, here are 20 easy turkey handprint crafts that will keep little hands busy.
In this list you'll find hand-turkey paintings, hand-turkey crafts, and a bonus hand-turkey craft that involves snacks (yum!).
6 Turkey Handprint Crafts
Most of the crafts listed below require paint, so I recommend the tempera paint we use in our household. We love it because it's kid-friendly, non-toxic, and perfectly safe for the little ones to use.
1. Thanksgiving Handprint Turkey Painting
Crayola shares this really easy-to-do hand-turkey painting that only requires some common school supplies, kid-friendly paint, a picture of your kids, and their hands.
Learn from my experience and keep some baby wipes handy for easy clean up!
2. Handprint and Footprint Turkey Art
Make a turkey entirely out of hand and footprints, like this one shared by Katherine. Kids can make this fun and easy turkey painting with just paint and their hands and feet!
3. Finger-Paint Turkey Art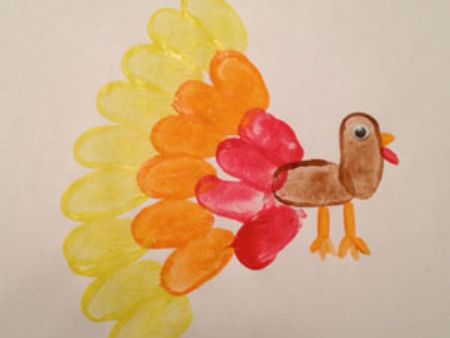 Get ready for some finger painting fun! Kids can use all of their fingers for this quick and simple turkey art by Scholastic. There's not much else to it besides construction paper, paint, and glue – super simple for both toddlers and preschoolers!
4. Hand-Traced Turkey Drawing
Grab a pencil and have kids trace their hand to make this easy-to-do turkey drawing. Once the shape is complete, kids can color the turkey's feathers whatever color they want.
5. Candy Corn Hand-Traced Turkey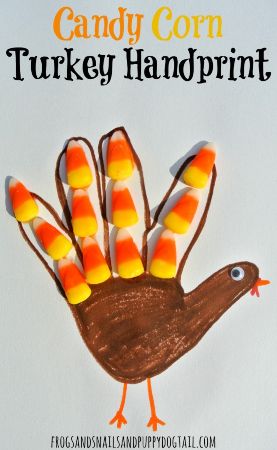 Have leftover candy corn from Halloween laying around? Use it to sweeten up this hand-traced turkey shared by Frogs and Snails and Puppy Dog Tails.
This handprint craft covers so many skills: tracing, colors, counting, drawing, and more!
6. Painted Handprint Turkey Napkin
Let kids personalize their table napkins this Thanksgiving with this painted handprint turkey shared by Lynn.
This particular craft calls for a couple of specialized craft materials that aren't commonly found in a home, such as multi surface paint and stencils.
14 Hand-Turkey Crafts and Projects
7. Handprint Turkey Craft
Sam shows kids how to trace their hands to make a handprint turkey with her turkey template, a hole puncher, and just a few other common craft supplies.
To access the template, scroll to the bottom of the tutorial and enter your email address.
8. Handprint Turkey Popsicle Stick Craft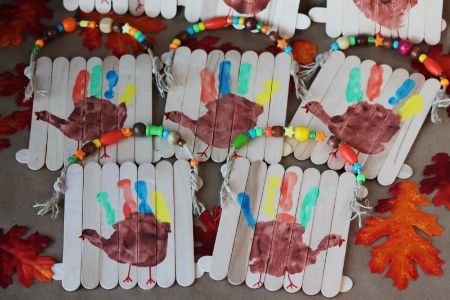 Brace yourselves – the turkeys are coming through! This neat and creative craft, courtesy of Share and Remember, can be made by kids with the use of jumbo popsicle sticks, paint, a glue gun, twine, beads, and a black marker.
We love popsicle sticks because they're easy, safe, and simple to use! For more popsicle stick projects and ideas, read my post about popsicle stick crafts that are great for all ages.
9. Thanksgiving Turkey Handprint Card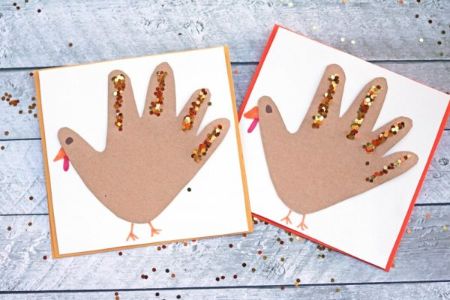 Rope your kids in the holiday preparations with these turkey handprint cards from Make and Takes that they can give to family members and friends.
To make these, kids will need cardstock, glitter, a tape runner, and a few other common supplies found around the house.
10. Feathery Thanksgiving Turkey Handprint Card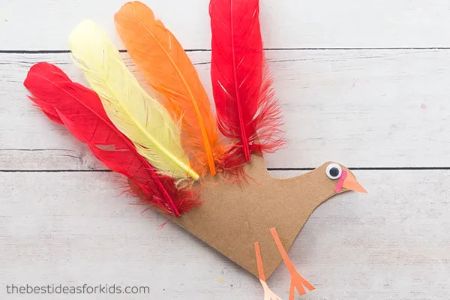 Here's another turkey-themed holiday card kids can give to their loved ones that incorporates craft feathers from The Best Ideas for Kids! This turkey handprint craft may look complicated, but it's actually quite easy to make.
11. Handprint Turkey Placeholder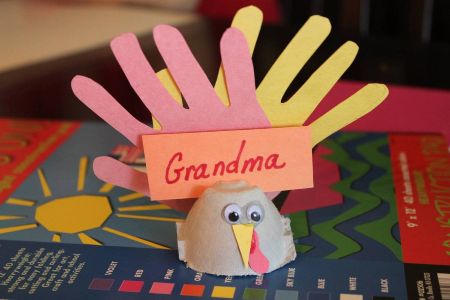 Here's another great way to let kids be part of the Thanksgiving preparations. This craft from Green Kid Crafts teaches kids how to make adorable handprint turkey placeholders for the dinner table with guests' names   on each using their hands and an empty egg carton.
12. Popsicle Stick Turkey Handprint Popsicle Stick Puppet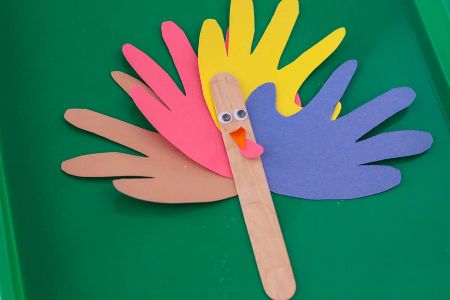 Life Over C's shares this easy-to-do handprint turkey puppet for a quick Thanksgiving activity to do while waiting for dinner.
To make this, all your kids will need is a jumbo popsicle stick, construction paper, googly eyes, glue, and scissors.
13. Turkey Handprint Popsicle Stick Puppet
This is a really simple turkey puppet kids can make using their handprints and popsicle sticks from Kids Craft Room.
This craft calls for a stapler, however, glue or sticky tape works just as well if you'd rather not have your children handle one.
Puppets are a fun and engaging craft activity for young kids. I put together a list of simple paper bag puppet crafts for kids that only require supplies you probably already have in your home!
14. Handprint Paper Cup Turkey Craft
If you have some spare paper cups, show kids how to make cute handprint paper cup turkeys like this one by HOW TO DRAW.
This handprint turkey craft calls for a glue gun. If you haven't invested in a low temp glue gun for the kiddos yet, I highly recommend you do for projects that call for hot glue.
15. Handprint Turkey Paper Plate Craft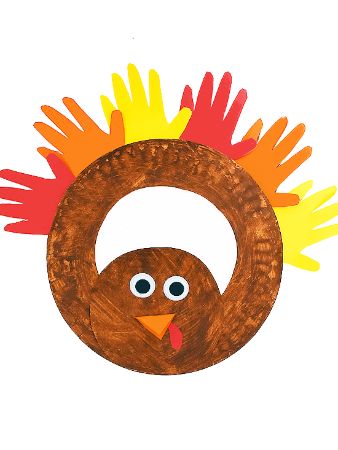 Paper plates are a staple in easy kids craft projects, and Our Kid Things shows kids how to make a Thanksgiving turkey craft for kids using a paper plate and little hands traced on construction paper.
16. Toilet Paper Roll Turkey Handprint Craft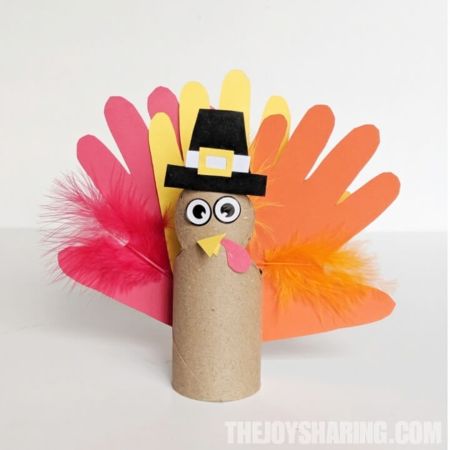 Before throwing out those empty toilet paper rolls, let your kids make this cute little turkey craft by The Joy of Sharing with them.
The tutorial shares a free printable template at the bottom of the webpage, however, you do have to subscribe to their newsletter in order to access it.
For more ideas on how to upcycle those empty toilet paper and paper towel rolls, check out this list of toilet paper rolls crafts.
17. Hand-Turkey Hat Craft
Here's a cool turkey hat kids can make and wear on Thanksgiving Day by SWATart that teaches kids all about tracing objects.
This turkey handprint craft involves a stapler, so I recommend an adult supervise or help younger children while putting the hat together.
18. Clay Handprint Turkey Craft
The aptly named ClaySensei shares this clay handprint turkey craft that can double as a sensory activity, too!
This project is SO much fun to put together, but it does require a few specialized supplies such as clay, a plastic knife, and things to use as stamps (to give the clay texture).
19. Thanksgiving Turkey Snack Gloves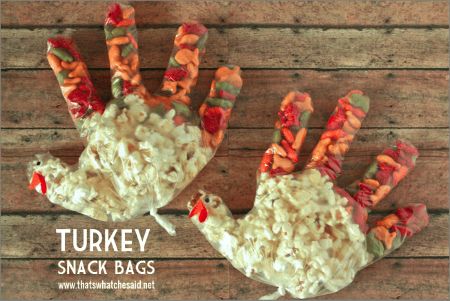 Planning a Thanksgiving trip out of town? Then make sure everyone has travel snacks ready by making these handy turkey-shaped snack bags!
Cheryl shows kids how to make these very useful snack bags with clear plastic gloves, felt, and whatever snacks you and your family want to share. A few of our favorites include popcorn and goldfish!
20. Turkey Glove Puppet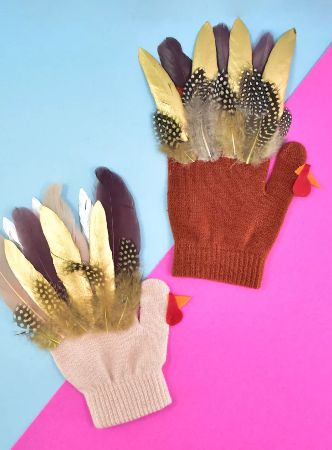 Kids can play with these glove puppets by Dream a Little Bigger during Thanksgiving! The best part about this project is that you can finally do something with those gloves your kids outgrew last winter season.
Get Hands-On with These Turkey Handprint Crafts
Kids can use their hands to make these 20 cute turkey handprint crafts they can play with or decorate your home with during the Thanksgiving holiday.
Looking for more animal crafts like these? Then check out these other animal kids crafts for more tutorials and ideas:
Which of these crafts did your kids make, and which did they enjoy the most? Share your experience with me – I'd love to hear from you.