Felt crafts are amazing to do with and for young children. Felt comes in different colors and is also easily manipulated.
Many of the 29 felt crafts included on this list involve hand-stitching or sewing, which is best suited for older children who are confident with handling a needle.
"What about my toddler?"
Don't worry – there's a whole section dedicated to no-sew felt crafts that little ones can safely make under the supervision of adults.
We recommend these assorted felt sheets and this sewing kit to help you get started. So what are you waiting for? Learn all the things to make with felt below!
8 Animal Felt Sewing Projects Kids Will Love
Create some of the most durable companions that kids will cherish for years to come!
Alternatively, kids can more involved in a craft by doing some of these easy animals to draw.
1. Stuffed Cat Felt Craft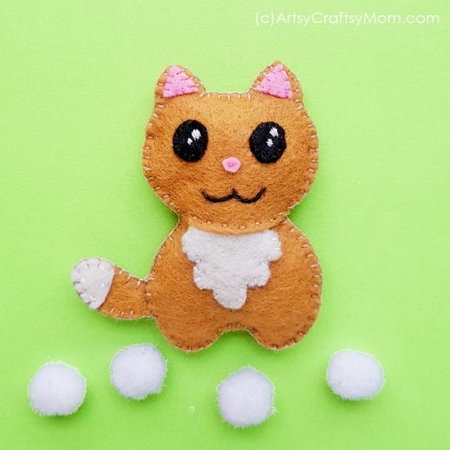 Kids love pets, whether they be cats or dogs. For the cat lovers out there, Artsy Craftsy Mom has created this adorable cat plushie made of felt.
For your convenience, they've also included a pattern that provides the measurements for the cat. I suggest playing around with different ideas, like maybe adding felt of a different color to make it a calico cat.
Cats are just too adorable, That's why we've compiled these other cat crafts for kids and cat Perler beads patterns.
2. Tiny Stuffed Mice Craft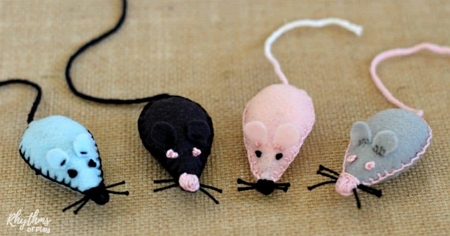 Rhythms of Play provides the Jerry to your Tom by creating these cute felt mice. This project can serve as a basic introduction to sewing for kids.
They created a light blue and pink mouse, but don't be afraid to be more imaginative with your mouse design.
3. Snow Animal Ornaments Felt Craft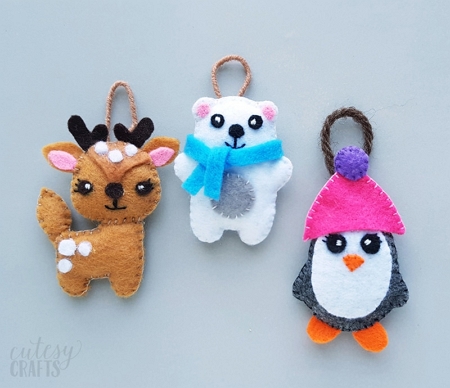 Are you looking for felt crafts for the Winter season? Well, Cutesy Crafts provides tutorials for three types of animal ornaments: a deer, a polar bear, and a penguin.
4. Cute Fish Felt Craft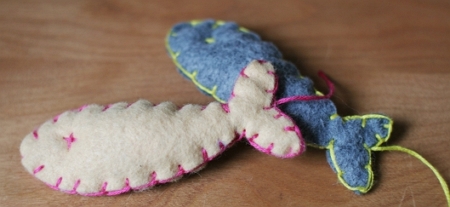 Kids love pretend play, so here's a fish felt craft that's perfect for their imaginary fishing or cooking sessions.
Although Domestic Space had a DIY felt fish necklace in mind when they created this kid's craft, give the kids more freedom to play with their mew felt fish.
5. Stunning Felt Wolf Craft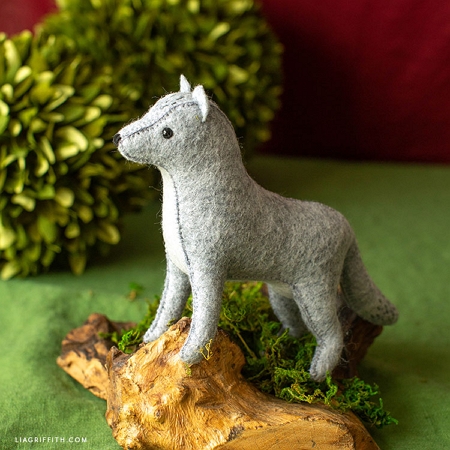 Make the kids a loyal wolf companion that will protect them from the scary nighttime monsters using this creation brought to you by Lia Griffith.
6. Farm Animal Felt Finger Puppets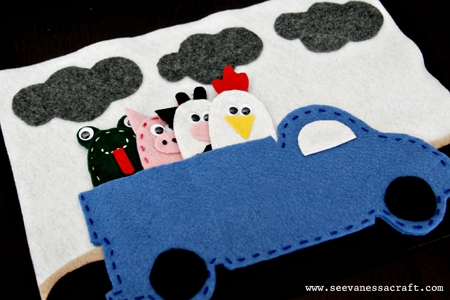 Here's another opportunity for kids to play pretend. See Vanessa Craft shares some amazing farm animal finger puppets, which are great to introduce to toddlers who are starting to learn nursery rhymes.
Among the farm animals to create are the pig, the cow, and the chicken.
Enjoy these other farm animal crafts to create with your kids!
7. Zoo Animal Felt Puppets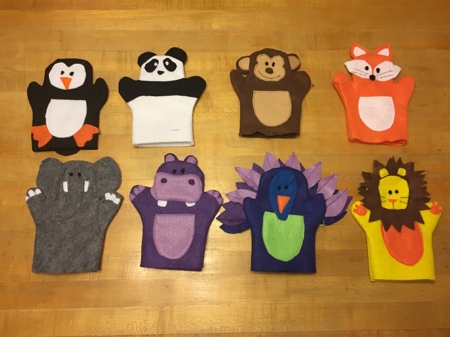 Children can recreate these zoo animal felt puppets by Spools of Love and have fun playing with them. There are eight different animals to select from, ranging from the largest land animal to the king of the jungle.
The materials and instructions needed are detailed within their written guide.
If you're loving these felt puppets, try making paper ones by following any of these paper bag puppets guides.
8. Animal Felt Masks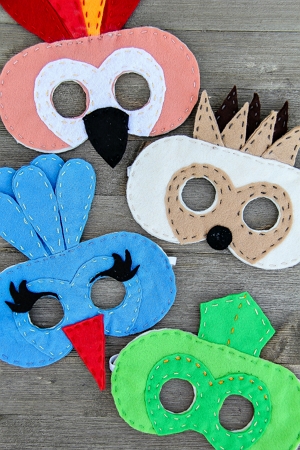 Tonya Staab shares some amazing felt masks that are inspired by characters from the 2016 animated film The Wild Life. Kids will have a chance to get acquainted with less common animals like the parrot, the tapir, the porcupine, and the chameleon.
4 Felt Pouch Craft Ideas for Kids
Useful and exciting to make, these DIY felt pouches will be fun to play with or use on a daily basis.
9. Felt Pouch for Kids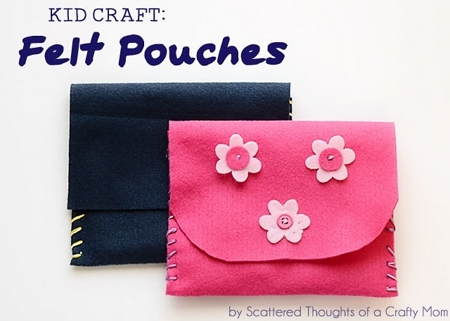 Children love to copy what they see, and if they see mommy with a nice wallet, they're gonna want one of their own, too! Fortunately, there's an easy way to make a pretty pouch according to Scattered Thoughts of a Crafty Mom.
The fun part is the kids can choose their favorite color and embellish it with flowers and other decorations.
10. Kawaii DIY Felt Pouches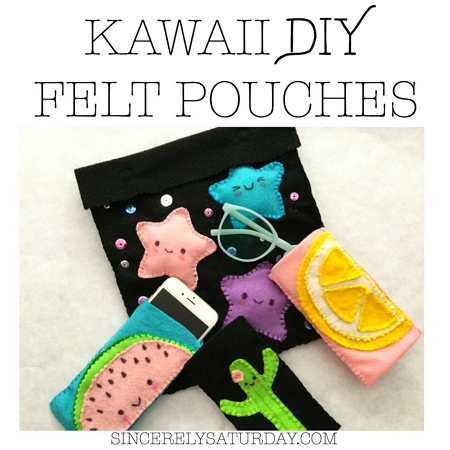 Here's another felt pouch made by Sincerely Saturday, who decorated their version with kawaii figures. Kids love seeing these objects with cute faces, so it won't be hard to convince them to skip their afternoon TV show to help make this craft.
If you're looking for more adorable activities, here are some kawaii Perler bead patterns to keep the kids off their screens.
11. DIY Bear Felt Bag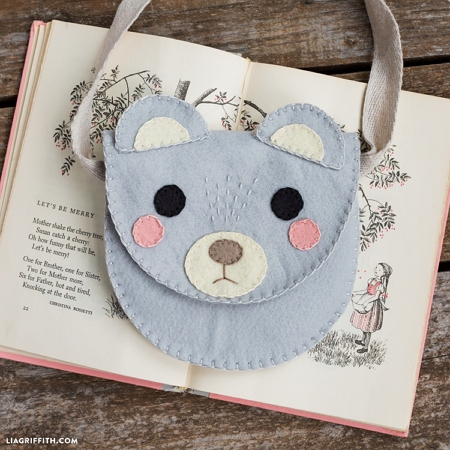 Lia Griffith goes the extra mile in pouch crafting and creates this bear felt bag with a strap. DIY projects can improve the creative skills and dexterity that are fundamental for a child's development.
12. DIY Felt Piggy Banks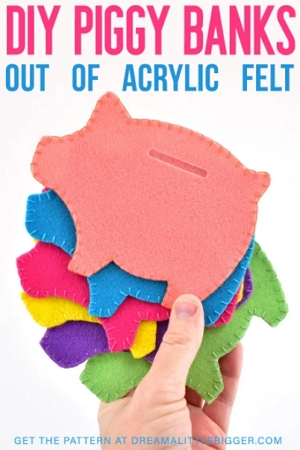 Dream A Little Bigger teaches the importance of saving by making these DIY felt piggy banks, which can be useful and educational for kids when they're trying to save for an action figure or plushie that they've been wanting for a long time (well, a long time to them).
9 No-Sew Felt Projects for Kids
This is the section that toddler parents have been waiting for!
Here are some no-sew felt projects for those who don't have sewing materials, don't want the hassle of sewing, or just want a felt craft that younger kids can do.
13. No-Sew Felt Fruits & Vegetables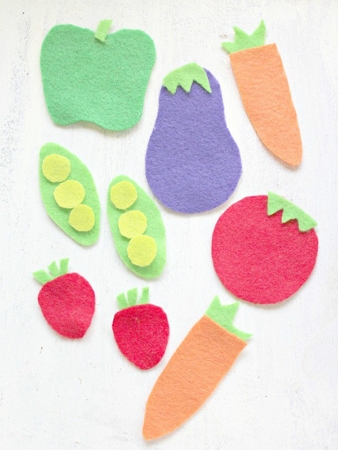 The Homespun Hydrangea gives us a lesson on our fruits and vegetables by starting this simple "garden" project. Toddlers will enjoy playing pretend farmer after making these felt crafts.
Who knows? Maybe your little ones will be less picky and encouraged to eat more of these healthy foods after making this exciting and colorful felt activity.
14. No-Sew Felt Woodland Animal Ornaments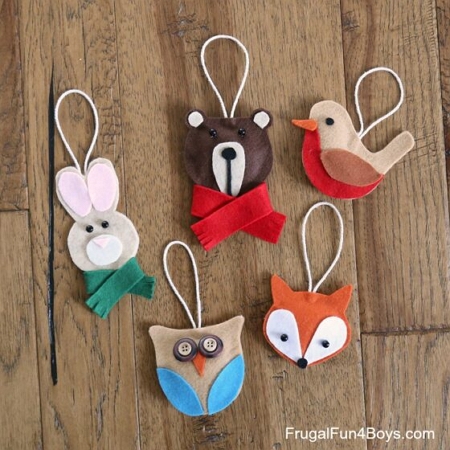 A family camping trip to the woods provides an opportunity for kids to encounter some of these creatures, and so will these felt ornaments made by Frugal Fun 4 Boys.
Since it's no-sew, making these woodland critters won't take long. The best part of it is that they provide a template for your convenience!
15. No-Sew Felt Pencil Toppers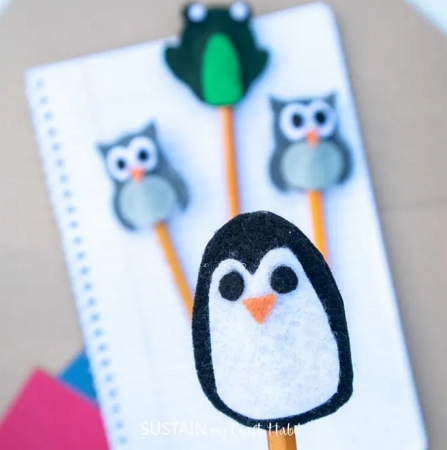 Sustain My Craft Habit makes school less tedious for kids by providing them with a pencil topper companion made of felt. Choose between a penguin, an owl, or a frog.
16. No-Sew Gnome Felt Project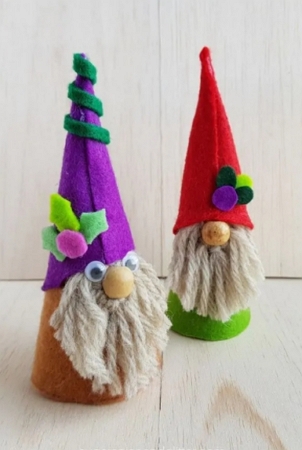 Sugar, Spice And Glitter shares a no-sew felt gnome project that can be made during the weekend. Make one for grandparents, aunts and uncles, and even teachers!
17. No-Sew Felt Alligator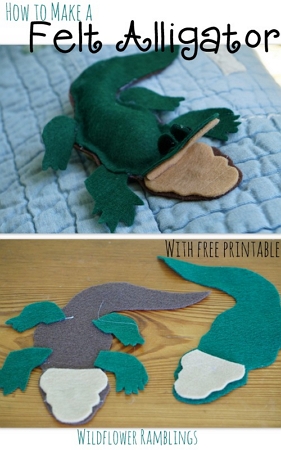 Wildflower Ramblings shares a guide to complete this felt alligator, which is an amazing craft that accurately depict a real alligator with it's mouth open.
Explore more letter A activities in our compilation of letter A crafts!
18. DIY No-Sew Felt Pouch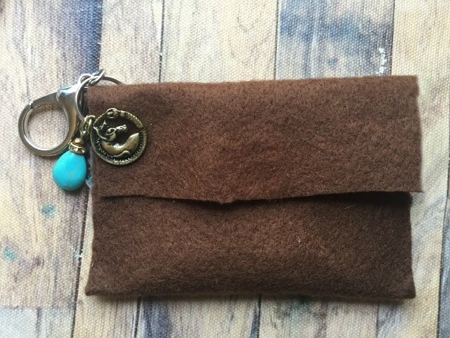 Those who wanted to make a DIY felt pouch but didn't have sewing materials will rejoice after seeing this guide by Premeditated Leftovers.
This project involves no sewing at all and, to make it more interesting, any keychain can be added to decorate this felt pouch, making it a very customizable craft.
19. No-Sew Tooth Fairy Felt Pouch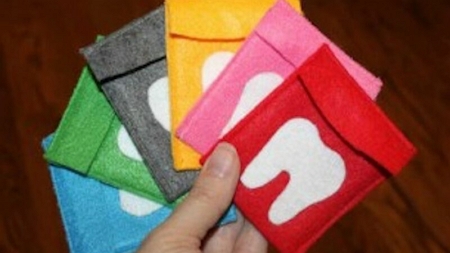 PBS Kids reminds parents to reward their kids for their missing teeth by sharing this no-sew tooth fairy pouch project. Simply create this tooth pouch and instruct children to leave it under their pillow, and the tooth fairy will take care of the rest.
20. Felt Pencil Pouches for School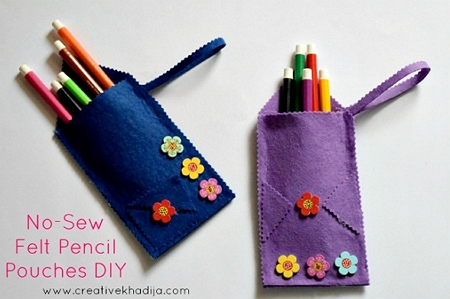 Creative Khadija helps kids keep their school supplies organized with this no-sew felt pencil pouch. Embellished with flowers, this DIY pouch is something that the kids will look forward to using at school.
21. Felt Mosaic Candle Holders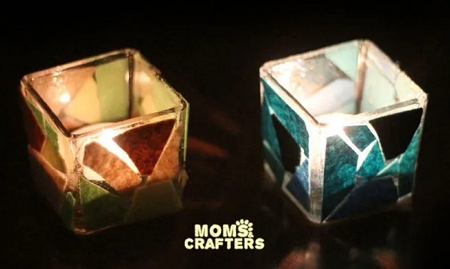 Moms and Crafters shares a brilliant idea on how to make use of scrap felt. While it's not a felt craft per se, the mosaic candle holder looks stunning and the felt is used in a creative way.
Obviously, only put felt pieces on the outer face of the candle holder to avoid any fire hazard, and I suggest using battery-operated tealights for peace of mind.
8 Seasonal Felt Crafts
22. Felt Ice Cream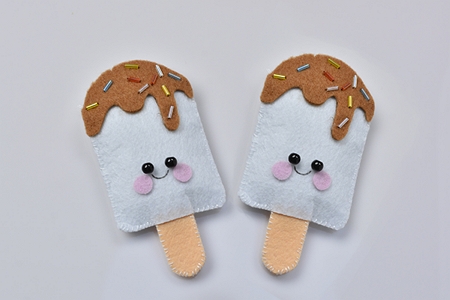 It's always nice to indulge in some velvety ice cream, especially during the summer heat. After eating a delicious scoop, create this felt ice cream craft by Panda Hall.
Do more ice cream crafts to cool down during the summer.
23. Flower Bracelets for the Summer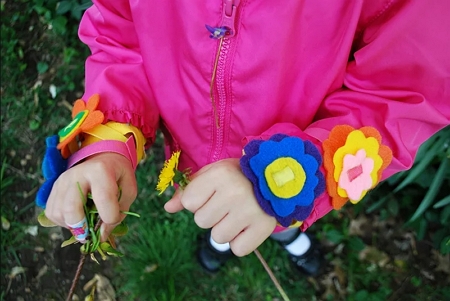 Picking pretty flowers while walking to your local park is a nice summer activity for kids, especially when those flowers are in full bloom. Create these flower bracelets by Merriment Design to take on your next walk in the park.
While you're at it, try picking up some of nature's treasures and pinecones to make these nature collage crafts and pine cone crafts for kids.
24. Halloween Treat Pouch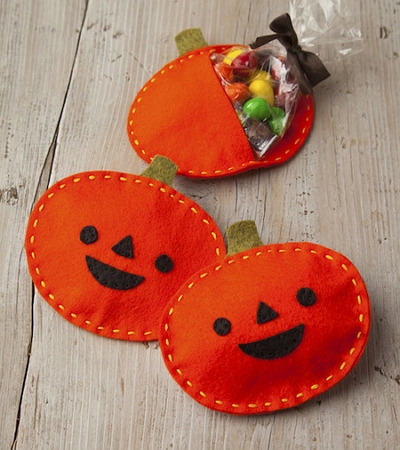 Here are some DIY pumpkin pouches made by Craft Foxes that will a cute way to share precious treats with trick-or-treaters.
Try these paper mache pumpkins this next Halloween season while you're at it!
25. No-Sew Ghost Craft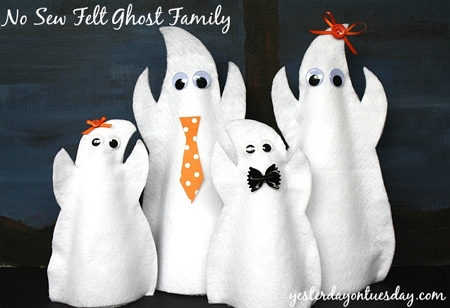 Halloween wouldn't be complete without filling the house with some spooky decorations like these no-sew ghosts by Yesterday On Tuesday. Each friendly ghost represents a member of the family, so try creating the ghosts according to the members of your own.
Here are some Halloween painted rocks that will set the tone around the house and also let kids practice their artistic skills.
26. Christmas Tree Felt Ornaments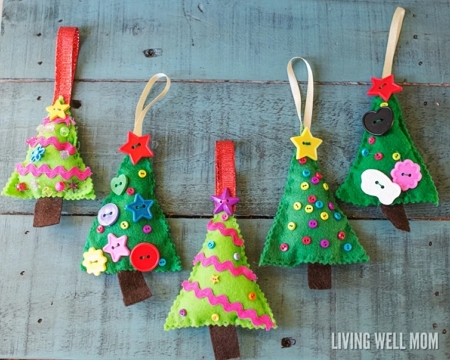 Living Well Mom shares Christmas tree felt ornaments that can be hung on your Christmas tree! There are plenty of designs to choose from and many decoration options to pick from, like adding buttons, sequins, and stars, among others.
Try making other winter creations by checking out this list of snowman handprint ornaments.
27. Snowman Felt Art
Crafts By Amanda comes up with an idea to create a snowman made entirely from felt. This is an exciting activity that promotes creativity through the selection of decoration and background, and that promotes fine finger movements through the cutting of felt.
Snowmen are a great companion for the winter, so here are more snowman crafts for kids.
28. Easter Egg Felt Project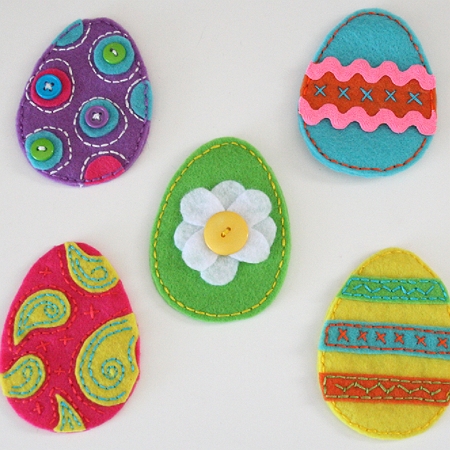 Prepare for Easter by doing this Easter egg project created by Mom Spark.
The best thing about these eggs is that they're not meant to be only for decoration – they also have a hidden pouch on the back that can carry a piece of candy or chocolate!
This Spring Break keep those kiddos busy with these spring crafts for kids.
29. Cute & Tiny Easter Felt Bunnies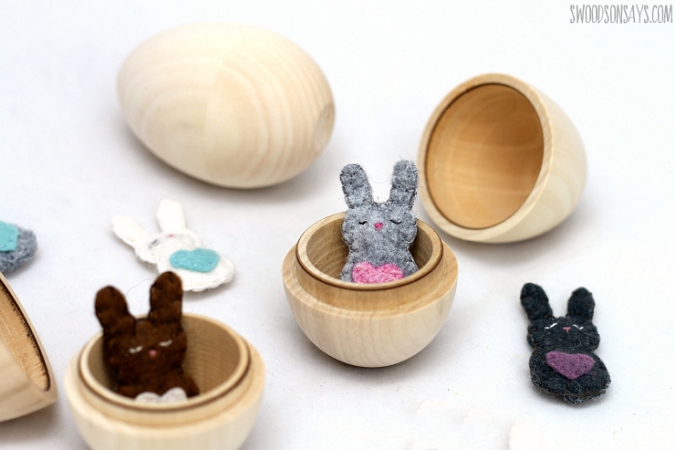 The Easter Bunny is a symbol for Easter and the one that brings the eggs filled with goodies for children. Here are some small and adorable creations by Swoodson Says that will make your Easter perfect.
Happy Felt Crafting!
I hope you've found the perfect felt craft to keep your kids busy. There are plenty of options to pick from, ranging from animal crafts and DIY pouches that can be created anytime.
Find similar unique and exciting crafts by checking out these other posts: