Ever wondered what crafts you can do with pine cones?
Their appearance and texture have always piqued my kids' interests, so I decided to compile these 30 pine cone crafts for kids that will challenge your little one's imagination.
Mother Nature surely gives us a lot of stuff, so let's rediscover the fascinating ways we can turn pine cones into adorable pine cone art your kids will love!
15 Adorable Pine Cone Animals
A lot of these crafts use some of the same materials, such as felt, craft foam, pipe cleaners, googly eyes, paint (I recommend tempera paint), and a low temperature glue gun. Make sure to prepare these materials in advance if you don't have them already.
Also, if your little one wants to practice their scissor skills, get them these safety scissors to ensure worry free crafting.
1. Snowy Pine Cone Owls
Make a miniature version of a wide-eyed snow owl, like Hedwig, with this pine cone craft tutorial provided by Outside the Books.
Kids are gonna have a hoot with these wide-eyed birds that will either keep an eye on them or make a great staring contest buddy.
2. Pine Cone Bumblebees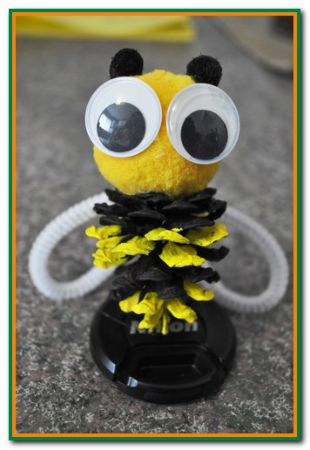 Autobots, transform and… oops. Wrong bumblebee.
No, it's not the Autobot. It's nature's little worker! Kids will enjoy buzzing around as efficient, little workers with Easy Crafts for Kids's easy pine cone bee craft.
This craft helps to develop your little one's motor skills (bending the pipe cleaner) and their painting skills as well. Hitting two birds (err, bees) with one stone!
3. Pine Cone Hedgehogs
One of the most popular pine cone animals that can be easily made out of pine cones are hedgehogs because of their spiky features that are similar to pine cones.
My kids have always been bewildered by actual hedgehogs, so I introduced them to My Hobby House's version of it made out of pine cones! And you know what? They just love holding and petting their pine cone hedgehog.
Your kids will definitely have a fun learning experience with this one!
For more hedgehog cuteness, let your kids try these hedgehog crafts as well.
4. Pine Cone Owls
Isa brings some owly goodness to her version of pine cone owls with this video tutorial that includes a free template.
Kids will love this easy, fun, and interactive activity that will make it feel like the owl came straight out of the forest.
5. Pine Cone Bats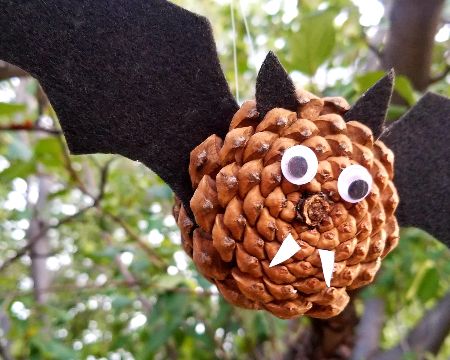 The aptly named Pine Cone Crafts for Kids shares a tutorial for a large and fanged pine cone bat. While bats might not be popular, kids will not be able to resist that goofy face.
The best thing about this pine cone craft is that kids can design the facial features however they want. More fangs? Sad eyes? It's up to them!
6. Pine Cone Foxes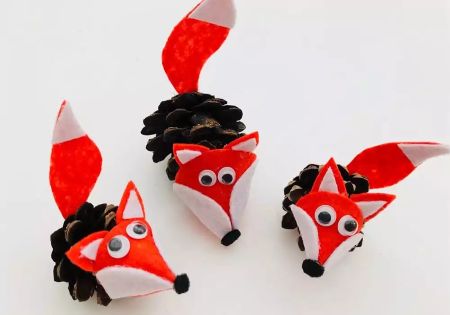 Kids will be testing their motor skills as they shape felt into a fox's face like Mas and Pas does. Be sure to check out their full tutorial to see what else your kids will need to make these pine cone foxes.
7. Pine Cone Peacocks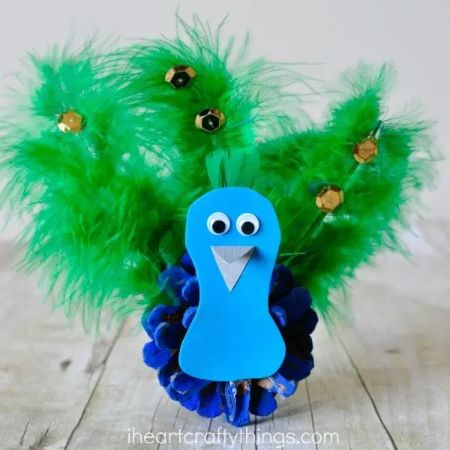 Capture the majesty of beautifully feathered peacocks in a pint-sized pine cone craft by following this guide from I Heart Crafty Things.
Let kids glam up craft feathers with as much sequins and gems to make an eye-catching peacock!
8. Pine Cone Spiders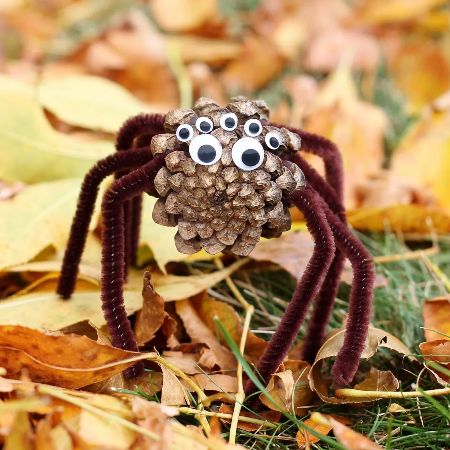 I dislike spiders myself, but these pine cone spiders by Fireflies and Mudpies are so cute, they get a pass. This pine cone spider will allow your kids to spin the web of their imagination!
9. Pine Cone Reindeers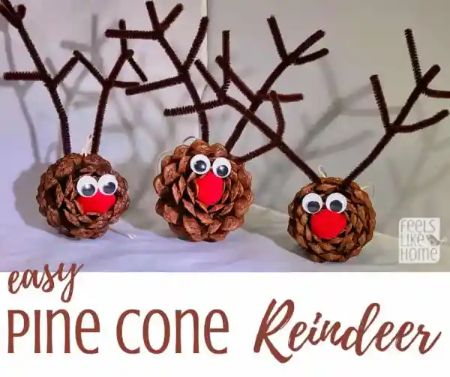 Is it winter already? One animal that always comes to mind during the winter season is a reindeer, and Feels Like Home lets kids make a couple of reindeer heads using pine cones for some simple winter holiday decor.
10. Pine Cone Turkeys
Fall doesn't just mean an abundance of pine cones, it also means that Thanksgiving is around the corner!
Thanksgiving can be quite busy for grown-ups as we prepare for the holiday dinner, so keep kids busy making their own turkey from pine cones with Easy Kids Craft's video.
11. Pine Cone Bunnies
If Easter is coming up, I'm sure you've already braced yourself for constant nagging about when the Easter Bunny is coming.
Red Ted Art shares a video that shows kids how they can make their very own unique pine cone bunnies in preparation for the Easter Bunny's arrival.
Can't get enough of spring fever? Then check out these cute spring crafts for kids!
12. Pine Cone Bears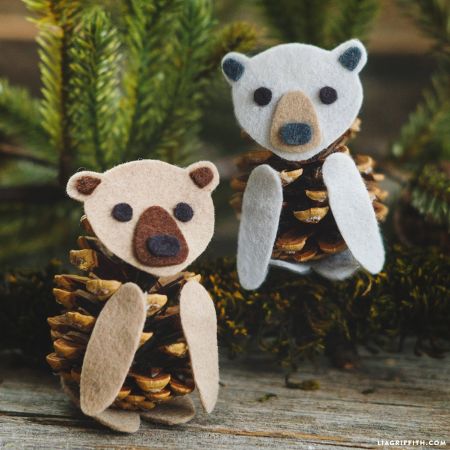 Care for some bear-y cute pine cone bears? Then Lia Griffith has just the craft for you with her version of a grizzly bear pine cone craft!
Let kids paint their pine cones white and use white felt to make some cool (See what I did there?) polar bears, too!
Do your kids just LOVE bears? Then check out my compilation of great bear crafts and polar bear crafts!
13. Pine Cone Penguins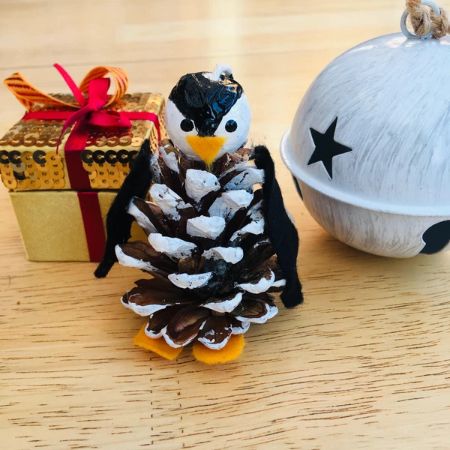 For some more wintery goodness, Eco Kids Planet has an easy-to-follow tutorial that shows kids how they can make their own pine cone penguins!
The only specialized material needed is a 1" wooden bead for the penguin's head.
14. Pine Cone Hummingbird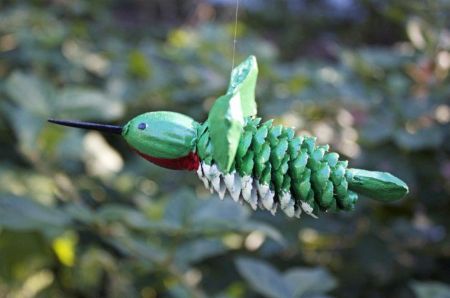 Here's a cool and realistic looking hummingbird kids can make out of a pine cone. To make one, Birds and Blooms asks you and your kids to forage for additional acorns and other materials found in nature.
15. Pine Cone Snake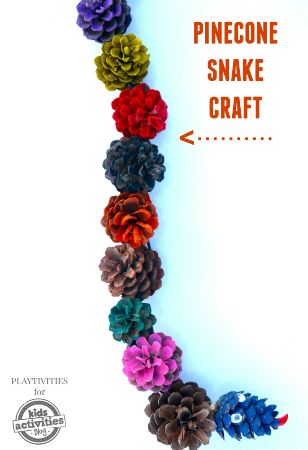 Why use just one pine cone to make an animal when kids can use multiple pine cones? Paint each pine cone with all the colors of the rainbow for a very vibrant snake! Makethe snake as long or as short as you want!
8 Other Pine Cone Crafts
16. Pine Cone Monsters
It doesn't have to be Halloween to make some monsters. They come in various shapes and sizes, so let your kiddos create their own unique monster from pine cones with this neat activity by HobbyFamily TV.
17. Glow in the Dark Pine Cone Aliens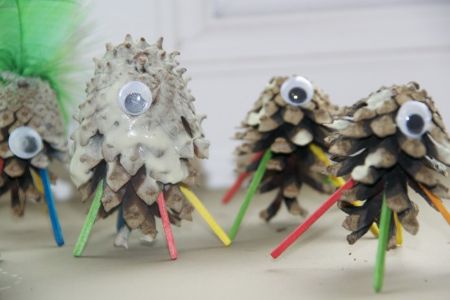 These pine cone aliens from Mummy Mummy Mum come in peace! But what makes this pine cone craft different from the monster pine cone craft?
The guide makes use of glow in the dark paint to give it that extra-terrestrial look.
18. Franken-Pine Cone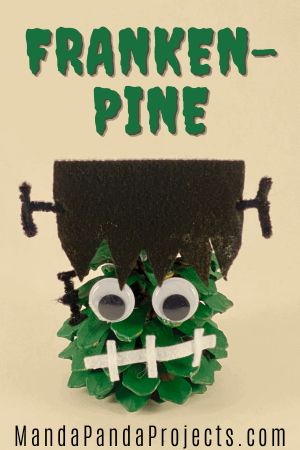 Is Halloween fast approaching? Then spookify your house with a Frankenstein's Monster pine cone craft by Manda Panda Projects.
Complete the set of classic horror monsters with her pine cone ghost and mummy as well!
19. Pine Cone Snowmen
No need for snow for this winter pine cone craft! Using their snowman hat template and other craft materials, One Little Project helps kids decorate your home with adorable little snowmen.
The best part is that your kids can dress them any way they want. How cool is that?
20. Pine Cone Angels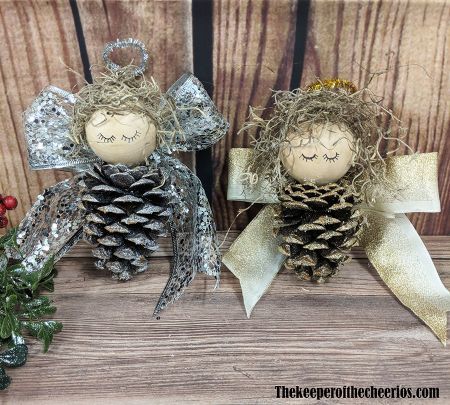 Descending from the skies above are these beautiful little pine cone angels by The Keeper of the Cheerios. Throw in a wooden ball and ribbons, and your kids are good to go!
21. Pine Cone Fairy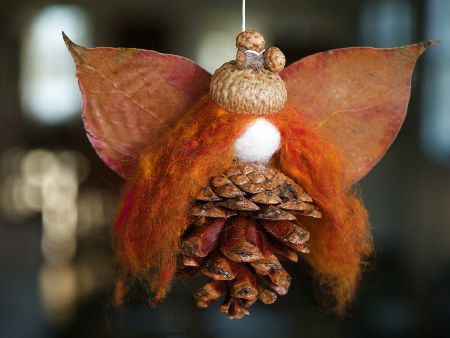 Check out this pine cone fairy craft courtesy of The Magic Onions. I enjoy crafts like this as it gives me an excuse to take the kids for a stroll through the local park to gather the natural materials needed, like leaves and acorns.
Try letting your kids gather leaves of different shapes, sizes, and shades to make each fairy unique!
22. Pine Cone Gnomes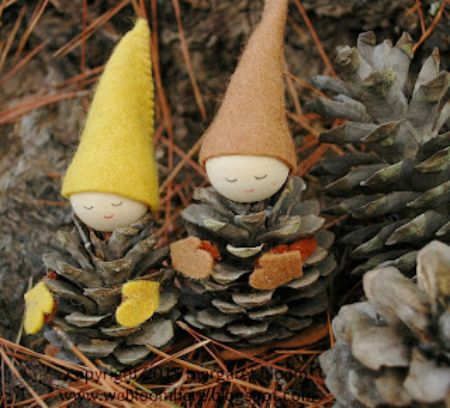 We Bloom Here shares a garden gnome pine cone craft tutorial that's perfect for developing fine motor skills.
The tutorial calls for one inch wooden beads for the heads, but my kids found it equally fun to use ping pong balls and just paint them brown.
23. Monster Pine Cone Wreath
If you have more than one kid, have them craft one big project together, like this monstrous pine cone wreath.
Spend a day crafting wreaths to hang in the living room, dining room, or better yet, on the front door to welcome treat-or-treaters this Halloween!
7 Pine Cone Art and Crafts Projects
24. Pine Cone Art
Get ready for the ultimate paintception. The Great Lakes Children's Museum shares a neat pine cone painting activity where kids use pine cones to create works of art.
25. Pine Cone Flowers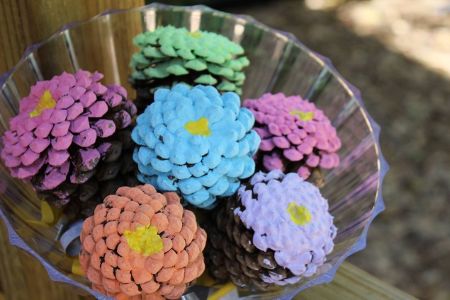 Kids can paint flowers to make their very own bouquets thanks to Crafty Morning's pine cone art activity.
26. Pine Cone Crown and Wand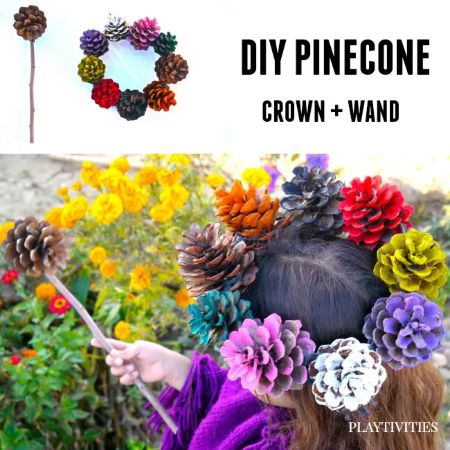 Children have wonderful imaginations, so help your kids become rulers of the forest with this pine cone crown and wand craft combo courtesy of Playtivities.
27. Pine Cone Pumpkins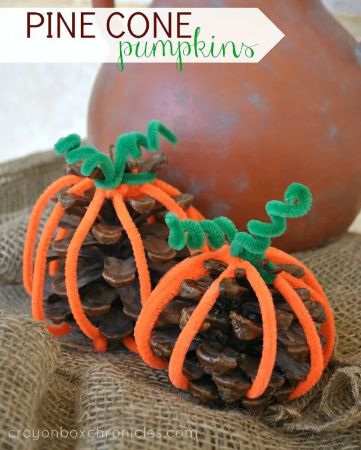 Autumn brings pine cones and pumpkins with it, which we then use as Halloween decor or to make pumpkin pie.
Crayon Box Chronicles shares a really easy pine cone craft that merges these two things into a pumpkin pine cone craft for toddlers.
28. Pine Cone Pineapples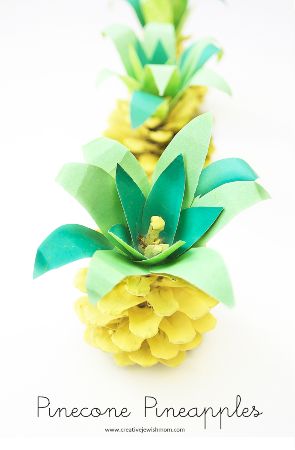 Creative Jewish Mom turns a pine cone into a pine-apple with this craft that's so easy, kids can sit down and do it while you take a much needed break.
They just need to paint the pine cones yellow and add in paper leaves on top. Tell them to make as much as they want to make your break last longer!
29. Pine Cone Trees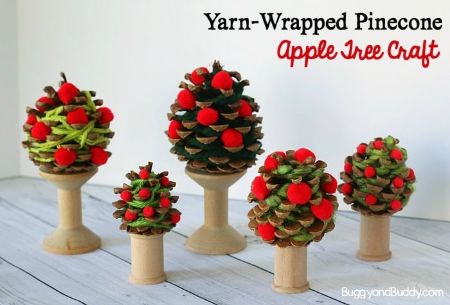 Well, pine cones do come from trees, so naturally Buggy and Bundy shows kids how to turn them into apple trees using wooden spools for the trunks.
I love how they use red pom poms for the apples, but another idea is to use yellow ones for a lemon tree or orange ones for an orange tree to make a forest of different trees!
30. Pine Cone Skiers with Trees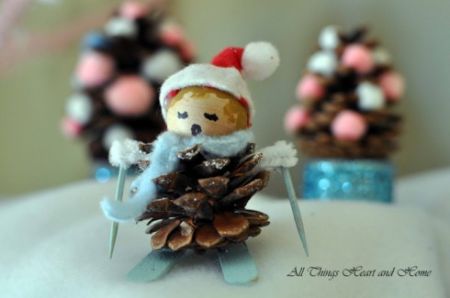 All Things Heart and Home shows us how to make a cool (Ehh, get it?) skiing diorama with skiers and trees.
Your kids will enjoy testing their creativity by turning toothpicks and popsicle sticks into ski gear for their mini pine cone skiers!
Check out my list of popsicle stick crafts for more ideas on fun things to make with popsicle sticks.
Natural Pine Cone Crafts for Kids
From easy pine cone crafts for toddlers to more challenging ones for older kids, these 30 pine cone crafts for kids will enhance creativity and motor skills while having fun in the process.
Looking for more crafts this coming fall? Then teach your kids how to crochet with these kids crochet kits!
Have your kids tried making anything with pine cones? Share it in the comments below!