Thanksgiving is a time when families come together and remember the blessings received.
So let's look back on all the good fortunes we've had this year and appreciate the bounty the fall has given us.
Take some time to do these easy Thanksgiving drawings that children will appreciate.
Don't forget to show these easy animals to draw to your kids as well!
Drawing Materials
Alternatively, save the trouble of buying those individual materials by getting this complete drawing set.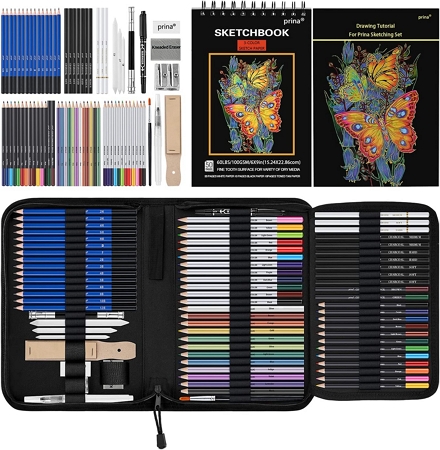 This full kit gives you the most bang for your buck, as it comprises the following materials: three 50-page sketch pads, an impressive 76-piece pencil set to achieve the perfect shading and layering, coloring materials to finish your sketches—including watercolor and oil pencils—and many more.
An aspiring young artist won't be disappointed to receive such an astounding supply like this one for their birthday or Christmas present.
7 Ways to Draw a Turkey
Turkey is the first thing that comes to mind when talking about Thanksgiving—for me, at least! Thank the heavens for the abundance of this scrumptious bird—and of course, these seven easy ways to draw a turkey.
1. Simple Turkey Drawing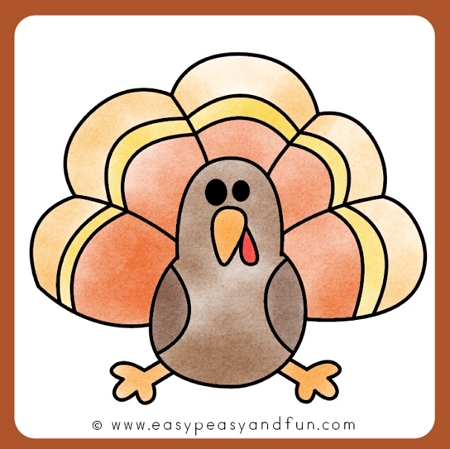 Looking for an easy turkey drawing for kids? Easy, Peasy, And Fun has got you covered with this drawing tutorial of a turkey that's gifted with five big orange plumes that look like candy corn.
Talk about hitting two birds with one stone.
It's never too late to make these Halloween Perler beads to scare your next visitor.
2. Turkey Handprint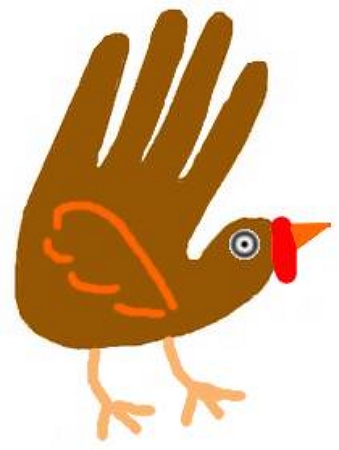 The level of engagement that kids have with handprint crafts is second to none. All Free Crafts teaches us how to draw a turkey by tracing handprints and adding the bird's details and coloring it.
Get more handprint inspirations through these turkey handprint crafts.
The element of surprise can keep children absorbed in the activity. That's what Art For Kids Hub's video tutorial has in store for the kids.
Watch their enthusiasm when they show their turkey stack drawing to another family member during Thanksgiving.
Learn how to draw the turkey's distant cousin—the chicken— with these chicken drawings.
4. How to Draw a Cute Turkey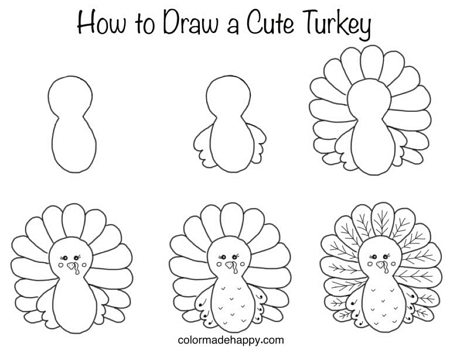 The visage of live turkeys can look unattractive at times.
Persuade your little ones to draw more charming versions of the turkey through this drawing tutorial by Color Made Happy.
7. Another Cute Turkey Drawing Guide
Draw a newborn turkey by following this video tutorial on Simple Easy Art's channel. This style is akin to the chibi style—drawings that exaggerate certain body parts to create an adorable figure.
Did you know that a young goat is called a kid? You probably did, but try to learn more in these goat drawings!
Stubborn children become more cooperative when they see familiar cartoon figures to draw.
Perhaps this tutorial by How2DrawAnimals will help you encourage children to watch less TV and engage in more meaningful activities.
The most awaited roast turkey is finally out of the oven and served to us by Art Land. Don't forget the rich potatoes and cranberry sauce on the side!
3 Cornucopia Drawing Guides
A cornucopia is a typical symbol of Thanksgiving, embodying the abundance of the autumnal harvest. In the same way, let's be thankful for the numerous tutorials of cornucopia drawings around the Internet.
Try something different with these Thanksgiving sensory bin ideas and activities.
From pumpkin and corn to pears and grapes, this video tutorial delivered by How To Draw Easy's channel has it all.
The artist goes straight for the permanent marker; beginners still trying to find their footing shouldn't be ashamed of outlining with a pencil first.
Articco Drawing's cornucopia is full to the brim with an assortment of fresh fruits and vegetables.
The rest of the horn is completed once satisfied with the types of produce in the basket.
10. Kawaii Cornucopia
Here's another drawing tutorial that will need little to almost no coaxing from children. These are too adorable to not make—especially that apple on the corner!
If you like these aesthetics, these food Perler beads are definitely up your alley.
4 Pumpkin Drawings
Pumpkins are used in so many things: for decoration on Halloween; in culinary settings, such as pumpkin soup, pie, purée, and many more.
Plus, this crop contains so many vitamins that more children ought to eat them!
Believe it or not, it's super easy to recreate a pumpkin out of paper. Discover how to make it in our list of paper-Mache pumpkin ideas for the fall season.
The most basic pumpkin drawing is demonstrated by this video tutorial by Easy Peasy and Fun's channel.
The pumpkin is completed by making simple shapes that preschoolers can easily replicate.
12. Sophisticated Pumpkin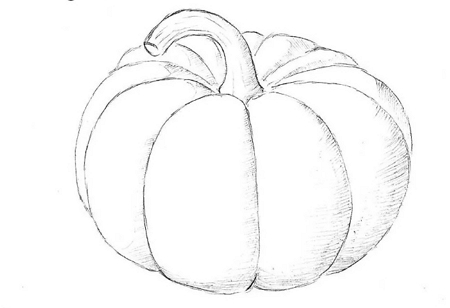 Let's put our lessons to the test by creating this slightly sophisticated pumpkin shared by Drawing For All. It might seem like a complicated design, but when you look closer, it's just tiny details that make it seem more
13. Pumpkin Pie in 9 Steps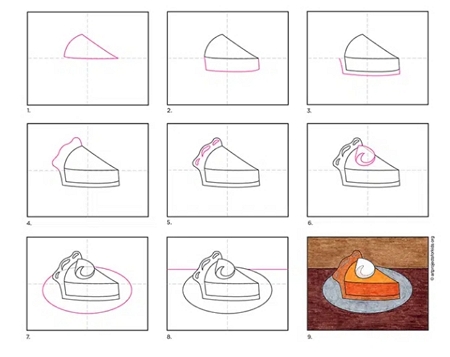 A symbol of harvest, the pumpkin pie is a delicious treat that's always a delight to have. Drawing For All has a simple, nine-step recipe to whip up a really quick pumpkin pie drawing.
As with most foods, it comes down to our tastes and preferences. Some love their food with a bit of a spicy kick, others love the freshness of in-season produce.
Tailor your pumpkin pie drawing according to your tastes, just like how Art For Kids Hub put their flair on their pumpkin design.
5 Fall Drawing Tutorials
Let's cherish the little moments of autumn before the long winter comes.
Here are five fall drawing tutorials that will make us appreciate this fall season more intimately.
Let's not forget to also make these picturesque fall Perler bead patterns.
15. Easy Autumn Tree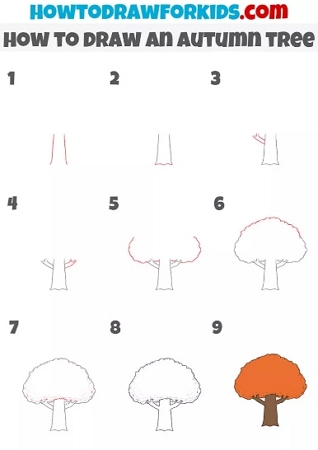 If you don't want to fuss yourself with intricate branch designs, then this drawing tutorial by How To Draw For Kids is for you.
The tree almost looks like a brown mushroom from afar.
Speaking of mushrooms, be mesmerized by these mushroom Perler beads!
16. How to Draw a Fall Tree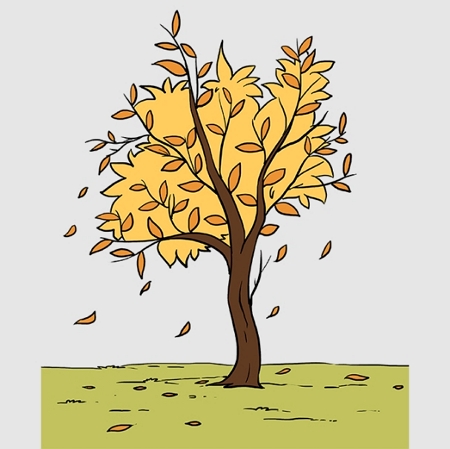 Easy Drawing Guides has the perfect fall tree for any beginner artist to practice with.
While the flora is slowly losing their bloom, their fauna counterparts are scurrying for any food they can find before the harsh cold comes.
In this drawing by Draw So Cute, you'll find a couple of animals that are either preparing to store food or migrate.
The fox is another animal associated with fall. There's no better time to make these easy fox drawings now!
18. How to Draw a Fall Wreath
One of the more popular activities is to take a nature walk and collect some of nature's treasures.
If you haven't got the time to pick up fallen sticks and acorns along the way, this fall wreath drawing by Art For Kids Hub is a completely viable alternative.
If you do find the time, here are 16 inspiring nature collage crafts.
A fall wreath can serve as the perfect introduction for the autumn months in a bullet journal. Creative Feel Designs has fresh ideas on how to create some mellow fall doodles. (Which complements these flower doodles really well!)
Thanksgiving Drawings for Everyone!
Let's be grateful for the moments we share with our loved ones—especially when making these easy Thanksgiving drawings alongside them.
Are you ready for more drawings? Then head on to our other drawing guides: