The wait is finally over—Halloween is here! The best time to dress up as your favorite character, eat unlimited sweets, and explore the neighborhood. Welcome the scariest day of the year with these Halloween perler beads patterns.
Halloween is one of the most awaited holidays for kids and adults alike. Together with their candies and chocolates, making these patterns will make the wait worth it.
Get the party started with these easy perler bead patterns.
Before Anything Else…
Make sure that you've got all these materials that you'll be needing for your crafts:
11 Halloween Perler Bead Patterns
1. Warning Zombies Sign Bead Pattern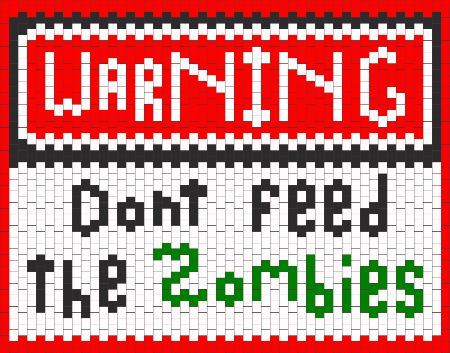 There's a zombie on your lawn! And never…ever…feed them your brain!
Here's a perler bead sign to warn your trick-or-treaters before entering your lawn. Brownie points if you're also planning to be a family of zombies for Halloween.
2. Silly Pumpkin Pattern
Trick or trick? This wacky pumpkin will make your Halloween a night you won't forget.
It isn't Halloween without pumpkins. More crafts can be found on this list of paper mache pumpkins. 
3. Halloween Bowl Perler Bead
Your guests will be in for a treat with these pumpkin perler bead bowls. Make these bowls with the help of this video tutorial by  Megan Weller just in time before your first trick-or-treaters knock on your door.
Plus, you can still use these bowls even if Halloween is over. It will be a great key holder, trinket dish, and more.
4. Magic Potion Perler Bead Pattern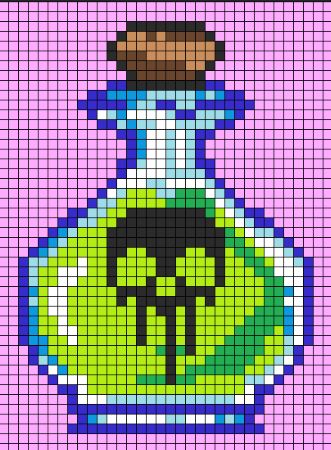 Are you looking for the potion mix for a guaranteed magical and awesome Halloween? This pattern will be the top ingredient in that recipe.
Scare some people this Halloween with this list of scarecrow crafts.
5. Scary Sand Timer Pattern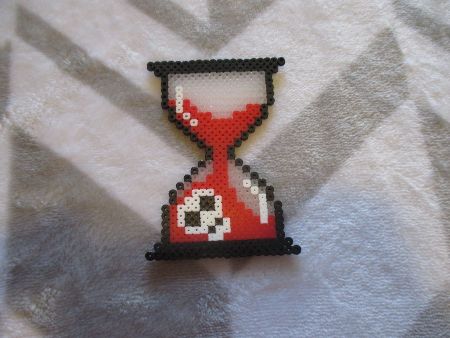 Time is running out! Halloween is a few days to go and you're still looking for the best crafts for your kids. Worry not because this scary sand timer will be a fun activity that your kids will enjoy putting together one red perler bead at a time.
6. Haunted House Perler Beads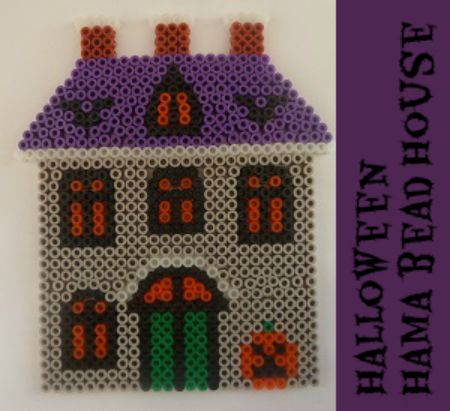 Do you dare enter this house of horror? Only the brave ones have the guts to finish this craft. For your kids who like challenges, this medium-level pattern will be a treat.
H is for haunted house, get more letter H crafts here. 
7. Colorful Cobweb Beads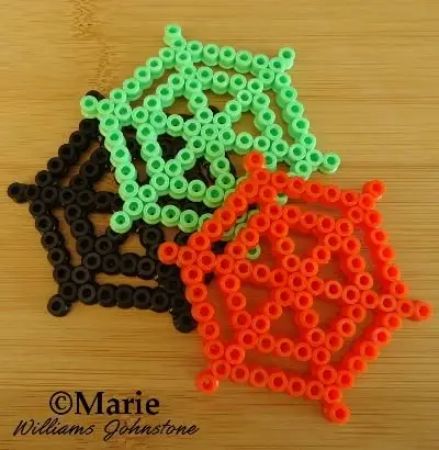 The itsy-bitsy spider will applaud you 8x once it sees your colorful cobwebs. Feel free to make your cobwebs as colorful (or as dark) as you'd like. The sky's the limit!
8. Black Cat Perler Beads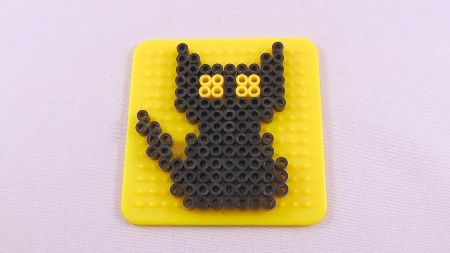 Here's an adorable black cat to bring you luck on the spookiest night of the year. It will keep you company as you collect sweets around the neighborhood.
Is your kid a certified cat lover? They'll love these cat crafts for kids. 
9. Halloween Pumpkin Perler Beads
This Halloween will be extra special because instead of pumpkins, you'll have a one-of-a-kind pumpkin that's made entirely of perler beads. You'll have the coolest pumpkin on the block.
Watch this video by Artkal to know how to start your project.
10. Adorable Ghost Perler Bead Pattern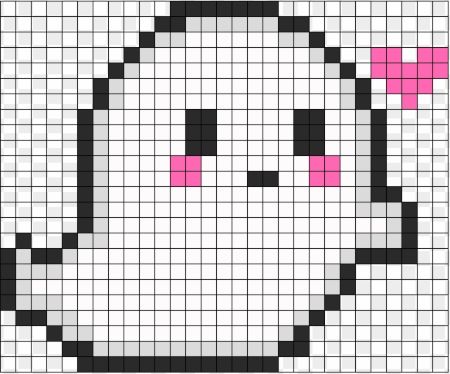 Welcome Halloween by making this lovable ghost. It's easy to make because you'll only be needing three colors of perler beads but will nonetheless guarantee you a good time.
Boo! More ghost perler beads are waiting for you here.
11. All-in-One Halloween Patterns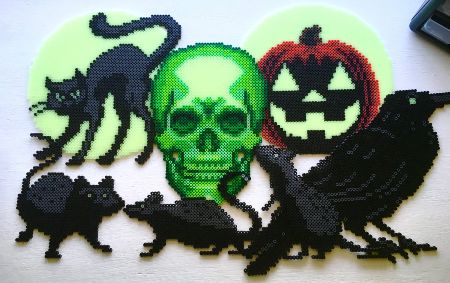 Don't know what pattern to do? Pixel Art Shop will let you have them all. This pattern has a cat, skull, crow, and more Halloween-themed characters.
10 Famous Halloween Characters Perler Beads
12. Freddy Krueger Perler Bead Pattern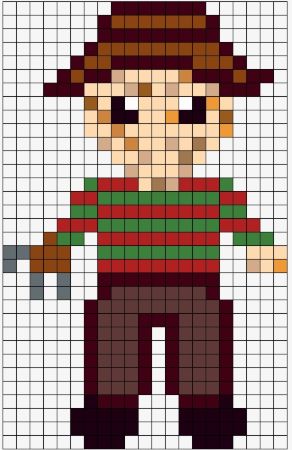 Freddy Krueger is what nightmares are made of. Just hearing his backstory will send chills down the spine of anyone who watched A Nightmare on Elm Street.
13. Halloween Bulbasaur Perler Bead Pattern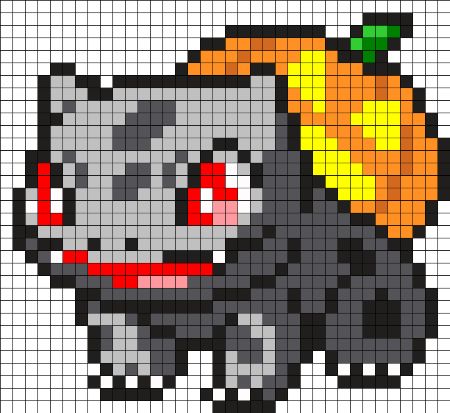 Bulbasaur is ready for some Halloween action and so are we. This pattern will be well-received by kids who are big fans of the Pokemon franchise.
Gotta catch 'em all! Collect the finest Pokemon perler beads through this list.
14. Frankenstein Perler Beads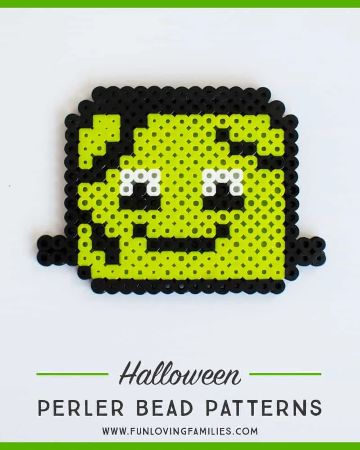 Did you know that Frankenstein is the name of the scientist and not the name of the big monster? According to the novel, the monster is nameless.
Share this fun fact with your kids while doing this pattern.
15. Pennywise Perler Bead Pattern
"Tasty, tasty, beautiful fear."
Clowns are the life of the party and bring joy to celebrations…except for Pennywise. It spreads fear, chaos, and panic making it a perfect addition to your infamous Halloween character patterns.
16. Halloween Hello Kitty Perler Bead Pattern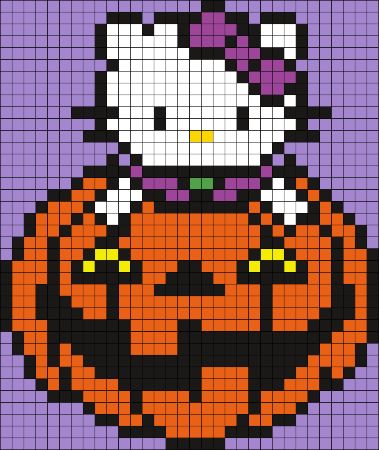 Peek a boo I see Hello Kitty! Have a fun night with your little girl by accomplishing this cute pattern.
Take your kids to Hello Kitty land and do fun activities that are cat-themed starting with this Hello Kitty perler beads list.
17. Snoopy in a Pumpkin Costume Perler Bead Pattern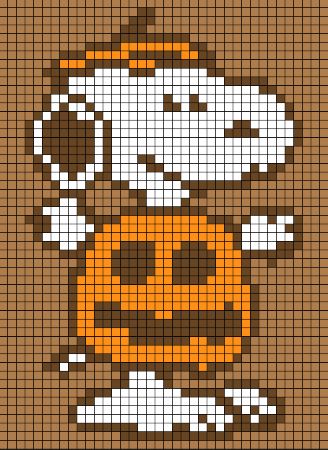 Looking for a pattern that will not cause nightmares to your kids but is still Halloween-themed? Here's an adorable one featuring one of the most beloved dog characters of all time, Snoopy.
Raise your hand if you're a dog lover, too. These dog perler beads patterns are for you.
18. Plants Vs Zombies Zombie Bead Pattern
The undead will join the living in partying during Halloween. Make sure to include this iconic zombie on your perler bead to-do list.
Brownie points if your little ones also love playing Plants vs. Zombies.
19. Trick or Treating Winnie the Pooh Bead Pattern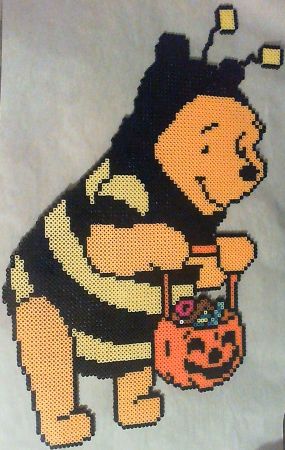 Pooh Bear wearing a bee costume will break the internet because of its cuteness. Throw in a pumpkin basket to the equation and it will be cuteness overload.
Can't get enough of bears? Check out these bear crafts for your next project.
20. Chucky Perler Bead Pattern
"Hi, I'm Chucky, your friend till the end"
Z Arts and Crafts will show you how to recreate the creepiest cursed doll by only using perler beads. The pattern is precise that it even includes the weapon of Chucky.
21. Oogie Boogie by the Window Pattern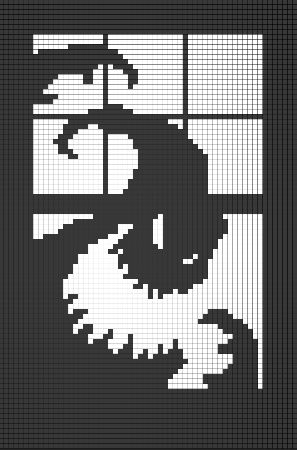 Oogie Boogie is back again to spread fear across town. This pattern will show him lurking outside the window ready to scare people out.
Are you a fan of the classic Halloween slash Christmas movie? Here's a list of Nightmare Before Christmas perler beads you'll love.
Everyone Gets a Treat Here!
Get spooked, excited, and scared with these Halloween perler beads.
This list has a special pattern for kids of every age and level of perler bead expertise. Doing these with them will make the holiday a whole lot of fun.
More exciting activities are in store for your kids in these lists below: