Start the NFL season with a bang by learning how to draw a football helmet and various NFL team logos. After all, there's nothing more important for football players than protecting their noggin with a sturdy and comfortable helmet.
Beginners and experienced artists who've always wanted to draw something football-related – this is a sign to start now! Grab your art materials and scroll down to see some of the most basic football helmets and popular NFL logos.
NFL Coloring Book and Drawing Art Pencil Kit
If you feel lazy drawing your own NFL logos or lack the resources to sketch, feel free to check these two items I've included below!
Children who love animals will enjoy our list of easy animals to draw for kids!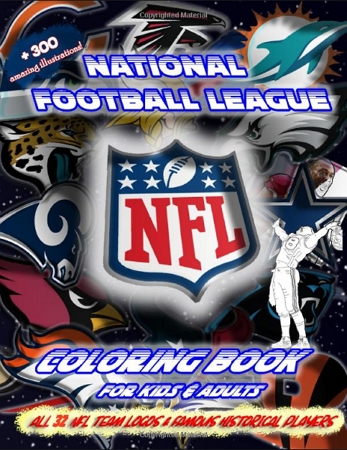 Any NFL fan, be it an adult or kid, will appreciate this National Football League Coloring book. This is a great resource for both of them whenever they feel overwhelmed.
Simply take this coloring book and start releasing that tension by coloring your favorite football team logos!
Make sure to check out our list of basketball and baseball Perler beads!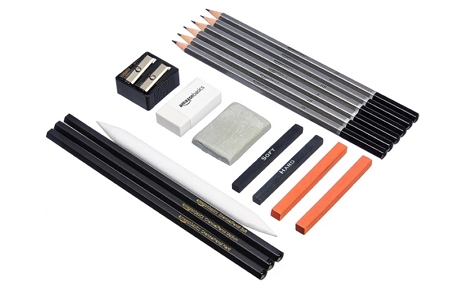 Ensure that you're well-equipped for any drawing session by getting this sketch pencil kit, which contains 17 pieces of sketch supplies for both beginners and advanced drawers.
The kit includes six types of pencils, each with its use, three charcoal pencils for different textures, and four compressed sketch sticks to get the details you want.
This pencil set is a steal for any beginner who'd love to try their hand at sketching.
I suggest practicing with these goat drawings or koala drawings!
11 Football Helmet Drawings
Test your skills first with these basic football helmet drawings, which can then be embellished with your favorite NFL team logo found in the other section below.
For the most basic football helmet, check out UCIDraw's video tutorial, who designs a complete helmet sans the intricacies and details of a realistic one.
This is a great drawing for those looking for an uncomplicated yet not too crude design.
A beginner artist need not be overwhelmed by the minute details of a football helmet. Simple Easy Art provides such a bare-bones football helmet that novices can enjoy drawing without feeling pressured.
The plainness can be seen in the simple outline of the face mask, which is the thick metal wire in front of the player's face.
Kids love images that resemble the cartoon they watch. This video tutorial by Viral Painting's channel features a football helmet that has elements of a cartoon design.
For more cartoon drawings, I highly recommend our list of PAW Patrol drawings!
6. How to Draw a Football Helmet in 9 Easy Steps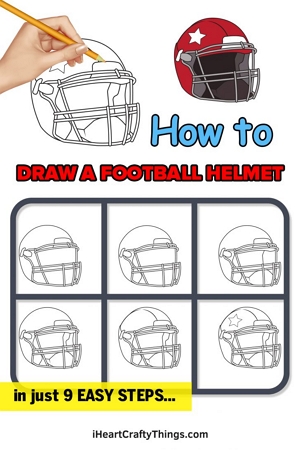 A careful and logical artist prefers a step-by-step approach to his or her drawings. I Heart Crafty Things provides that methodical style with their 9-step football helmet drawing.
The tutorial shares tips and tricks, from the outline of the football helmet to the finishing touches, such as color and shading.
It's always a great idea to have your little ones follow a video tutorial with another kid participating in the drawing process.
Take for example this tutorial by Art for Kids Hub, which features an adult and a child drawing a football helmet.
This removes the insurmountable feeling young children have when taking on a relatively huge project!
8. The Easiest Drawing of a Football Helmet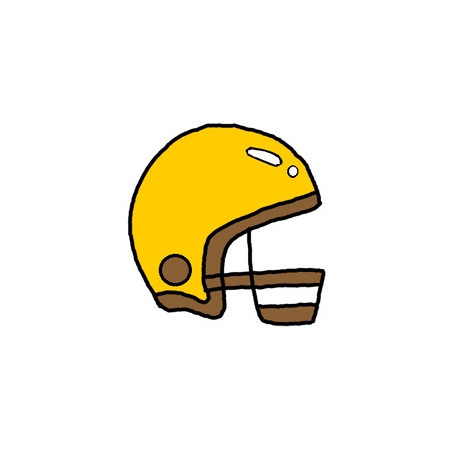 Here's another easy football helmet drawing that preschoolers can have fun imitating.
Drawing Howtos makes the outline and curves involved simple for kindergartners. They might've painted this helmet yellow, but encourage your little ones to stand out by using their favorite color!
9. Detailed Football Helmet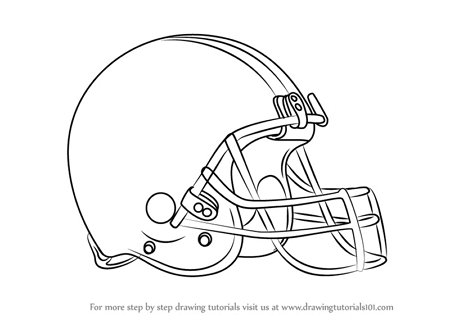 Let's take the complexity of a football helmet up a notch by following Drawing Tutorials 101's tutorial.
It still features the basic outlining like the previous designs, but they add a touch of realism by including screws that hold the face mask in place.
10. How to Draw a Football Helmet Step-By-Step
Here's another design that involves a systematic and disciplined approach. Cool2BKids starts with a circle outline and proceeds to detail the football helmet one step at a time.
11. How to Draw a Football Player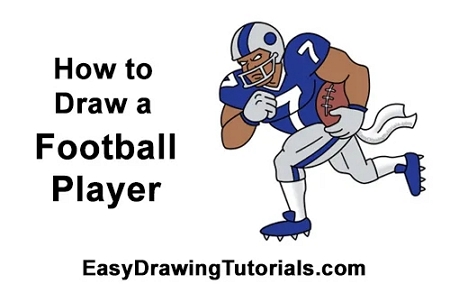 Those interested in drawing a football player as much as a football helmet should look at this guide by Easy Drawing Tutorials, which features a player trying to score a touchdown.
12. More Sophisticated Football Player Drawing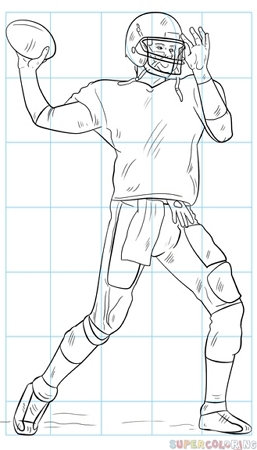 Knowing how to throw a football is an important skill that every player should know. Fortunately, artists who don't like strenuous physical activity don't need to study such a skill.
They would be at a disadvantage, though, if they didn't know the proportions when drawing a football player throwing the football. Luckily, we have Super Coloring who teaches us to do that.
13. Contemporary Football Helmet Drawing Idea
While GQ's post doesn't feature a guide on how to draw a football helmet, it does provide inspiration for more realistic football helmet drawings, as well as an interesting history of football helmets.
11 NFL Team Logo Drawings
NFL fans won't be able to resist drawing their favorite team logo. Scroll down to see drawing tutorials of several logos of NFL teams!
Try diversifying your afternoon or weekend activity by making these football Perler beads instead!
Let's start with our beloved NFL logo. The colors and stars of the logo represent something patriotic and unique to the US.
As Art For All's video tutorial reminds us, we don't have to be perfectionists when it comes to the outlines of the stars or letters.
15. How to Draw Atlanta Falcons Logo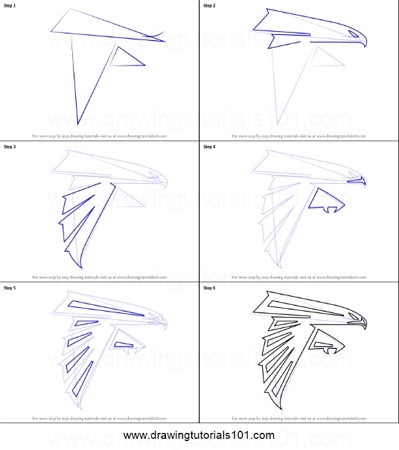 The Atlanta Falcons logo is one of the most impressive logos in the NFL, in my opinion. It's the sharp and precise edges of its feathers that make it so captivating, and Drawing Tutorials 101 shows us exactly how to create them.
The Houston Texans have one of the proudest fanbases out there, and that can be demonstrated easily by the We Are Texans chant.
Andre Cadore Arts shows fans another way to display their love for their team through this Houston Texans NFL logo.
The New England Patriots logo has had several transformations since its birth, but one message remained: the logo, with its red-blue-white tricolor, commemorated the service and patriotism of soldiers.
While it can be an admirable trait, being patriotic isn't necessary to stay loyal to the New England Patriots. One way to show your support is by drawing this design from How to Draw Stuff's channel.
No NFL logo has been compelling as it is simple than that of the Pittsburgh Steelers.
The three geometric shapes, called hypocycloids, look like yellow, red, and blue stars shining in the night sky. Simple Easy Art helps us to get through the measurements of the shapes involved in the logo.
How awesome would it be to feature the King of the Jungle as a team logo? Well, the Detroit Lions claimed it for their team!
Not only do they feature this fierce animal, but they chose a leaping pose that gives it the dynamism and authority it deserves. Learn how to draw it by following colorful days' video tutorial.
Those who'd like to take their drawing skills to the next level should look out for this San Francisco 49ers drawing.
ÆTHER ART makes this one special as they draw not only the team's logo, but an entire football player, complete with his uniform and football.
There's something so foreboding about the Tampa Bay Buccaneers logo. A charismatic pirate wearing a hat with a red feather used to be in the place of the skull.
I'm pretty sure this logo strikes fear into the Tampa Bay Bucs' opponents during their match. Show your love for the Bucs by following this tutorial by Art For All.
Stay Protected at All Times with These Football Helmets!
Whether you've chosen the basic helmet drawings or the more detailed sketches, I hope these football helmets and NFL logos have sharpened your drawing skills.
Don't stop now, there are plenty more drawing lists waiting for you below!