"Reap what you sow," goes the saying—and that rings true when making these easy pumpkin drawings.
Just like how a farmer would harvest a cornucopia of rewards in the fall by planting seeds on their lot (pumpkins among others), so too will novice artists be rewarded for their efforts in nurturing their artistic seeds early!
This basket of pumpkins includes sketches of different varieties, from cute baby squashes to overgrown, true-to-life ones.
Above anything else, the most important thing to remember is to have a gourd time with these easy pumpkin drawings!
Materials for Easy Pumpkin Drawings
Pencil set: I find this type of pencil very versatile, allowing both beginners and experienced artists to capture their imagination on paper.
Sketchbook: Every artist needs to see their skill progress, and how better to achieve that than to have a sketch book to compile their drawings!
5 Basic Pumpkin: Seedling Stage
Let's get a head start on planting those creative skills.
Check out these pumpkins in their seedling stage, perfect for beginners.
First on the list is a simple pumpkin with blush. With the big round eyes and blush, this drawing definitely has some kawaii elements, making it more enticing to the young artists.
This pumpkin drawn by Funny For Kids even winks at them as if saying, "You can do it!"
2. Pumpkin for Beginners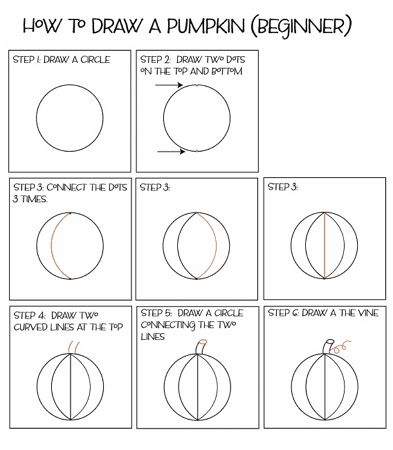 A pumpkin or basketball? Either way, this drawing by So Festive is an easy sketch for all of you looking to sneak in a quick activity in the afternoon.
3. Pumpkin, Plain and Simple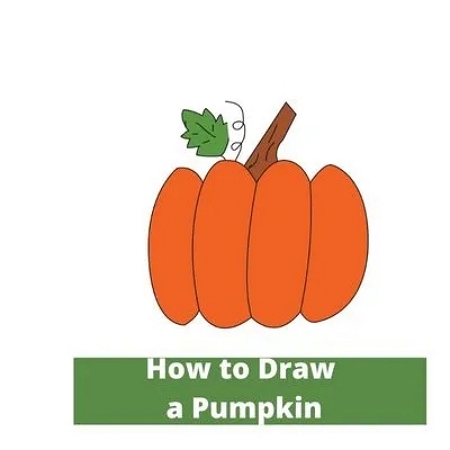 Easy Crafts For Kids highlights the ribs of the pumpkin in their sketch for beginners.
The detail on the pumpkin helps the artist appreciate their drawing more by keeping it accurate to reality.
Plump pumpkins—or plumpkins, as I like to call them—are a variety of gourds, which I made up just now, that is too adorable and irresistible to draw.
To see what I'm talking about, look no further than Winnicorn's plumpkin drawing.
Kawaii style is spreading like wildfire these days—but in a good way. A list of kawaii things is almost essential.
Whether it's an impressive golden dragon drawing, or a Disney princess rendition, or a cute pumpkin and ghost drawing like this one, Art For Kids Hub is reliably providing great drawing content out there, for both newbies and veterans alike.
This drawing should be under the Halloween section, among the Jack-o'-Lanterns; seeing how adorable and easy it is, though, I thought this is something your inexperienced kindergartners would appreciate!
4 Intermediate Pumpkins: Flowering Stage
Well, don't stop now!
With these intermediate pumpkin drawings, we can keep nurturing those pumpkins—by which I mean fine motor and creative skills—until they reach maturity.
The temptation to put eyes on everything is too great; that's just our tendency to humanize things.
But I find natural drawings like this one by Fun Little Art are just as satisfying to draw.
7. Happy Pumpkin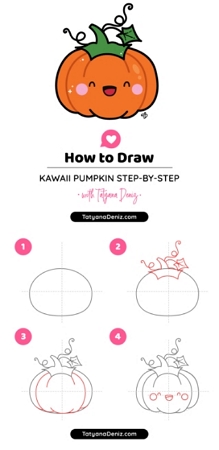 This little fella—a pumpkin handpicked by Tatyana Deniz—is ready to be harvested by enthusiastic artists!
It even has a little green crown in the form of the stem and tendrils.
8. Pumpkin, Ready for Harvest!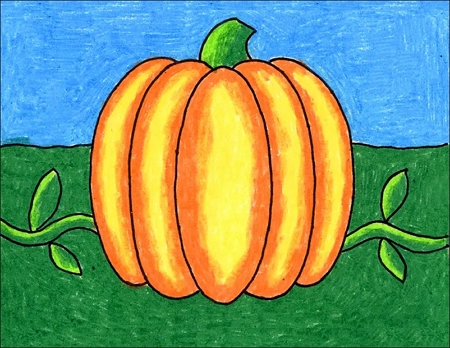 Most of these pumpkin drawings are isolated, unlike this scenery painted by Art Projects For Kids, who draws a pumpkin in a field under a blue sky.
Endearing and fresh, this pumpkin by Mofukawa has captured our hearts and attention.
Drawn in a kawaii style, the stylish stem on it tells me this pumpkin has been to the parlor more times than I have.
5 Expert Pumpkin: Harvest Time
It's time for the harvest.
Let's look at some uncannily accurate pumpkin drawings.
To prove that Drawing Artificer's pumpkins are robust, they kindly slice a wedge to reveal a vibrant and sturdy flesh accompanied by an earthy and fresh scent—all signs of a well-nurtured pumpkin.
Arts Core takes the pumpkin sketch to the next level.
We see that the light reflects more on the side of the pumpkin—highlighted by the white color—and less on the top and bottom.
12. Pumpkin Chalk Drawing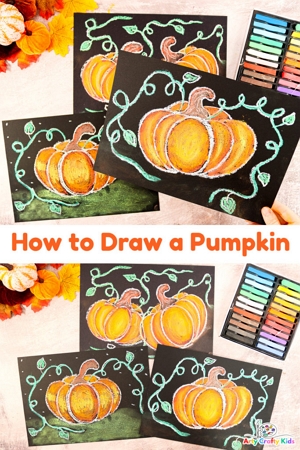 It's refreshing to take a break from pure pencil drawings.
Arty Crafty Kids pumpkin chalk art is just the right activity that will breathe new life into your routine.
13. Three Types of Pumpkin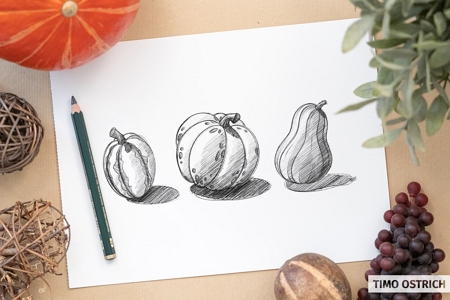 Just as other fields have certain principles to reach a standard, so too in art.
To depict an object under light, for example, you have to consider where the shadow falls. See Dreieck's three types of pumpkins, each outlined with its own shadow.
The only thing EloMelo Drawing is injecting in their pumpkin is a dose of realism; none of that GMO nonsense.
This true-to-life pumpkin drawing is completely organic—the way a true artist should approach their drawings.
Bonus Pumpkins: Halloween Decor
It's time to make use of these pumpkins!
Whoever came up with carving pumpkins must've been a genius. I mean, why waste that precious rind when you can give children nightmares?
Upon further investigation, turnips and potatoes were the original Jack-o'-Lanterns.
That's right! In Irish and Scottish folklore, it's believed that carved vegetables would ward off evil spirits.
That tradition spread in the land of pumpkins—America—and became an integral part of Halloween. That's why carved pumpkins, like this one drawn by Easy Cartoon Drawings, are still done today!
16. Looong Pumpkin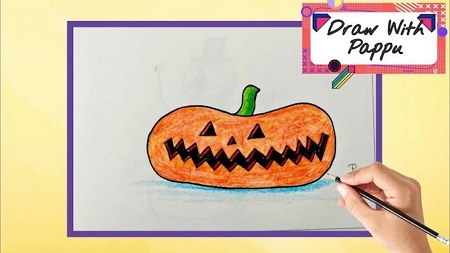 Pumpkins come in all shapes and sizes. And color.
So at harvest, don't be surprised if your pumpkin looks deformed—it's normal to have elongated pumpkins like this one shared by Draw With Pappu.
And most of all, don't limit yourself to an orange pumpkin.
Let your decoration stand out by coloring it white, yellow, green, or a mix of these to create a unique, marbled pumpkin. There are even blue ones that surprise many for decoration.
You're in for a spooky surprise with this foldable drawing-slash-craft made by Art For Kids Hub.
This seemingly innocuous jack-o'-lantern is housing more than just a small light: a cute Dracula and his minions are ready to strike when you unfold the paper!
18. Sinister Pumpkin Drawing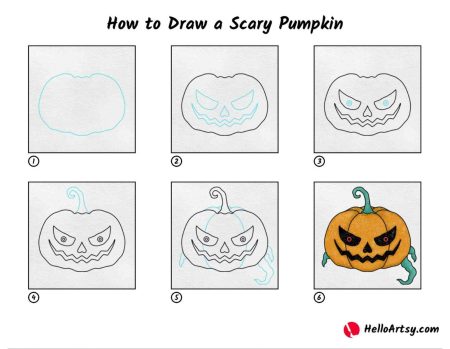 Someone who is passionate about Halloween does not fool around.
When they decorate, they bring out figures as frightening—if not more—as this grinning carved pumpkin conjured by Hello Artsy.
Everyone gets so absorbed in carving the most chilling pumpkin during Halloween that they forget another thing it brings to the table, literally: pumpkin pie.
This scrumptious dessert is common in the fall, but enjoyed by many year-round.
Made even more irresistible by Draw So Cute, I bet you're craving for a slice right now.
Fall-ing in Love with These Pumpkin Drawings!
Pumpkins are seasonal, but sowing those artistic skills can be done at any point of the year.
So start now! If you're craving to create more drawings, look no further: