It's the most wonderful time of the year, indeed! Christmas gifts underneath the tree, carolers singing at every home, everyone's ready to party with family and friends – yes, I'm talking about Christmas.
Whether it's December 25th or any other day, these easy Christmas drawings will make you feel like it's Christmas every day.
Choo choo! Here comes the train! Learn how to draw a train through this post.
Get This Stuff Ready for Your Little Artist
6 Easy Christmas Drawings
1. Santa Claus Drawing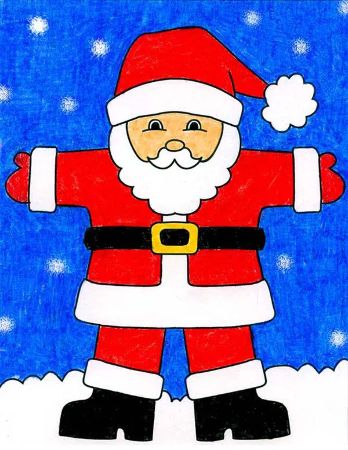 Have you been naughty or nice this year?
Receiving gifts from Santa Claus is one of the most anticipated moments for a child during Christmas. You can do something new this year by gifting this drawing to Santa for a change.
2. Christmas Lights Drawing
Let there be light!
Christmas lights make the occasion merrier and brighter. This video by EasyPicturesToDraw will teach you how you can turn your drawings more magical with these twinkling lights.
3. Christmas Stocking Drawing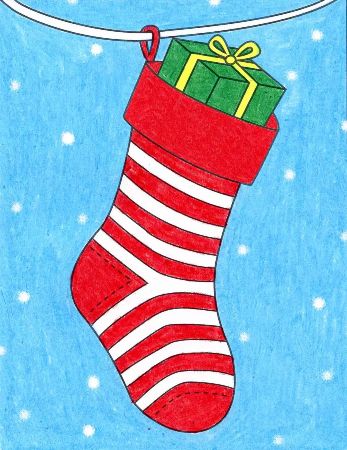 What's better than one present? Multiple presents!
Christmas stockings are filled with little presents that remind them of you such as keychains, candies, and gloves. They may be small but they're meaningful.
4. Christmas Bells Drawing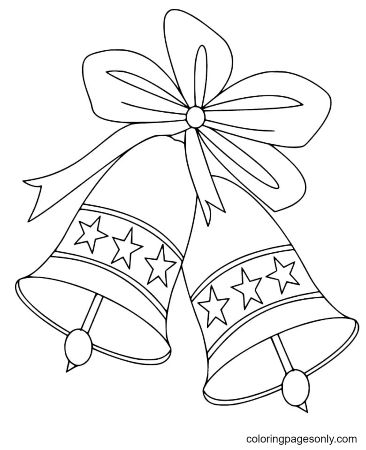 Jingle bells, jingle bells, jingle all the way.
Ring the bells away because it's time for Christmas. Sing along to the song while drawing these festive bells.
5. Christmas Snow Globe Drawing
Draw a winter wonderland with this video tutorial by Draw So Cute. It includes the leading symbols of Christmas such as a snowman, Christmas tree, snowflakes, and more.
Loved making this craft? I bet you'll also enjoy making these snowman crafts for kids.
6. Christmas Candle Drawing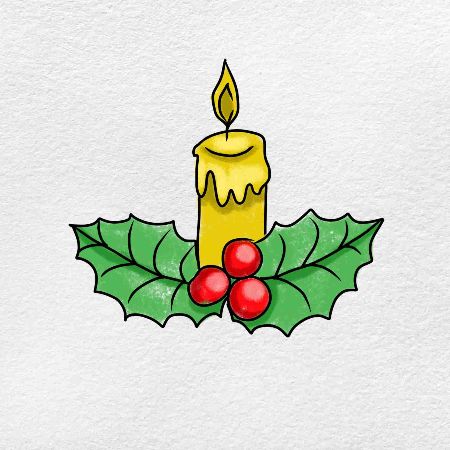 Christmas candles have a deeper meaning than just being decorations. They represent the Star of Bethlehem that the Magi followed to reach the manger where Christ was born.
Are your kids interested in stars, galaxies, and planets? Teach them how to draw planets with the help of this post.
6 Cute Christmas Drawings
7. Cute Elf Drawing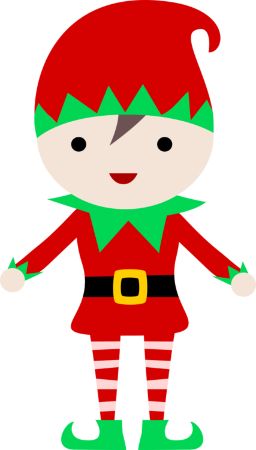 Santa's little helpers deserve a spotlight, too. These elves help Santa Claus prepare gifts for all the nice children.
You'll be able to complete all the characters in the North Pole once you learn how to draw this cute elf.
8. Penguin with Christmas Hat Sketch
The penguins want to join in the Christmas fun as well. Your kids will enjoy drawing this penguin because it's cute and easy to do thanks to the tutorial of DoodleDrawArt with Lisa.
Get more penguin crafts and projects here.
9. Christmas Puppy Drawing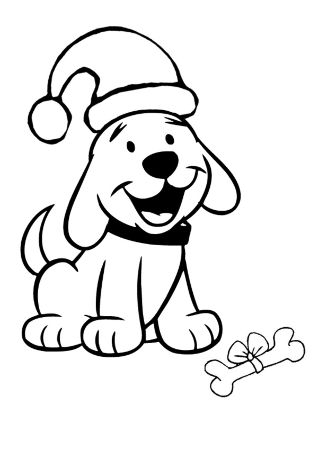 Does your kid want a puppy for Christmas? This is your sign to adopt one (or two) from a shelter. In doing so, you won't just make your kid happy but you'll also change the life of a dog.
These dog perler beads are for all the fur parents out there.
10. Interactive Christmas Present Drawing
Follow this step-by-step tutorial of Art for Kids Hub for an incredible surprise. You'll find some elves and more presents once you open the gift.
Try out these perler beads shark patterns if you liked this Christmas present stack project.
11. Santa's Hat Sketches
Can't figure out how to draw a Santa hat? This illustration will show you different ways a hat can be drawn. It's got a standing hat, a flowy hat, and more.
Among Us characters also sport some unique hats. These Among Us perler beads patterns will be perfect for kids who love playing the video game.
12. Adorable Christmas Ornaments Drawing
Add life and character to your Christmas tree with some ornaments. This cute red ornament by Draw So Cute should be part of the list because it will add some sparkle and cheer to your tree.
5 Step-by-Step Christmas Drawings
13. Kawaii Reindeer Step-by-Step Drawing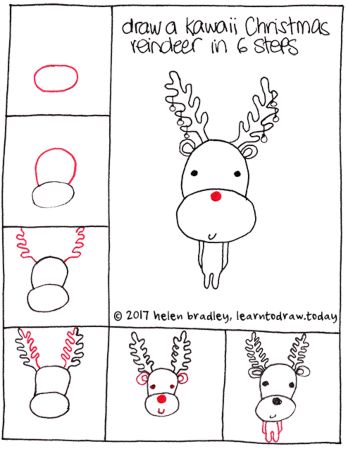 Draw the most famous reindeer in six easy steps with this tutorial. Rudolph's red nose and jolly personality make him a classic Christmas symbol.
More kawaii perler bead patterns can be found here.
14. Step-by-Step Snowman Drawing Tutorial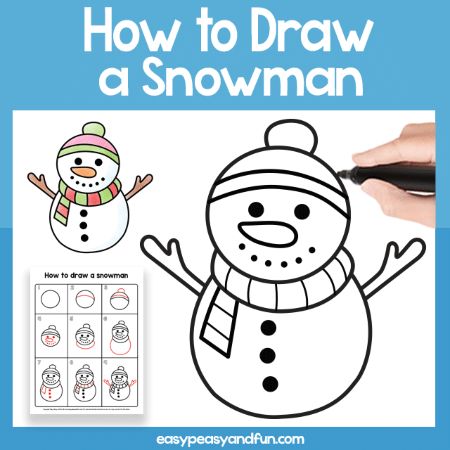 There are a lot of famous snowmen like Frosty and Olaf. Because even if they melt once the sun comes out, they still leave lasting joy and impact on the kids.
15. How To Draw A Christmas Wreath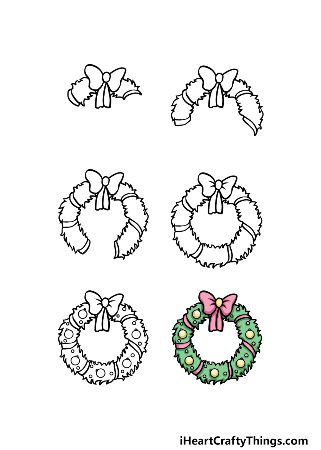 Did you know that a wreath symbolizes eternal life? Having a Christmas wreath in your home will be nice because it's not just a pretty decor but also holds a deep and meaningful meaning.
Check out these circle perler bead patterns for a productive and fun way to spend time with your kiddos.
16. Step-by-Step Christmas Tree Drawing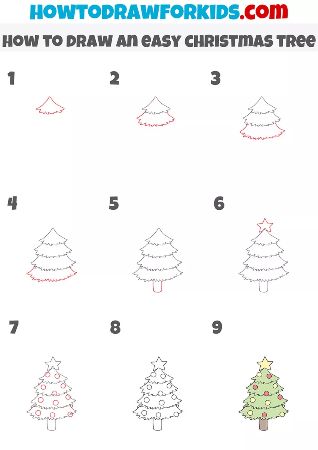 A Christmas tree has a special place in our homes. It's where we gather for photos, keep presents, and have meaningful conversations. This tutorial will be a great guide on how to draw a lively tree.
17. Christmas Pudding Drawing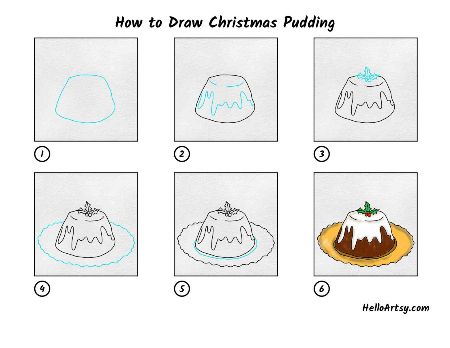 There's always room for dessert, especially for something as good as this Christmas pudding. Top it off with the creamy white sauce for an irresistible taste.
Put those egg cartons into good use by making these egg carton crafts.
5 Christmas Character Drawings
18. Christmas Minion Drawing
Easy To Draw Everything reimagined the adorable minions as they prepare for the season of giving. Aside from their iconic jumper, these minions are also wearing some reindeer headbands and candy canes.
Get your daily dose of this yellow cuteness through these minion perler beads.
19. Mickey Mouse in a Wreath Drawing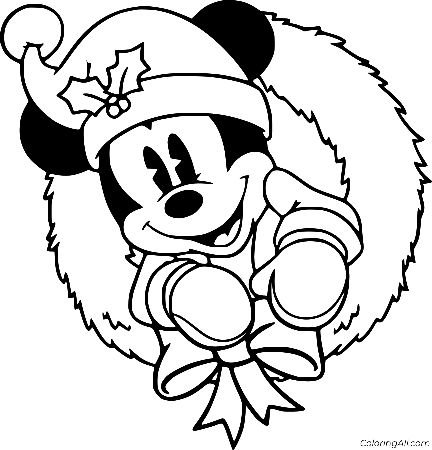 Mickey Mouse is all pumped up for Christmas. He's all smiles and is wearing a cute Santa hat. It's the perfect time to catch up and bond with friends and family.
Going to Disneyland? Give these DIY Mickey ears a try.
20. How to Draw the Grinch
"Now you listen to me, young lady! Even if we're horribly mangled, there'll be no sad faces on Christmas."
Watching the Grinch movies have become a tradition during Christmas. We'll never get tired of watching his adventures together with his loyal companion Max.
21. Christmas Hello Kitty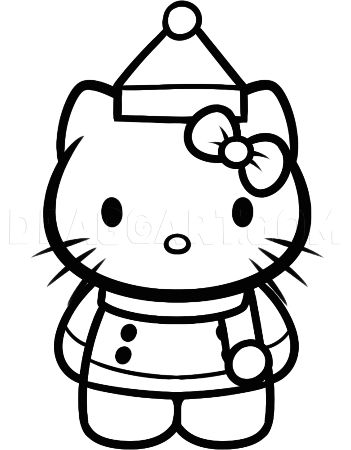 Hello Kitty is ready for the cold season. She's equipped with a beanie, scarf, and gloves while still looking super cute and stylish.
Like Elsa, the cold never bothered Hello Kitty anyway. Get some Frozen perler beads ideas here.
22. Christmas Penguin Drawing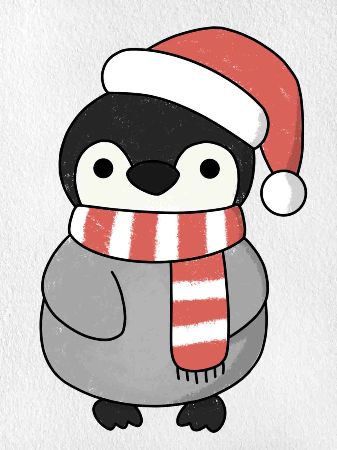 Let this adorable penguin waddle into your home this Christmas. I'm sure that your kids won't be able to resist its cuteness.
Ho, Ho, Ho It's Christmas Time!
Christmas is a special day for the kids. It's when they receive presents and spend some quality time with the people that matter to them the most.
Make the celebration more memorable by doing these easy Christmas drawings with them.
Create more wonderful memories with your kids by doing these projects with them: