Penguins are one of the most adorable creatures on the planet and that's probably why kids love them so much, even though they're only seen on TV and rarely in zoos.
While real penguins may live in colder regions, these 25 penguin crafts will survive all year round. Let's get started!
8 Simple Penguin Crafts for Kids
If the accessibility of materials is what you want, then look no further than these 8 simple penguin crafts!
1. Cotton Ball on Paper Plate Penguin Craft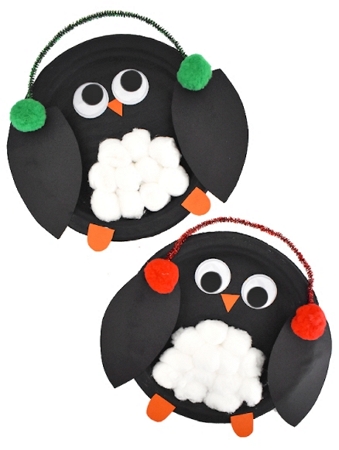 I love crafts that involve cotton balls because they're fluffy and provide a sensory experience for toddlers and preschoolers.
Our Kid Things makes a simple penguin craft consisting of cotton balls, construction paper, and a paper plate, which are materials that are conveniently available in everyone's homes.
2. Handprint Penguin Paper Craft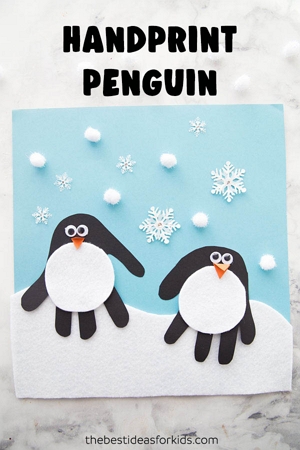 The Best Ideas For Kids shares an entertaining activity with this handprint penguin that will capture a kids' full attention. It involves making penguins out of children's handprints and putting them in a snowy environment.
This craft can be hung in your kids' bedrooms where they can marvel at their accomplishment.
3. Toilet Paper Roll Penguin Craft
Who knew toilet paper would be so useful in making kid's crafts? Here's a sweet penguin to make out of toilet paper rolls from KROKOTAK's channel.
It features a quick and easy toilet paper roll penguin that can be done in less than 10 minutes (even by young children)! Just be careful and provide little ones with safety scissors.
Collect more rolls for these other fun toilet paper roll crafts!
4. Paper Cup Penguin Craft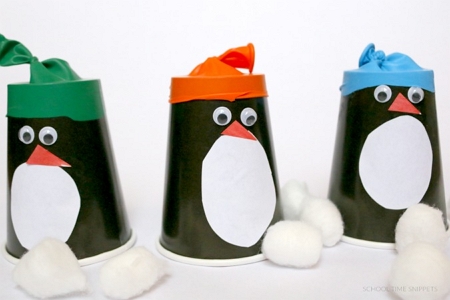 School Time Snippets shares some paper cup penguins wearing beanies to protect them from the cold.
Although penguins already have enough warmth to survive freezing temperatures, the addition of this balloon headwear adds personality to your kids' creations and enhances their color recognition.
5. Adorable Penguin Popsicle Stick Bookmark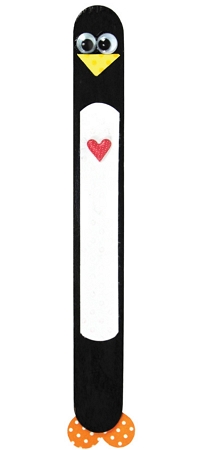 Crafts Direct encourages kids to take their reading comprehension to the next level by making this penguin bookmark craft.
Young toddlers and preschoolers who are still learning their ABCs don't have to worry because this DIY penguin craft could serve as their loyal companion and toy in the meantime.
6. Popsicle Stick Penguins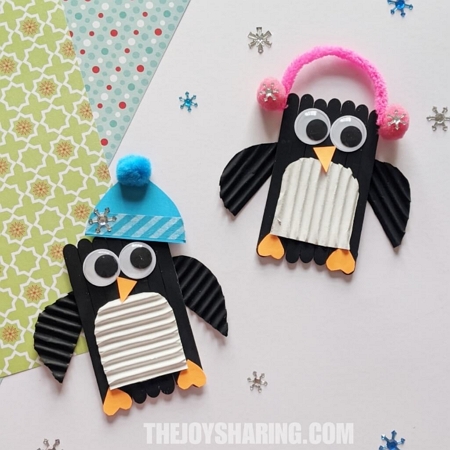 Here's another penguin craft from The Joy Sharing. These penguins are made of popsicle sticks. They also explain how to make cute accessories for the penguins using leftover materials from previous crafts.
Let's make more popsicle stick crafts!
7. Finger Puppet Penguins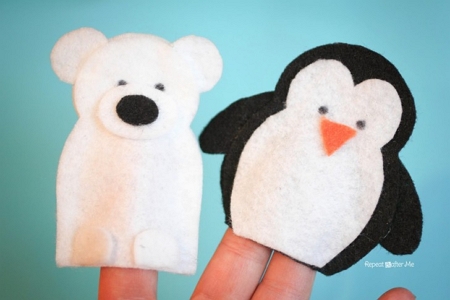 Do your kids love to create an imaginary world and bring their favorite creatures to life? Repeat Crafter Me has you covered with their awesome finger puppets.
Not only do they create three excellent finger puppets (a snowman, a polar bear, and a penguin), but they also give out a template to make the crafting process easier.
8. Penguin Paper Bag Puppet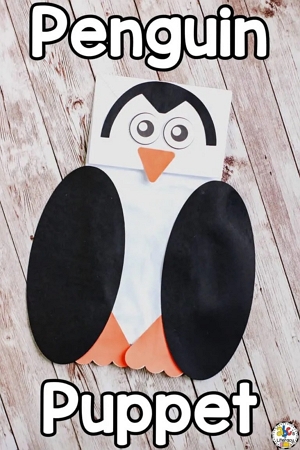 ABCs of Literacy has another craft for those kids who enjoy imaginary friends. Through this penguin paper bag puppet, kids will easily improve their verbal skills and creativity.
See their written guide to complete this awesome paper bag companion.
Check out even more paper bag puppets that kids can make!
9 Penguin Art Projects
Try improving their artistic skills and creativity by making one of these penguin art projects!
9. Penguin Footprint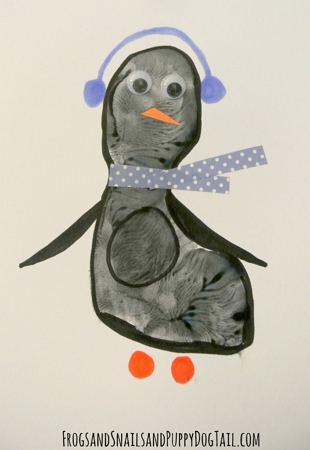 Here's a sensory experience for those who are unafraid to get messy with their arts and crafts. Frogs, Snails, and Puppy Dog Tails shares a craft that consists of a simple footprint that transforms into a penguin.
If you worry about the messiness, don't worry because there is plenty of washable paint out there, such as this tempera paint.
Get messier with these exciting snowman handprint ornaments.
10. Yarn Lacing Penguin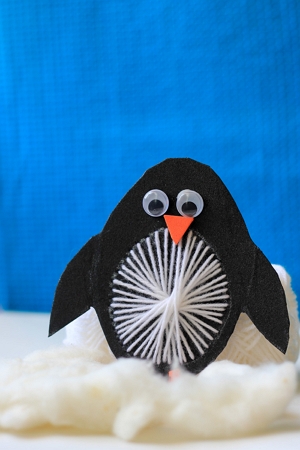 Make And Takes explores an interesting way to practice children's fine motor skills with this penguin sewing craft. It might look intimidating, but this penguin is only made of black foam and some stitching magic, which can be introduced to older kids.
Check out the webpage for the full guide and tips on how to make this penguin.
11. Pinecone Penguin Art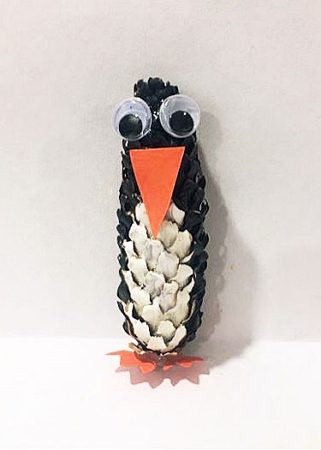 I hope you still have some leftover pine cones since you did those pine cone crafts we shared a while ago because DLTK's Sites for Kids has another pine cone penguin craft in store for you.
It's a straightforward painting activity, involving just black and white paint and orange construction paper for the penguin's beak and feet.
12. Painted Rock Penguins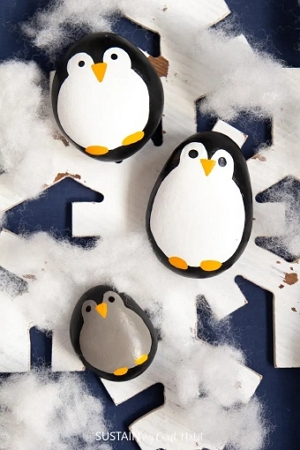 There are only a few art projects on the list that will provide the practice needed to improve kids' dexterity and motor skills when handling a paintbrush.
These penguin rock paintings from Sustain My Craft Habit will improve children's hand-eye coordination since concentration is required to create the smooth lines on the penguin.
Interested in more rock paintings? Try making these owl rock paintings!
13. Salt Dough Penguin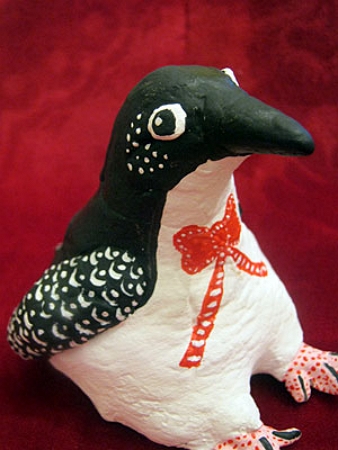 We Know Stuff creates an amazing penguin made of salt dough. Salt dough is very easy and accessible to make, requiring only salt, flour, and water.
They have complete instructions and have listed the ingredients needed to complete this salt dough penguin.
If you need more guidance on how to make salt dough, we've made a homemade playdough recipe that will help kids familiarize themselves with this accessible material.
14. Egg Carton Penguin Craft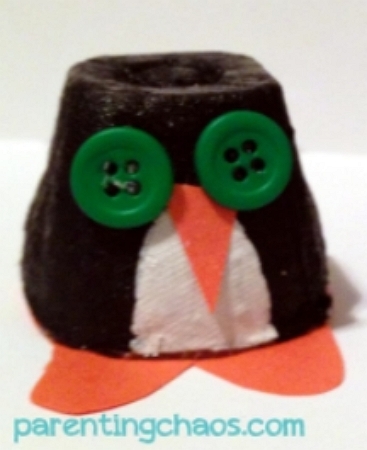 It's surprising to know that there are plenty of crafts to make with those empty egg cartons!
Parenting Chaos shows one way to repurpose an egg carton by making this cute DIY penguin toy, but there are a variety of egg carton crafts that kids can easily make!
15. Cute Pom Pom Penguins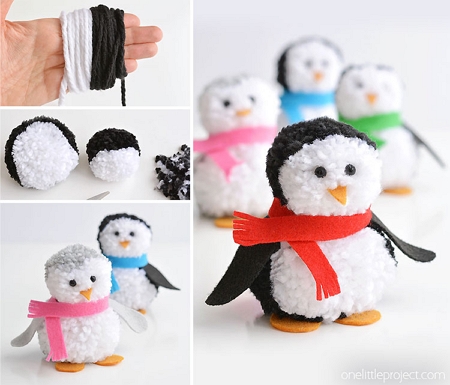 I love pom pom crafts because anything made with them is super fluffy and instantly adorable, just like these penguins made by One Little Project.
While the technique used in this craft is as simple as making pom poms from yarn, it's still mind-blowing since they merged yarns of two different colors into a single pom pom.
16. Button Penguin Art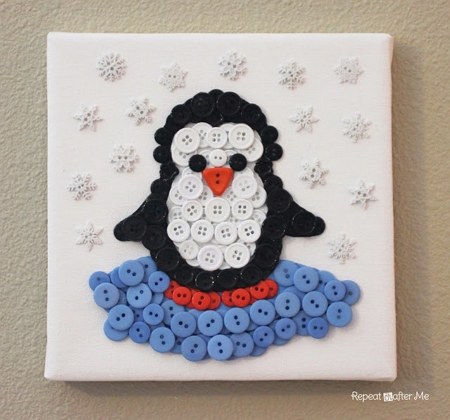 Those who have spare buttons shouldn't miss out on this fresh take on art by Repeat Crafter Me. This craft could is as simple as Perler bead patterns, except it takes more skill and allows for extra creativity.
Simply follow their guide if you want a straightforward activity, otherwise, encourage kids to create their own design.
17. Bottle Cap Penguin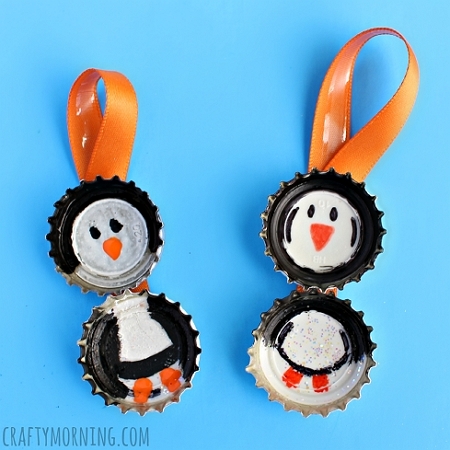 Crafty Morning shares a nice craft made from bottle caps. Attach a ribbon on these penguin bottle caps to hang them as decoration!
8 Other Penguin Arts and Crafts Projects
These last 8 penguin arts and crafts projects require more skill than the previous ones but aren't something kids will have a hard time doing.
18. Penguin Ornament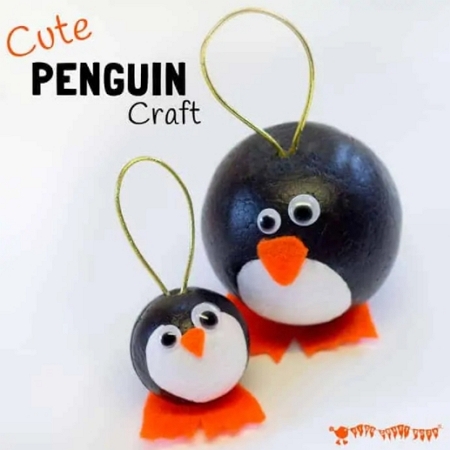 Penguins are already charming on their own, but become even cuter when they have a round shape like this penguin ornament by Kids Craft Room.
They detail how to make these ornaments and list the materials so you can spruce up the Christmas tree with some plump penguins.
19. Repurposed Penguin Bottles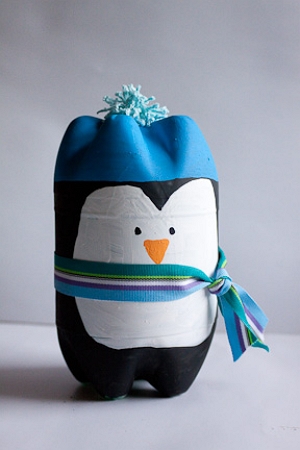 Think Crafts teaches us the importance of recycling through this penguin craft made from a plastic bottle. Kids will have tons of fun painting and improving their artistic skills since they can personalize this penguin any way they'd like.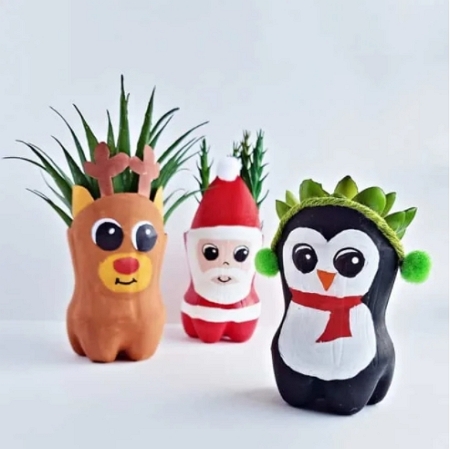 Here's another penguin bottle craft made by Hello Wonderful. Not only does it make for a wonderful decoration, but it's a functional craft that houses a plant to freshens up the air in your home.
20. Light Bulb Penguin Ornaments
Summer Scott's channel found a creative way to repurpose failing light bulbs into these cute penguin ornaments. Check out their video tutorial for the materials required to color and decorate these chubby penguins.
21. Penguin Corner Bookmark
Reinforce children's reading habits by adding this penguin design to their collection of bookmarks. Crafts Zone's video tutorial is an excellent guide demonstrating how to fold and add details to this penguin corner bookmark.
22. Origami Penguin
Origami is a great way for children to practice fine finger movements. If they haven't been introduced to it yet, this penguin origami by bushinside is a great opportunity to get them acquainted with the art of folding paper.
Each origami craft will give a sense of achievement, developing their dexterity along the way.
23. DIY Penguin Sock Craft
Are you a fan of DIY crafts? If so, then this penguin sock craft by Crafty not Shifty is just for you. The best part is that it doesn't require any sewing, allowing kids to participate in the entire crafting process.
For more DIY stuff, here are guides on how to make DIY Mickey Ears and homemade instruments!
24. Penguin Perler Bead Pattern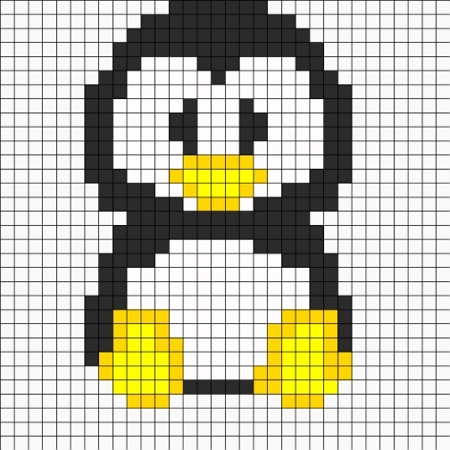 Here's a melty bead craft that promotes hand-eye coordination in young children. Toribeingher creates a simple yet adorable penguin craft that kids will cherish for months and even years to come!
Here are some beginner friendly circle Perler bead patterns for the uninitiated. 
These Penguin Crafts are as Smooth as Ice
Kids will adore their penguin creations, especially if they're a fan of these adorable and silly animals.
Check out other endearing animal crafts below: